Pre-order. Orders will be taken 15 June 2013 through 29 July 2013. Shirts will be delivered by 19 August 2013.
In the ZPAW, you're going to be working. A lot. You're going to be working your ass off trying to rebuild vehicles, farming, digging ditches, and fighting hordes of the undead. Why not work in style with a limited edition Zombie Squad 10th Anniversary Work Shirt? The best part is it's only $30!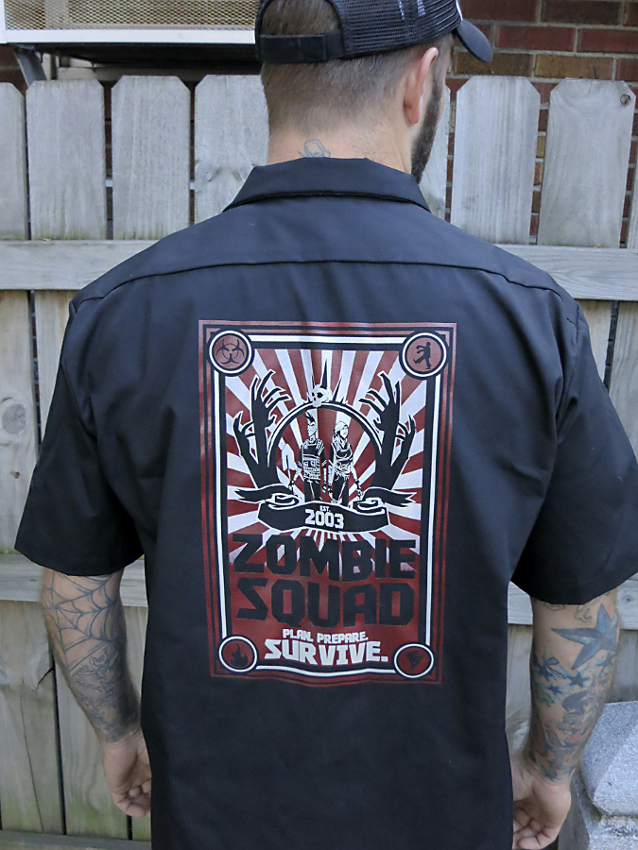 This is a black, short-sleeve Dickies work shirt (style #535) featuring a special Zombie Squad 10th Anniversary design by
Marie Engeron
on the back and the standard ZS logo in red on the front left chest.
Order now!
If a t-shirt is more your style, we also have men's and women's 10th Anniversary t-shirts available. You can find out more about those
here
.
A few people have been asking about sizing, here is the chart for this shirt:
Dickies LS535 Size Chart:
Sizes Body Length Chest
S 31" 43.5"
M 31.5" 46.5"
L 32" 49.5"
XL 32.5" 52.5"
2XL 33" 55.5"
3XL 33.5" 58.5"
4xl 34" 61.5"
Measurement Notes: Length is measured from highest point of shoulder. Sleeve length at the top.
We do have a minimum quantity to meet in order to guarantee pricing on all of the 10th anniversary stuff. We might extend the order date to make sure we can get enough orders to get this pricing, which will bump back the shipping date. Also, remember, that this will be your only chance to get the 10th anniversary gear as there will not be a second order made. This is as limited as it gets, folks!