update: pic added
M1 carbine.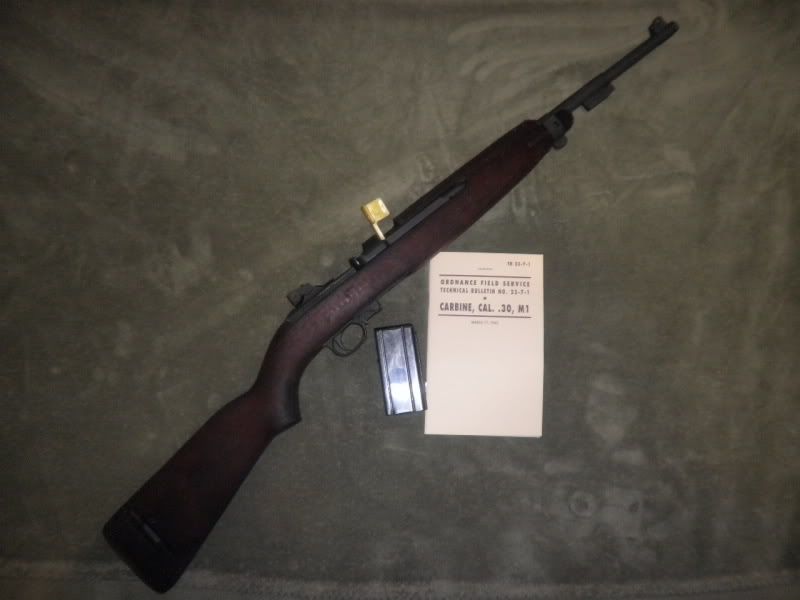 http://www.thecmp.org/m1carbine.htm
Vote #2.
Quote:
I'm looking for a reliable and durable gun for just fun shooting and in the worst case scenario wrol/paw needs.
Reliable. Check.
Durable. Check.
Fun shooting. Check.
Under $600. Check.
Reliable supply of Korean made magazines that work - Check.
Larger than 5.56mm.... well it's .30 caliber, but it's a different animal being a straight-wall rather than bottle-neck cartridge. With a good hollowpoint/softpoint, it acts like a really hot .357 mag out of a rifle.
Also very little noise, recoil, or muzzle flash. Super lightweight.
Worst case scenario. They are light, handy, durable, and reasonably accurate to 100 yards.
Will hit out to 200 yards without too much trouble.
You might want to invest a couple hundred bucks in a reloading set-up.
A2G is selling a case of FMJ for less than $400 (about 40 cents a round). Reloading will be less than 20 cents a round.
With basic maintenance, it should easily last 10k rounds.
_________________
Glock 21SF for sale
viewtopic.php?f=48&t=67529&start=0
JamesCannon wrote:
First they came for the cough medicine and I said nothing, because my throat hurt.
Code:
A65864
Opn U Pro D Rev U
Ltd U L10 C SS U
http://www.uspsa.org/cgi-bin/db_lookup_class.cgi?number=a65864