I will write up what I learned ... what the - "damn, wish I would of know how to better of done that to save an hour..." lessons learned.
First off:
It will turn out perfect if you take your time.
Not one part of this requires any advanved skills beyond having tools, trigger control on a variable speed drill and patience.
Like most everything in life (unless your McGiver) doesn't require you to get a bigger hammer or requires are sawzaw / hacking skills.
Total time required. 3 hours.
Almost all of it was spent on taking off the tang (part on that sticks over the orginal stock).
I spent close to 5 hours over two evenings. More on the reason later... this is the part that is a lesson learned.
Please ...
Standby...
Basic "sporting" configuration 19" Barrel. $500 cost in NOV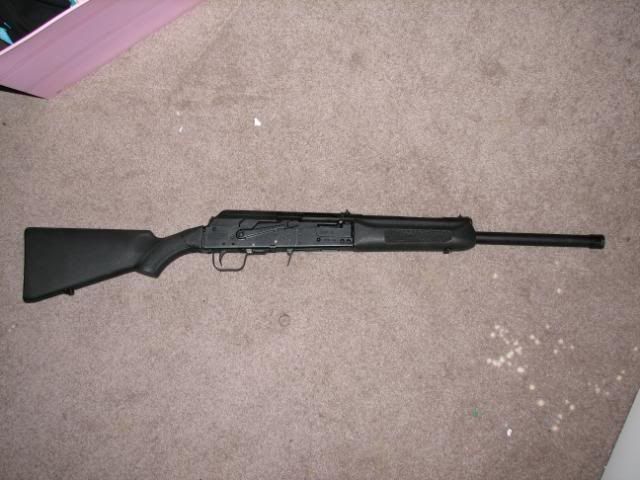 Field Stripped + *Stock removal
Removing the stock with ease seems to be hit and miss from the people I have talked to and read. Mine was pretty easy, took a couple love taps at an angle to get it to show signs of coming off.
Reminder... there are 3 screws.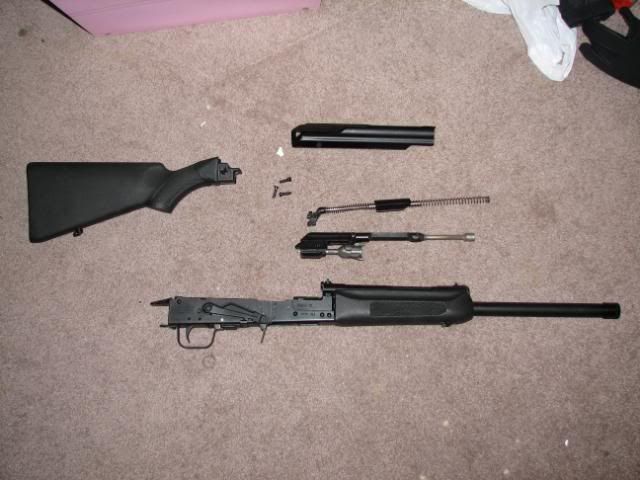 This photo shows the layout of all the parts that were ordered.
Everything (not the shotgun) was purchased from
http://store.carolinashooterssupply.com/
Fast, simple shopping exprience. I found that he had everything in-stock, fast shipping.
Everything in the picture for this conversion:
RECEIVER BLOCK- SAIGA INTERNAL STOCK ADAPTER $45.00
TAP SAW GRIP-SAIGA, AK47 SAW-STYLE PISTOL $18.95
10-10/32 RECEIVER BLOCK- SAIGA INTERNAL STOCK ADAPTER HARDWARE $4.00
ACE-FSM-PB STOCK-FOLDING MECHANISM PUSH BUTTON SAIGA -AK47 $89.95
2-10/32 STOCK-FOLDING MECHANISM SAIGA- AK47 SPARE SCREWS $1.00
TRIGGER GROUP-TROMIX SAIGA FIRE CONTROL GROUP $49.00
TRIGGER GUARD-SAIGA 12 TROMIX D-I-Y $45.00
ACE-STOCK-ORIG STOCK-ACE FOR ALL SAIGA'S AND AK47'S 8.5" $65
Total: $319 +shipping (about $15 I think)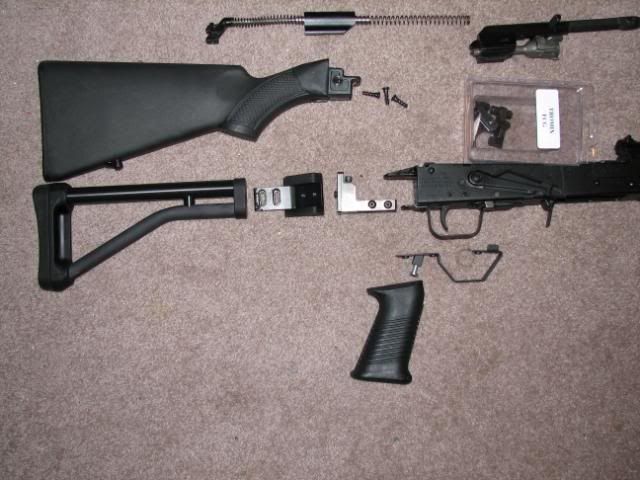 Below you see the neck that sits right in front of the "j" part of the stock. I saved this part of the fun to the last part (cutting it off...) You will also be removing the trigger guard and the plate that is below it.
I used a variable speed Dewalt drill with the shogun turn on it's top and secured in a gun cleaning vice.
I first used a $3 spring loaded punch from Harbor Fright to make sure the drill bit to roll off the rivit (2 round way front way back, 1 on the front side of the trigger guard, 1 under side of the trigger guard).
You can see what looks like white dots - this is after I used the punch about 5 -10 times on each.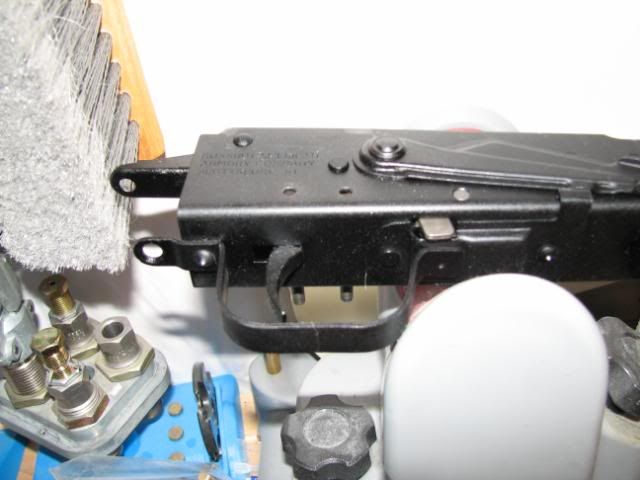 I decided to remove the trigger group so it was damaged and easier cleanup of the metal fillings.
I used a slightly larger drill bit to take off the edges of the flared out edges - then I used two of the semi matching sized punches from Brownells to remove the two rear trigger pins. Took a couple VERY LIGHT taps. If it doesn't move at all... drill a bit more. Again... it will turn out perfect if you take your time.
No you don't need Brownell puches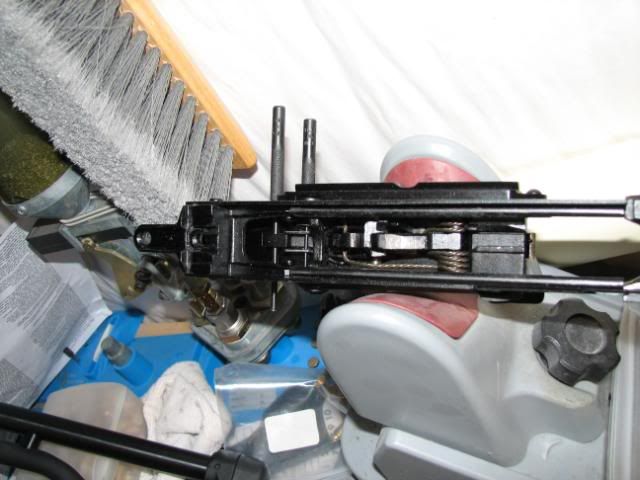 This is close up of the new trigger group from TAPCO modified by Tromix to make it easier (less mods required).
Along with the removed orginal trigger group, safety, Bolt hold open and springs.
Grab a bowl / small box and everything you drill / punch removed into the bowl. You'll thank me later for not losing anything that will be needed.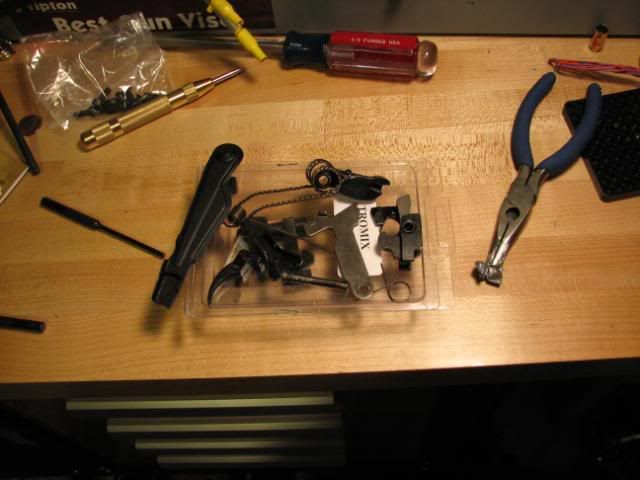 Below is the cleaned out recevier. I wiped it out with Hopps to help again with metal sticking to the oil / sticky crap in there.
Here is where I started drilling out the rivits. I used Bullet Drill bits from Black and Decker. These have a nub that keeps the bit lined up and doesn't jump out /slide as your drilling. Priceless!
I drilled until I could pull off the trigger guard off, don't get crazy and do high speed RPMS with your drill. Go slow. blow off or vacum the metal off as you drill a little more until the rivit rounded head is removed to the point of using a punch to "TAP" it out (through). Again... nothing requires brute force in this conversion.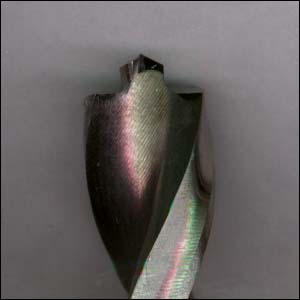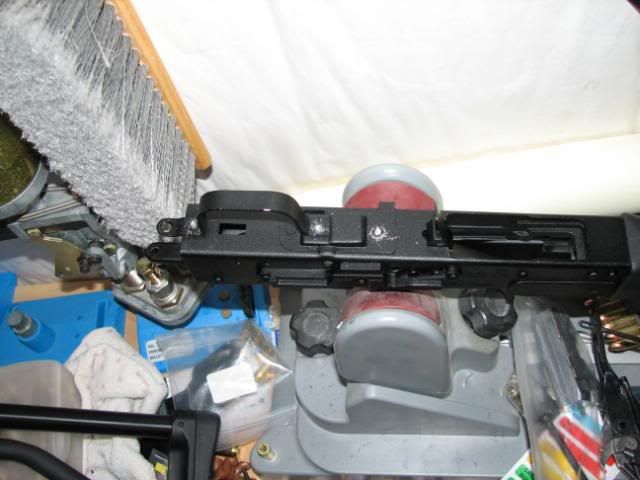 With the trigger guard removed, you can see the "sporting" configuration trigger hole and the cover plate - which is covering
the trigger hole that you'll be using in the conversion. Drill out the final rivit (use the spring loaded punch again!)
OMG (rust).
Cover plate removed. There is rust. Great.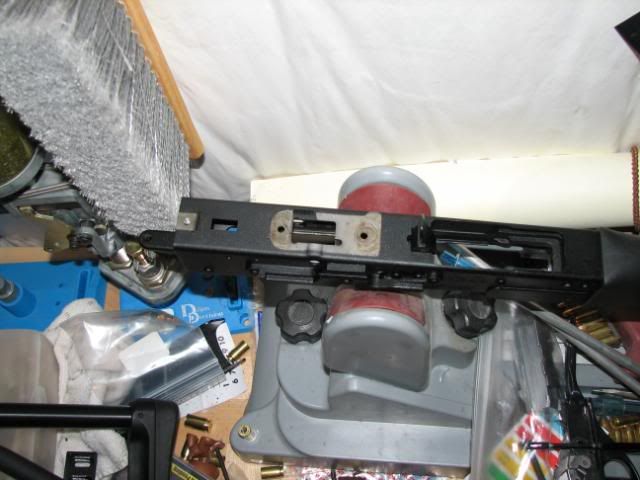 Quick 'rough in' on how the new Tromix D-Y-I trigger guard will look - With the new trigger staged.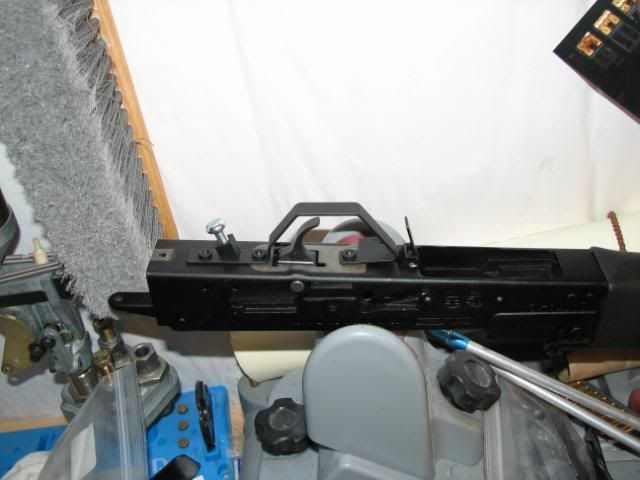 Quick 'rough in' on how the new Tromix D-Y-I trigger guard & "SAW" grip. Saw grip requried me to remove the plastic burs to fit over the back part of the new trigger guard.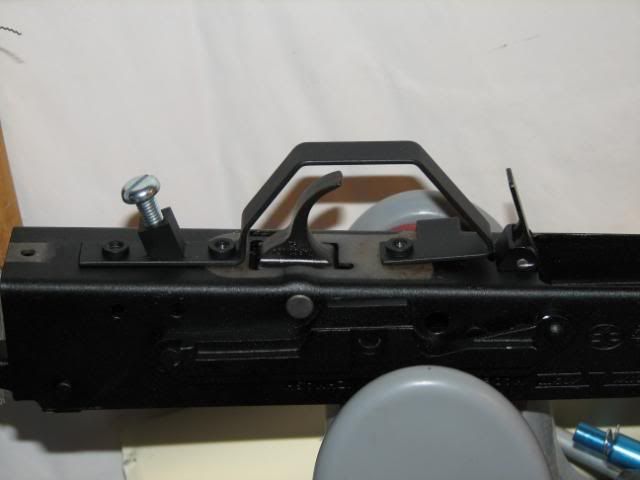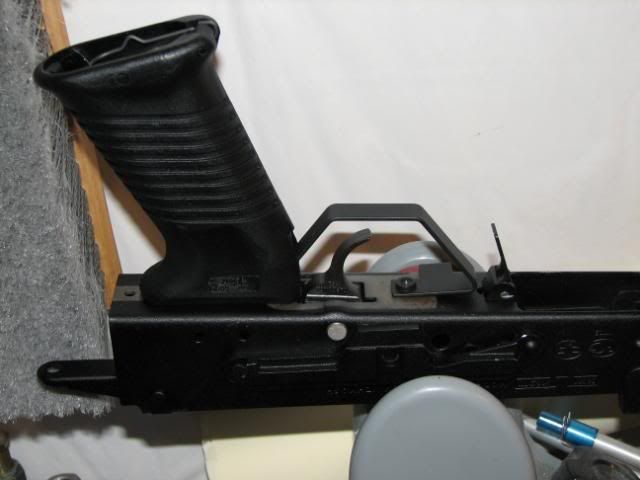 To take care of the rust: I used Naval Jelly ($4 Home Depot) to remove the rust, then wiped it down after a few minutes.
Used Acetone for a quick no grease clean(VERY BAD STUFF KIDS! Use it OUTDOORS!) I then used Krylon Camo Flat black after doing a tape off.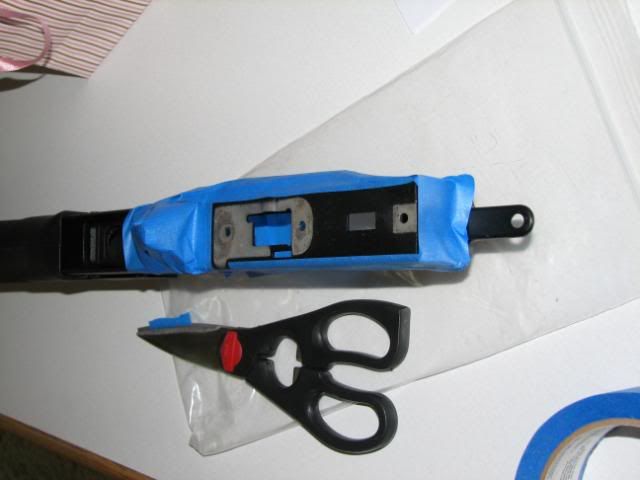 After painting / drying. It's time to install the DIY Tromix trigger guard.
Blue Loctite - $6 Home Depot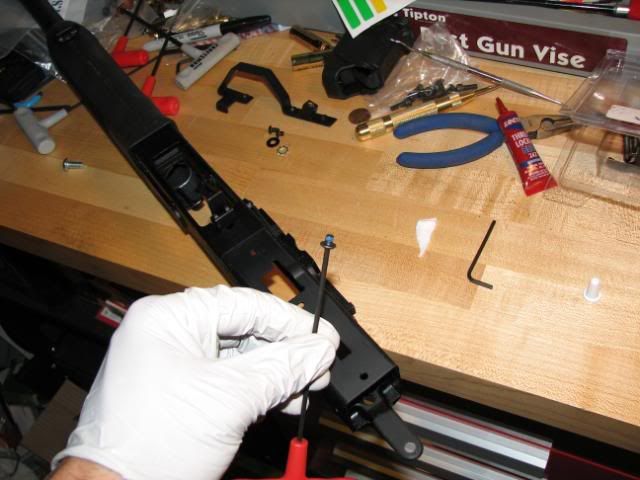 Another quick 'rough in view' of future of this Saiga 12 Conversion
Here is a view from above to show you the 3 bolts installed. Remember: slow is fast
Shake the loctite before using it on the threads.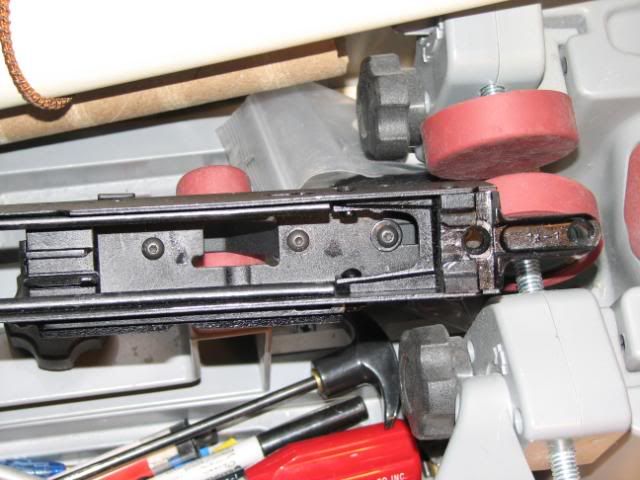 Here is the part that took the longest.
I setup a rough workstation in the garage so no sees a crazy guy cutting up a perfectly good shotgun.
Vice with duct tape to keep from scratch up the shotgun - DO NOT OVER TIGHTEN! Yes, the shotgun is tough, tough 'sheet metal'
Crafstman Dremel, gloves, safety glasses (VERY Important - saved me).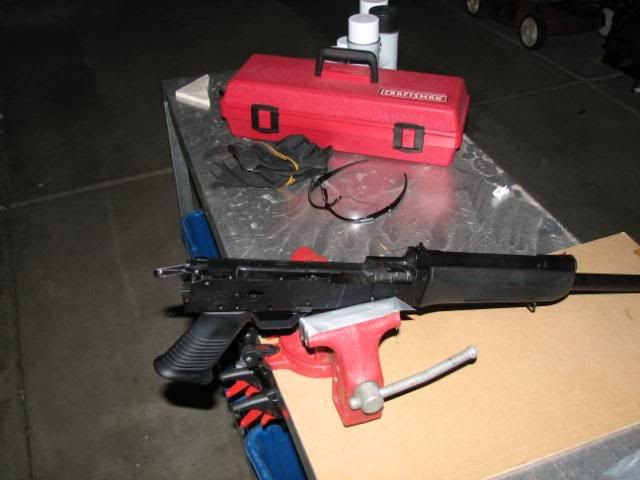 I had to buy a cutoff kit, Sears $12 Buy the kit $12 or buy only 5 cutoffs wheels for $8 - you choose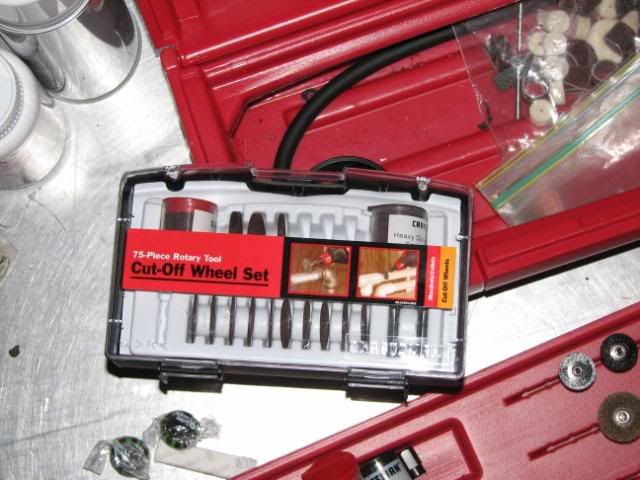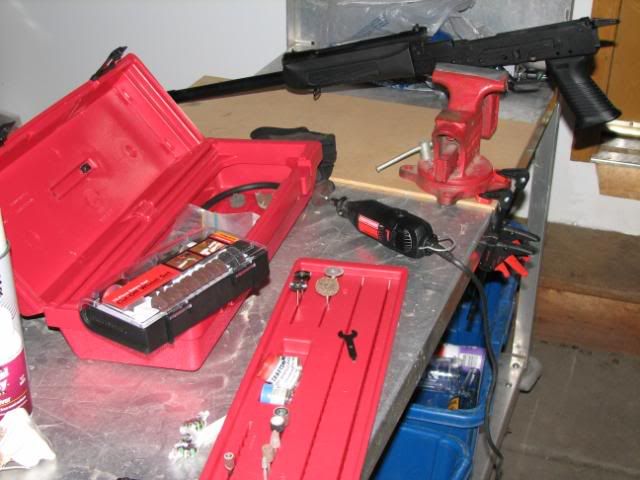 Here I already started cutting off the tang.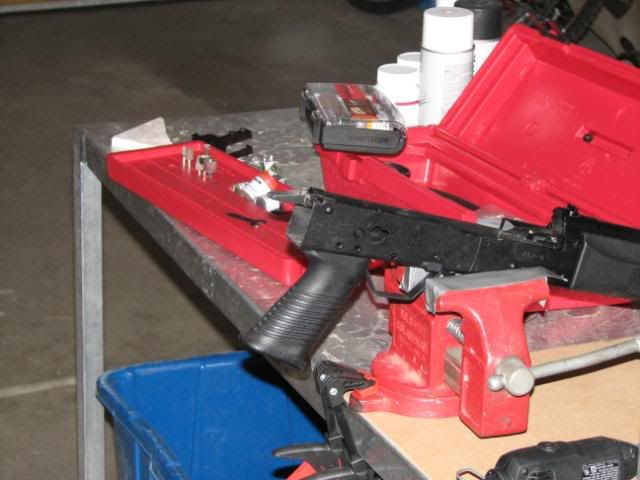 My cutting skills in action. Shortly after my daughter took this great action shot, the cermic / stone disk shattered.
Safety glasses are a good thing. Lesson learned!!! Use saftey glasses AND use the fiberglass cutoff wheels - NOT the stone cutoff wheels.
The tang is gone. (see the shattered cutoff disk to the left) I was attempting to be very careful by not cutting off the too much metal. Well... you can't glue the metal back on. I should of cut off more then the tang in the first cut - this is one reason it took me so long. Hours longer. Grind away. Cut grind. repeat.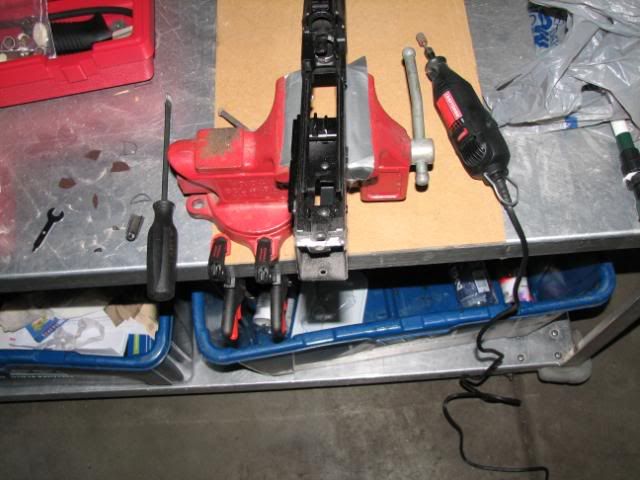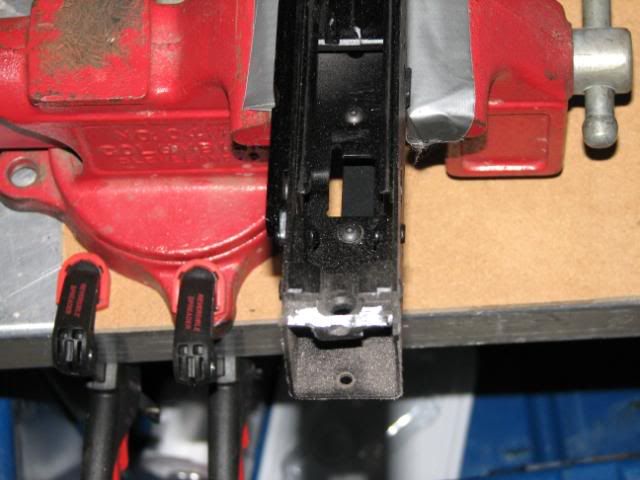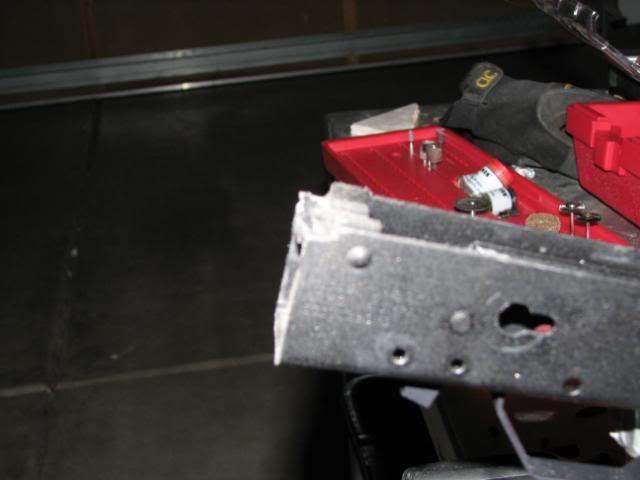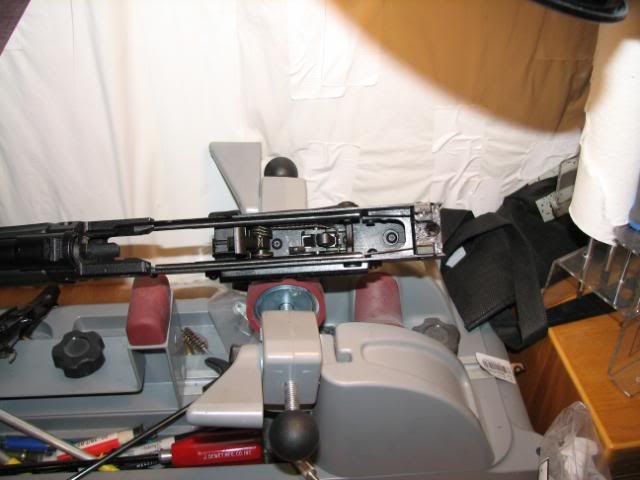 Well it's done. Lesson Learned: The back of the receiver is NOT squared off. You need to do this and make the bottom filed off - only if the it's not squared. I didn't notice until I spent too much time filing.
Next: see those two holes (each side of the receiver) these are too small to accept the receiver stock adapter (internal). Drill then open just enough to take the receiver stock screws. Loctite them after making sure everything fits together.
Make sure you finish your conversion by painting any metal in the white (silver). Don't let rushing the job make you forget.
FINISHED FOLDED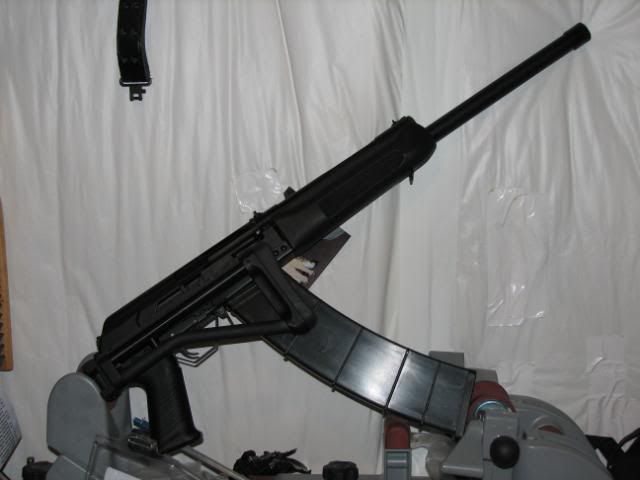 FINISHED OPEN
The final photo of it looks great. But it folds way too close to the charging handle. I'll be flipping the folding block so the Ace stock will flip to the other (left side).
I chose to use the push button locked folding block. I wanted the stock to lock up solid. It was $24 more then the other very nice spring loaded stock folder block. *It's your choice.
I would do this again anytime.
Be happy to answer any questions best I can.
I'm planning on having it bead blasted - then re-powder coated. Don't know if I'll put black on it again. Maybe tan powder coating - there are so many black ones out there already - hehe
I'll post with an update after this weekend test run.
UPDATED:
It goes bang. Added the CHAOS tri-rail and Chaos gas check thing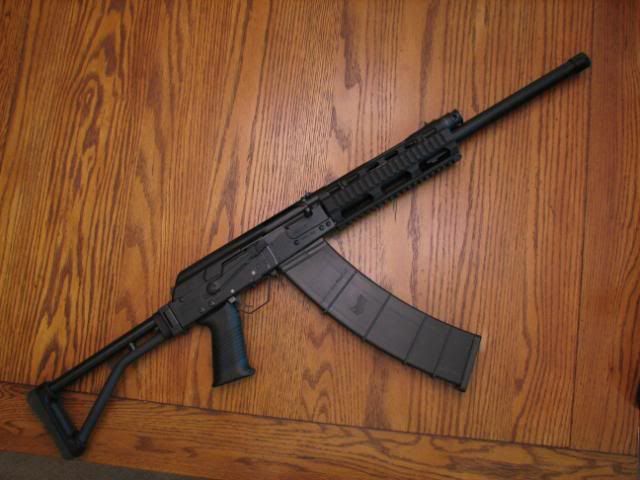 UPDATED DEC 2009
After 2009 Christmas