***Pic heavy***
Well here is my entry to the contest. I just returned from a week long trip in Harriman State Park, NY. My friend Jas joined me, and we were out there from Feb 3rd-10th. Despite being the year winter was canceled, we headed out on a 'winter mock bug out' regardless. Temps ranged from highs in the 40s, to lows in the teens. There was spotty snow and ice, but nothing significant.
Forgive my video skills, they are from an iphone and its my first time doing them.
Being a winter mock bug out, I chose not to go minimal in nature. Mistakes tend to compound significantly in the cold. Once can easily go minimal for a few nights, but after a while it begins to take its toll on you. In a true bug out being comfortable will keep your morale up, which can make a major difference in your long term survival. Also, bringing adequate equipment to stay warm without use of a fire could be essential to avoid detection depending on the exact situation, not to mention sometimes fire just isn't a feasible option due to weather, energy level etc.
Prior to my trip I made a few quick videos of the gear I would be bringing with me. With a few exceptions everything in the video went with me. Due to weather I ended up leaving behind the snowshoes, snow goggles, 1 beanie, and the thick wool sweater, the xgk stove, and the 2 fuel bottles. In their place I brought regular sunglasses, a thinner wool shirt, my Antig outdoors woodgas stove and a companion burner from Zelph stoves and about 16oz of alcohol. I chose to bring the wood stove vice a liquid fuel stove because with having no snow on the ground i will be able to find ample wood and not have to worry with melting snow/ice for water.
Post trip review of my gear: I brought along a few things that ended up not being needed at all, which were the glove liners, and full gloves. Every other piece of gear i actually used during the trip(with the exception of first aid). If it were a regular winter those items would have definitely been needed. I feel that the winter gear i had would sustain me indefinitely in the field, with the exception obviously of food.
Jas and I got to the trailhead at about 2pm and we quickly got our packs on and started the ascent of West Mtn. Fully loaded with food,water, and fuel my pack weighed in at 51.8 lbs, and I believe Jas's pack was 58 or 59 lbs. Being in the car for about 2 hours , carrying a heavy pack, and gaining about 1000ft of elevation in roughly a mile or so made for a very tiring start. By the time we started nearing the summit we were treated with some good views for our efforts.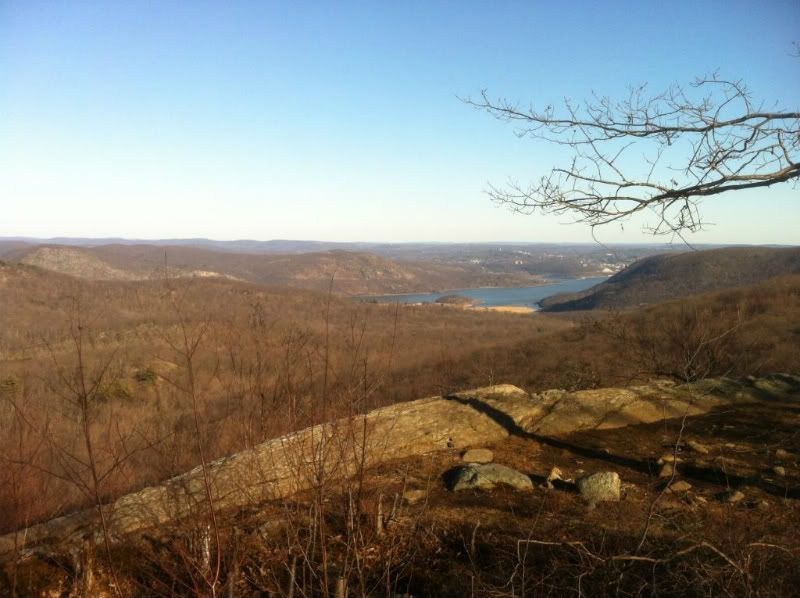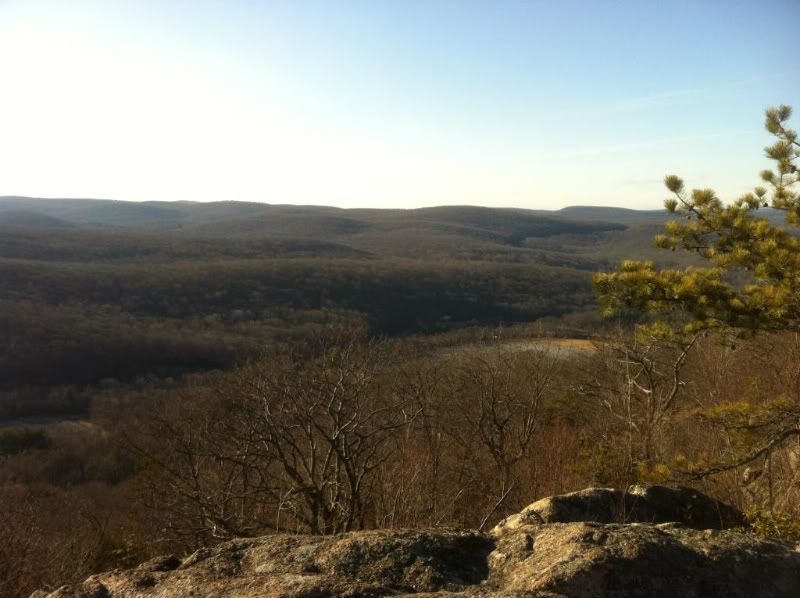 A few more small ups and downs along the ridgeline, but all in all much easier going than the main ascent.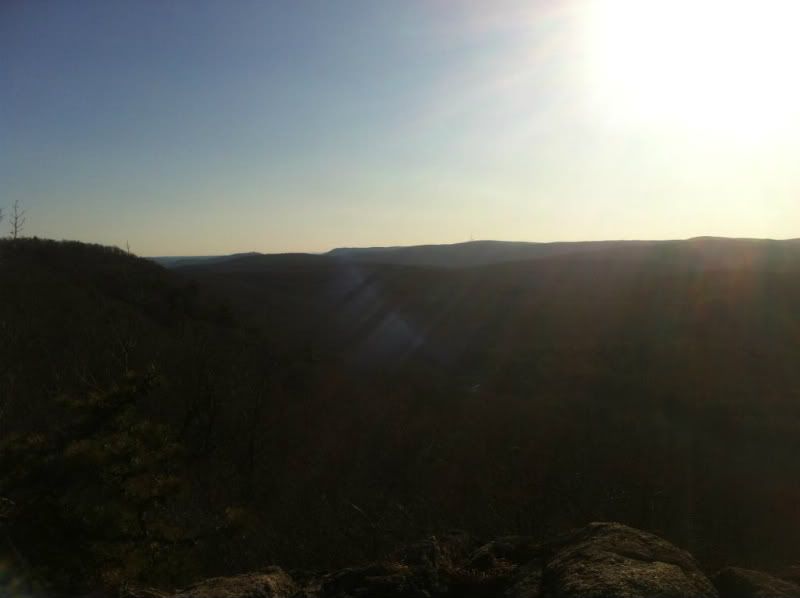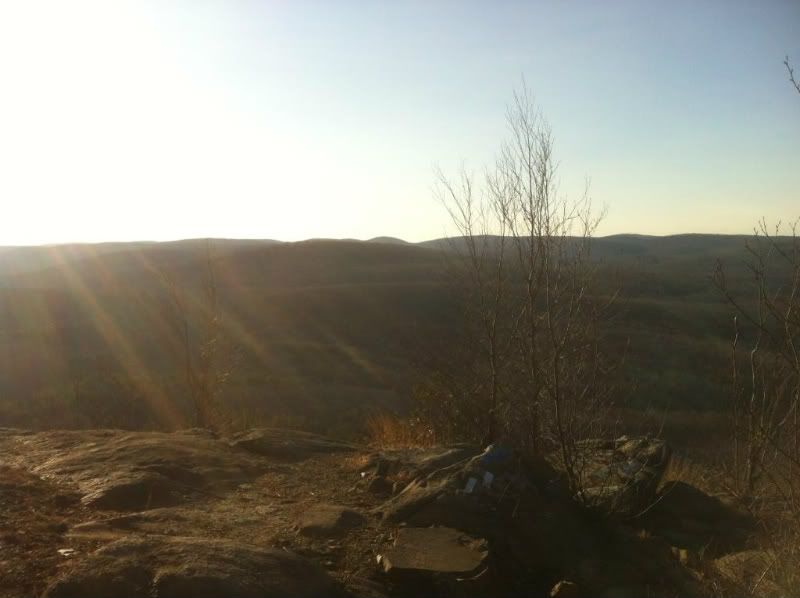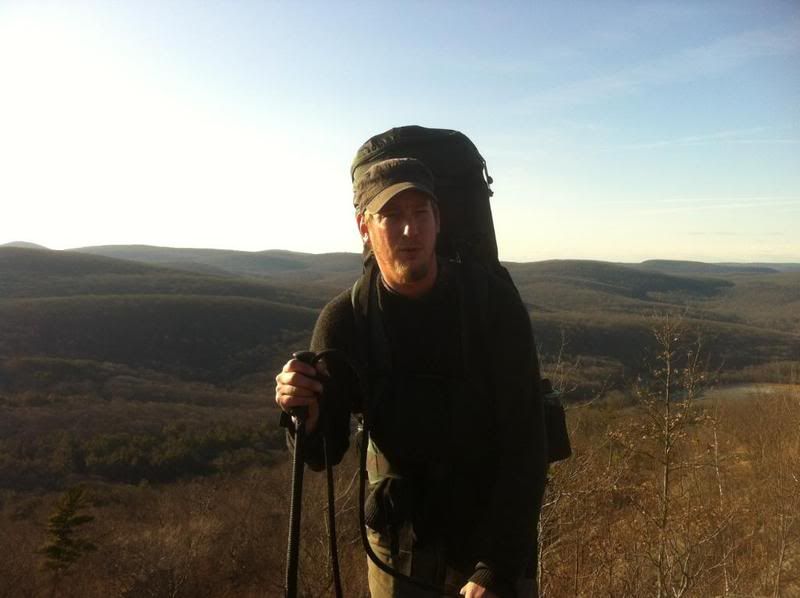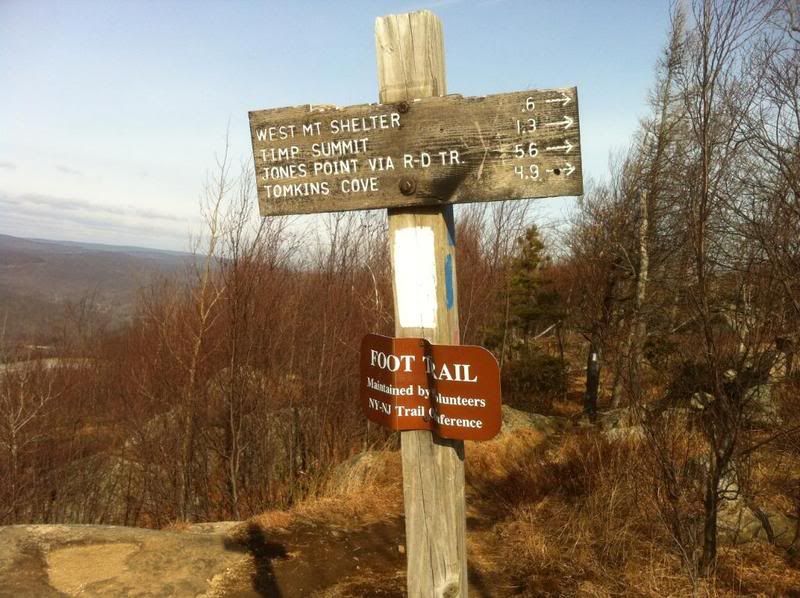 We reached the first shelter after about 3.5 miles in about 2 hours.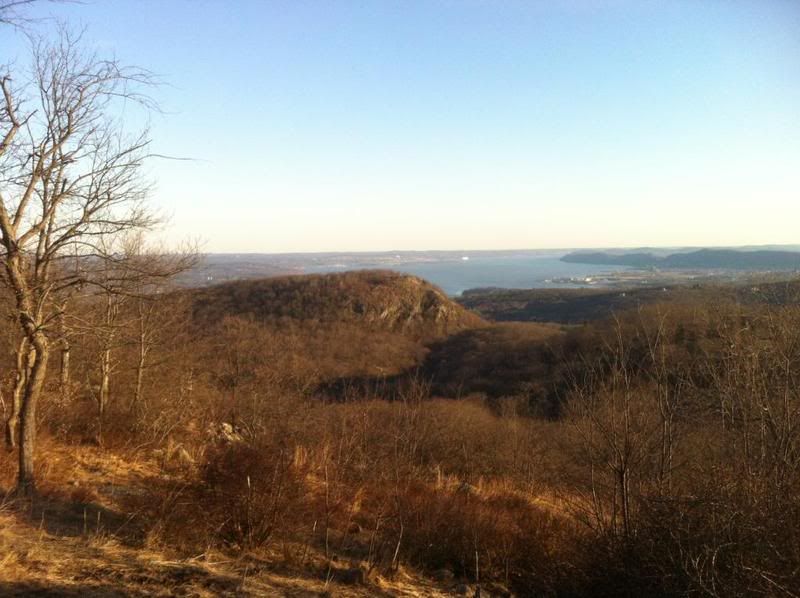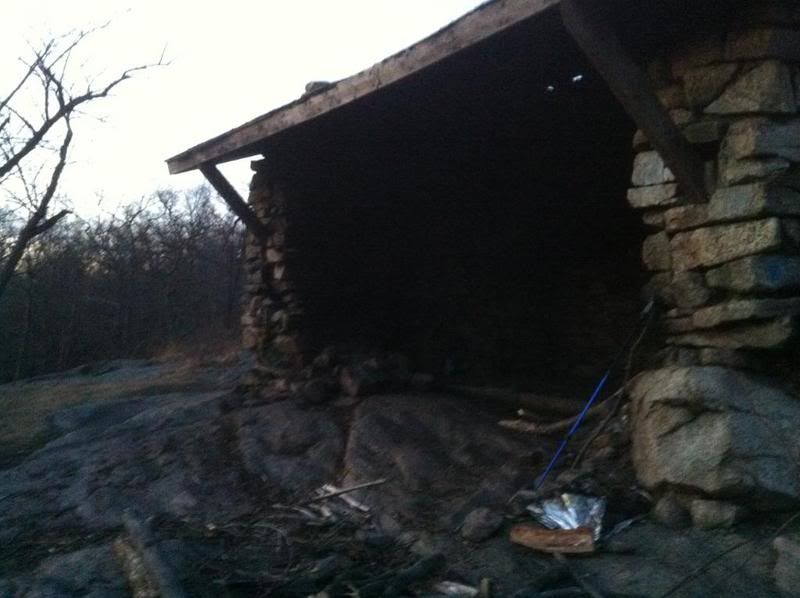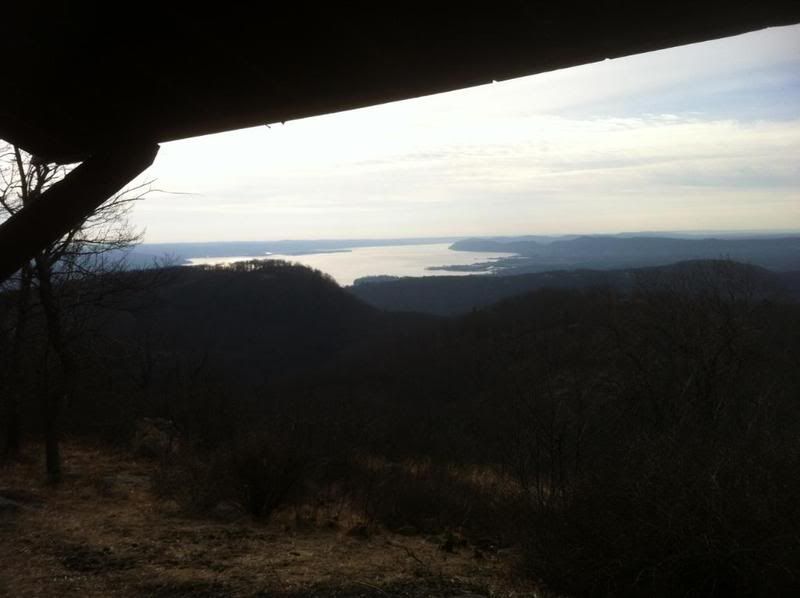 Jas was using the shelter, and I set up my hammock.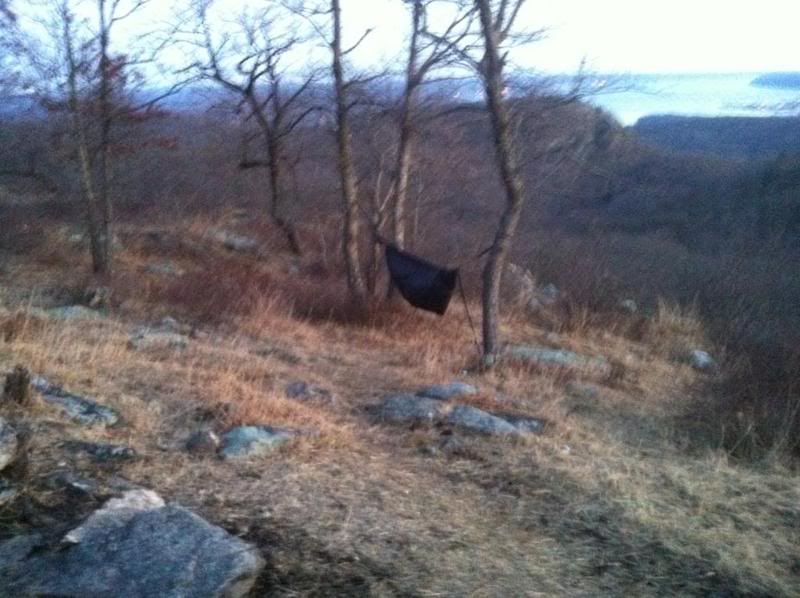 We had about an hour or so left of day light so we went about gathering wood. These shelters are a fairly busy spot and so the wood available is limited and requires a good deal of effort to collect. I batoned a good deal of wood to maximize what we collected, a good knife for batoning and a small saw make processing wood much easier. Keeping a small warming fire going in the shelter's fireplace is smple enough with smaller twigs and branches. We built up a small stone wall on one side of the fireplace to help reflect the heat back into the shelter. It worked well and while the fire was going the inside of the shelter stayed nice and toasty.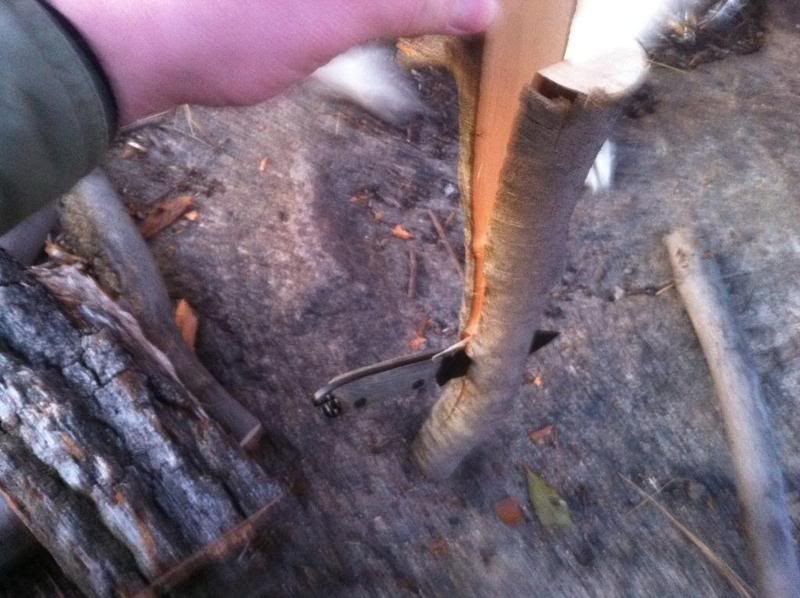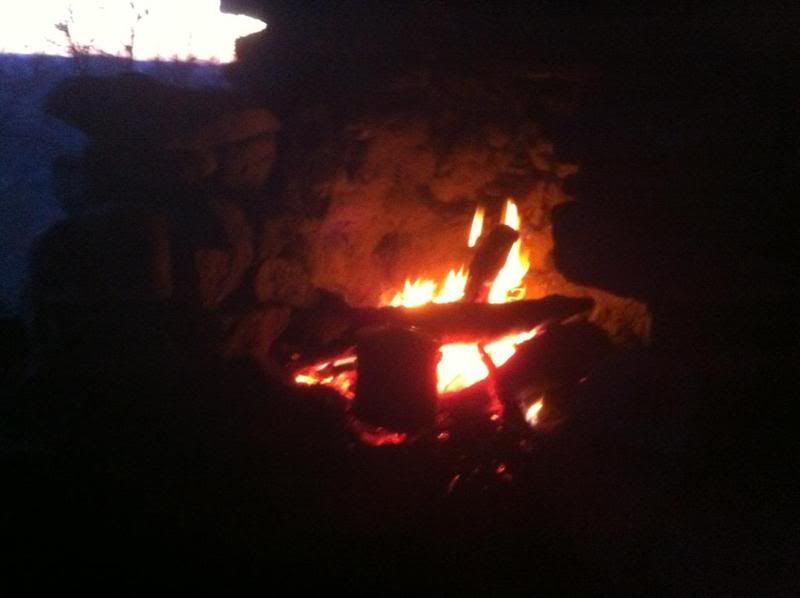 We woke with the sunrise in the morning and made a quick breakfast of steam baked blueberry muffins and coffee, and packed up and hit the trail. On the way off west mtn we filled up water at the only available water source...and oh my effing god was it some nasty stuff. It really made me wish i had my msr miniworks with me. It had the most putrid sulphur taste and smell, airating hardly helped at all, and even gatoraide didn't really help much. We were never so thankful to find good water a few miles down the trail. Day 2 took us down a long descent of West Mtn, and then the ascent of Black Mtn, and lots of small ups and down before reaching the next shelter.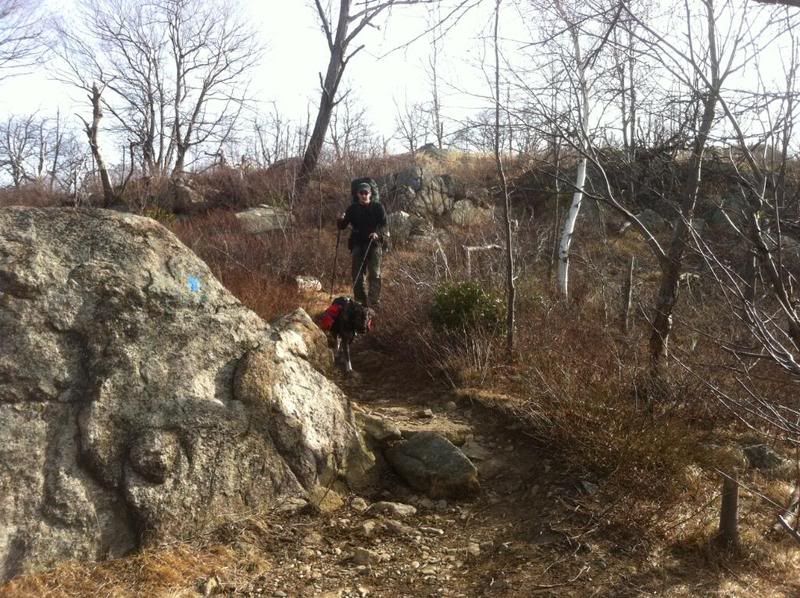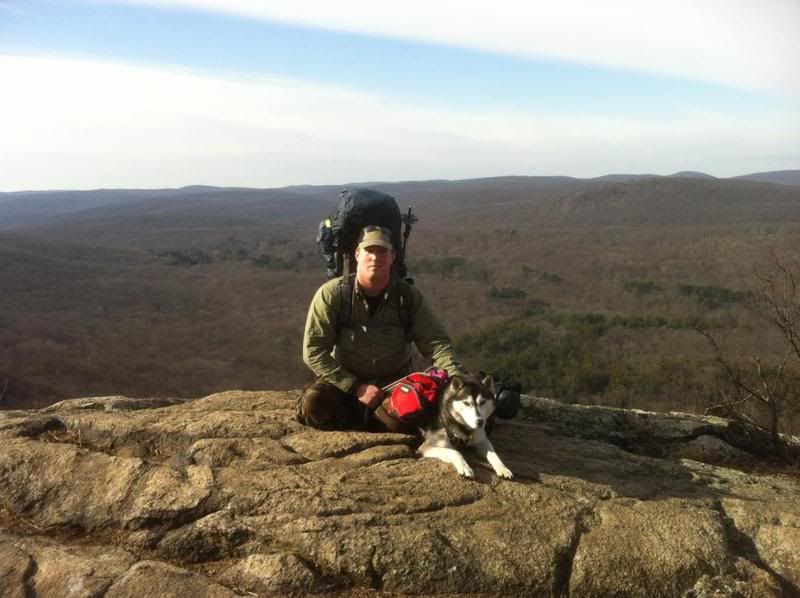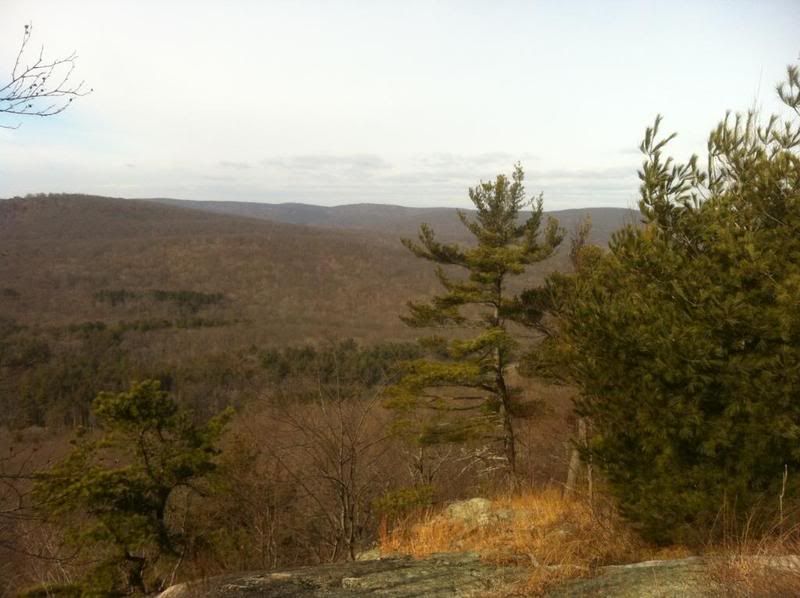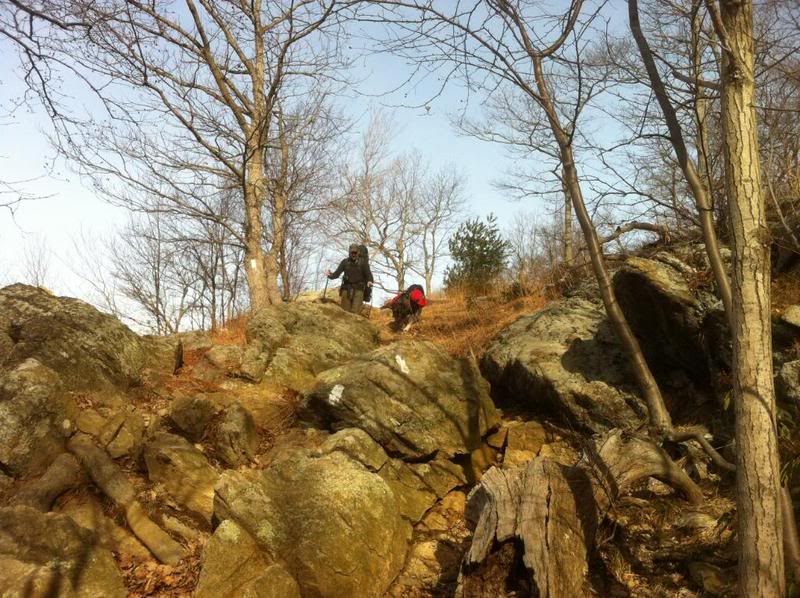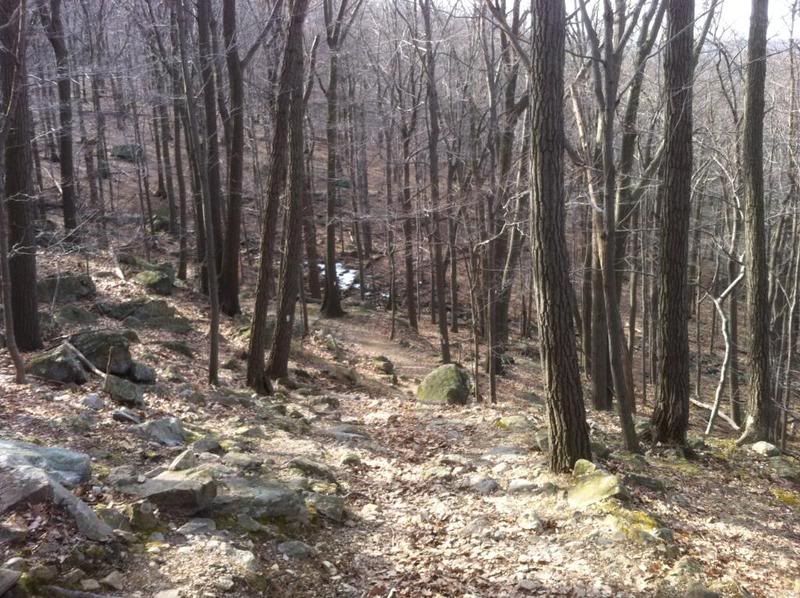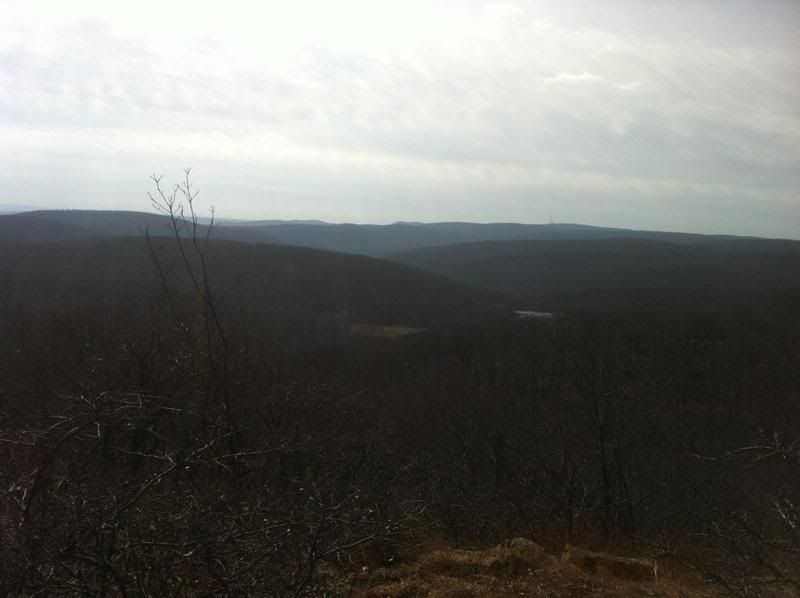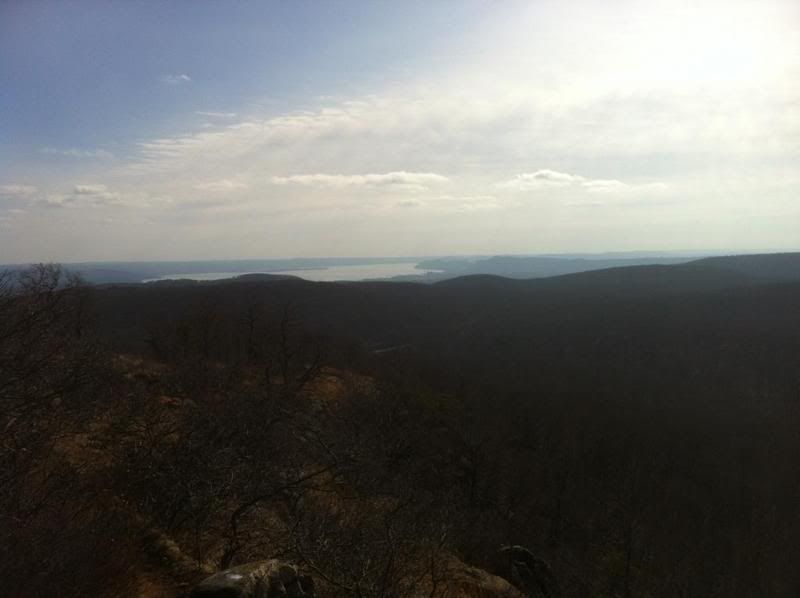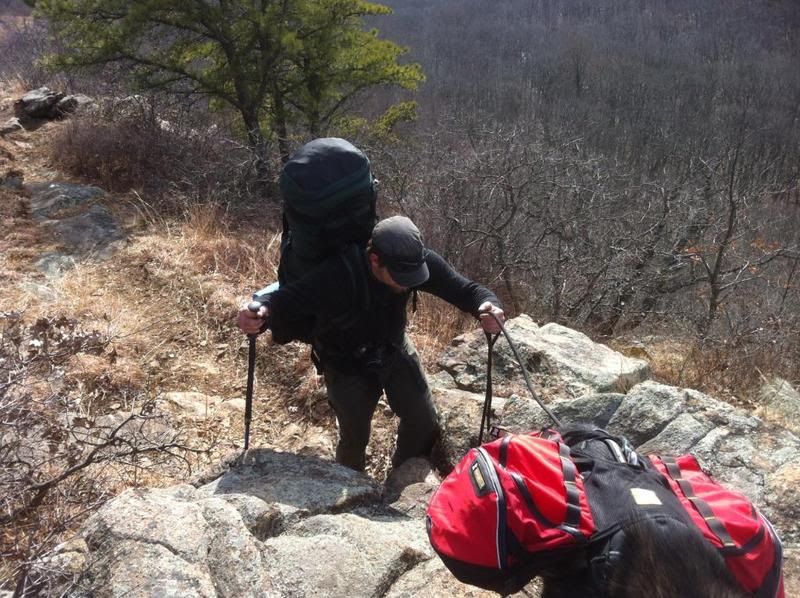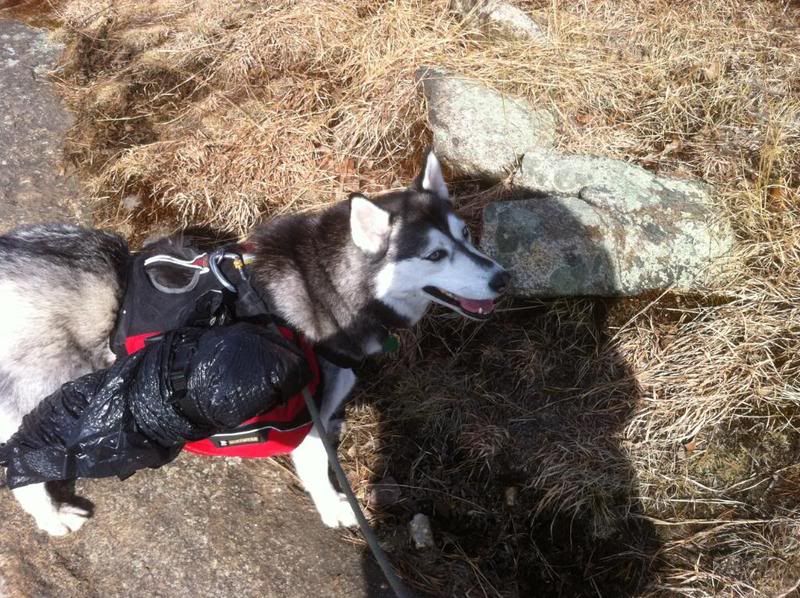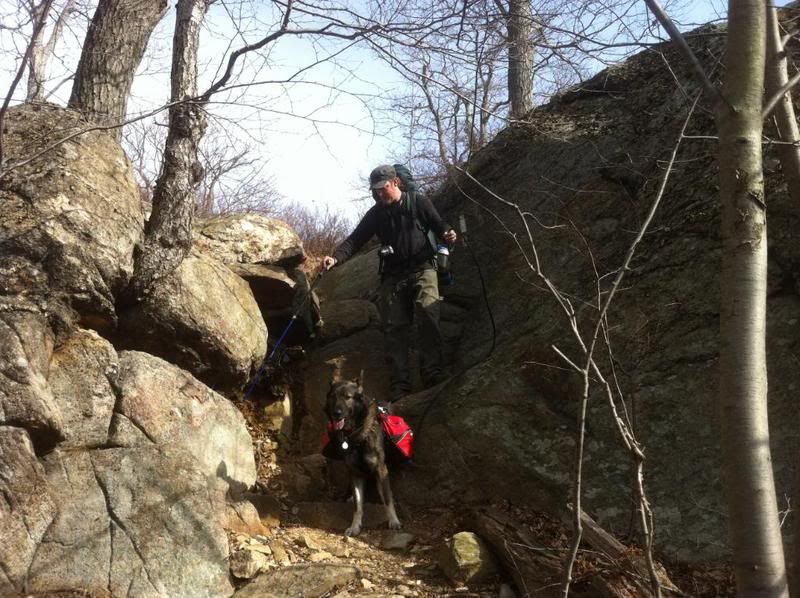 a lot of minor rock scrambling is required in places.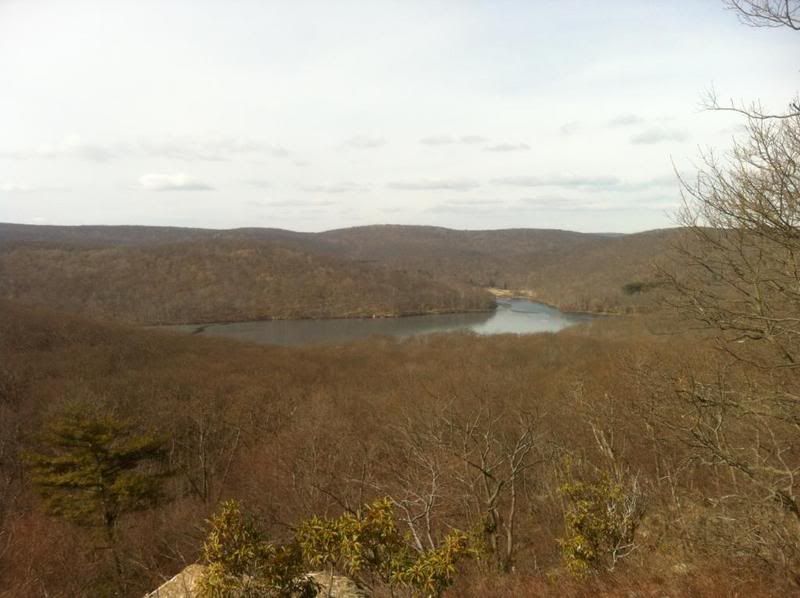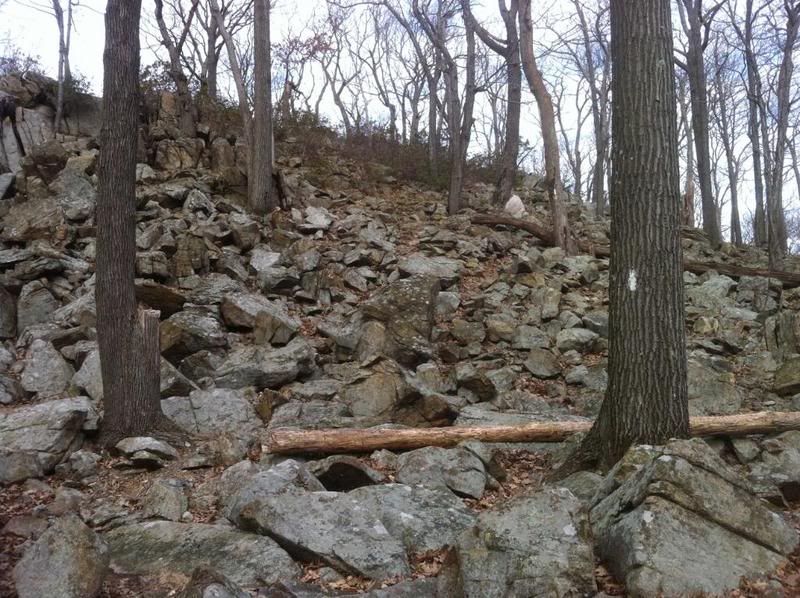 We finally reached the Brien Memorial shelter
And once again I set up my hammock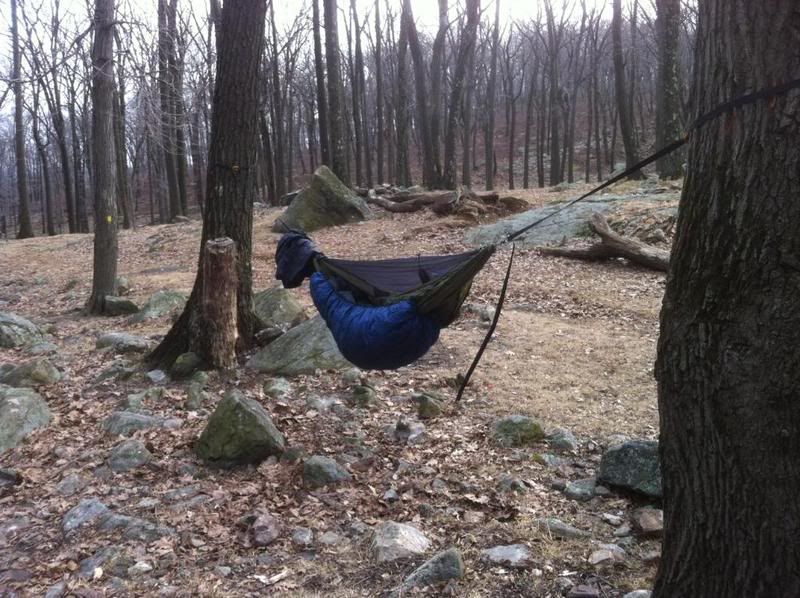 We build another stone wall to reflect heat and quickly get a fire going.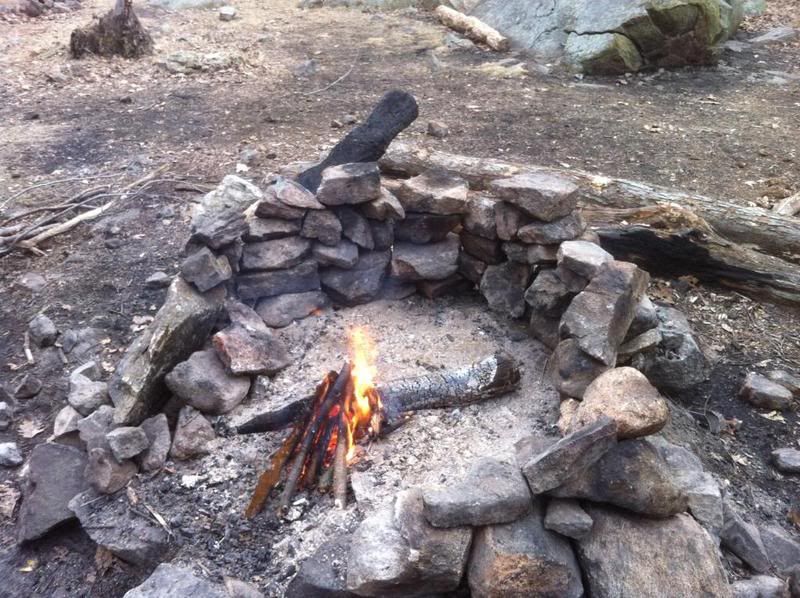 Juno, my siberian husky decides to take a load off and relax by the fire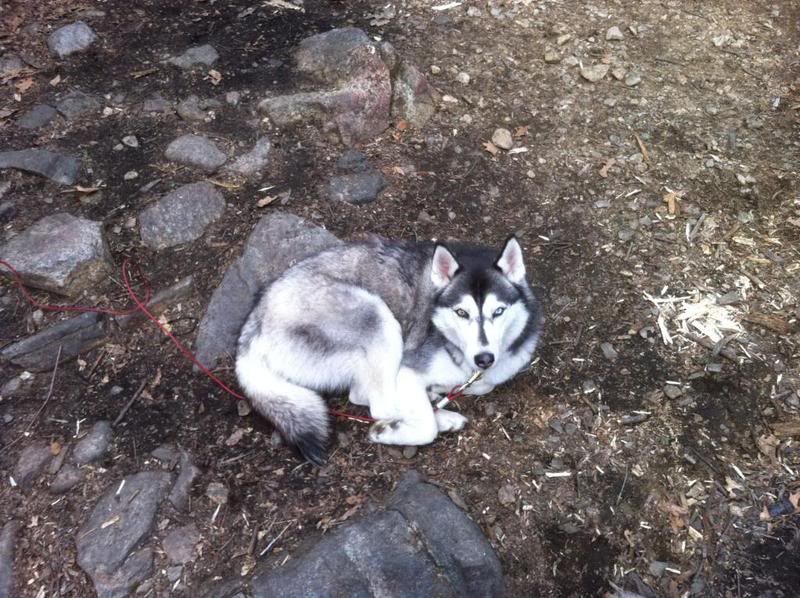 We find a spring and use my Mors pot to dip water out of it and filter through a bandana to get out the floaties. We then either boil or use a steripen to treat.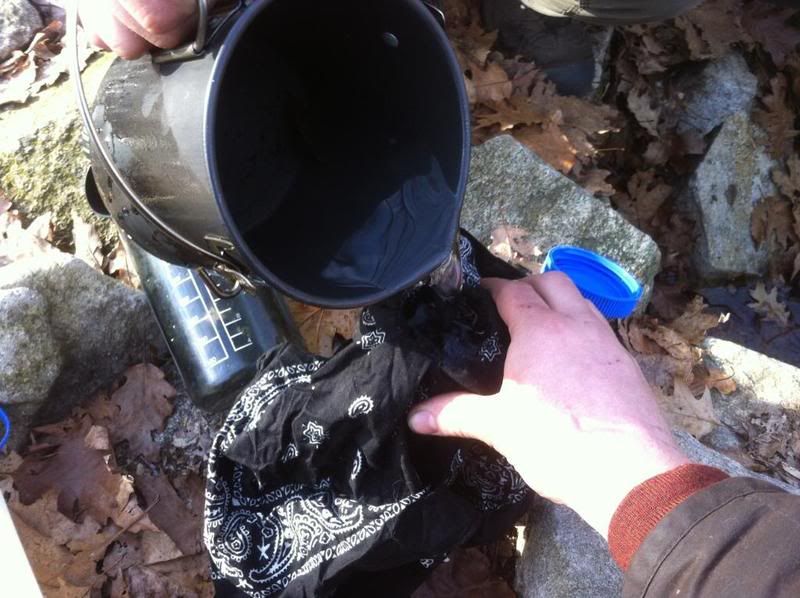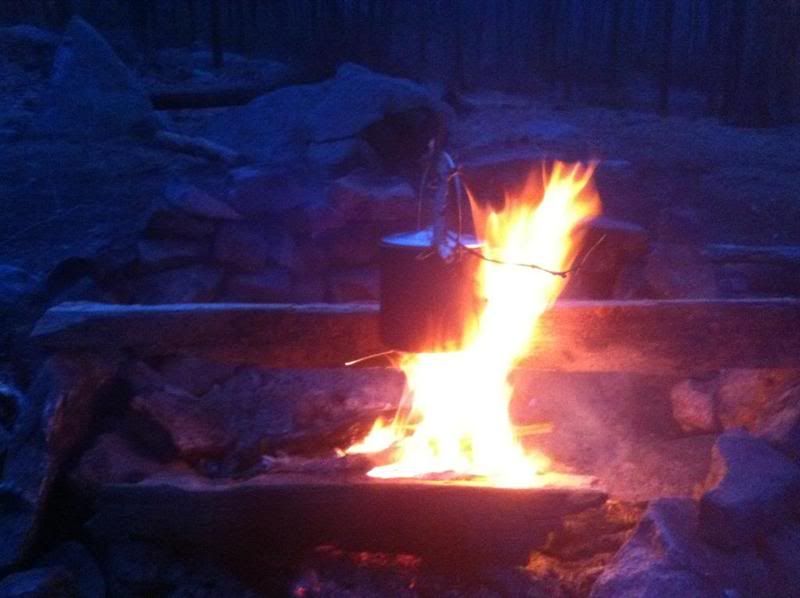 After a good meal we plan our route for the next day. I spend some time teaching Jas how to read all the different features of a topo map, and how to use a compass to plot a route, and also get a visual fix.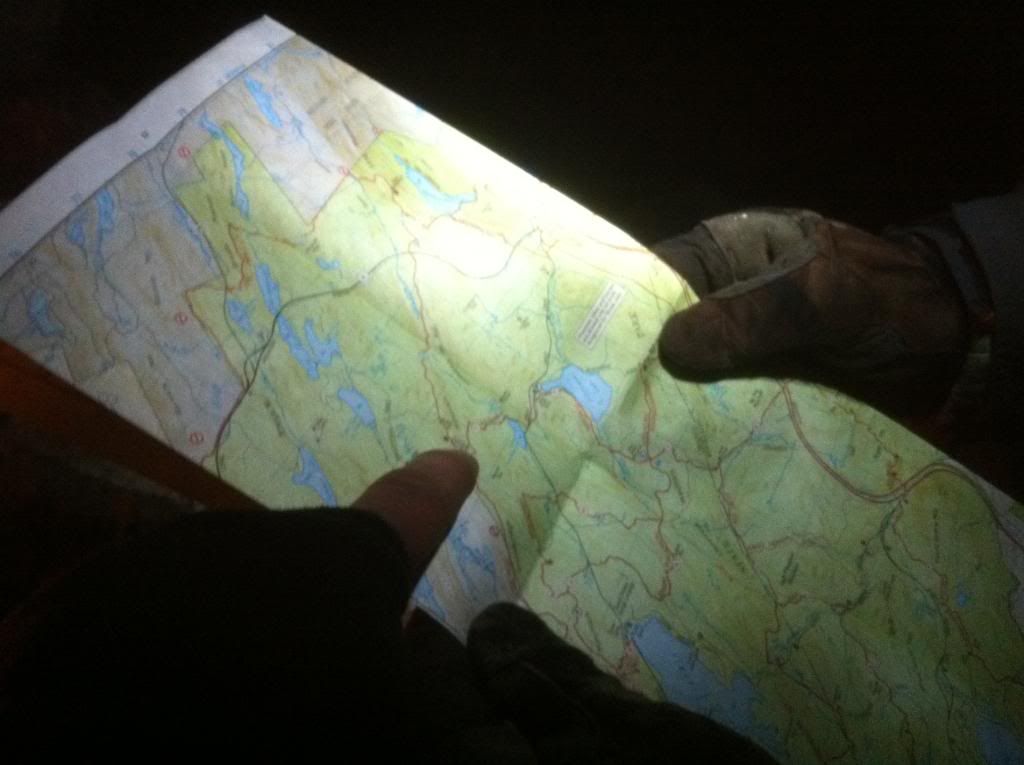 Day 3 dawns as a cold one, with most of our water frozen solid and we make a good fire to start warming up. I decided to show how to steam bake since it seems most people are showing how to make bannock. Steam baking is simple, and can be done by preparing our own mix, or by buying premade mixes. I personally like the just add water blueberry muffins, and corn muffins for simplicity.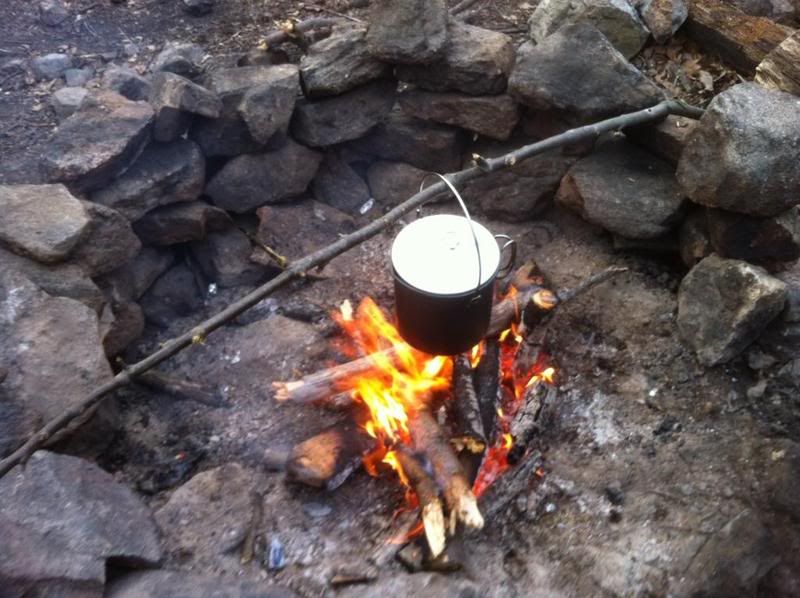 **I can't get this picture to post despite resizing it** Here is a direct link
http://s936.photobucket.com/albums/ad20 ... G_1185.jpg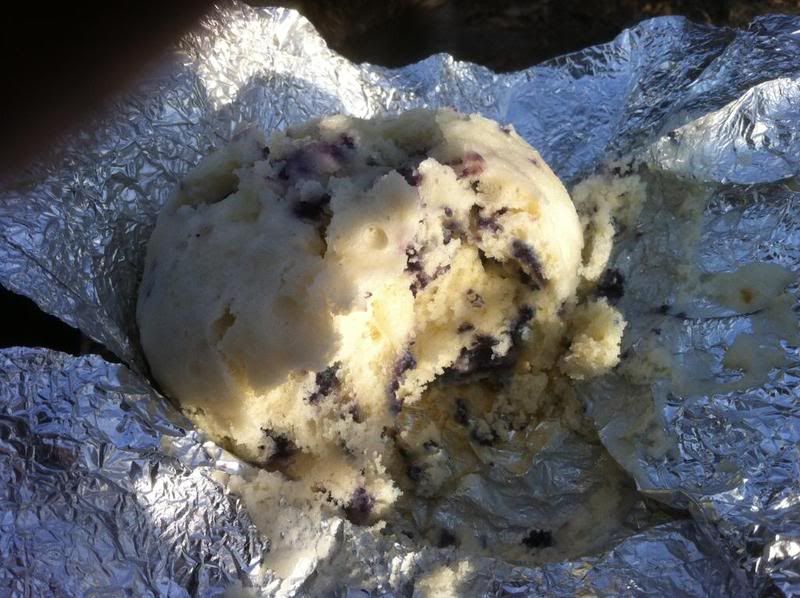 The hike day 3 starts off easy following a lake shore, and then gets much harder making the assault on Stockbridge.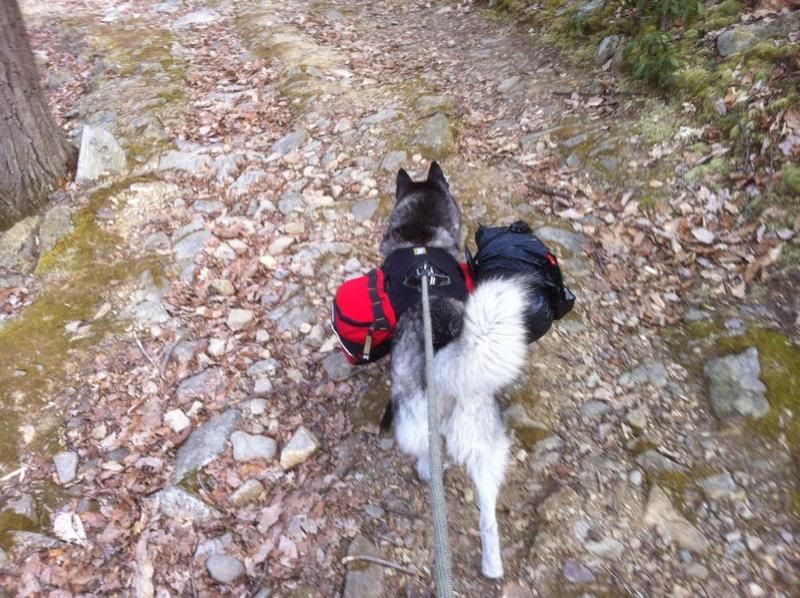 We find a yellow birch along the way and gather a small amount of the sluffed bark for use as tinder.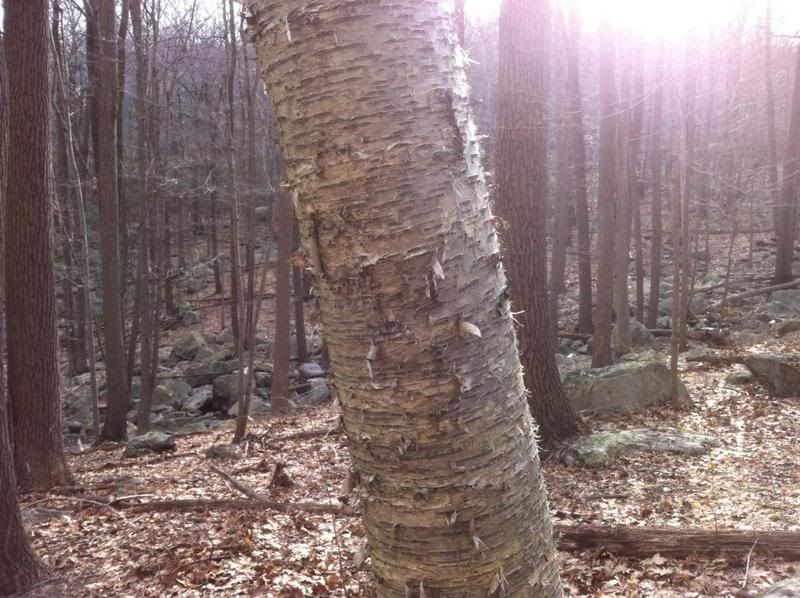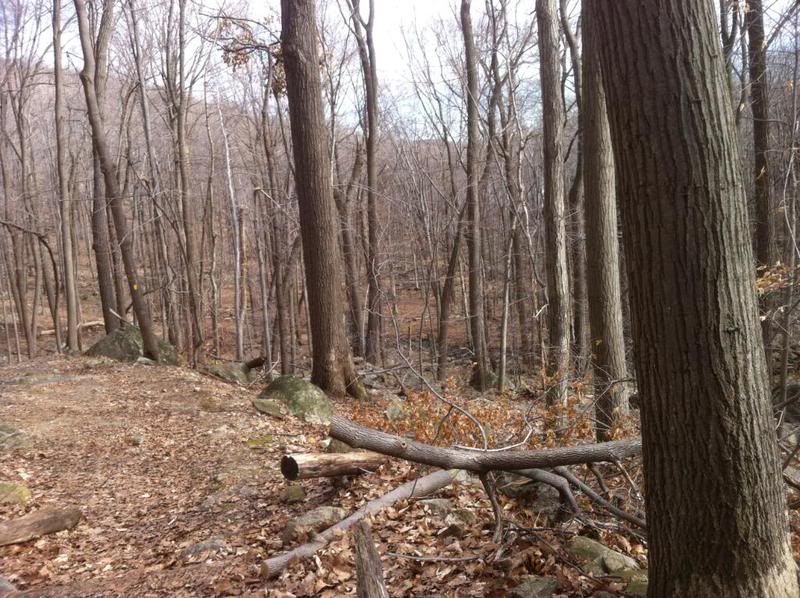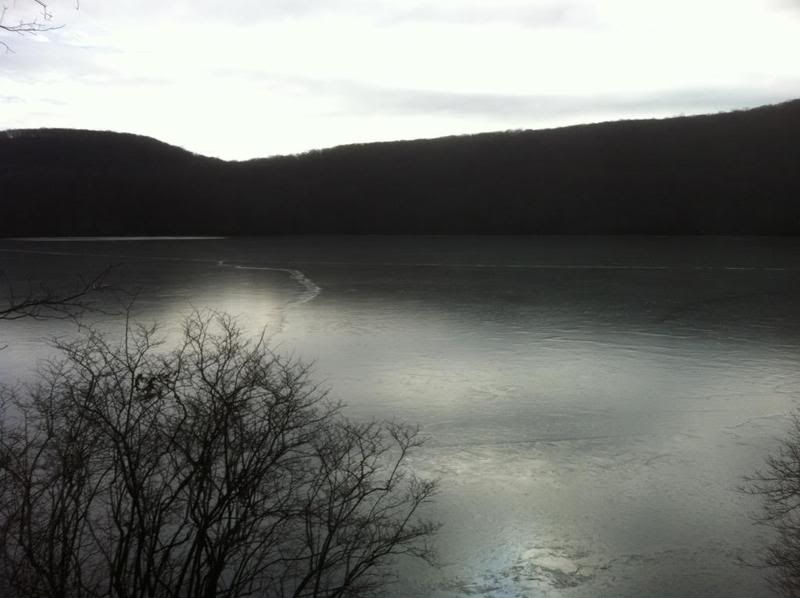 We finally reach the summit of Stockbridge Mtn, and reach the shelter which was awesome 180deg views . Water however is a long down hill hike.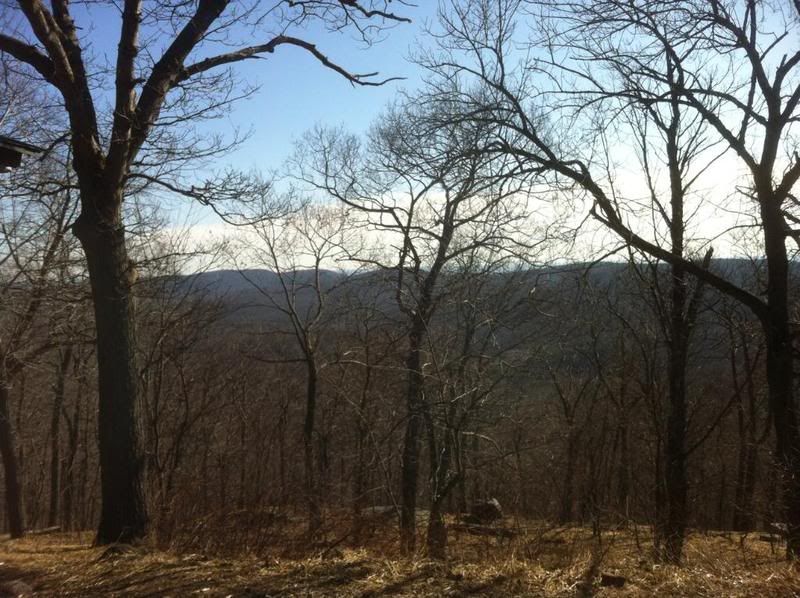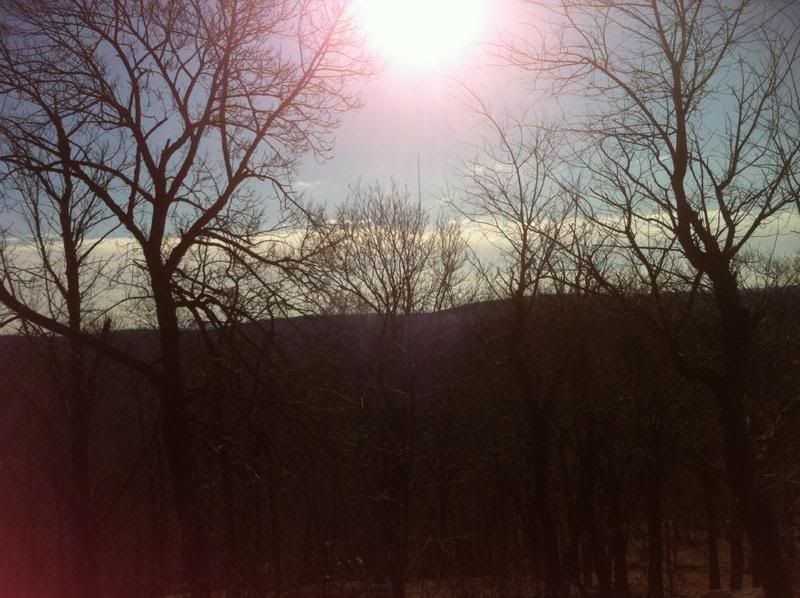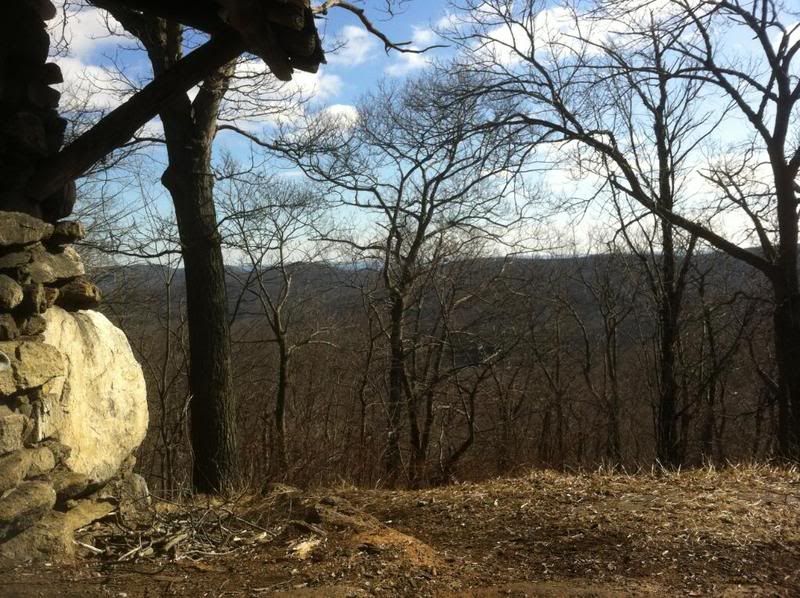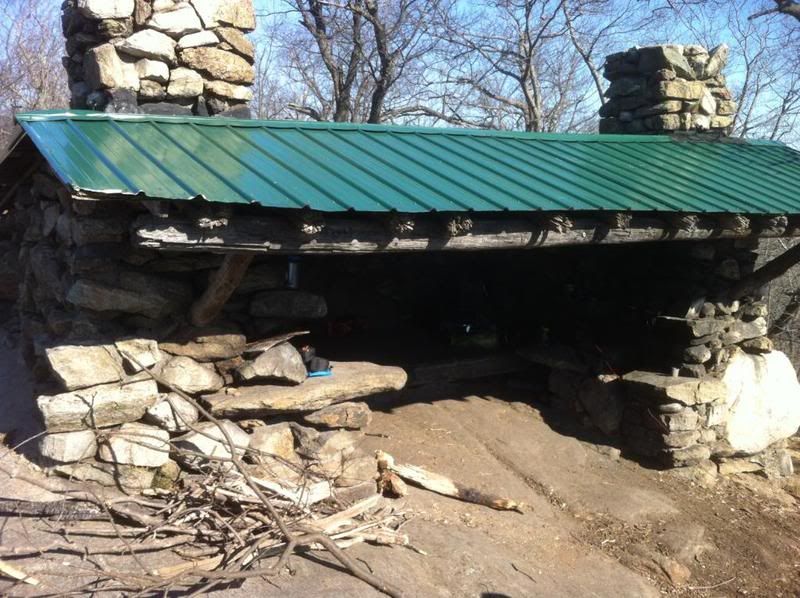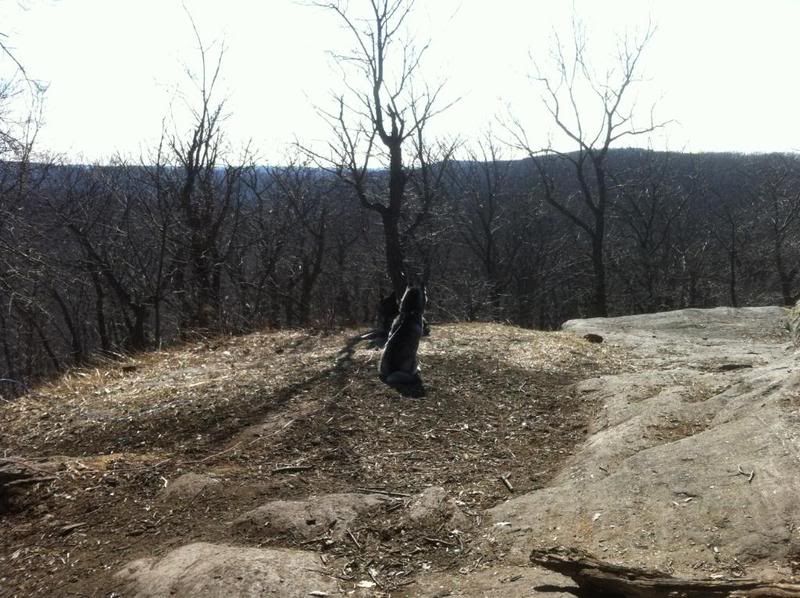 The dogs make good look outs and let us know well in advance of someones approach, but they don't bark until they get real close, so it gives us time to evaluate them before we are detected.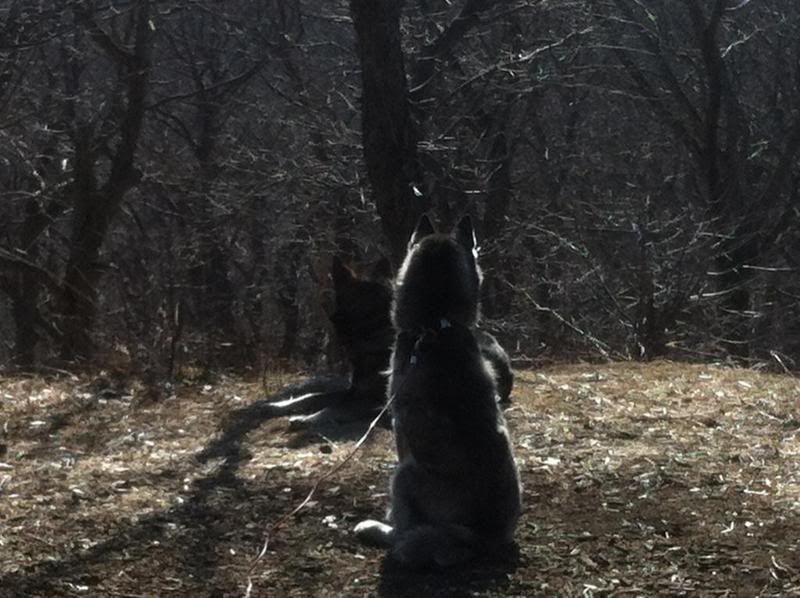 Jas manages to rip a big hole in his pants and i lend him my dental floss and sewing needle to make a repair.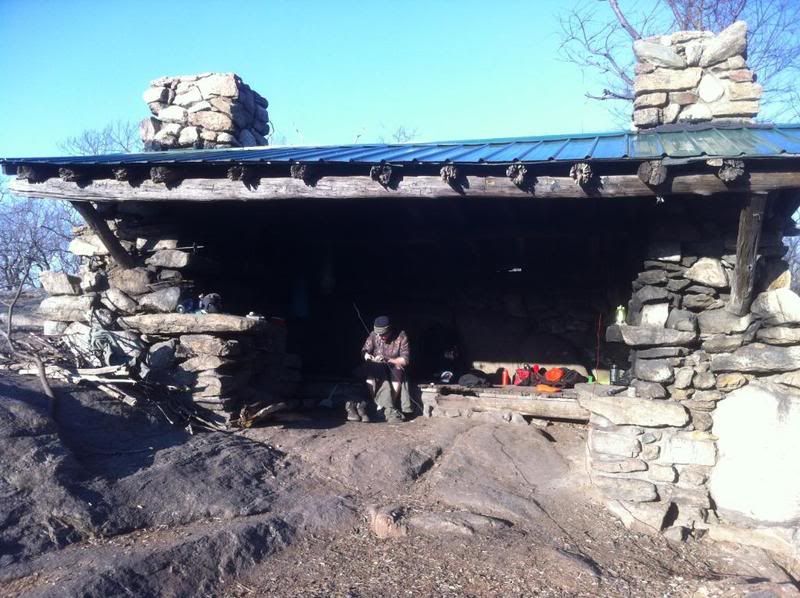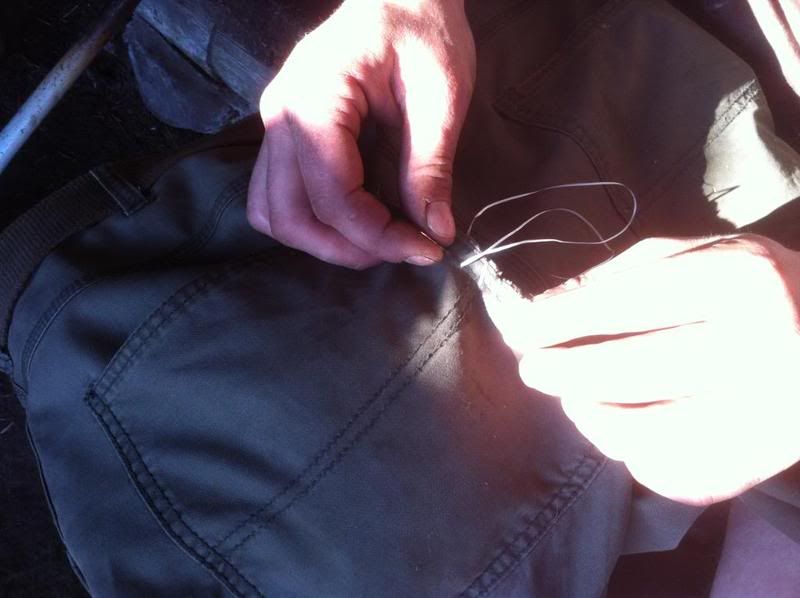 The stone shelf makes for a good drying rack for my bandanna and socks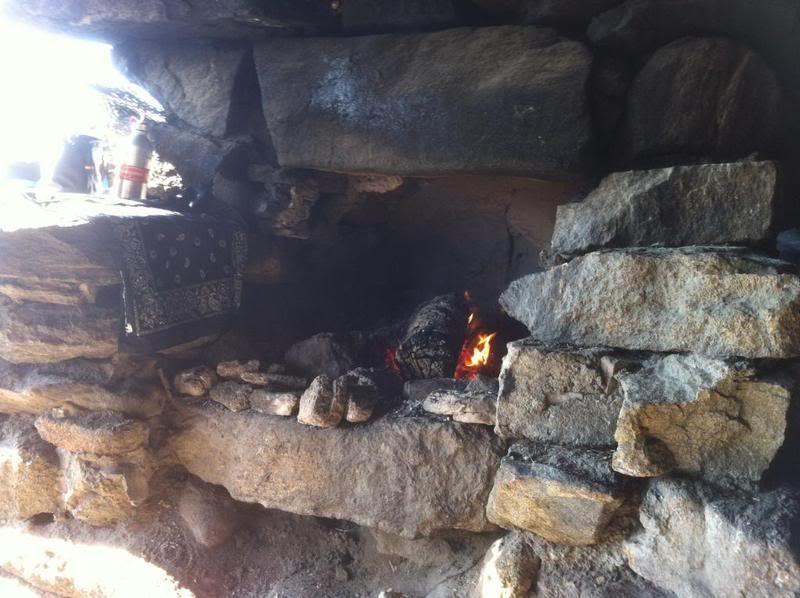 After being relieved of guard duty the dogs take a nap.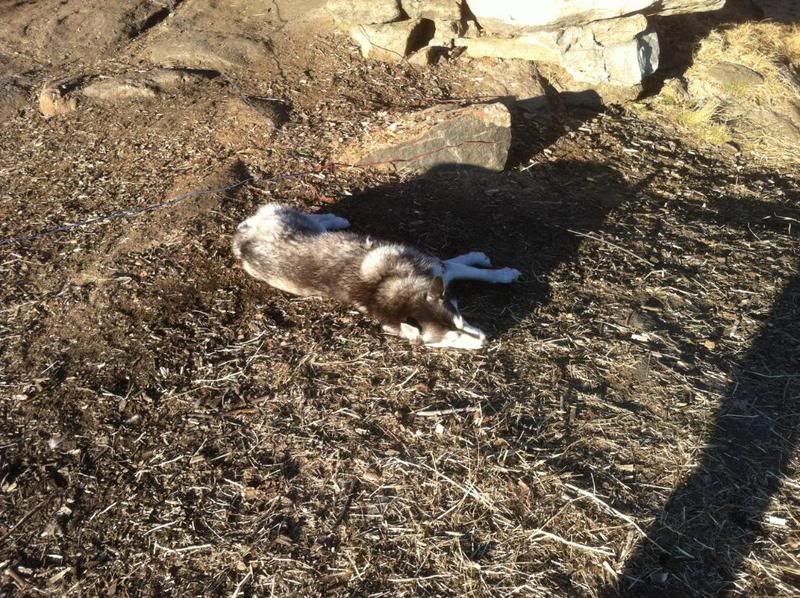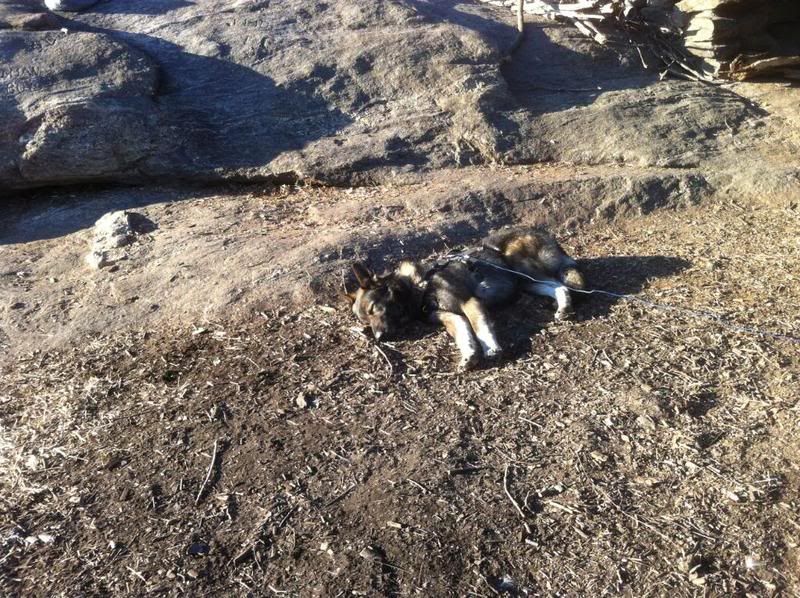 We catch a nice sunset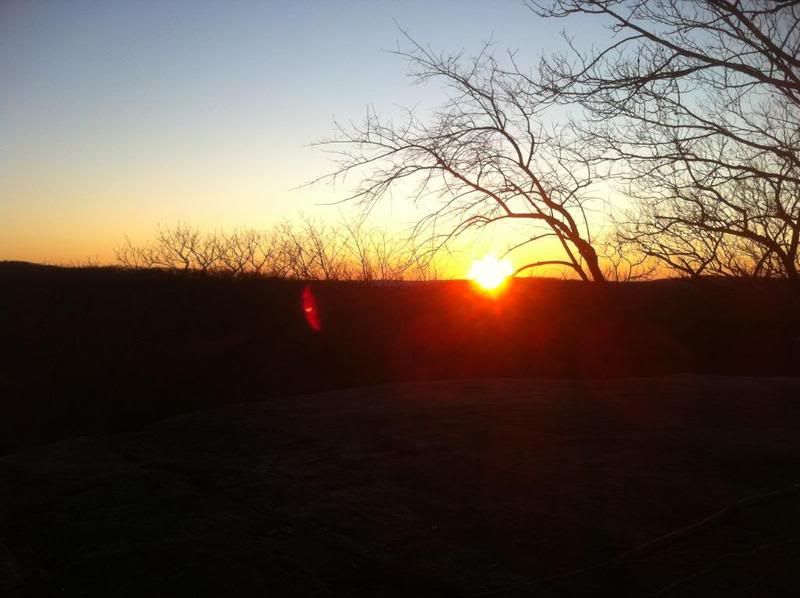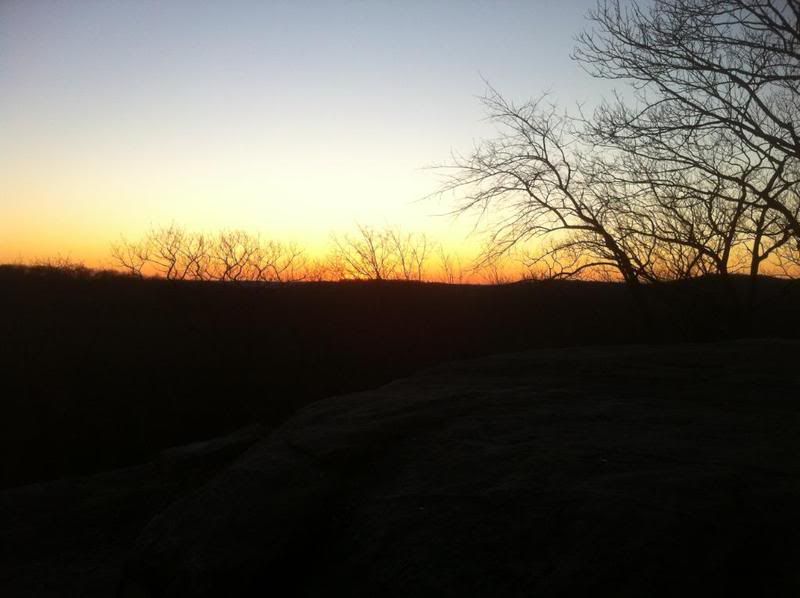 The moon was full and bright and made for some good night hiking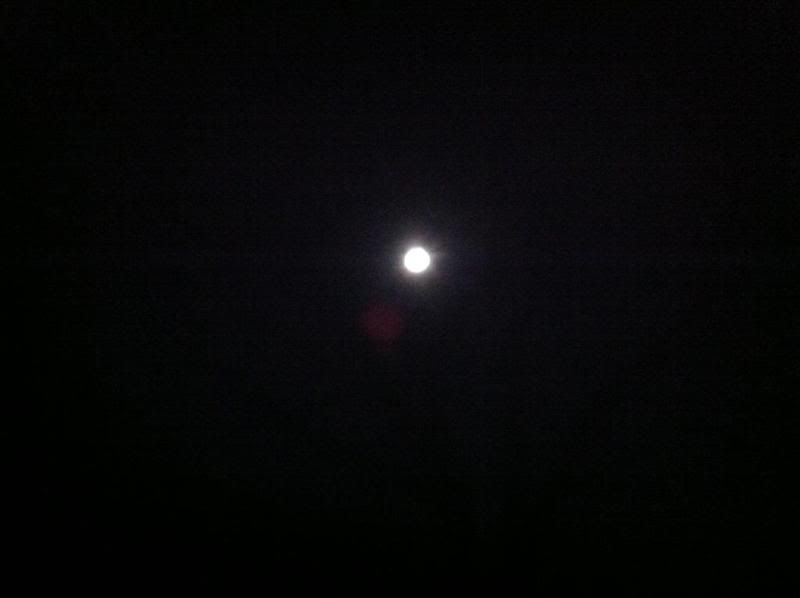 The next day was a started off with a nice long ridge walk that gave a good view of the surrounding areas.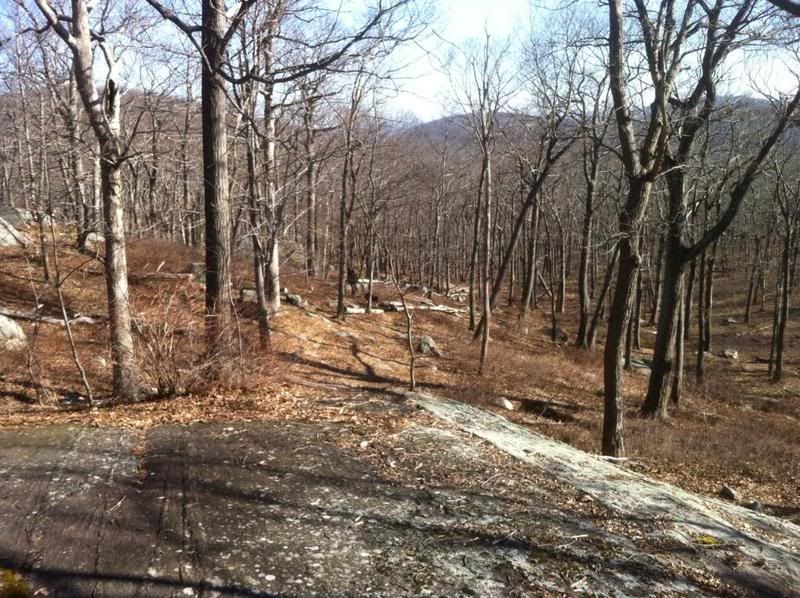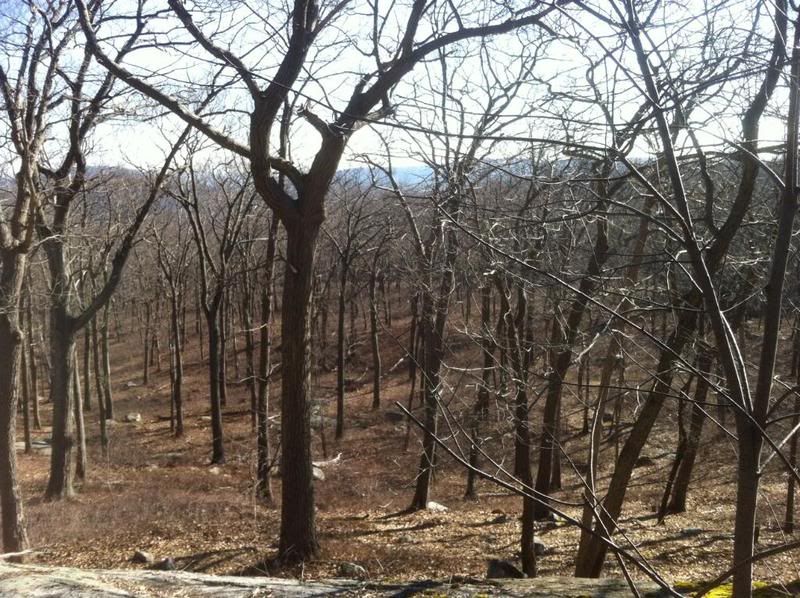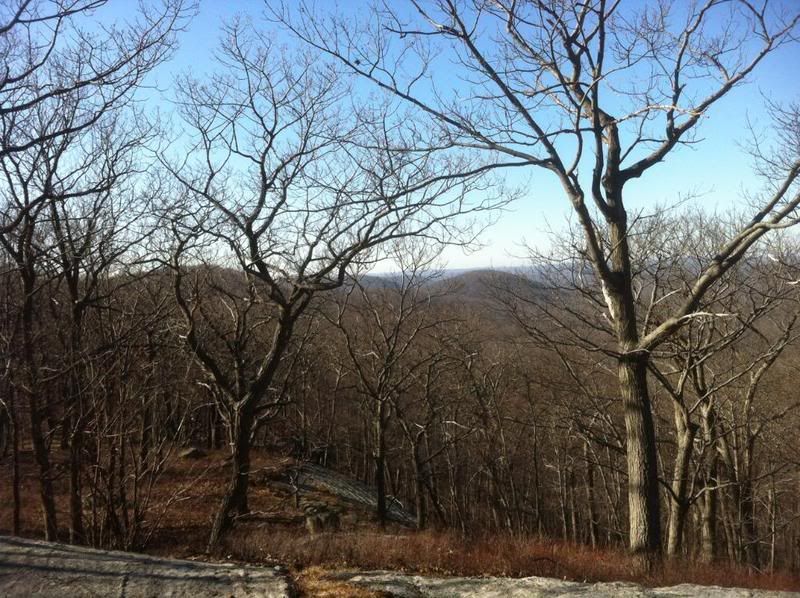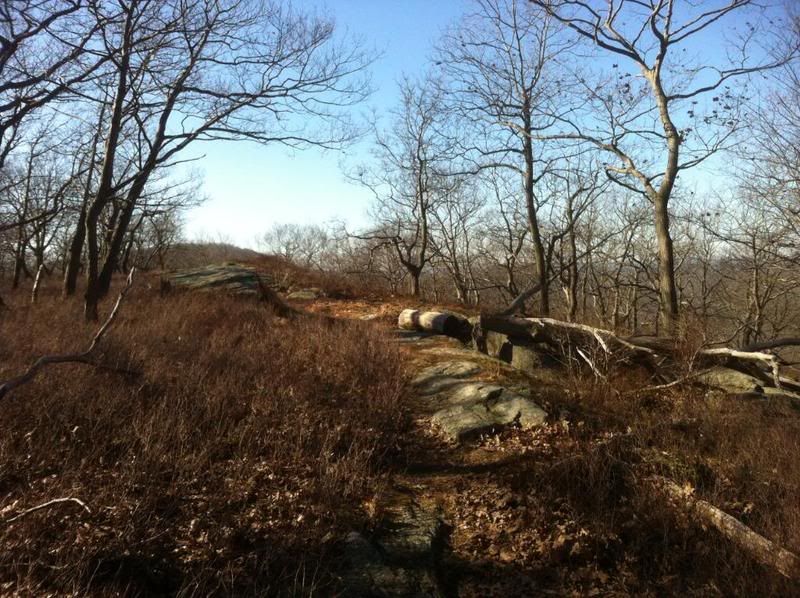 The later part of the day has us ascending the fingerboard en route to the fingerboard shelter.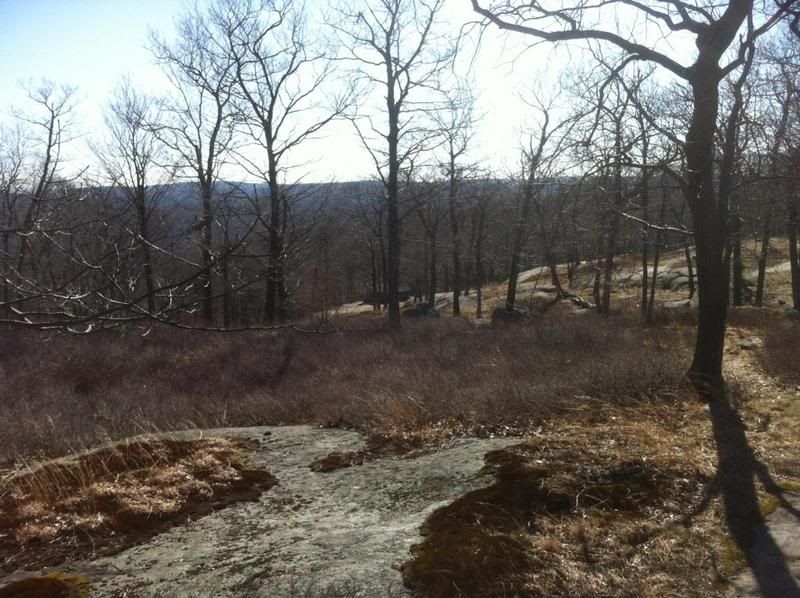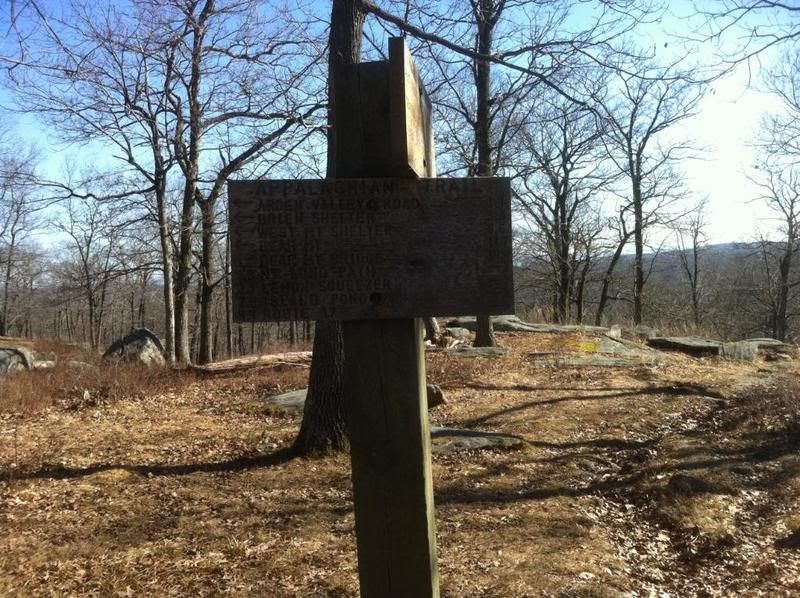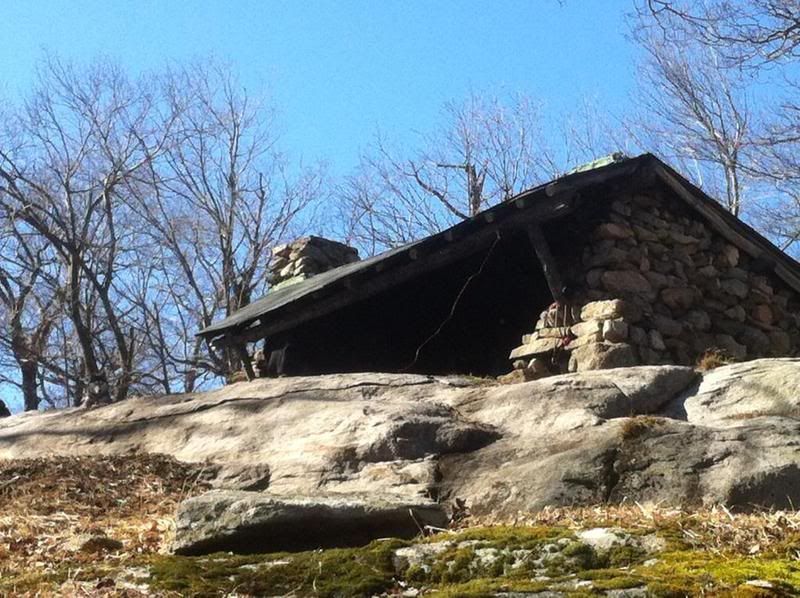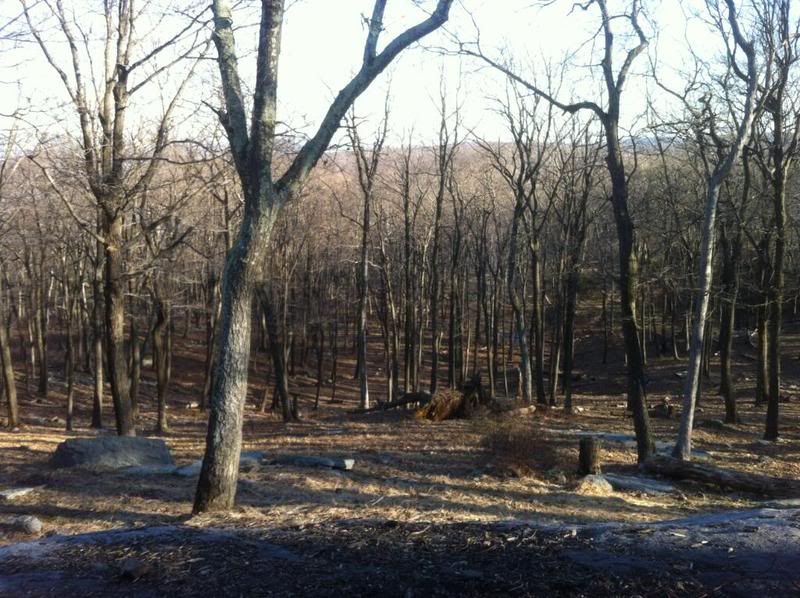 Water is a steep downhill climb once again from this shelter.
I try my hand at making pine needle tea, and it turns out good, but i should have used a lot more needles, it was fairly faint tasting but letting it simmer on the fire for a bit strengthed it up.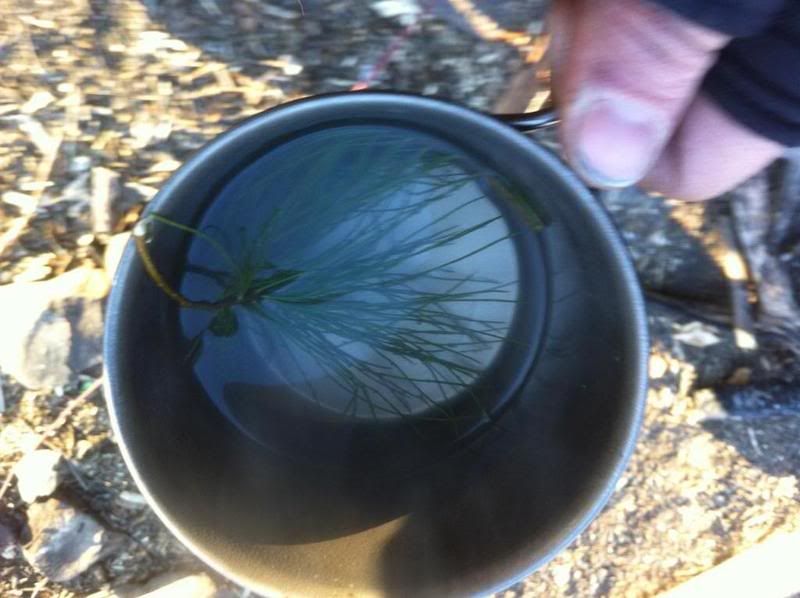 Several deer come to investigate us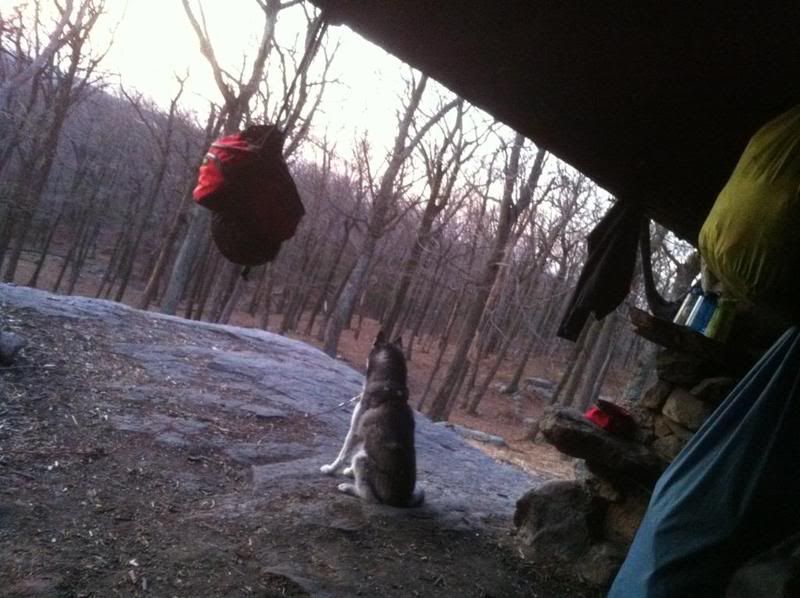 The next day we decide to alter course and camp along a different route to the south, we study the map and come up with a plan. We get to the suppossed location of a unmarked trail but have no luck finding an actual trail. I get my bearings with my compass and then we make about a half mile- 3/4 mile bushwhack to meet up with the desired trail. The bushwhack goes smoothly, but we did have to cross a very swampy marsh area. It was pretty well frozen so we didn't get too wet.
We spy a nice little water fall in the distance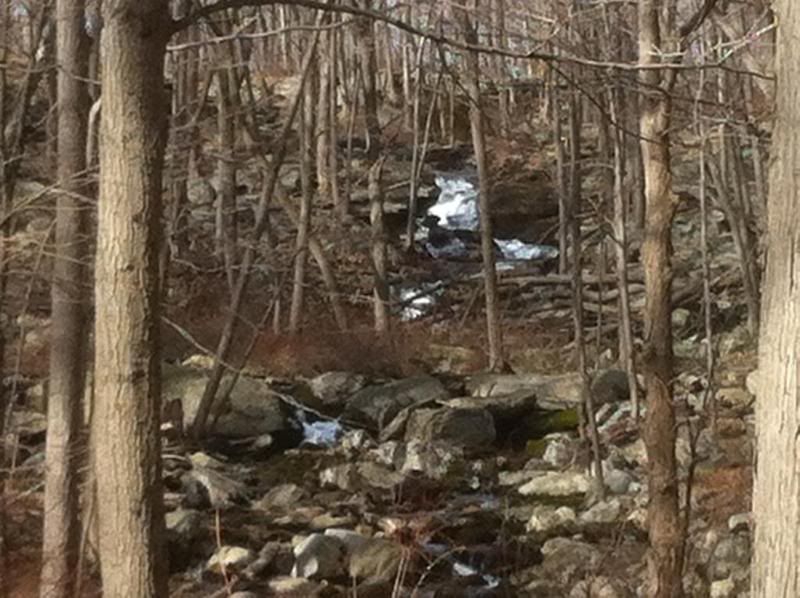 We find a nice spot to make camp right near the brook for an easy FLAT walk to water.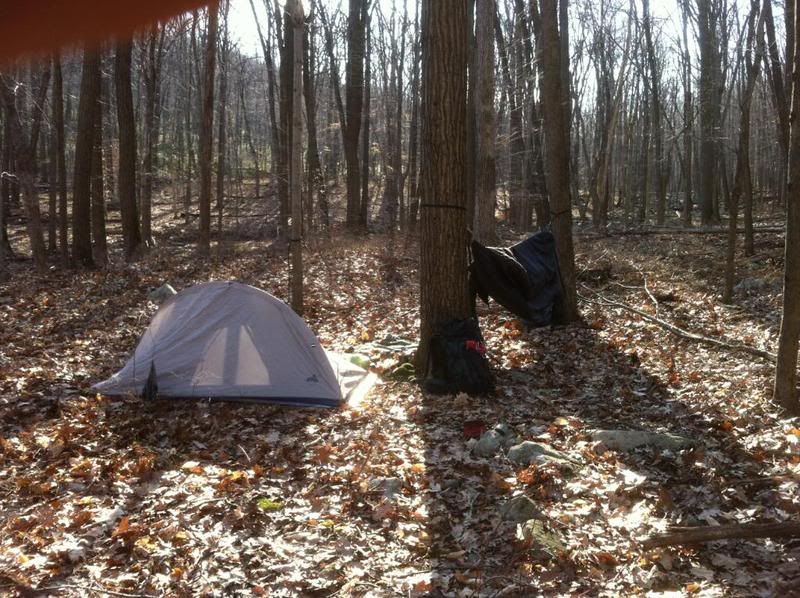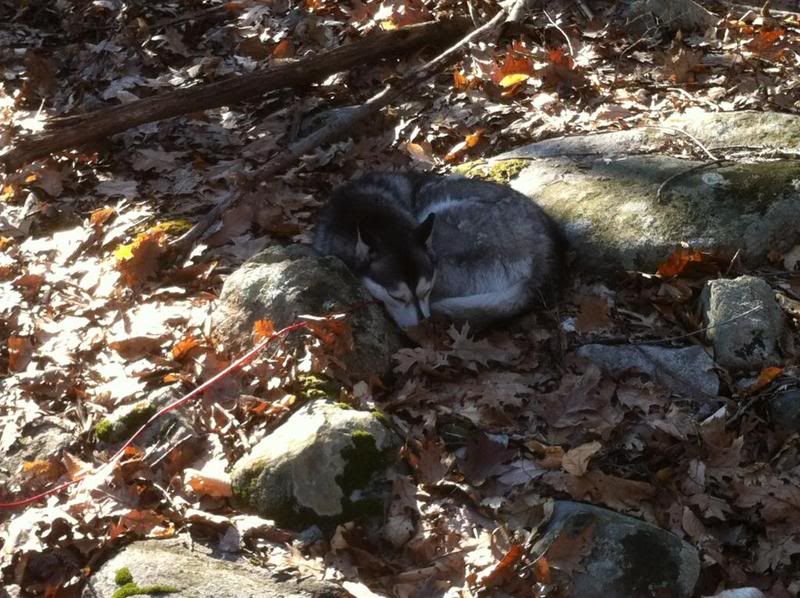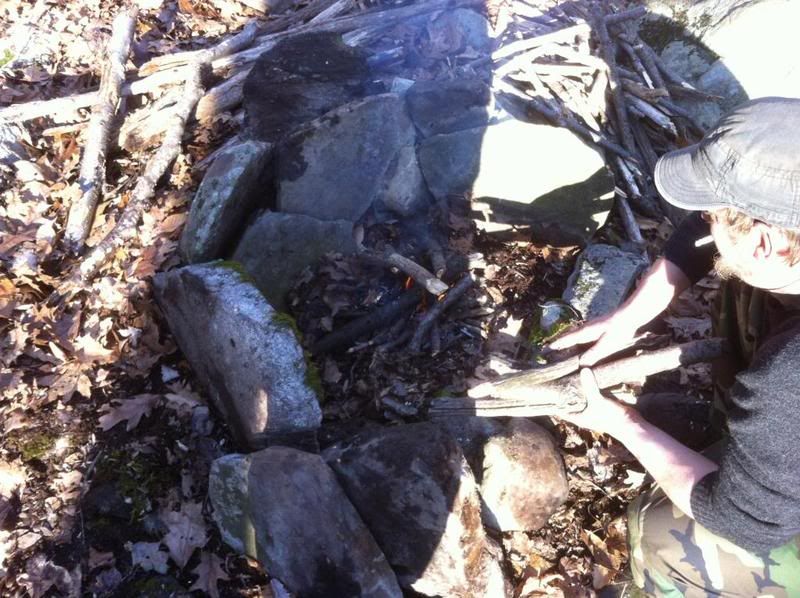 The next day we head north to Brien memorial shelter to meet up with a friend. Day 6 has no pictures, becuase i feared that if I took a picture while 'Semen foot' was around he might return in the night to kill us. 'Semen foot' was an interesting individual that showed up about the same time as Camper and Solo. He was supposseduly doing a southbound 'thru hike' from MA to GA. Semen foot entertained us for a 'short' break, and about 5 hours later he departed. He told us of how he prevents trench foot by rubbing semen over his feet, and how he pondered if feces would work as well. I asked him why he just didn't air out his feet...laughter was the responce. I guess he just likes it. Then there was the tree hugging and literally humping. Then the stories of how he wants a bastard sword because he was a bastard, and he started swinging around his trekking poles wildly. Then he said he wanted to move to NYC and become a 'Rat Ninja' and use a sling shot with egg shells filled with powdered glass to rid the city of the excessive rat population. His goal was to be able to draw his slingshot, shoot a magic egg, and holster before it even hit. He had been busy practicing he tells us.
Did I mention he was shirtless and sprinting around everywhere and its 20f out? He asked for some food so Jas gave in to the art of Yogi and gave him some soup and chili, and 'Semen foot' proceeded to pour them into his metal water bottle and then make a pot of tea and pour about 2 cups of water into the bottle. "Wow this is Salty" says semen foot. Camper "You should dilute it with some more water". 'Semen foot' "It's ok, i'll drink some water later"
Semen foot is going stoveless and eating mainly peanuts and cheerios, and he is saving a ton of weight by not bringing rain gear and just banking on snow...
After a long 5 hours he finally continues on. Around midnight thirty we thought that Juno was under attack by Semen foot. Jas and Mike sprung out of their racks trying to find anything to defend themselves from bastard swords and powdered glass. I tried frantically to uncocoon myself from my hammock. The cries of terror and the sounds of juno fighting for her life filled the air. We then breathed a sigh of relief to find that Juno was fine, and that she had treed 'ricky ninja' the neighborhood racoon, and that 'semen foot' was not returning to finish us off. We went back to sleep reluctantly with dreams of being hacked to death by bastard swords and our eyes shot out with egg shells.
We ended up getting a dusting of snow that night.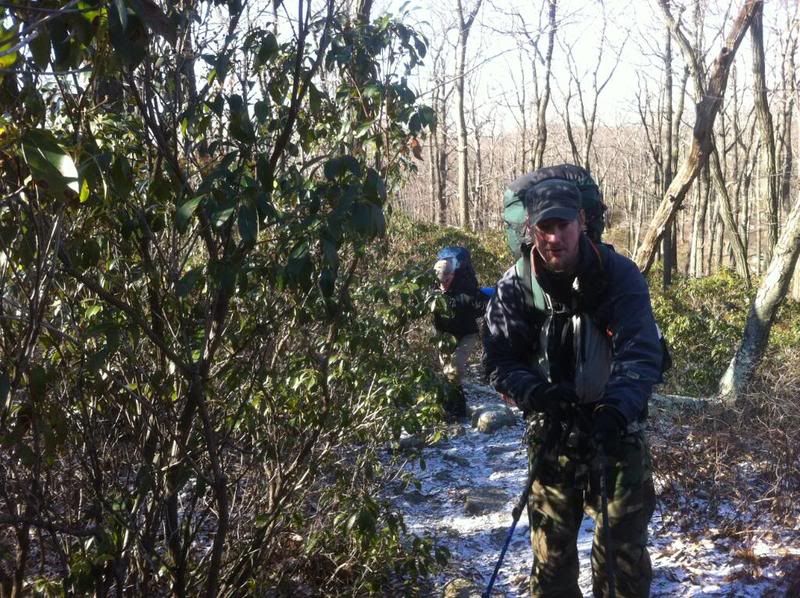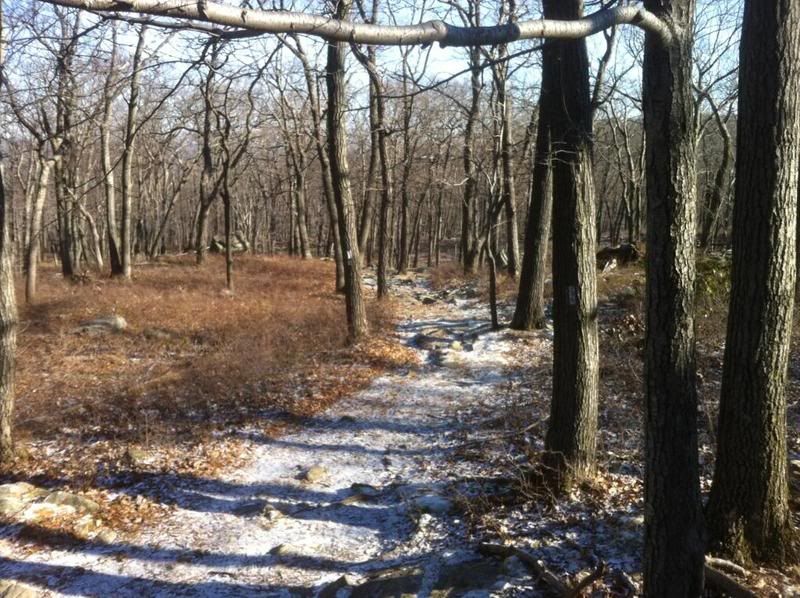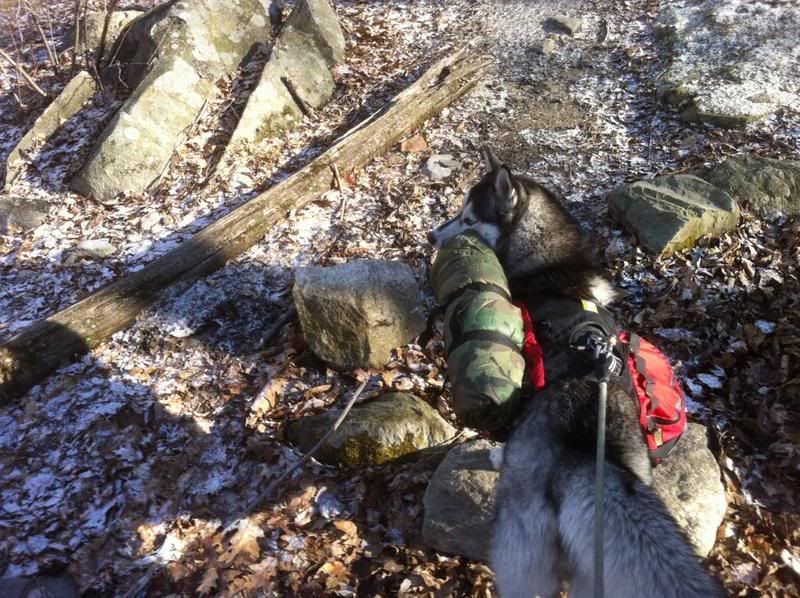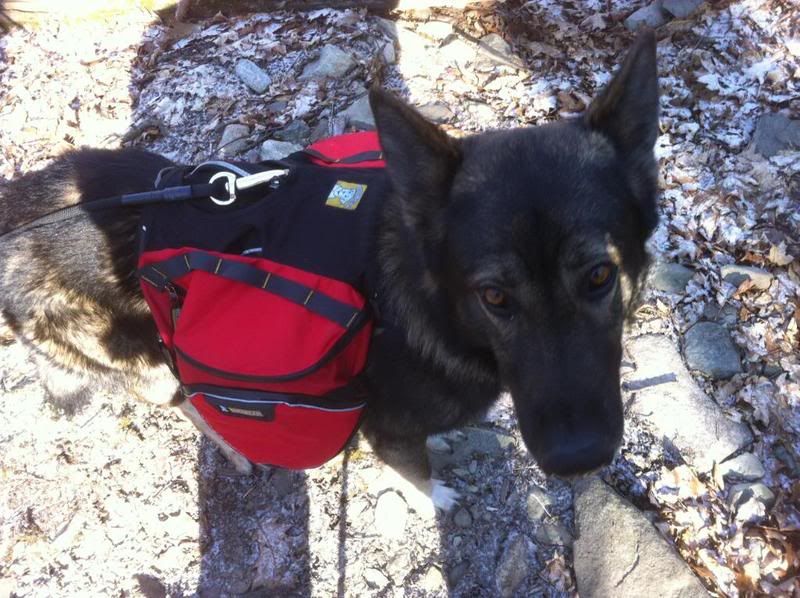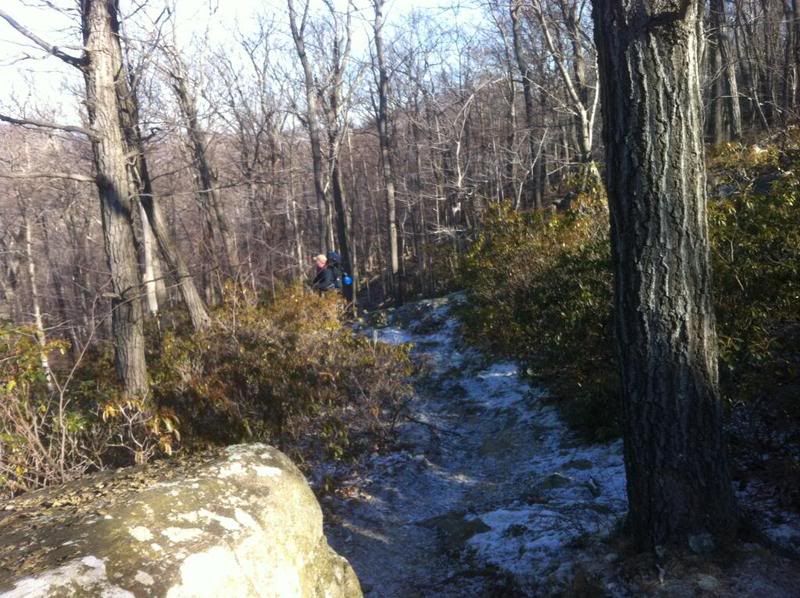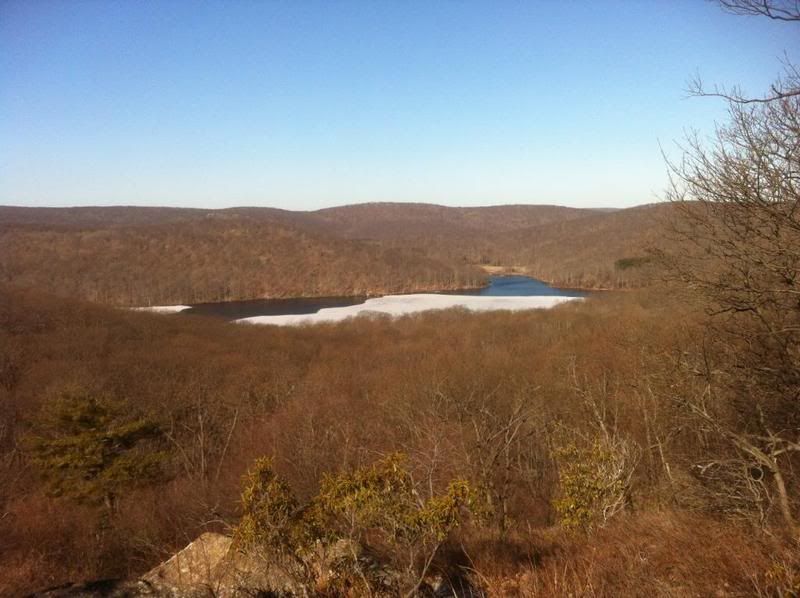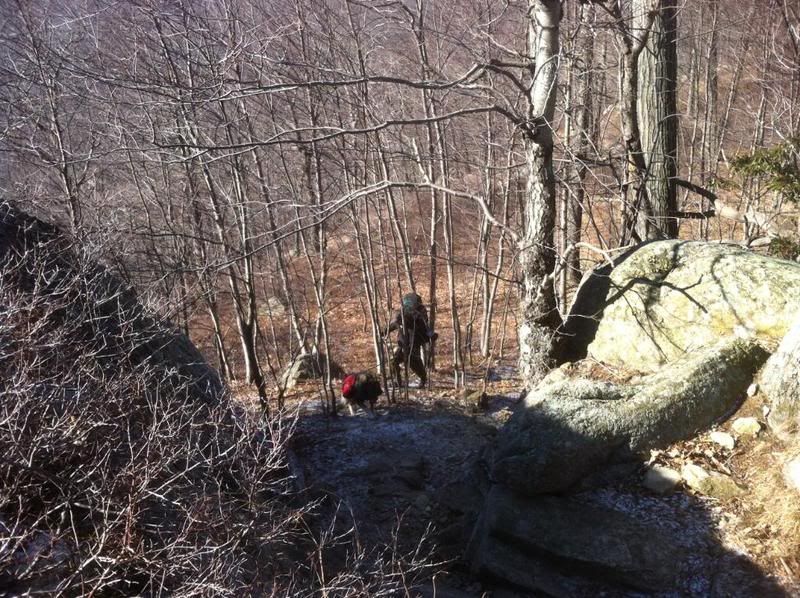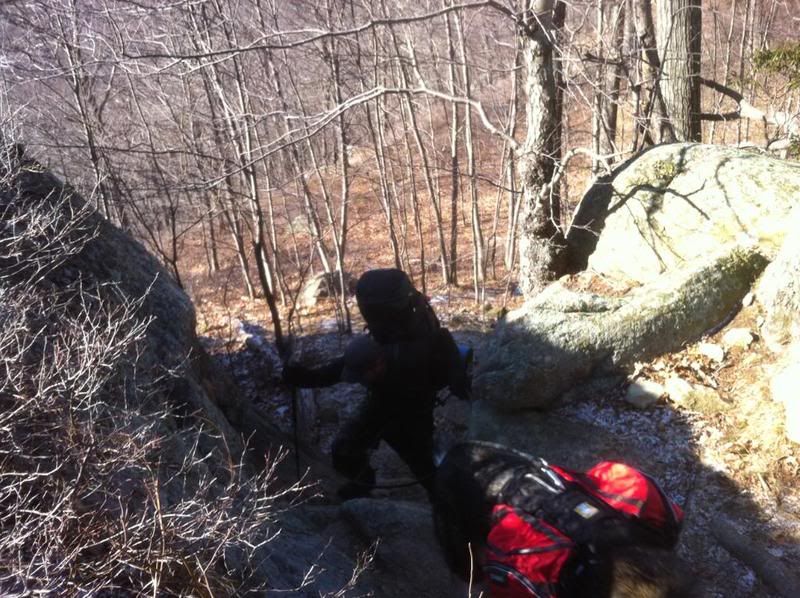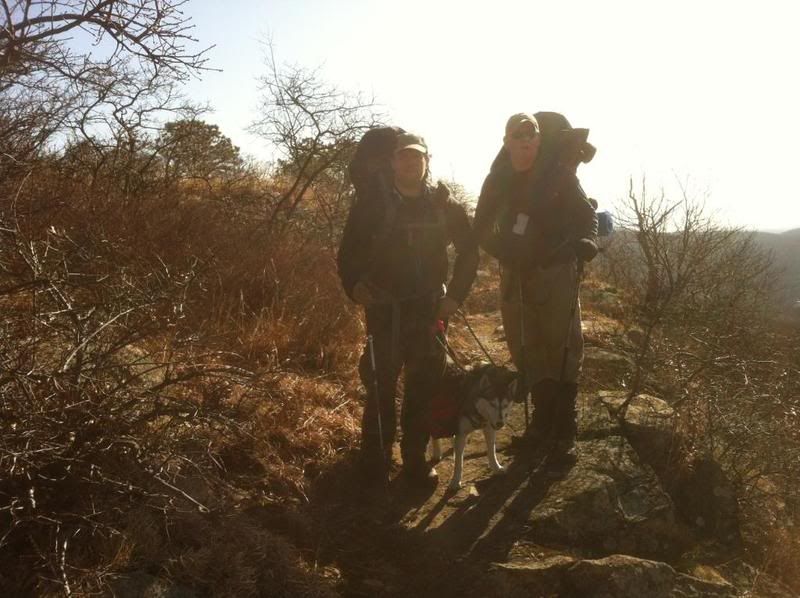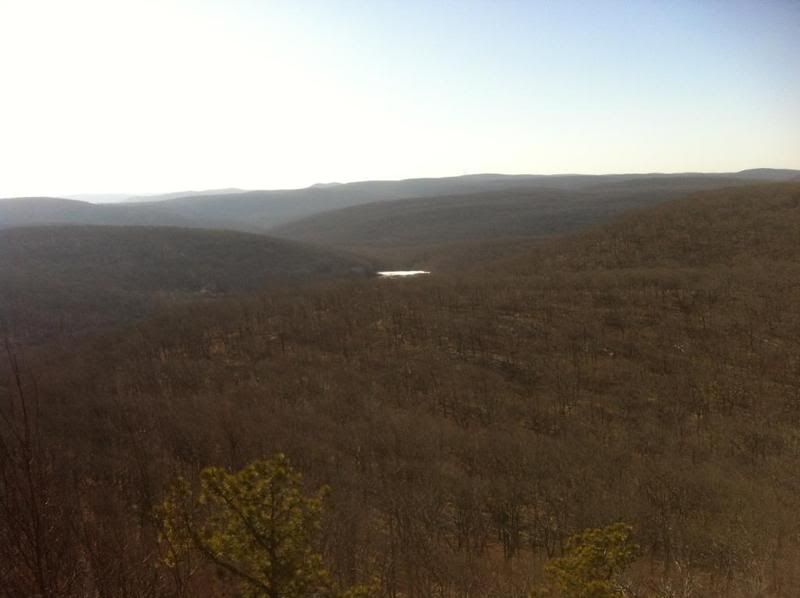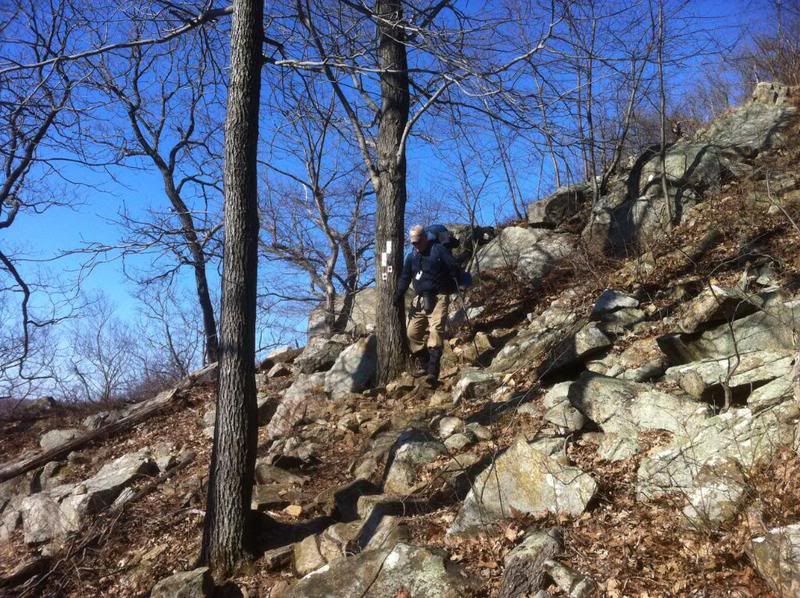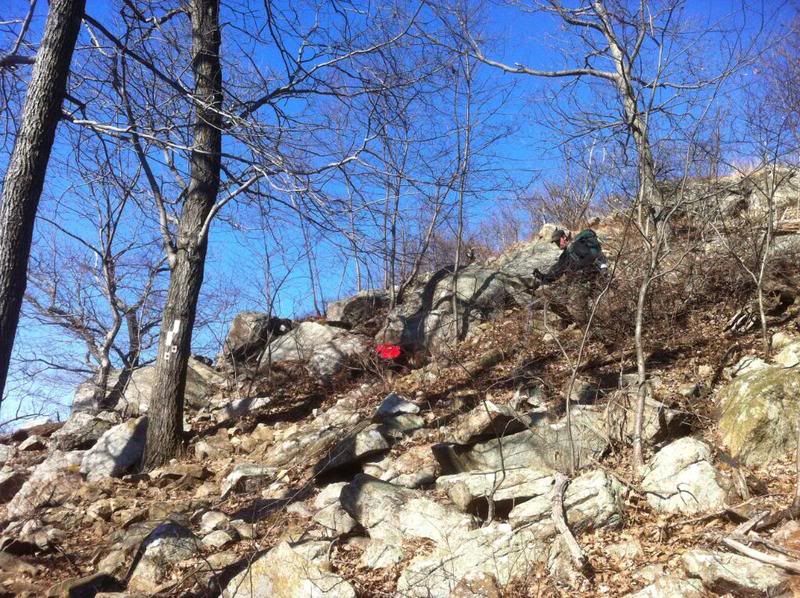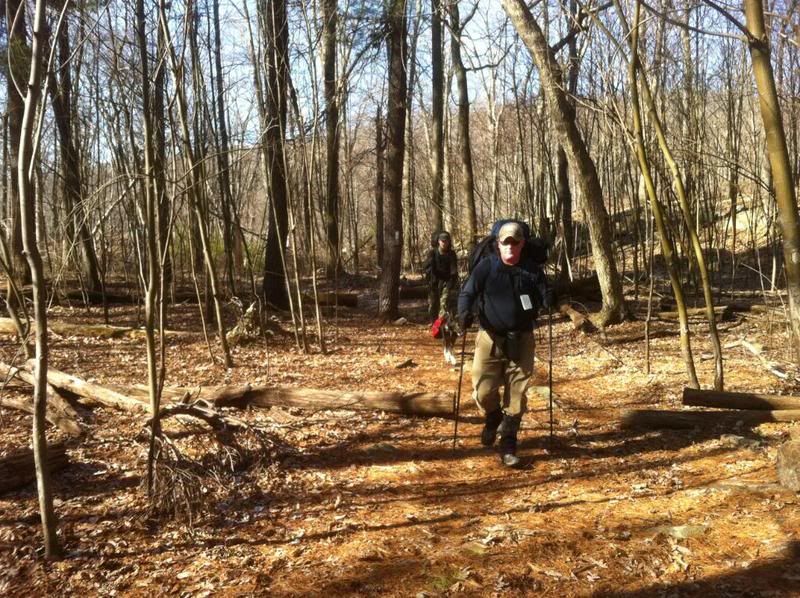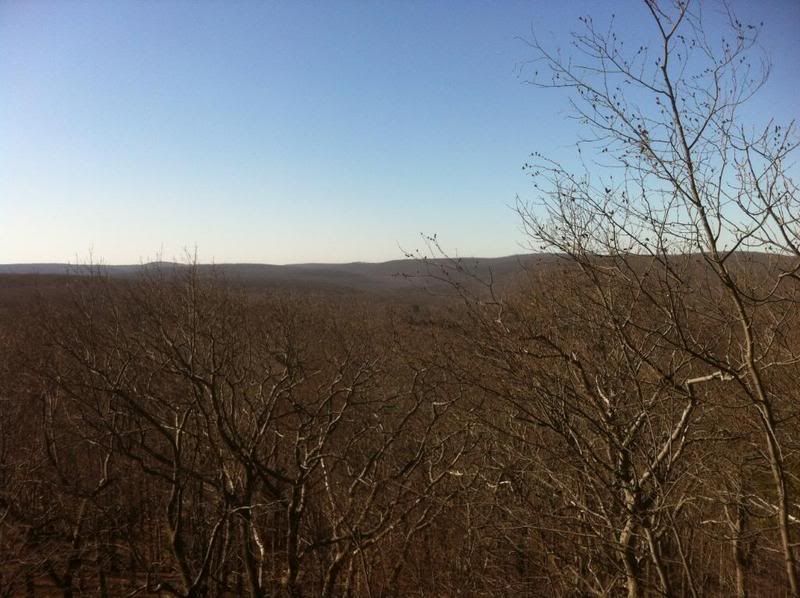 We decided to go up the Cat's Elbow which was very steep but had some amazing views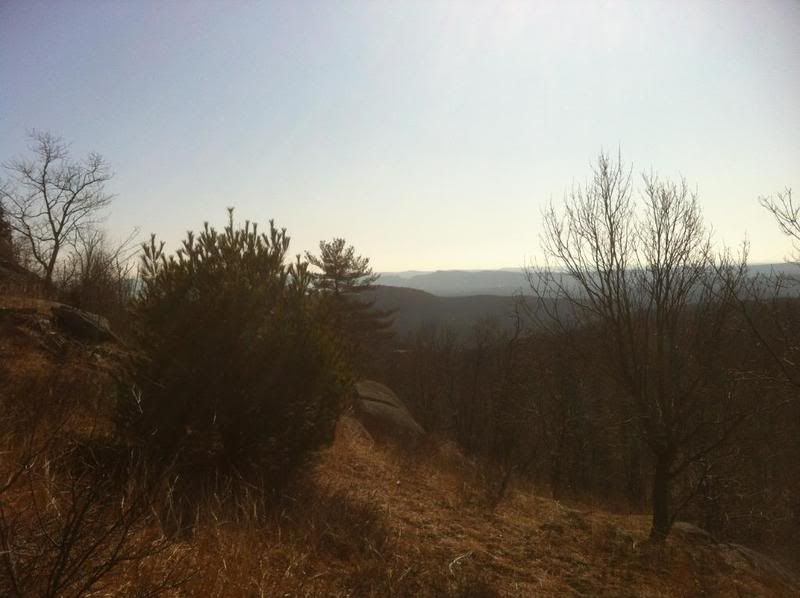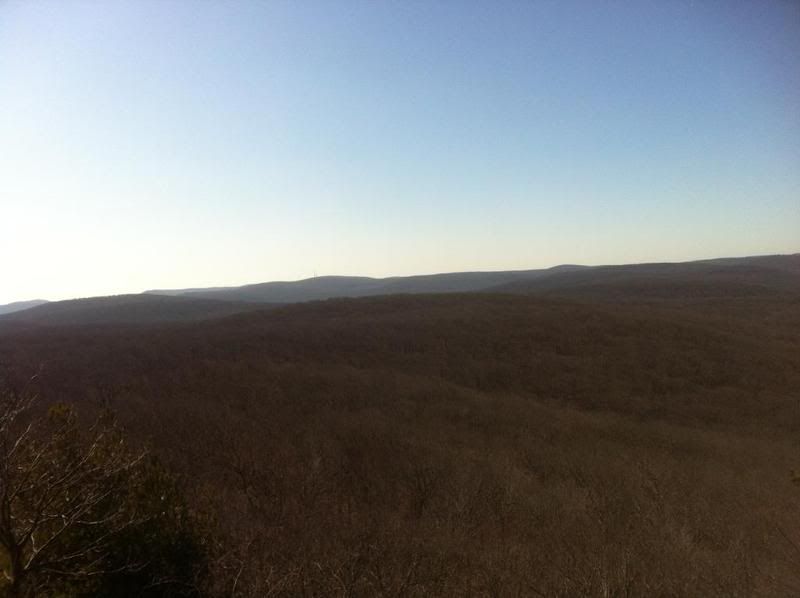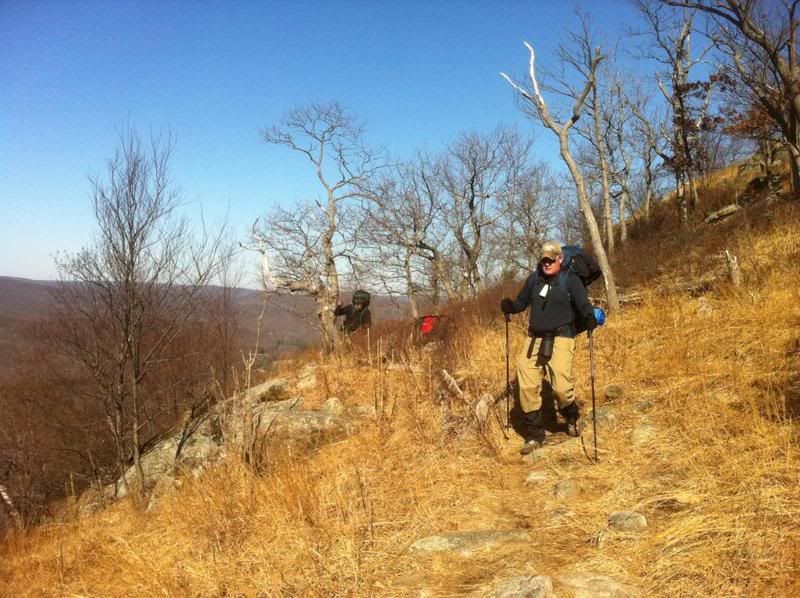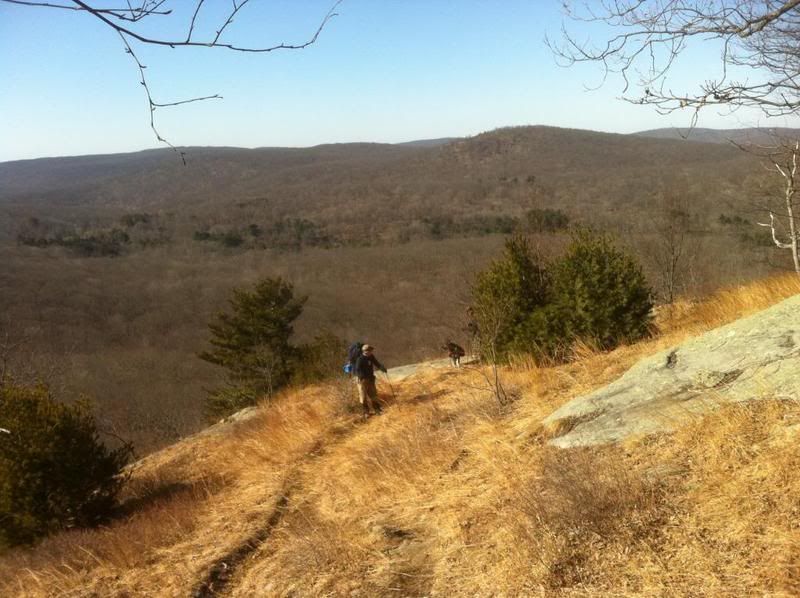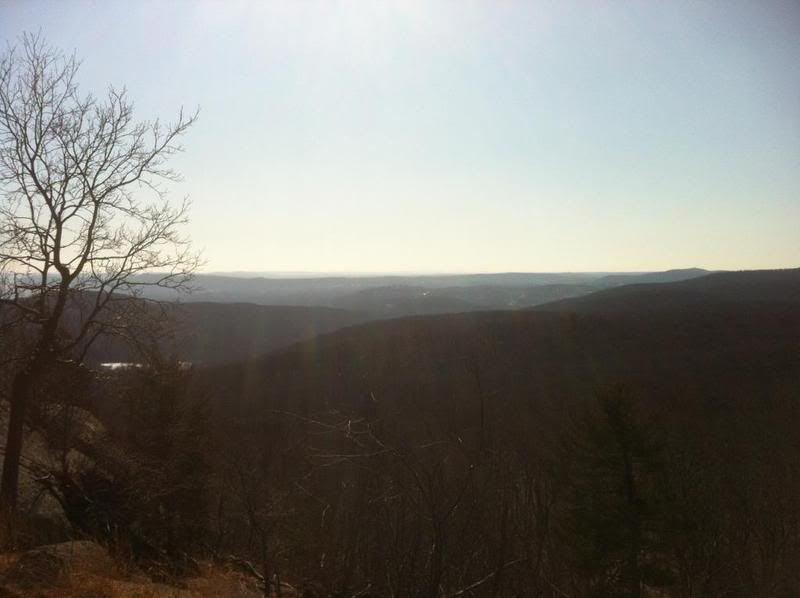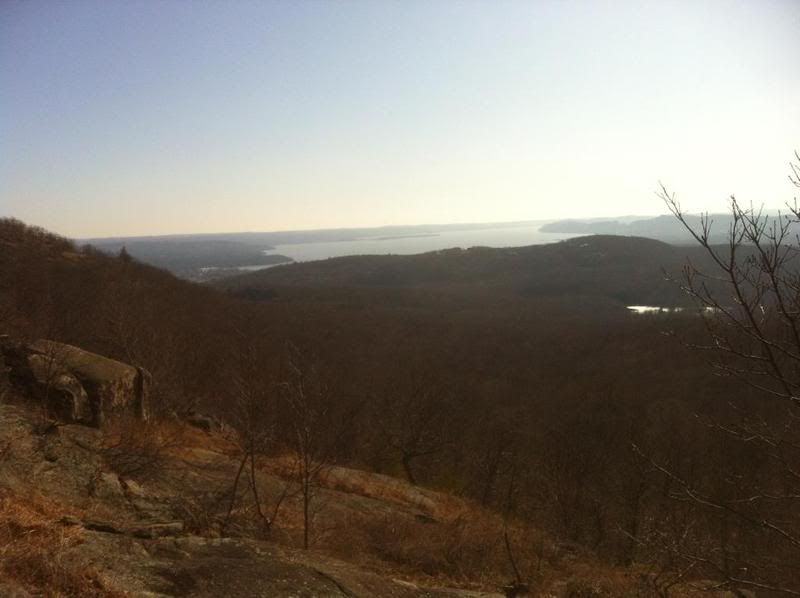 We make it back to West Mtn shelter and sit back and relax with our feet up and polish off our scotch. After our rest break we revisit the 'stink water' and I decide that i will only drink that as a last resort and I head southbound towards the Timp in search of a supposed spring down a half mile down a very steep ravine. Luck was on my side because i found the spring and the water was about 1000x better than the other stuff. Loaded up all my bottles and filled my Mors pot and carried it back up the mountain to camp.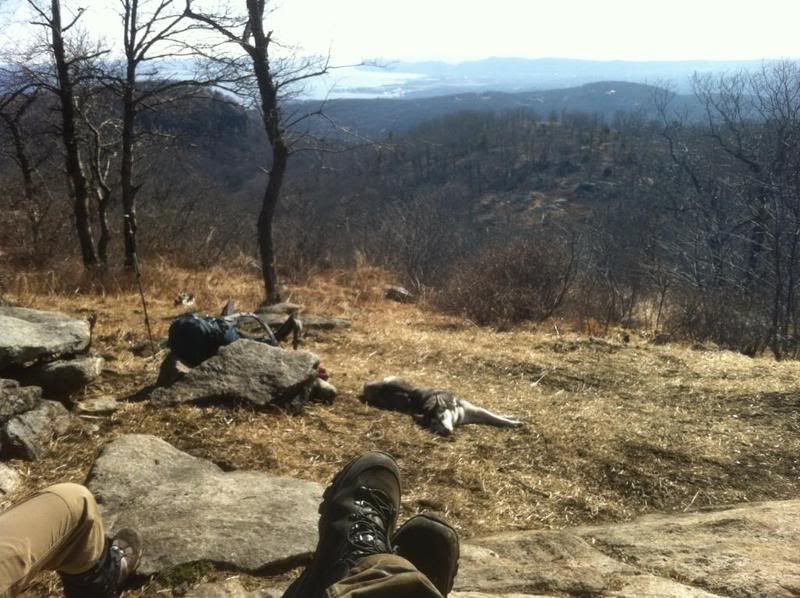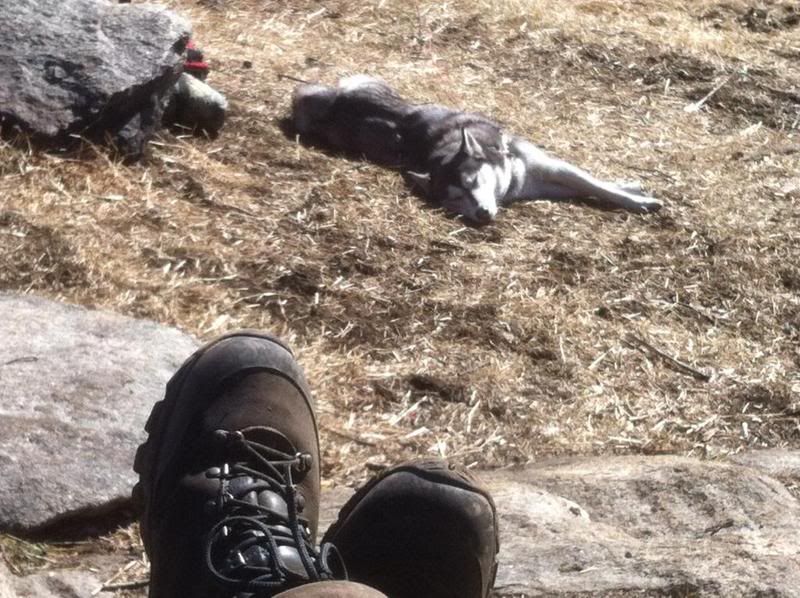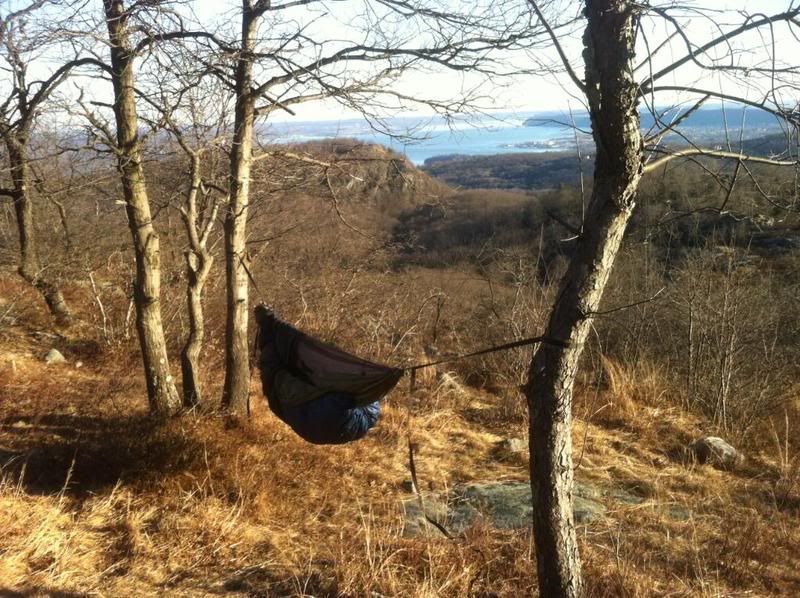 Making up one of my dehydrated beef wraps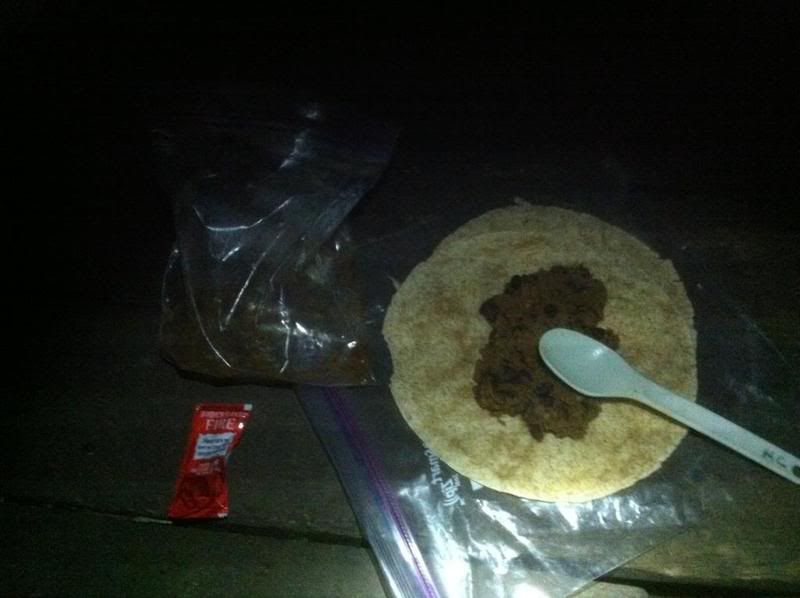 The next day we hike back north to the car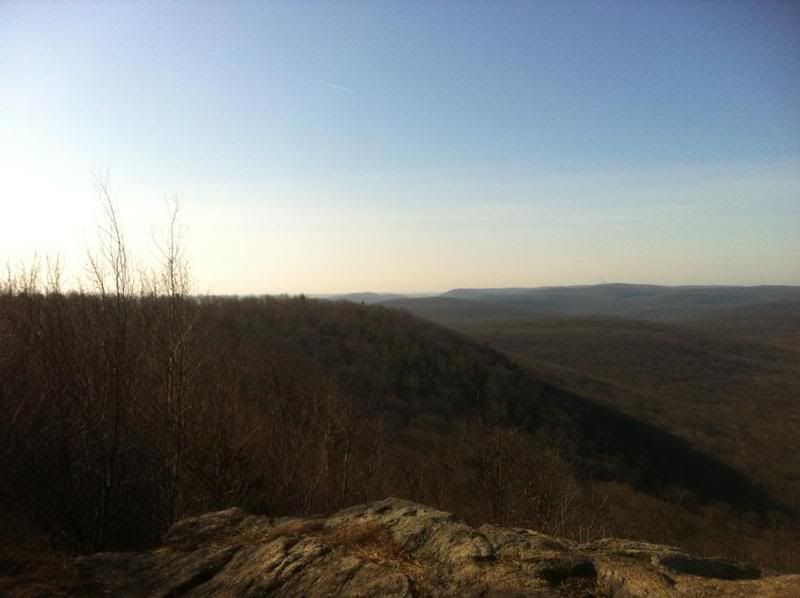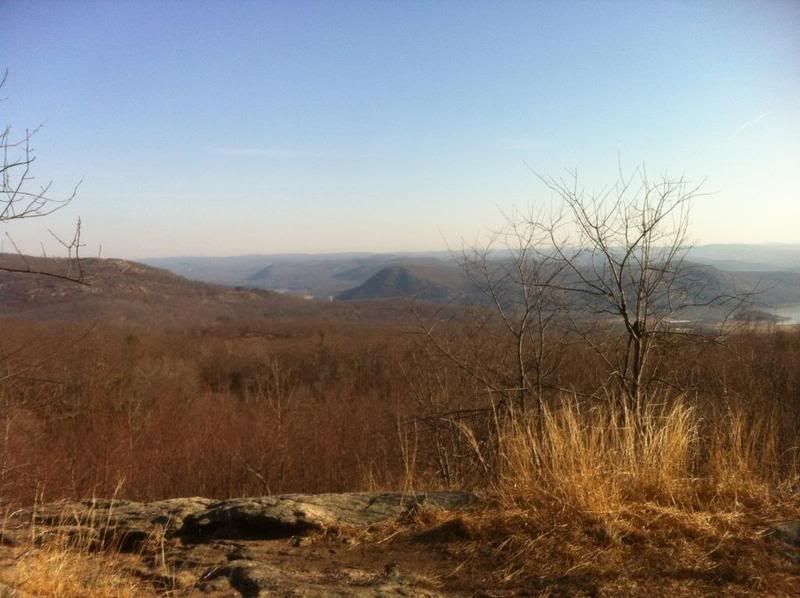 All in all it was an awesome week to be out, the weather couldn't have been better. We ended up doing about 55-60 miles (plus probably another 10-15 if you count getting water and wood lol)