Flying Lead wrote:
Now we have to go back and use a knife, tarp, empty gallon can out of a trash pile and some paracord. Well OK.
I like the sound of that, time to go look through the garbage:
I'm gonna grab that empty fuel can, coffee can, a few beverage cans, and a chunk of home wrap ( ok I grabbed that from a neighbor that was residing his house, so it came from his garbage ). I also grabbed a small piece of thrashed garden hose and a couple spent shell casings.
This is the kind of junk we all find outdoors, I rinsed these out and know they're clean...
So let's get to it, I posted the drive above, I went towards the Cascade Mtn range here in OR to find some winter conditions: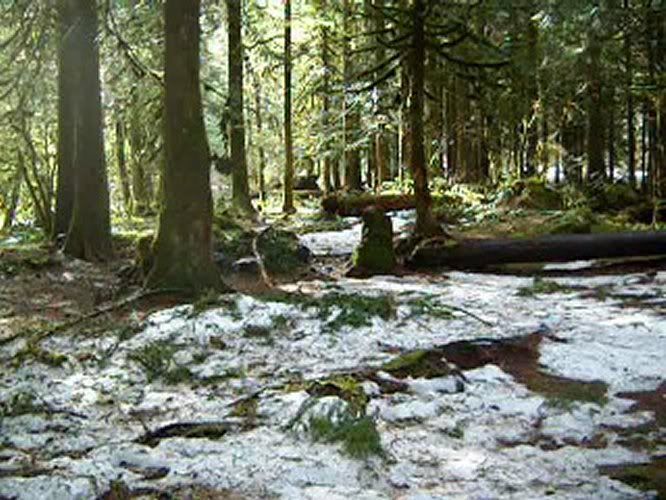 I hadn't scouted this area, every thing was wet, REAL WET, here's one of the few times the sun broke through:
The Salmon River:
found some (tinder?) fungus, as you can see soaking wet, I left it alone: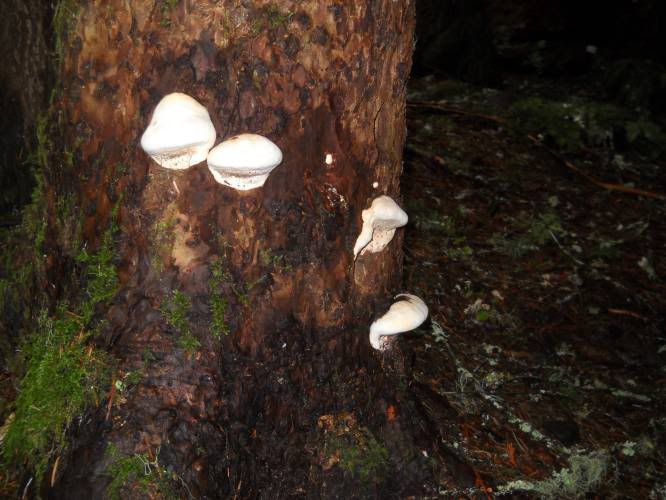 found a less than soaked spot of ground, here's my stuff:
stylish bag of aluminum cans I mentioned earlier, extra camera ( after some previous entries I thought this was a good idea ), gatoraide, headlamp, handfishing rig (didn't get to use it, the river was closed contrary to the regulations),
wool cap, wool gloves, a couple extra layers, bucksaw blade, FAK, pancake mix, olive oil,
bag of paracord, platy bag, thermarest, 9.5x12 nylon tarp (I added a few tieouts), sleepin' bag,
insulated mug (full of coffee, tea, and cider mix) and stove/pot combo (not real hardcore I know, but I like my coffee fast in the a.m. and I had plenty of room in the pack), bag of food.
tyvek sheet underneith.
smokes, hatchet, knife/multi tool/firesteel etc. combo, and poncho.
this is the last time you'll see the poncho, when it wasn't raining the drizzle from the trees didn't stop. I wanted to stay as dry as possible.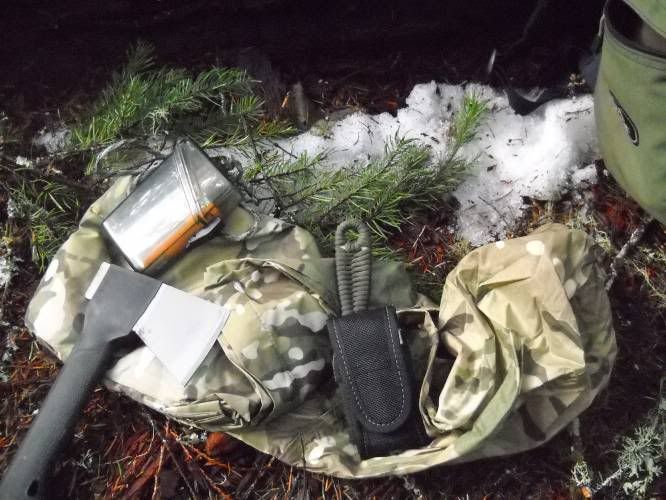 contents of food bag.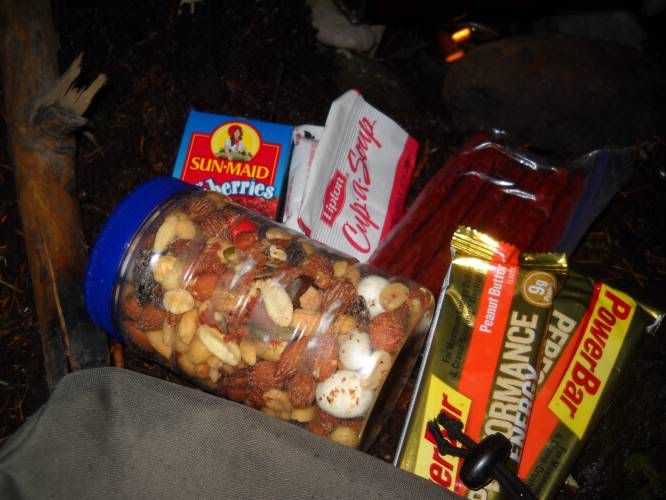 camp set-up (made a gif to show the progression, photo will change every 10 seconds, might take a minute to load):
the bedding pile was all blowdown, no need to take live cuttings.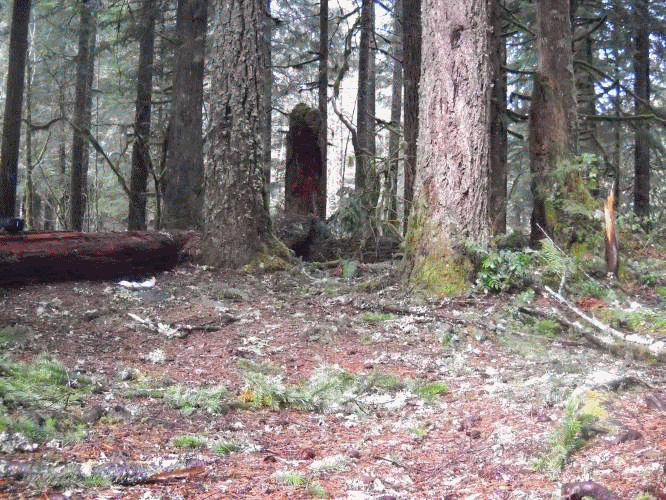 made a frame for that buck-saw blade ( IA woodsman beat me to it by a day, lol, but here's mine, took me a couple tries and I had to add a cross tensioner to keep it from tweaking. It turned out very functional.)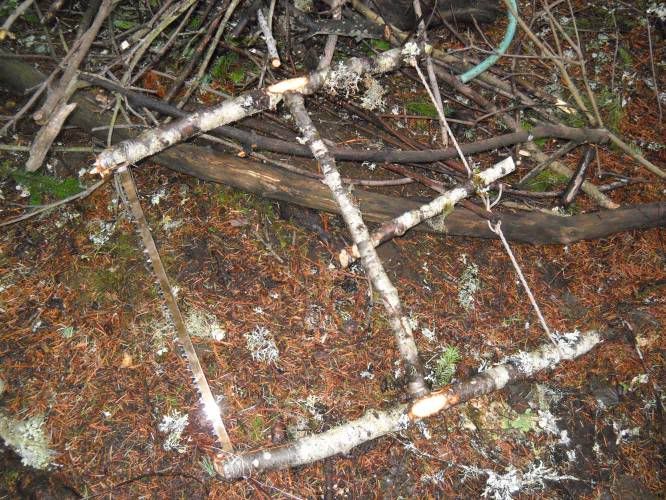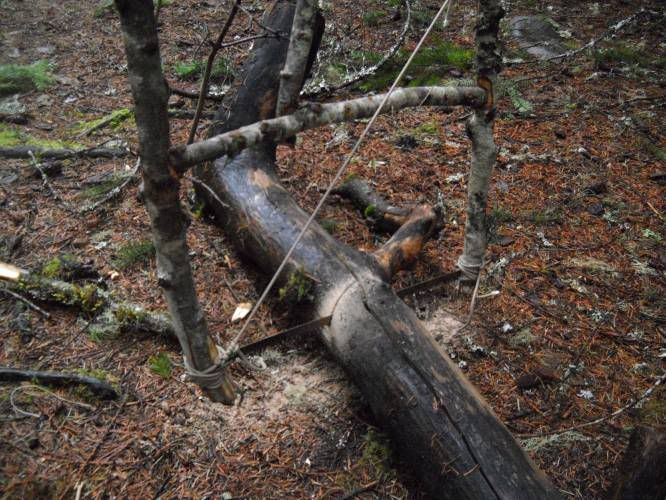 finding dry wood was definately an issue and I spent the majority of the day walking in all directions gathering what I could find, I used my extra shirt as a makeshift 'carry bag':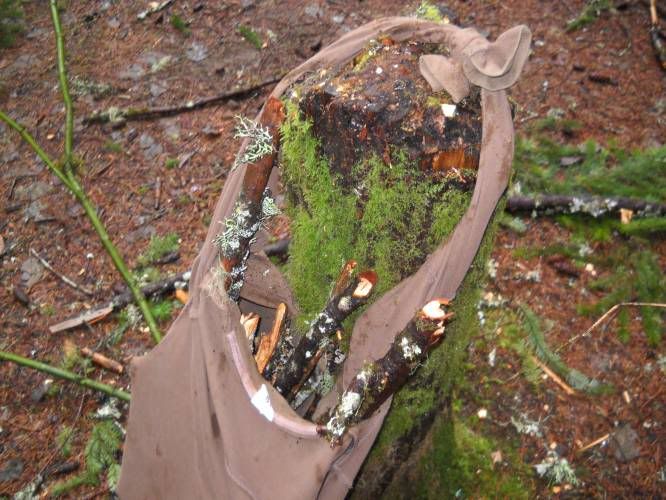 I knew it was gonna be a bitch starting a fire with this wet wood on wet ground, I made a 4" bed of mostly dry twigs in my fire spot, and made a few 'feather sticks' to expose the dry inner wood:
(notice the notched one on the left, that notch is where my firesteel is placed for easier handling.)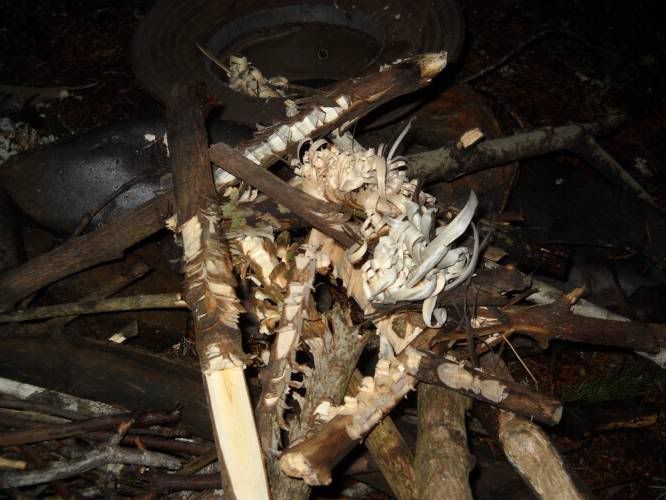 broke out the greased cotten out of the FAK, I want this to work the first time: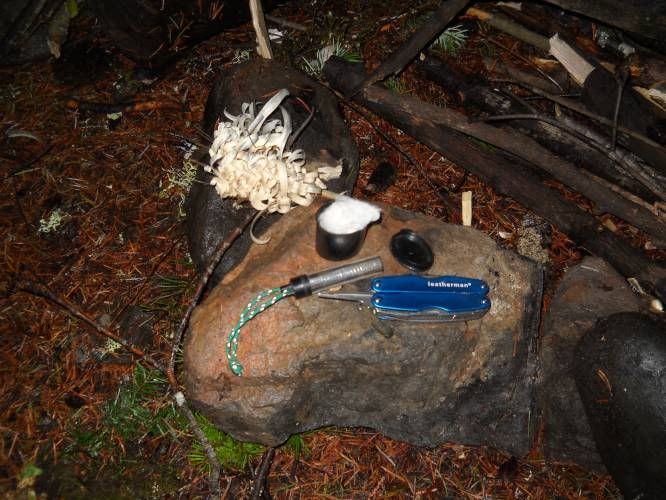 the notched 'feather stick' was supplimented with the cotton fluffed and stretched through the 'feathers' so nothing had to touch the ground, I saved the best two feather sticks to take the flame, small vid here:
http://s1244.photobucket.com/albums/gg5 ... artvid.mp4
time to get crafty with the 'garbage'....
I added some "wick" material to my FAK, dug out that spent bullet shell and olive oil: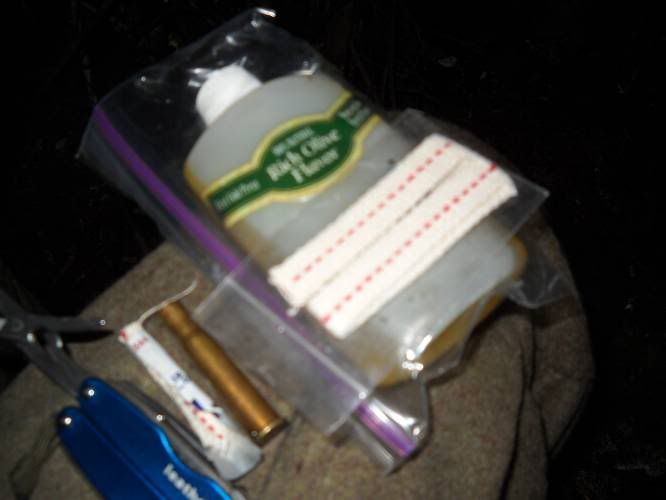 filled the shell with oil:
wrapped the wick with aluminum so it wouldn't fall in or burn down to far and I have an oil candle: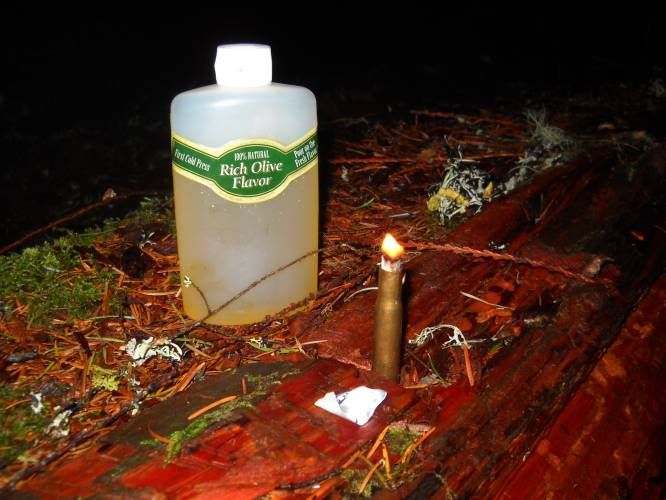 grabbed a beer can and made a windscreen ( did I say the cans I brought were clean? not so much..):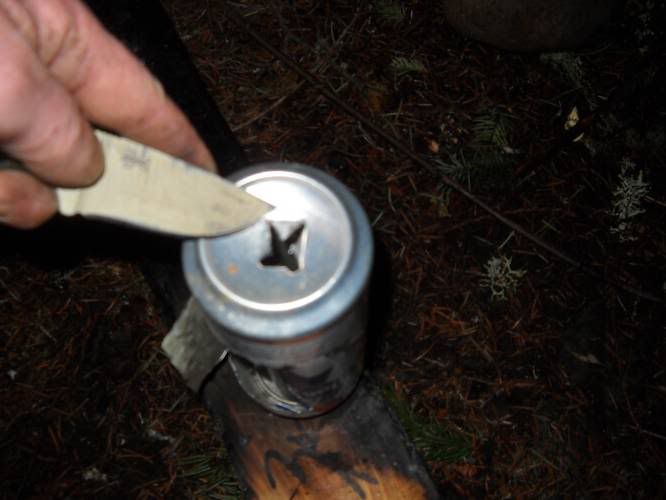 used the coffee can to start boiling water (with some wire I have in my leatherman sheath):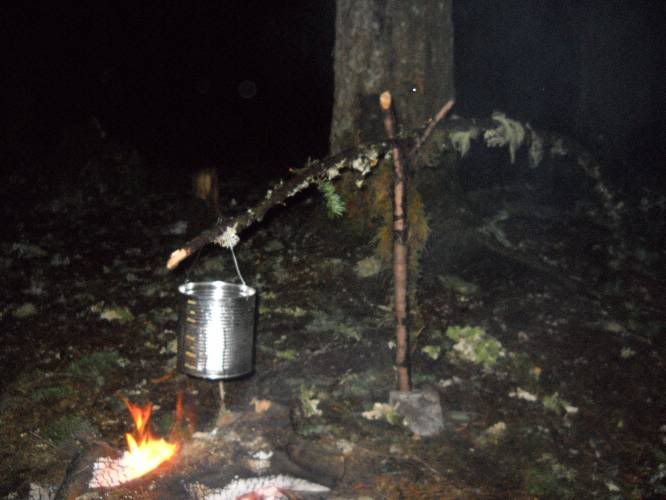 now for the fuel can, I thought about doing some kind of wood stove at first, but lets try something a little different.
filled the can 1/2 way with water and put it on the fire to burn off the paint and heat it up: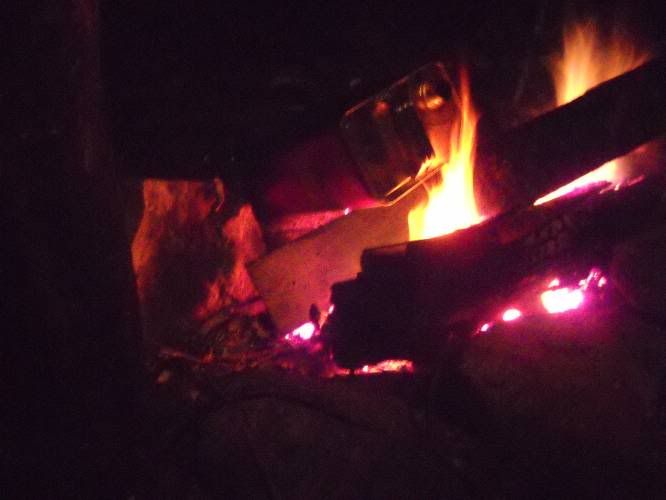 I'm going for an inside-shelter heater here, something that hold and ratiate heat with minimal flame, I don't want steam or built up pressure inside the shelter so I grabbed the chunk of hose I brought and the can lid to make a kind of exaust system: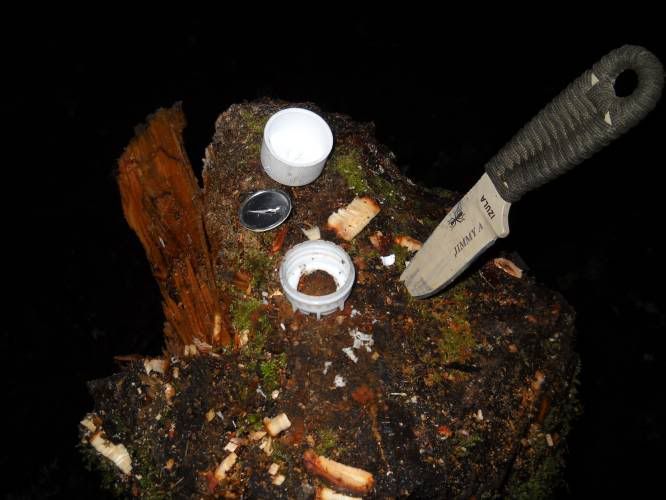 used a piece of wood as a wick-holder and filled a tuna can with olive oil, inside my shelter I dug out a small pit and lined it with rocks, put the tuna can candle in the center: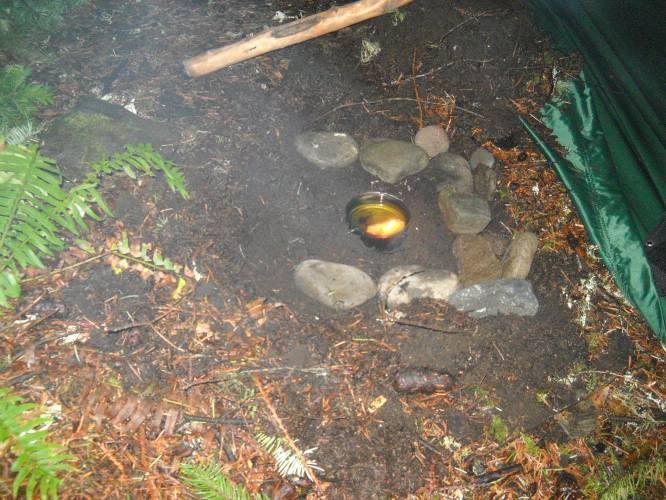 when the water in the can got to a boil I added the hose-cap exaust and brought it in the shelter (brought in the can- lantern too):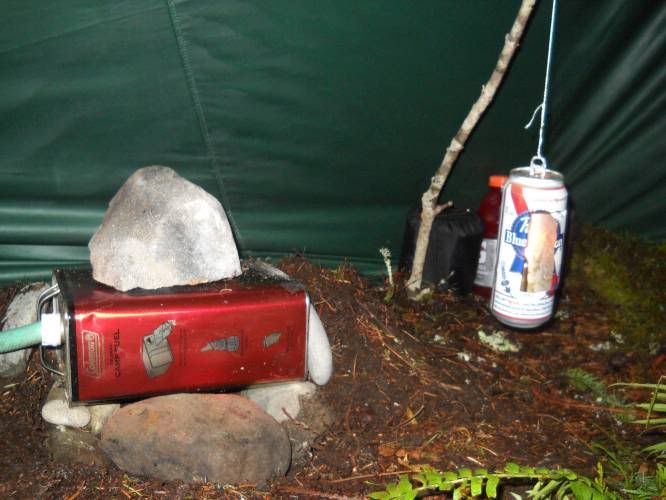 added a couple rocks to hold the heat better. Here's another short vid:
http://s1244.photobucket.com/albums/gg5 ... heater.mp4
my shelter is nowhere near air tight so I'm not worried about any smoke that's coming off the oil candles but, the door flaps need to be kept closed and I made a few "close-pins" to secure them (I left the very top of the doors open just a bit for ventilation):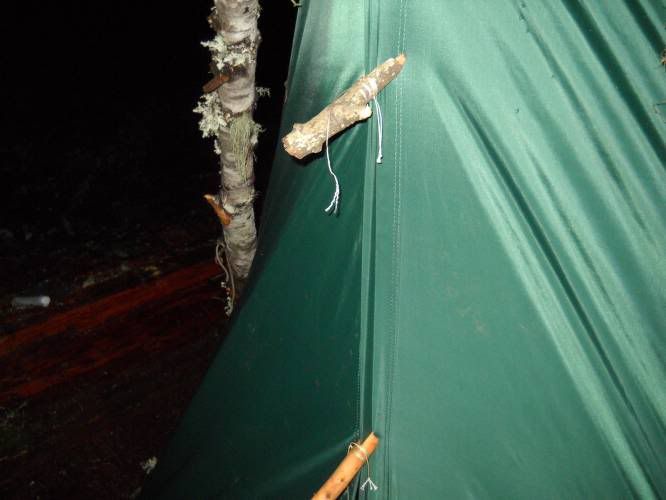 It got a little spooky and lonely, thought it would be nice to have a little company as I sat by the fire, another short vid here:
http://s1244.photobucket.com/albums/gg5 ... pbuddy.mp4
he was kinda quiet but, a good listener.
While all this was going on I was constantly eating trail mix, pepperoni, and drinking tea and cider, it was clear I was burning more than olive oil. I was down to a long sleeve shirt and poncho to avoid sweating between feeding the fire and projects.
Before I hit the rack I put my dried cranberries in a can with some water to rehydrate them overnight for breakfast:
Ate my chicken soup mix and hit the pine branch pile, my 'radiator' was working pretty well, the can was still hot to the touch but the rocks only slightly warm. Inside the tarp felt quite warm (warmer than outside anyway, I should of brought a thermometer. My 'bed pile' was about 12" thick uncompressed, I tried it and was plenty comfortable, I didn't bother useing the tyvek as a ground sheet or inflating the thermarest.)
------
I slept well, woke up a few times and checked the 'heater', the can stayed hot, the rocks stayed just warm, and no noticable water loss and the candle was still going (had about 1/8" oil left, about 7 hrs burn time I think) . I think the rocks kept the water below boil wich is what I hoped for. The air temp. inside the shelter was pretty warm compared to outside, I'm glad I brought my stove and pot for some 'still in the sleeping bag coffee'. My fire had enough coals left to get it going pretty easily (thank god), and I got some water heated:
gathered more wood to get me moving and warmed up, chowed my powerbars and was still hungry, so I grabbed my soaked cranberrries and tried some "beer can cranberry pancake muffins", this is my first attempt at this:
crimped the top half of the can so it would fit as a lid and made a spot in the coals for it:
drank the rest of my gatoraide, made more coffee and cider mix, kinda wish I had brought extra water, I was still pretty thirsty. As I boiled water I put it in my platy bag and let it cool in the river (the hot drinks just weren't doin' it) it worked but was time consuming.
checked my breakfast and it turned out pretty good:
the bottom half wasn't pretty, I guess I need to find a non-stick beer can, I had to dig it out chunk by chunk and the bottom of the can that was touching the ground didn't get quite done, the rest was damn good.
by this time I was warmed up again took my time breaking down camp and hiking around a bit, not constantly searching for dry wood was nice and I was able to enjoy the scenery.
Well that's about it, the rain came in again and I made my way back to the truck.
No critters this time around, I did drive through this place on the way back:
there wasn't much going on...
whew, I had more photos than I thought, thanks for looking.