i desiged this stove to fit in a mexpedition rollypoly ( dump pouch ). the burner is a "buddy burner" and the pot is a keg can. the wind screen is made from a tomatoe can and has been cut down since the diameter of the can was too large to fit in the pouch. the pot sits in the wind screen and is supported by 2 stakes made from wire clothes hanger. this stove will boil 2 cups of water in around 7min. the pot stores inside the windscreen to make a compact setup.
i agree with ODA 226 in that these little stoves burn hot. they also burn for a long time. they are bright, and as the OP demonstrated they wil work while wet. the couple of things i dont care for is how much they smoke. they also get heavy.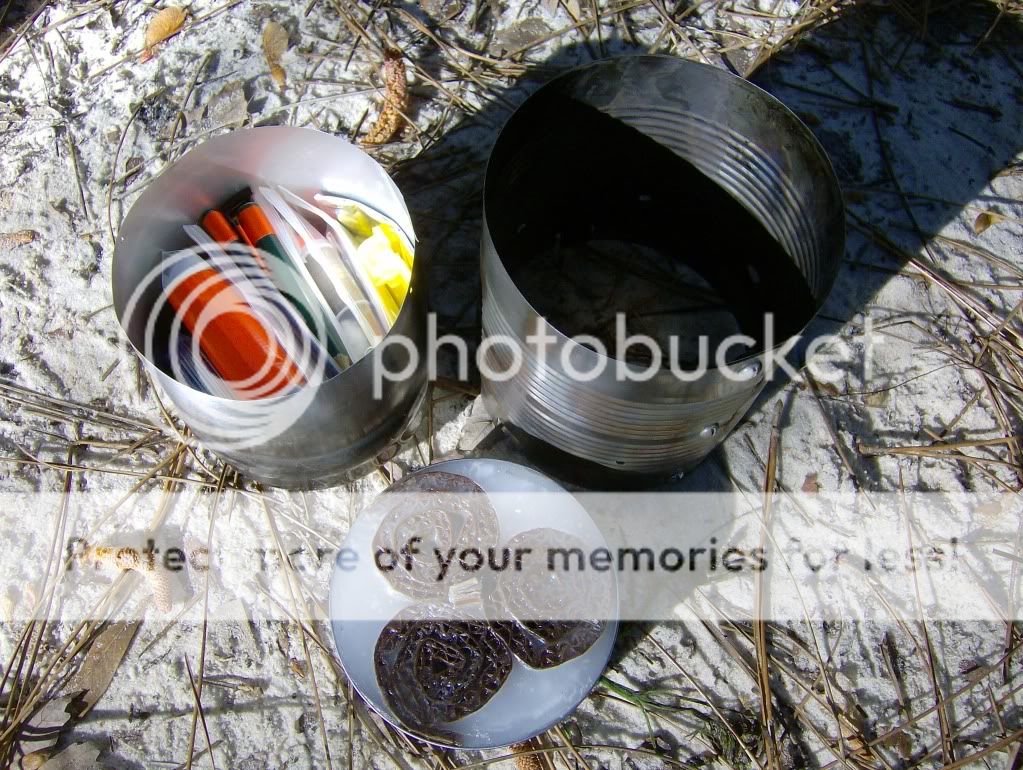 the pot actually holds items as part of a survival kit. there are other items that were part of this overall kit not shown in these photos.
- small multitool
- pencil
- pot supports for the stove
- hack saw blade
- ferro rod
- 6 large cotton balls
- 25ft of mechanics wire
- 2ft of tin foil
- trigger for the mouse trap
- pot handle
there are 4 plastic bags that contain other items...from left to right.
bag 1
- 2 razor blades wrapped in tin foil
- 1 p-38
- several safty pins
- 1 set of extra batteries for the headlamp
- small file
- 1 cone shapped coffee filter
- 1/2 of a piece of note book paper
bag 2
- fishing kit...there are too many items to list, but it has hooks, shot sinkers, spider wire, several hooks, and some jigs and plastic baits.
bag 3
- extra set of rechargable batteries for the flash light ( i taped the ends so the batteries cant short out against other items from the kit )
- 1 small tube of super glue
- 1 small spool of thread
- 1 needle ( i covered the tips of the needle with the ends of q-tips to protect other items in the kit. )
bag 4
- home made beanie cap ( i made it from space blanket )
- home made gloves ( i made these from space blanket also )
i will leave you with some shots of the stove in action......i took 2 buddy burners with me today. one stays in the kit and is unused, and the other is the one i used for testing, and for these photos.