EDIT Oct 30. (and it still isnt a valid entry. Oh well.)
Part One: The reasoning behind my choices
First, let me state that the challenge of the Autumn MBO, trying to minimise my kit to 10 essential items, has been a real eye-opener for me. It has caused me to re-think my whole approach to prepping in general. Although I consider myself a bit of a bushcrafter, I have always been a gear nut, and a lot of weight and space in my BOB are taken up with gadgets. This contest forced me to rethink whether all of those bells and whistles are actually necessary.
Interestingly, as I worked over and over through my gear choices, I realized I was actually coming up with two lists. One, a modern, minimalist variation of a "Get Home Bag". with lightweight and time-saving solutions to most of my needs. "High Speed, Low Drag" came to mind a lot as I was working on the kit. The other setup kept leaning towards an old school mimimalism, a'la Nessmuk. Heavy but reliable gear. Lots of tools to help craft the items I would need in a longer outing. In short, a "bushcraft" setup. Interestingly, while I am confident that the modern setup would work great for an overnight hike/Get Home situation, I feel that the bushcraft rig, while differing in only a few general items, would be sufficent for a significantly longer timeframe, as long as my bushy skills were up to the task!
For the purposes of this contest, I wound up going with my modern kit.
Early on as I was working on my gear lists and needs, I decided that it was better, at first anyway, to back away from an actual "10 items" list, and think more from a "rule of 3's" setup. Assuming I would have air (no deep sea diving for me) I needed:
Shelter/security
Water
Food
Even at this early stage, this is pretty much where the modern and oldschool thought processes started to diverge. Although the needs remain the same, the way that each is achieved differs greatly between the two styles. Since I am going with the modern kit for this contest, I will deal with it exclusively for the rest of my post.
Anything that doesnt directly support one of the 3 essentials would be extra weight, and not needed. Also, since this is a "bug out" kit, I need to assume that I am actually bugging out FROM something! So, moving fast is a big plus - keeping the kit lightweight and easy to manage is essential. In addition, time is of the essense in a bugout/get home situation. When setting up camp, I dont want to have to waste an hour or two of valuable daylight to cut saplings and build a shelter. I need to have everything go up in minutes - and keep me comfortable and dry so I can rest, and be ready for another day of moving fast. Water is a good example: a couple of iodine tabs is quicker and easier than boiling water. Ditto foods: they need to be quick and easy. For a 24 hour bugout, I dont want to spend a couple hours setting traps, or putting out trotlines, then the time to clean game, cook it, and the like. For 3 days, maybe. But 24 hours? Prepackaged meals FTW. Also, instead of needing to build a fire a couple of times a day for purifying water, preparing food, and the like, I decided to go with an esbit stove. Small and lightweight, and pretty much bulletproof, the stove will allow me to heat water for a meal in a few minutes, with the added advantage of being stealthy. I love campfires, but being able to eat a warm meal without HAVING to have a fire, is a big plus.
So, with all this in mind, my modern minimalist GHB kit:
1.Shelter:
Poncho/tarp. The poncho is one of the ultimate multiuse items. When used as a tarp, it provides enough cover to keep me dry in all but the most severe weather. While I am moving, it keeps me and my gear dry. combined with a lightweight hammock, it is a complete lightweight shelter system. It can be used for water collection, for a sun shade, pack cover, etc. In my case, a campmor silnylon backpacking poncho does what I need.
Hammock: For me, a hammock is a truly essential piece of kit - the older I get, the more my back dislikes laying in the dirt. A hammock keeps me off the cold/wet/buggy ground, and I get a great restful nights' sleep, every time. A few of my hammocks have built in bugnets for warm weather, once it cools off I switch back to more simple models. In this instance, a very basic, yet quite comfortable Grand Trunk traveller hammock fits the bill.
Sleeping bag. Now that the nights are getting cooler, I prefer carrying my Western Mountaineering Caribou down sleeping bag; it is light weight, packs small, and is rated to 20 degrees. In weather above 40 deg, it works great just as a bit of an underside-warmer, with me mostly unzipped above. Cooler weather, I just zip up and am comfortable into the 30s. Below that, I unzip again and use it as a topquilt, and bring a nice down underquilt to finish the setup. But yea, early fall in my AO, this is more than enough.
Multitool. for shelter building, cookwork, and the odd camp chore, there is nothing better than a quality multitool. I use a Leatherman Skeletool as my primary tool most of the time at work, and it goes with me every time I am out hiking. It is simple, elegant, and has everything I MUST have for a quick bugout. It isnt a big fixed blade chopper, but if I am moving fast and trying to get home, do I need my big honkin' knife? Not really.
Flashlight. Not technically a shelter item at first glance, but it extends the timeline and usefulness of almost everything else I carry. It will allow me to keep working after sundown, giving me a few more miles before I have to put up my shelter. (which would be terribly annoying in pitch darkness) In this case, a Fenix E21 2xAA flshlight. Bright, lightweight, and I made sure to put in brand new batteries just before leaving.
Firekit. A firesteel, and 6 Esbit tabs. Compact and lightweight, the Esbits give me a reliable method for boiling water, which is really all I will be doing with this setup. Im not even worrying about a stove. I will simply dig a small hole, or gather a few small rocks to set my cup above the tab. The Esbits also make awesome firestarters, if I get a chance for a real campfire. I am carrying them in a waterproof cellphone carrier, which helps keep the fishy smell down. Unless I have to put my phone in there, which is something I dont want to have to think about. Also, have a Ti spork as my sole eating utensil.
2.Water:
A bandanna and Aqua-pur water purification tabs. Bandanna filters the big stuff, Aquapur kills the little stuff. Simple to use, never breaks down, effective in any but the coldest weather. What more can be said?
Camelbak stainless steel "better bottle" 3/4 Liter. Slightly heavier than a regular nalgene-esqe plastic bottle, but it is sturdy enough to take a beating and still do its job, and you can toss it in the campfire to boil water, if you dont have access to filters or purification tabs. I like multiuse gear.
1L Plastic water bottle. Kindly provided by the guys at Gatorade, this is my water collection bottle. Fairly small opening makes it easy to prefilter with a bandanna or even my shirt sleeve, it is uncolored plastic, so I can evaluate how much particulate matter is in it, it is super lightweight so no hassle to carry, and darn sturdy to boot. Pure win as far as I am concerned. I started off my 24 hours with this bottle full of tap water. A few wraps of duct tape finish it off.
Snow*peak 600 single wall cup. Gives me a few options for meal prep and of course my morning coffee. The Camelbak nests nicely in it, so not much wasted space.
3. Food: A handful of clif bars, A mountain house meal, and some oatmeal come in at almost 1500 calories - enough to keep me moving for 24 hours.
Coffee: Starbucks Via coffee packs make life worth living.
So, converting from my "big 3" list to a "10 essentials" kit, wound up something like this:
1. poncho
2. hammock
3. sleeping bag
4. multitool
5. flashlight
6. firekit with esbit tabs
7. water purification.
8. water bottles and cup
9. food
10. coffee
For those of you who ask: For a quick get home bag, I skipped on carrying a full first aid kit. My reasoning is that I could never carry EVERYTHING I could possibly need, so I may as well only have the critical essentials for short term needs. My belt, my bandanna, some paracord from my boots or the hammock suspension, and duct tape from my water bottle, pretty much cover all the simple needs of a FAK, and I already have them on hand. So, the FAK became something of an unneeded item, for this particular kit anyway.
As it turns out, all this stuff fit fairly well in my 5.11 PUSH shoulder bag, with the exception of the sleeping bag, I shoved it in a nice waterproof stuff sack, added a few straps to the push bag, and I was ready to bug out. The whole kit is compact, easy to carry, and at only 12 pounds 14 oz (with both water bottles filled!) just barely below the maximum weight I prefer for a single strap bag. I am confident I could carry this for a long hike no problem.
Part Two: Some pics, and (kinda) getting out with the stuff
Sadly for my bugout attempt, I was extremely limited on time. I had orginally planned to do a nice long hike and an overnight stay in the nearby National Forest, but was stuck at work til really late last night. Fortunatly I had a backup plan, although it wasnt as much fun. And as it turned out, it wasnt much fun at all...
A friend has a few acres just a couple of miles from me, so this morning, I grabbed my bag and walked over. Turned out to be just at 2.5 miles on foot, a nice morning walk but nothing interesting about it. Heck, I even had sidewalks for part of it.
Got on the property, and right away started thanking my lucky stars I decided to bring the hammock. We have had a good bit of rain lately, and pretty much everywhere that wasnt covered in undergrowth, was soggy. Most of the area looked like this: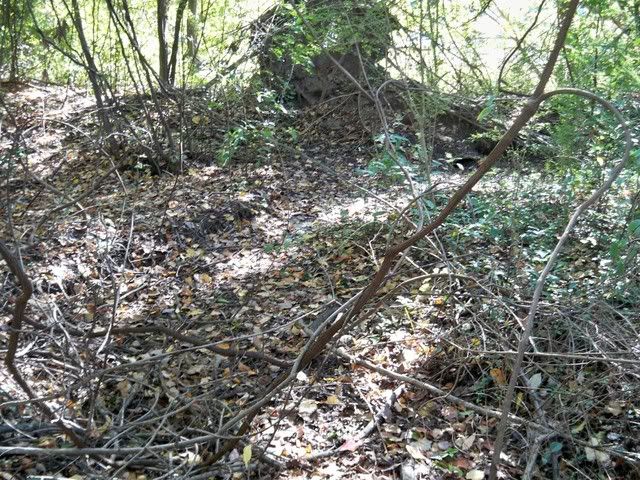 Sleeping in the mud would have been annoying. And sleeping on the ground with whatever this thing was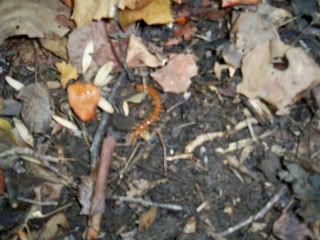 would have just plain sucked. Hammocks FTW.
His land borders on a small lake, and I really wish I had brought a fishing line.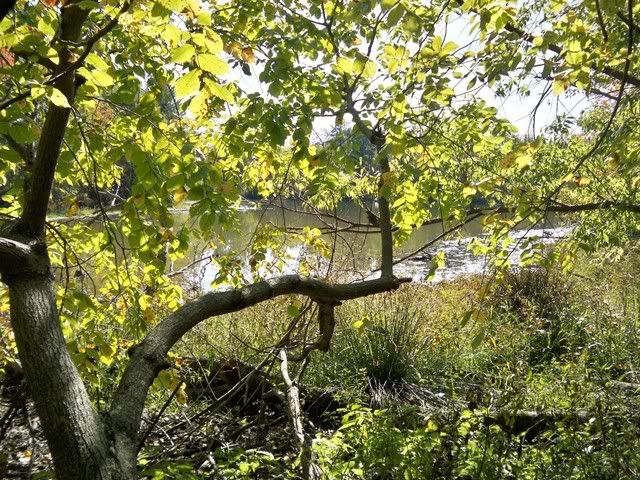 After wandering around for a bit, I wound up at a spot I had originally tossed out, but it was the least bad in the area. At least it wasnt completely submerged or covered in thorny vines.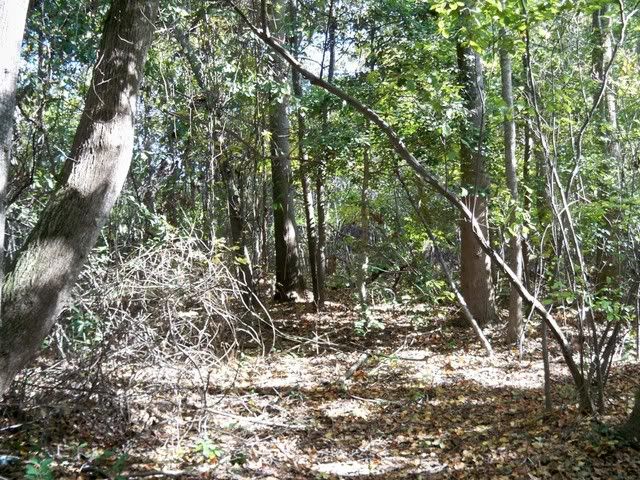 This is the 5.11 Push bag I carry all the time.
Normally I just use it as a work bag/EDC/day hike bag, but it worked fine for this setup as well. Had plenty of room for everything except the sleeping bag, which is strapped under. Worked just fine, and was comfortable enough during the walk over. It is a little heavy in this configuration for really long hikes, but is certainly bearable. I'd probably just wind up switching shoulders a little more than normal. Only a minor hassle.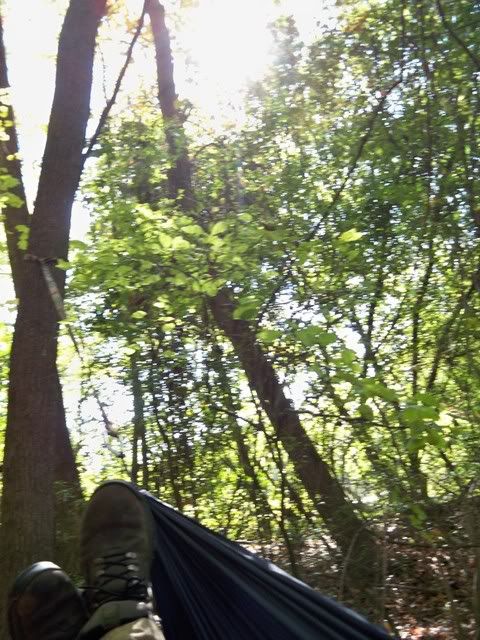 Got the hammock up quickly, and decided to test it out for a few minutes. Temp was in the low 60's, a slight breeze was blowing, and the sunlight filtering through the branches made it almost perfect. I had just started to doze off, until the tiny pitter-patter of ticks falling all around me brought me around. Sometimes a tarp can protect you from more than just rain.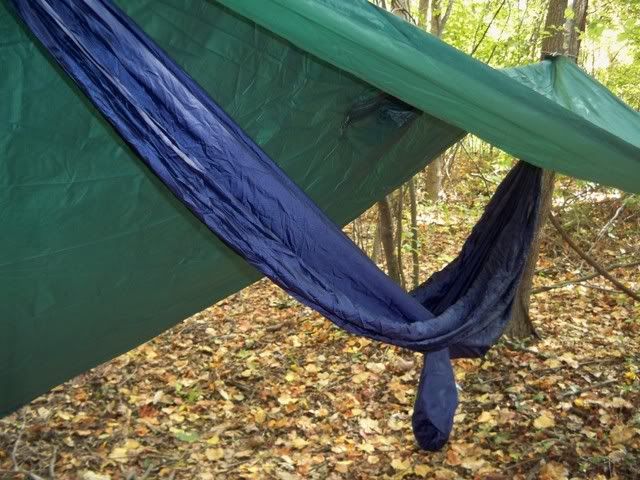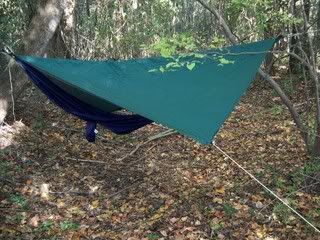 Interestingly, I discovered that 7/64 Amsteel (which I have just started using for my ridgeline) does not like the short loops of paracord I use for my prussik knots when tightening my tarp. I had made several short loops, and could only get 3 wraps on the amsteel for my ridgeline knot - it isnt enough to give a proper bite. 5 or 6 loops may be enough, but I didnt bother to test it right away.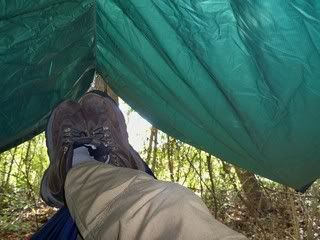 After that difficult 7 or 8 minutes putting up the hammock and tarp, I figured it was time for a nice cup of coffee. Broke out an esbit tab, and cleared off a spot on the ground. Originally I was going to dig a small hole and put the esbit in the ground, but everything is so soggy that I simply grabbed two nearby sticks and placed the tab between them. They are green, and very wet, so I didnt think there would be a problem catching fire.
I used the knife on my multitool to get some shavings off the esbit tab and piled them on top of it. It makes it easier to get the tab started with a firesteel. Threw a few sparks on it, and we were in business.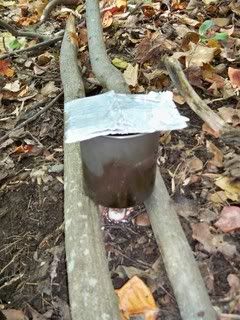 Had a nice boil going in about 6 minutes. The sticks got scorched a little, but as you can see, no problems. The orange glow in the pic is the last of the esbit tab burning out.
And of course, coffee!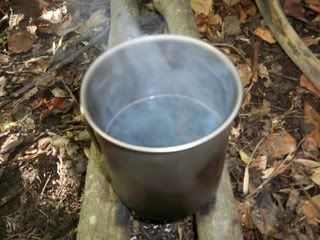 I had a nice selection of foods to choose from for dinner and breakfast, but wasnt really hungry. Just a pic of what I had brought, which I figure is enough for 24 hours of moving.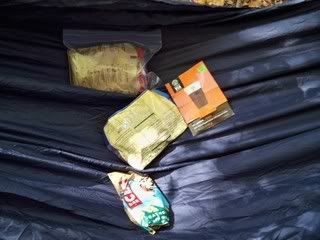 And then things diverged from the plan. Just as I was reclining back, sipping my coffee and watching the sun thru the leaves, my phone rang. Being an idiot, I answered it. And got called into work. Again. So, no overnighter, no time to relax in the woods, not even a legitimate Autumn MBO entry. But hey, I had already taken all the pics, so I figured why not. Thanks for looking!