103 Fahrenheit in the shade + high humidity + rattlesnakes + mosquitoes = fun.
I went out again last weekend and it was hot with high humidity. Packed a gallon of water with the hopes of filling up on the fly. The area was the same as my 7-4-11 trip but with intentions to cover more ground. I had hopes for a round trip of 16 miles. In the end only finished 12 and felt lucky to pull that off. There are lots of exposed rocks on all sides and it felt like an oven. It actually hurt to remain too long in some areas exposed to the sun.
So I was pushing along at a greatly deduced rate hoping to cut the odds of either heat stroke or the dreaded heat rash. It was getting into dusk and heard a now familiar load rattle. I must say few things will stop a person in their tracks faster. For some reason dropped my hiking poles when backing up. I was so beat even bending over with my pack on to pick up the poles was a pain. The below video says it all.
Also took these photos. The camera flash was going off as dusk crept up.
It looked a bit like the last snake from 7-4-11 and was found within 1/4-1/2 mile however appeared fatter and maybe darker in the tail and upper body though could be related or even the same snake. In any case it was getting dark and had to move on. Speaking of dark I swore to myself I would never night hike this area again after last year's night hike/rattler fiasco but the heat wave slowed me down more than expected. Time to crack out the headlamp. The Fenix HL20 lost its diffuser and been though a few headband changes but still rocks. I got my uncle the newer HL21 with smooth reflector and frankly I like the older model better.
I forgot to change the batteries from the last trip. One pro to a single battery flashlight/headlamp is fast changes in low light conditions on the move. There is a reason why I pack backup batteries and other gear items. Also pack a Nitecore headband with 4/7 Quark Mini AA. Night hiking like walking in the full heat of the day isn't really the best play to be honest. More so if you have to avoid trampling rattlers that don't always rattle.
I drank all my water and with a general desire to end my night hike ASAP stopped at the next available water 2-miles short of my goal. The water resembled a collection of very small pools than a stream. Fought the frogs, mosquitoes and water bugs for my share.
I didn't take my pump filter as wanted to practice with backup options. To be 100% honest this wasn't the trip to play around and the lack of a faster filter was felt. I had 2 Platy bags and a Nalgene canteen with tabs, filter straw and my trusty bandana.
Filtering out some of the dirt and bugs using an old school method. The mosquitoes were taking full advantage of the situation and DEET wasn't working given the massive numbers. Don't forget that a bandana only removes some of the larger particles and does nothing to make this water safe.
For that I would have to use the Frontier pro filter straw, boil or Katadyn Micropur tablets. Had a two tabs bubbling away in this Platy. Given the 4-hour time for 100% effectiveness I treated water for the hike out with a combo of tabs and bandanna filtering. Water for camp was bandanna filtered and boiled or drank with the filter straw.
If thirsty even hot tea can be a wonderful thing.
I kept hearing something working the campsite over and checked for rodents but to my surprise found frogs. Maybe the humidity was to their liking?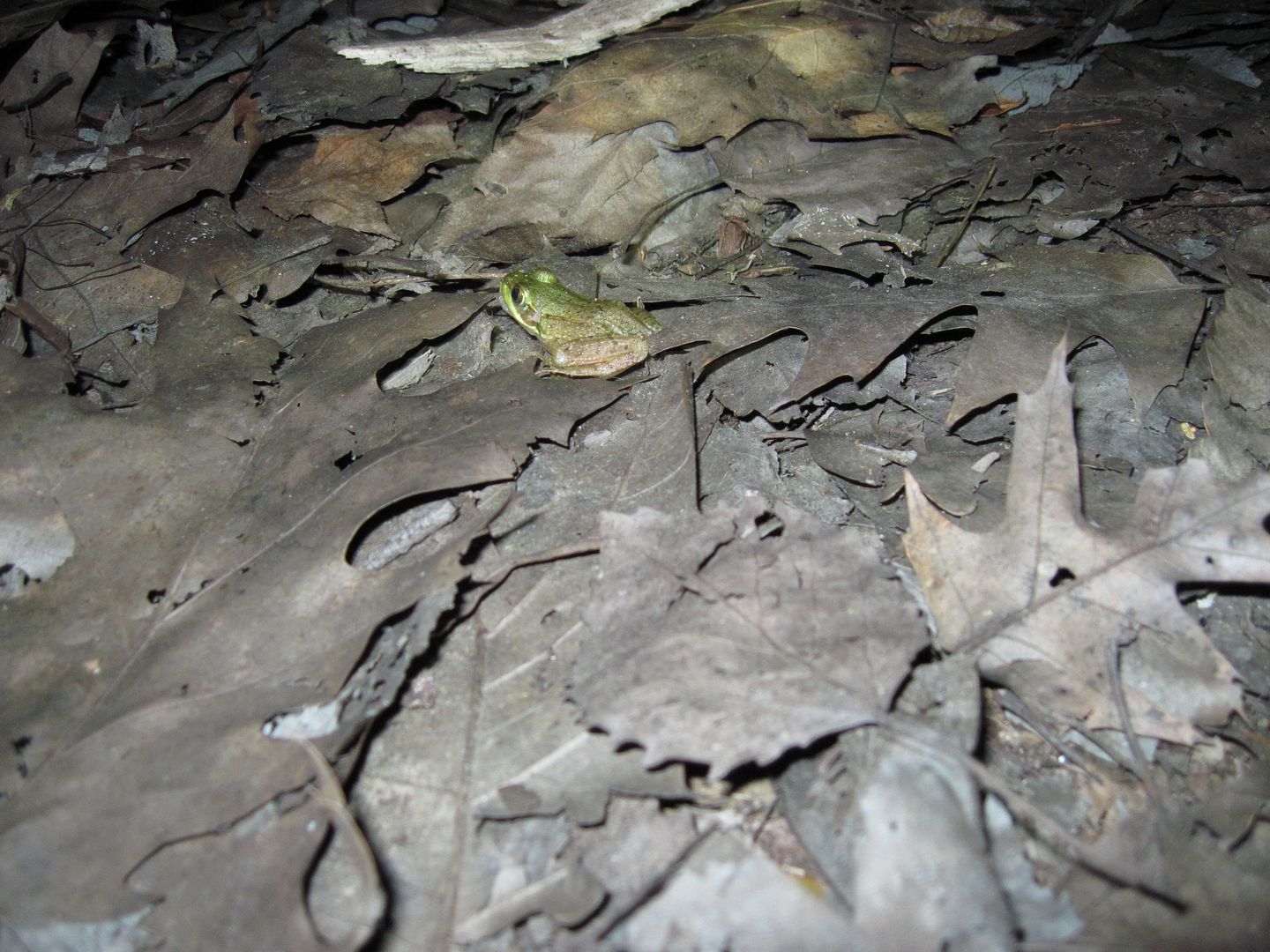 Sometimes nature provides my favorite fire starting material right in camp. If careful bark can be harvested off most birch trees without harm.
I sweltered in my hammock until about 2 am then got out for a piss. Dumped a cup of cold water over my head and that helped cool things down. The mosquitoes buzzing near the netting kept me up for anther 30 minutes before drifting off. It just wasn't a good sleep. The next day it was cooler in the AM and looked like rain would be moving in. I was expecting heavy rain overnight and decided to bring the new 10x12 Equinox siltarp.
I like the new color compared to my older 8x10 but it pains me to say their work has gone downhill big time. I returned the first one for a seam, which was sewn back on to the tarp. This is hard to explain but was very poor. The replacement looks to have been sewn by a blind monkey. Notice the bunched up front right corner? That's because it wasn't sewn flat. The primary seam has multiple folds and messed up creases. It will function just fine but for 110 dollars made in the USA tarp I expect more. Sorry as Equinox was one of my favorite gear makers. The site was a bit too small for such a large tarp to be pitched tight but when it comes to tarps bigger is very often better.
Just some views of the terrain. I hanged out near the swamp but the bugs said no so moved on.
Lots of rocks and hills most of which crossed the trail. During the hottest part of this trip these areas really cooked. The high country scrub was also toasty
The rain started and it helped to cool things off until the sun came back out. An army of newts showed up for the party. Good times had by all.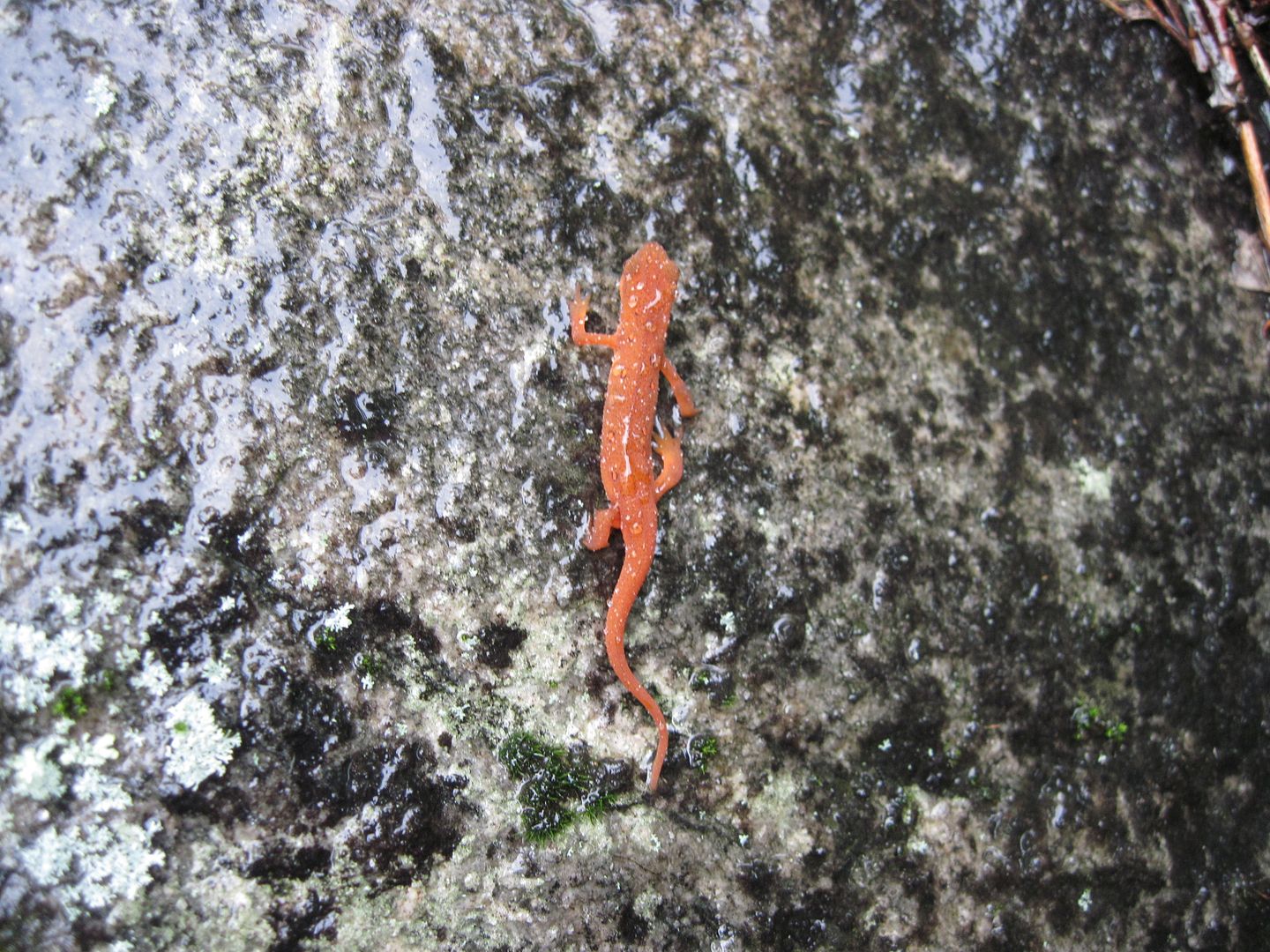 Lets talk about wild edibles.
Once again I found Huckleberries. These like the blueberries were in short supply. Not every area will be equally productive. I prefer blueberries to huckleberries but beggars can't be picky.
Huckleberries, not to be confused with the similar blueberries.
The huckleberry bush also looks very similar to a blueberry. This can be confusing and have mistaken them for each other before.
Hickory nuts have on and off years. Basically it can be boom or bust and how all the trees in an area stay on the same page is unknown to me. Betting that info can be found someplace on Google. Looks like this will be a good year. Still green but promising.
Not all wild edibles are plants. Some people fish but I have turtle on the menu.
Naa just kidding. I mean come on people just look at this critter. There is just something about a box turtle.
Sent the Eastern box turtle off unharmed. In my view they shouldn't ever be taken from the wild as pets despite having a box in their name.
Got my Mora setup as a large necker with paracord wrap. Actually use this cordage more often than one might expect. Only used the knife to cut open the water tabs and some webbing for the tarp. Have the camera ready at all times which can be a pain but often pays off.
Gear tip.
If you what to break camp fast often factory stuff sacks are too small. Sometimes I wonder if they don't employ magical elves to do the factory packing. The HH stuff sack is being used for the 10x12 tarp. An old sleeping bag stuff sack is used for the HH and undercover system.
That's about it for this trip. Thanks for looking.