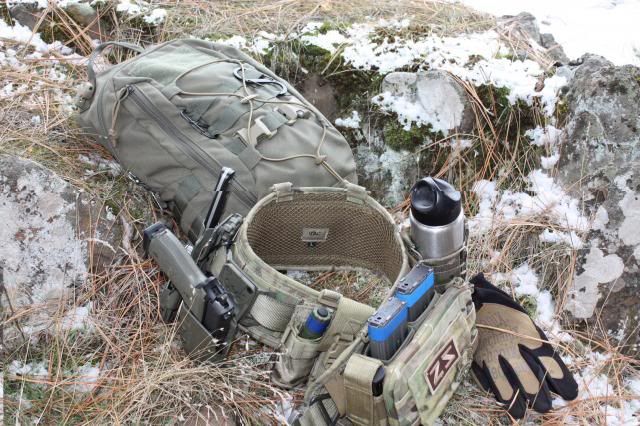 Here is the belt after round 2 of the diet. I took out all the bulky pouches, and dropped all the redundant gear I could bear too.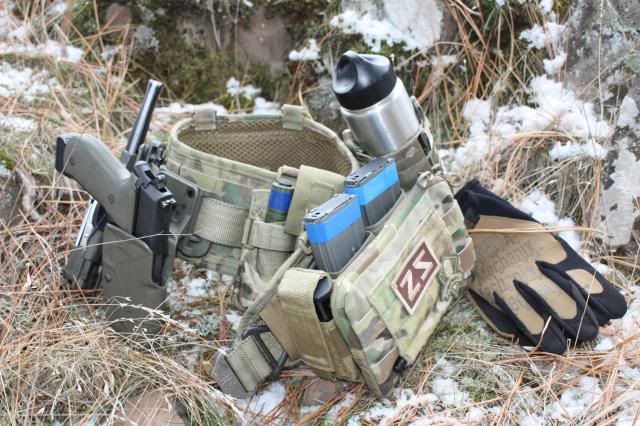 Clockwise around the belt I have:
1)Flashbang pouch holding small survival items and misc stuff.
2)Flashlight pouch, it may get replaced with a covered pouch depending on which light I go to full time.
3)Pistol, still the Sig, but I'm considering switching to a Glock with mounted light. It will still shave 4 oz off my weight.
4)Field knife and tools, same as documented elsewhere. It holds my field knife, leatherman, ferro rod, and sharpening stone in one well designed kydex sheath.
5)Velcro panel at the rear of the belt for attaching it to my pack. Future plans include making a removeable rear pouch that mounts the same way.
6)SS water bottle (28oz) in an HSGI soft taco. I dropped the large nalgene pouch, and all the assorted stuff I had in it. I can boil water in my bottle if needed. The soft taco is also so versatile, that I can use it for other items as well.
7)My non dominate side pouch is probably the most busy, and where I spent a lot of time streamlining. The base is a KYWY short double mag pouch. Attached in front of that is a Blue Force Gear admin pouch, on the far right is a single pistol mag pouch. I chose the BFG pouch because of it's size. It's slim profile allows me to carry small essential items without getting in the way.
I struggled with getting cordage onto the belt. It's one of the few items I did not want to be without. I tucked it behind the admin pouch and under my mag pouches. It's held in place with a small bit of bungee cord routed thru both pouches.
_________________
The asshole formerly known as Sigboy40
In theory, there is no difference between theory and practice. But, in practice, there is.
An accident while adventuring is always an indication of incompetence-Col Townsend Whelen
thinkfree wrote:
Sigboy40 is the greatest asshole I have ever had the pleasure of knowing
Sigboy Scout Belt
Outcast Prepper Blog