A short trip into the woods late last week turned into the perfect opportunity to run a review of my current belt set up. I noticed a few diffeciencies, a few things that should be stocked a little better. However, here is my belt, in all its infamous glory: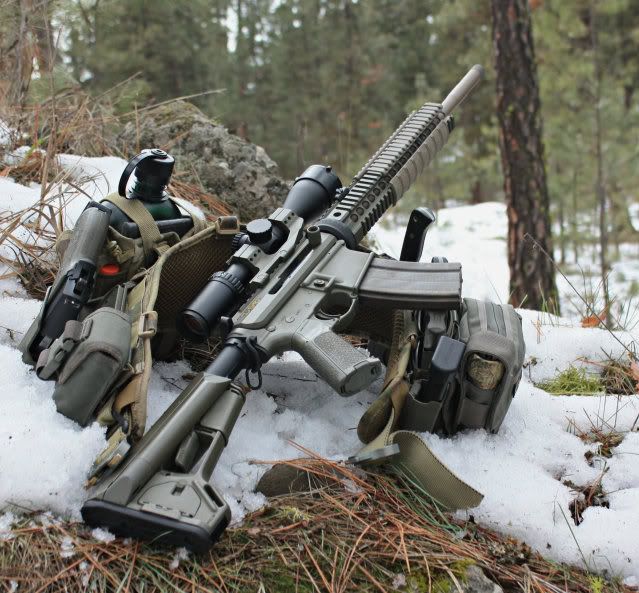 Notice this is set up in this configeration for hunting with an AR type rifle, ammo count is simple, two rifle mags and one pistol mag. I prefer to run 20 rd mags on the belt, the shorter height keeps them out of the way. Note:In 6.8 this is a 15 rd capacity.
Front pouch-Compass, signal mirror, duct tape roll and P51 can opener
We all know what a pistol looks like, and you can guess from my name. Sig P226R, in 40S&W
Holster is a BladeTech, Black Ice with the DOH adapter
Standard USGI Molle Canteen pouch. I'm proud of how far I have stretched this pouch. In the main compartment I have a cheap poncho, space blanket, SAM splint, aluminum foil, canteen cup with stand, and a Nalgene Canteen. One side pouche holds water purification tablets and Trioxane fuel (not shown). The other holds two waterproof match containers, one with matches and the other vasoline cotton balls.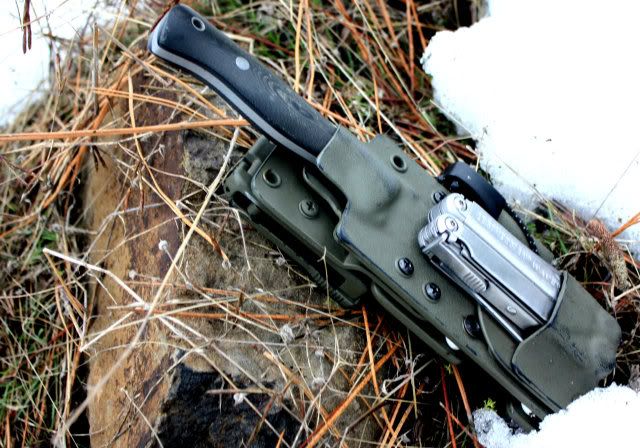 My custom made Kydex sheath, built by Mashed Cat Outfitters in Idaho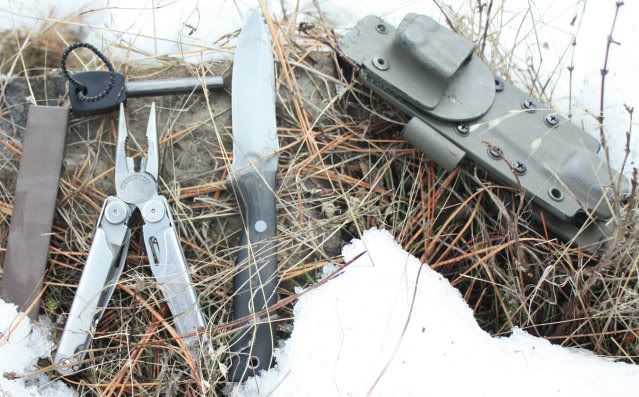 And all its contents- My field knife, a 5" knife built by John Roy knives out of Arizona, A Leatherman Wave, Swedish firesteel, and a Spyderco ceramic sharpening stone.
This shows the conglameration of pouches on the left front of the belt. It consists of a KYWY double mag pouch, a Blackhawk kydex single mag pouch, a Maxpedition flashlight pouch and a Maxpedition 4x6 utility pouch.
The flashlight is a Browning, cant remmber the model. It has an Incandescent white bulb, two white LEDs, two blue LEDs and two red LEDs. Runs off of two CR123 batteries, but has great battery life.
In the pouch is my rangefinder, a grunt call, wind indicator/foot powder, ear plugs, mini lightstick, a small boo boo FAK, and most importantly, MRE toilet paper. Not shown is the lighter and chapstick that are normally also included.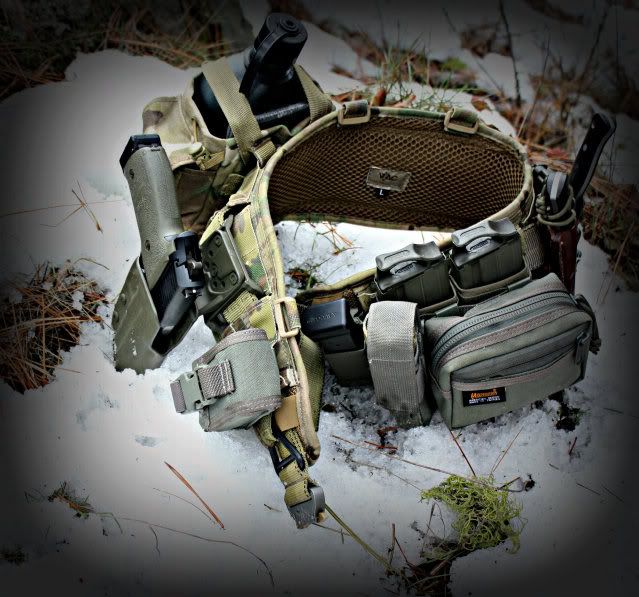 The belt its self is a VTACs Brokos belt, size XL. Inner belt is their Riggers belt with Cobra buckle.
Not shown are the zipties I have running between the inner and outer belts, and a handcuff key I have in the back on a piece of shock cord.
All the kydex is painted with Alumahyde paint from Brownells. Their OD green is really light, and looks almost like a ranger green. It matches fairly well too.
Things I forgot and/or normally are in a fully stocked belt:
Handkerchief
Trioxane tablets 1-2 packages
zipties
lighter
chapstick
_________________
The asshole formerly known as Sigboy40
In theory, there is no difference between theory and practice. But, in practice, there is.
An accident while adventuring is always an indication of incompetence-Col Townsend Whelen
thinkfree wrote:
Sigboy40 is the greatest asshole I have ever had the pleasure of knowing
Sigboy Scout Belt
Outcast Prepper Blog