I posted this over on the Kifaru and Get Off the X forums and got some really good input. Some changes were made since these photos were taken so some of the gear doesn't match.
20# with water
14# with Level One gear removed. The raingear, lightsticks and belt pouch take up about two-thirds of the interior.
STASHAWAY RAINGEAR PARKA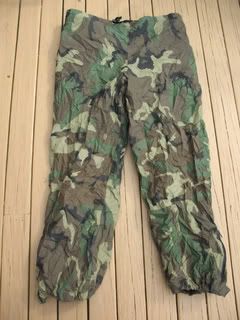 STASHAWAY RAINGEAR TROUSERS
GERBER BMF KNIFE
CYALUME LIGHTSTICKS
1 – RED
1 – BLUE
1 – GREEN
3 – INFRARED
MAPS OF AO
SIDE KICK BELT POUCH
SWISS ARMY KNIFE – EXPLORER MODEL SILVA RANGER COMPASS - MODEL 515 (on paracord lanyard)
COMBAT APPLICATION TOURNIQUET
TRAU-MEDIC FIELD DRESSING
BRITISH LIFEBOAT MATCHES
FIRESTEEL RANGER
MINI-BIC LIGHTER
SIGNAL MIRROR (on paracord lanyard)
SNARES
3 ft 550 CORD
CYALUME LIGHTSTICKS
1 – RED
1 – INFRARED
35mm FILM CANISTER
2 – VASELINE/COTTON BALLS
SPACE ALL WEATHER TARP/GROUNDSHEET
HEFTY LAWN AND LEAF TRASH BAGS
30 - KATADYN MICROPUR MP 1 DRINKING WATER TABLETS
POCKET CHAINSAW
GORILLA TAPE (1.88 in. x 35 yd.)
50 - ZIP TIES
100' 550 CORD
40 – COFFEE FILTERS
ALTOIDS TIN
6 – VASELINE/COTTON BALLS
FISHING KIT
PLANO BOX
6 – EAGLE CLAW 12" HEAVY DUTY WIRE LEADER 30lb.
6 – EAGLE CLAW #2 BAITHOLDER SNELLS
6 – EAGLE CLAW #4 BAITHOLDER SNELLS
6 – EAGLE CLAW #6 BAITHOLDER SNELLS*
10 – EAGLE CLAW #4 BAITHOLDER
10 – EAGLE CLAW #6 BAITHOLDER
2 – WING-IT BOBBERS
60 – WATER GREMLIN BB SPLIT SHOT 1 – STRINGER
150yd. 65lb. SPIDER WIRE FISHING LINE
S.O.E. IFAK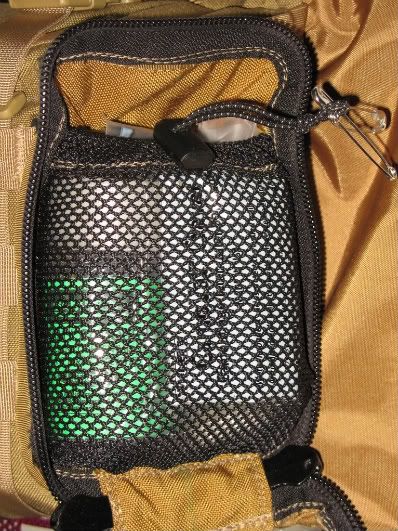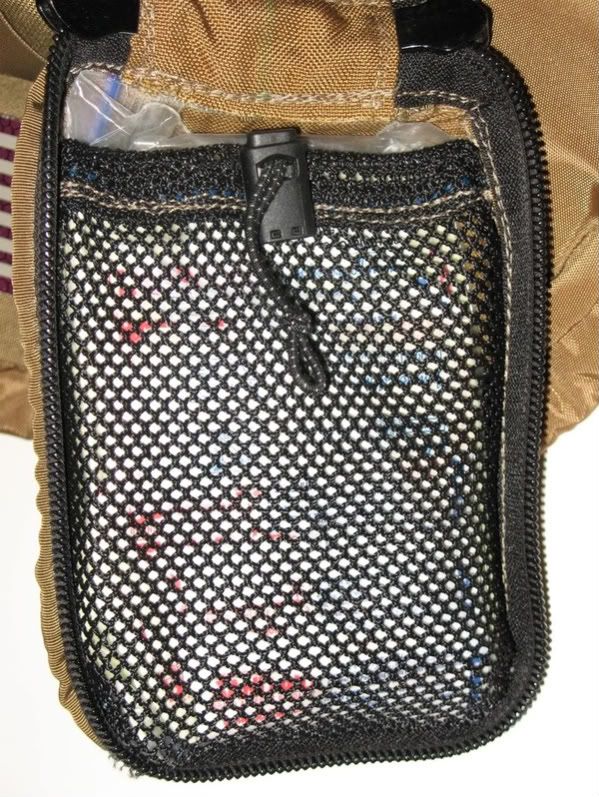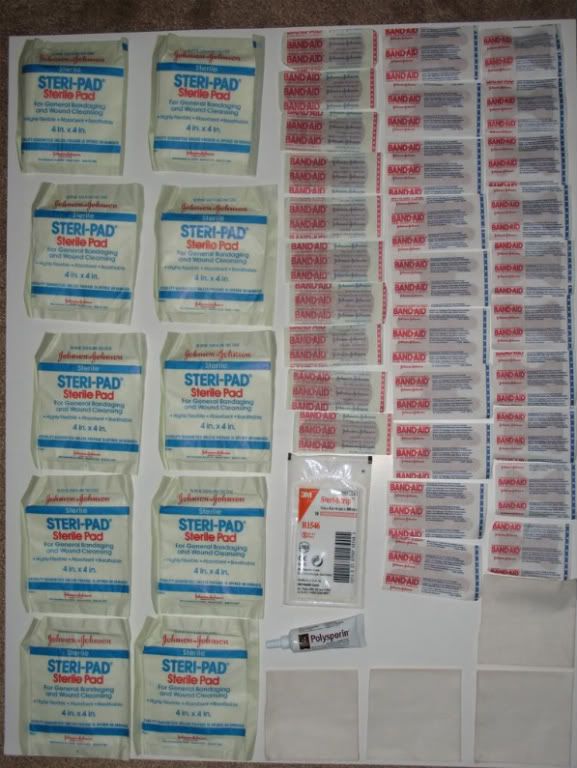 4 – BLACK TALON NITRILE GLOVES (L)
10 – 1" FLEXIBLE FABRIC "BAND AID"
10 – FINGERTIP "BAND AID"
10 – KNUCKLE "BAND AID"
10 – 4" x 4" GUAZE PADS
5 - STERI-STRIP WOUND CLOSURES ¼"x 4"
1 – 3" SAMCAM COHESIVE BANDAGE
1 – CAMOVAT TRIANGULAR BANDAGE
1 - TRAU-MEDIC FIELD DRESSING
1 – 4" BANDAGE ROLL
1 – 1"x 10 yd TRANSPORE SURGICAL TAPE
10 – 1/32 oz. NEOSPORIN 6/09
5 - COMPOUND BENZOIN TINTURE 2/3 cc
16 – TYLENOL (acetaminophen 500mg)
16 – ASPIRIN (acetylsalicylic acid 500 mg)
12 – ADVIL (ibuprofen 200 mg)
6 – ALEVE (naproxen 200 mg)
12 – BENADRYL (diphenhydramine HCL 25 mg)
8 – IMODIUM (loperamide HCL 2 mg)
4 – PEPCID COMPLETE
2 – SAFETY PINS
MOLESKIN
KIFARU LITRE PLUS POUCH
NALGENE 1L WIDE MOUTH BOTTLE
SNOW PEAK MINI SOLO TITANIUM COOKSET
KIFARU LITRE PLUS POUCH
KATYDYN POCKET WATER FILTER
CAMELBAK HYDROLINK FILTER ADAPTER
CAMELBAK HYDROLINK PORT PLUG
CAMELBAK FIELD CLEANING KIT
SCRUB PAD
S.O.E. STROBE POUCH
ACR MS-2000(M) STROBE
OMEGA PACIFIC LOCKING OVAL CAMO CARABINER