WATER TREATMENT
Now that we've established a proper carrying vessel for your hydration/fluids, we're going to move on to how to properly treat your potable water for consumption. Even the clearest trickling creek can be filled with all manners of waterborne bad guys who want nothing more than to create a tornado in your bowels. Kind of like what happened to this jerk (on the left) during a recent camping expedition: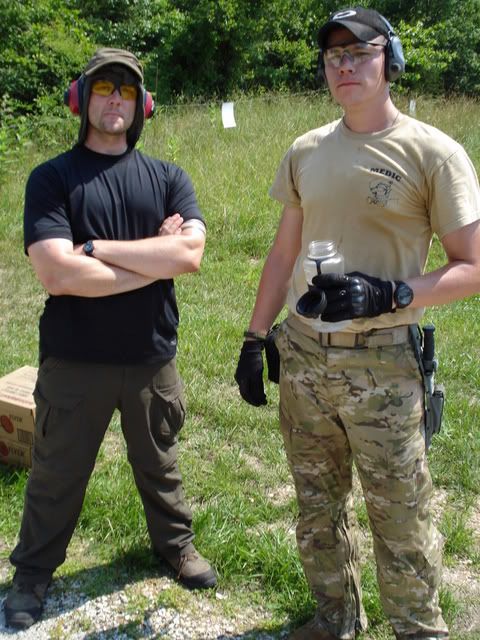 Some of the possible nasties you may run into when drinking unfiltered/untreated water are: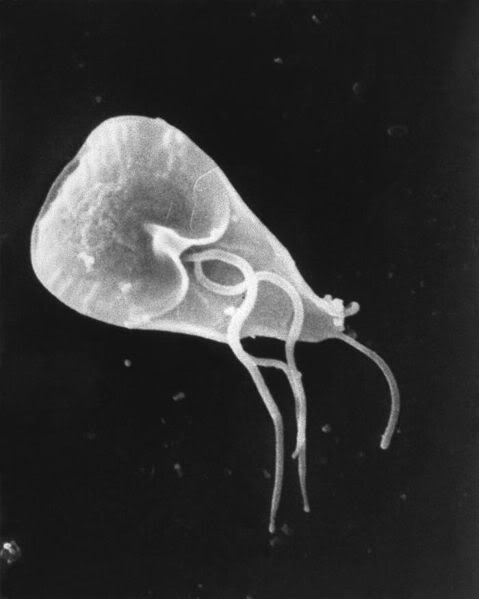 Giardia
Cryptosporidium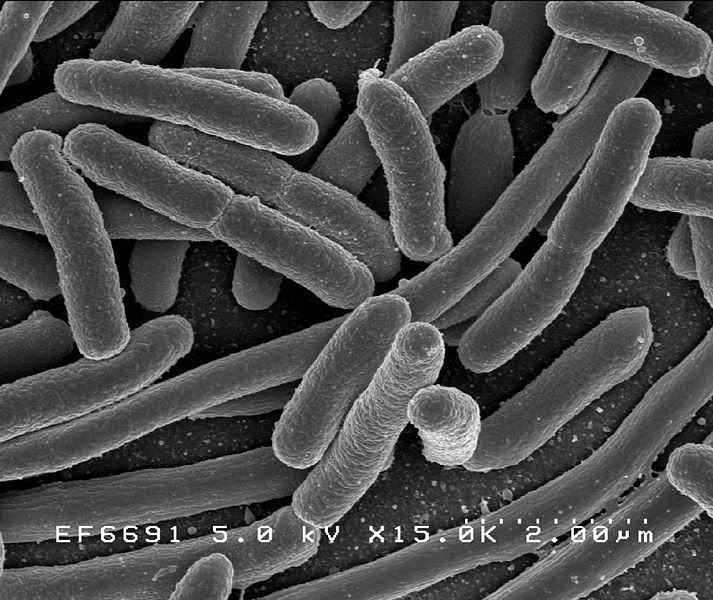 Bacteria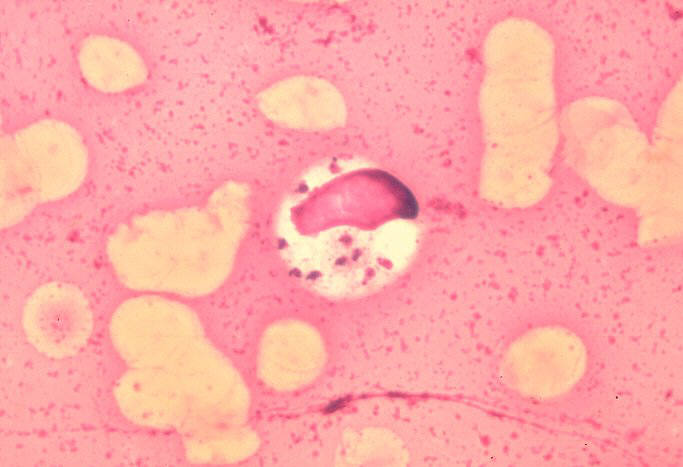 Protozoa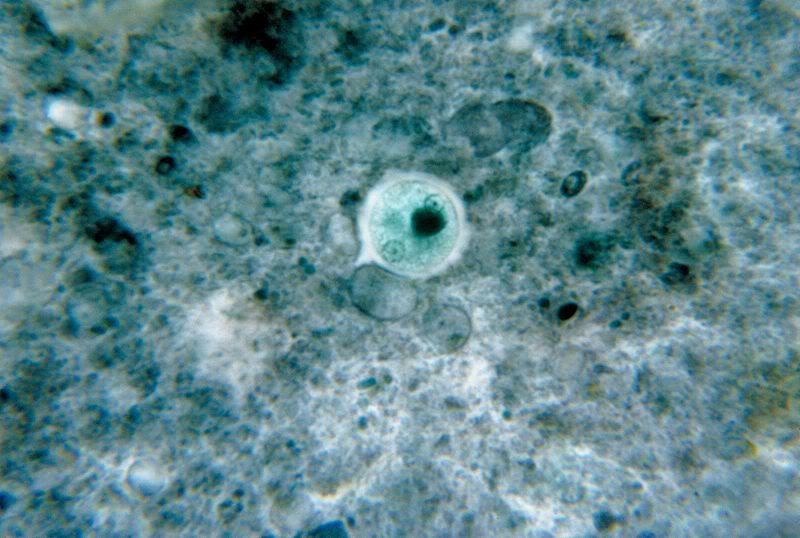 Microbial Cysts
Now that we understand the necessity of filtering ALL of our water for human consumption when bugging out, let's move on to how to go about avoiding dysentery while in search of a refreshing drink of creek water.
FILTERS:
Most all portable hand pump operated filters work through a combination of chemicals and force. Simply stated, the pump forces water through a series of screens or filters (albeit charcoal, ceramic or mesh) to strain out the impurities within the water. Note that these filters do nothing to remove chemicals from the water, and can only trap specific sizes of nasties, so it's always important to treat your water after you filter (more on that later).
Some of the filters you'll see in common use are:
The MSR Miniworks EX: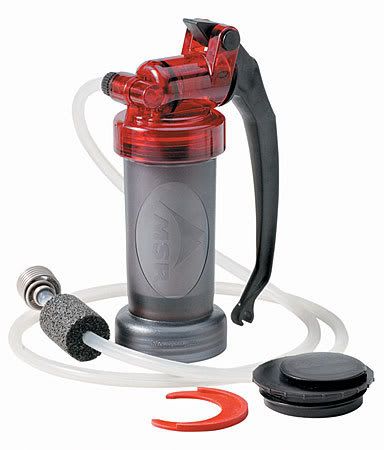 MSR MiniWorks EX
Mountain Safety Research writes of their MSR Miniworks EX wrote:
The MiniWorks EX is the best-selling filter on the market, delivering long-lasting, fully field-maintainable water filtration. Its durable ceramic element ensures protection, pumps water for years, and can be cleaned repeatedly for full recovery, with no tools required for complete disassembly. The MiniWorks is also lightweight, compact, and, thanks to its innovative AirSpring Accumulator™, capable of pumping one liter of water per minute.

* Long-lasting: Durable ceramic element ensures protection and will pump water for years.
* Field-maintainable: Can be cleaned repeatedly for full filter recovery; no tools required for complete disassembly.
* Fast Flow: AirSpring Accumulator increases filtration speed; up to 1 liter/minute.
* Effective Protection: Removes bacteria, protozoa (including crypto and giardia), and particulate.
* Better-tasting Water: Carbon core removes unpleasant tastes and odors caused by chemicals, such as iodine, chlorine, and pesticides.

This filter is a favorite among the survivalist community as it is relatively inexpensive
Google Shopping Pricing
at around $70-$80 for the entire kit. The filter is also easy to use, attaches to a variety of containers (see above) and does a damn good job of filtering even the dirtiest water. I like it so much, that it's my main filter.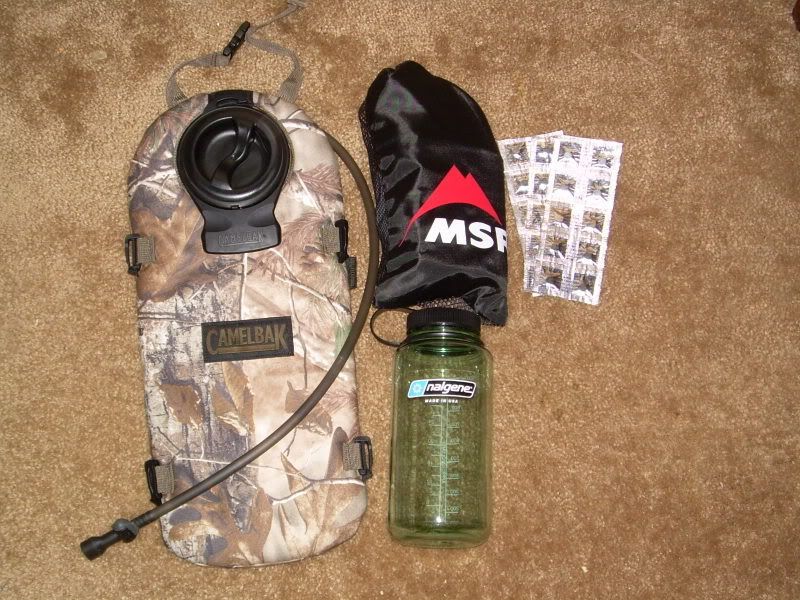 Cerberus's BOB Using a MSR MicroWorks EX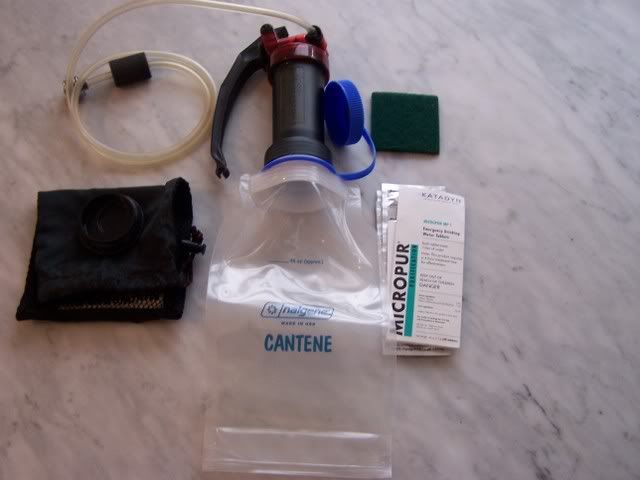 WoodsWalker's BOB (One of the best examples of a good Bug Out Bag you'll ever see)
WHERE TO BUY
REI
DICKS
CAMPMOR
EBAY
GOOGLE PRODUCT SEARCH
KATADYN HIKER/HIKER PRO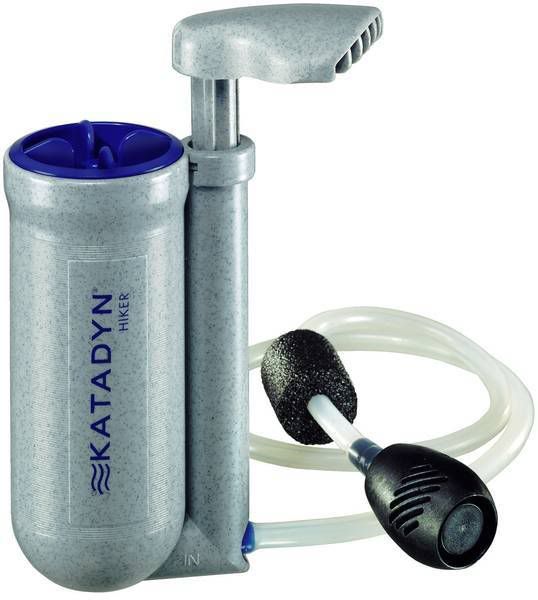 Katadyn's Hiker Website
Katadyn's Website Writes about the Katadyn Hiker wrote:

Katadyn Hiker

The convenient and effective microfilter

The Katadyn Hiker is the best selling microfilter in the US Outdoor Market. Lightweight and easy to use design is the best choice for all around use. Unique, pleated cartridge design provides fast and easy pumping. Convenient and handy for 1–2 persons (e.g. while hiking or trekking). Compatible with hydration bladders.
Includes: Prefilter, bottle adapter and carry bag

Technology
* AntiClog Technology with 0,3 micron glassfiber (no cleaning needed)
* Activated carbon granulate

Output
~1 quart
~1 l/min

Capacity (depending on water quality)
200 gal
750 l

Weight
11 oz
310 g

Dimensions
3 x 6.5 x 2.4 ''
7.6 x 16.5 x 6.1 cm
The Katadyn Hiker/Hiker Pro series are popular among Zombie Squaders because they're simple to operate, very effective and are easy on the wallet. A typical price for one of these models is between $50-$60
Google Shopping Link
. Below are a few Zombie Squader's kits that include this filter:
Paulie771's BOB with Katadyn Hiker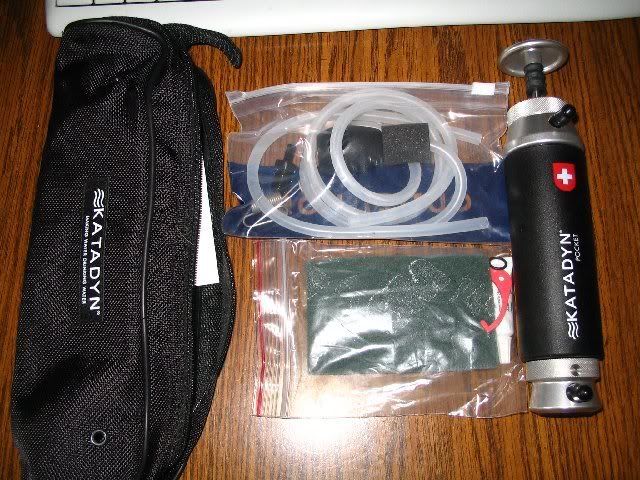 KillerRN's Budding BOB with Katadyn Pocket Filter
WHERE TO BUY
CAMPMOR
CAMPSAVER
REI
EBAY
GOOGLE PRODUCT SEARCH
MSR MIOX CHEMICAL TREATMENT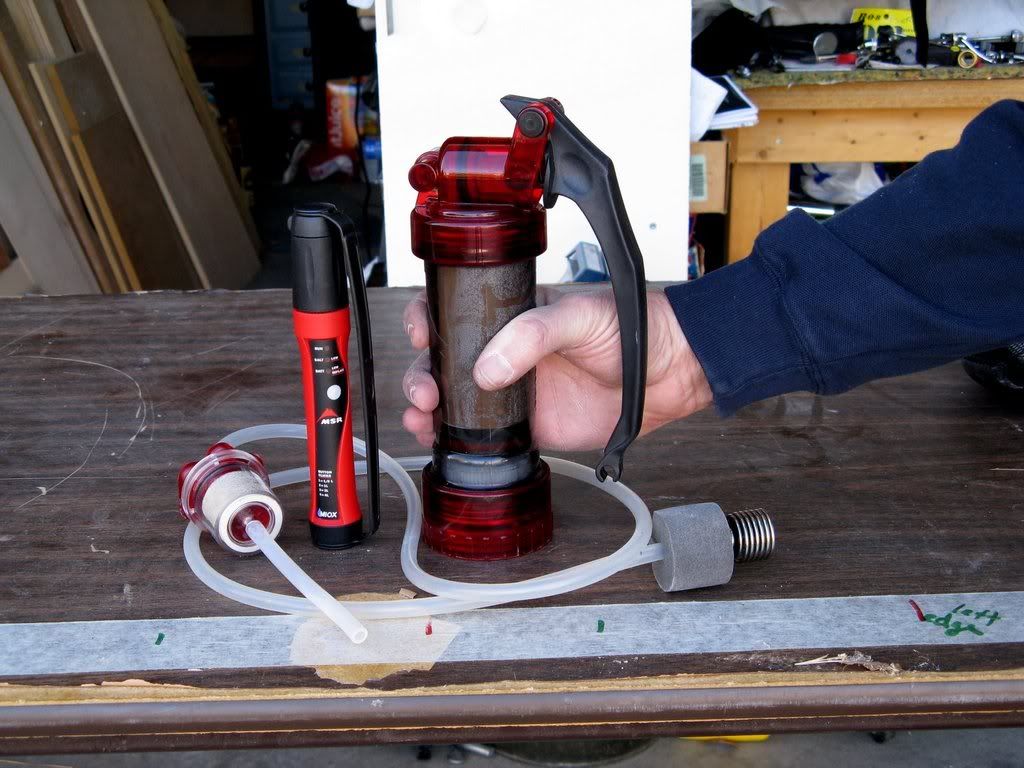 MSR Miox Website
Mountain Safety Research writes about their MIOX filter wrote:
The MIOX Purifier represents a revolution in water treatment. It's ultralight, compact, and easy to use—with no pumping, maintenance, or iodine required.

Developed in conjunction with the U.S. military, the MIOX Purifier offers unrivaled ease of use and reliability for purifying large volumes of water, making it ideal for outdoor recreation, travel, and disaster-preparedness. It works by creating a powerful dose of mixed oxidants (MIOX), which is then added to untreated water, inactivating all viruses, bacteria, Giardia, and Cryptosporidium (which even iodine doesn't kill). And since the MIOX Purifier needs only common camera batteries and salt to operate, it's maintenance-free, delivering more water, more easily than any purifier ever before.

* No pumping required: Just add water, shake, and press a button.
* Purifies water without iodine: No health risk or unpleasant iodine taste.
* Great for large volumes of water: Perfect for groups or extended trips.
* Ultralight and compact: Fits in your pocket to go anywhere.
* Reliable purification: Inactivates all viruses, bacteria, Giardia, and Cryptosporidium.

Kit includes MIOX Purifier, salt, batteries, safety-indicator strips, instructions, quick-reference card, and storage sack.
The MIOX purifier is a concept that is slowly catching on in the survivalist community. Essentially the filter uses a series of mixed oxidants which can be added to unfiltered water to kill all viruses and bacteria. The MIOX is an excellent addition to ANY survival kit as it can easily purify large quantities of water using only the filter, salt and 2 batteries. This filter is also VERY small (think the size of a carpenter's Sharpie Marker) and can easily find room in even the most space conscious BOB's. The filter is a bit more pricey, though a prudent shopper can score one of these purifiers for around $100
Google Product Search
. A few ZS'ers are utilizing this technology already:
KillerRN's BOB with MIOX Filter (it's in there somewhere)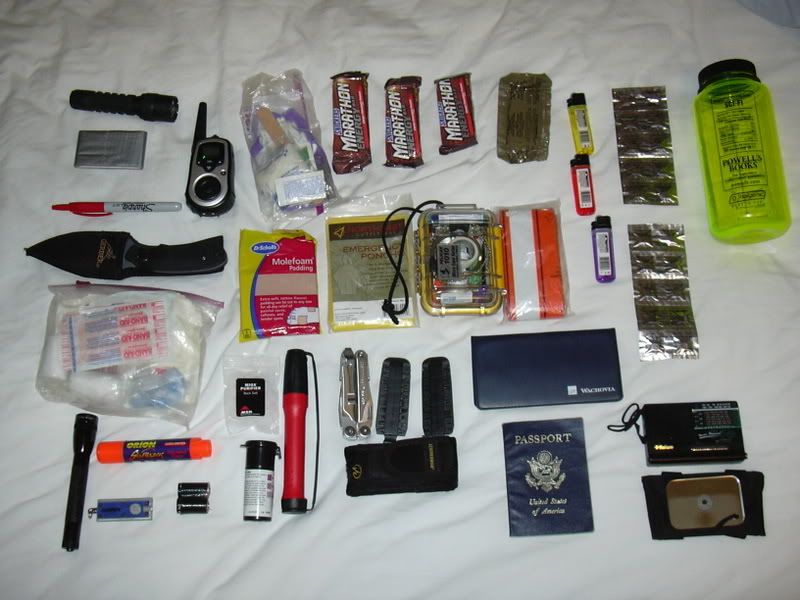 GhostFace's SpecOps Packrat with MIOX
WHERE TO BUY
BOTACHTACTICAL
DICKS
PROLITE
EBAY
GOOGLE PRODUCT SEARCH
Katadyn MicroPur Tablets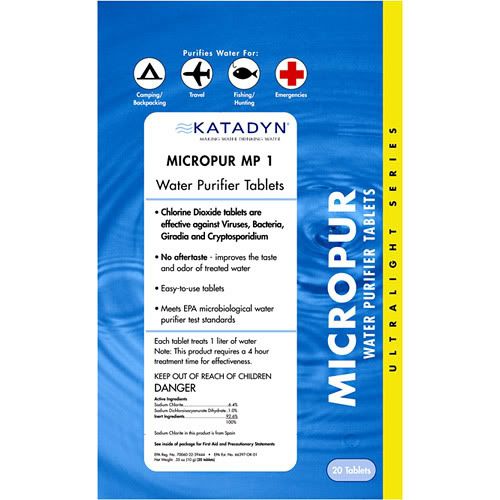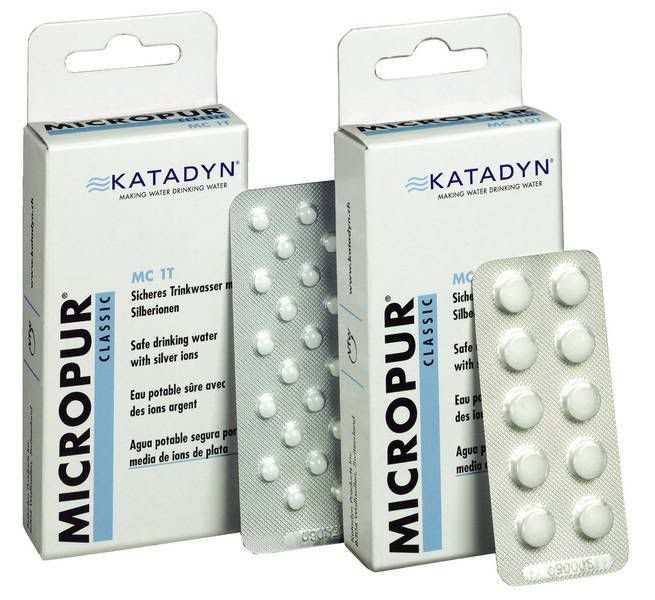 Katadyn's MicroPur Website
Katadyn's Website Writes about the MicroPur system wrote:
The simplest and healthiest way to conserve water

Use in clear water. Ideal for vacations and travelling. Micropur Classic inactivates bacteria in water tanks and containers. It is ecologically friendly and keeps water free from germs, algae and odours. Silver ions preserve water for up to 6 months.

Technology: Silver ions
Contact Time: 2 hours
Form: Tablets
Shelf-life: 10 years
Application: For smaller amounts of water (e.g. water bottles)

These tablets are an easy and relatively inexpensive way to backup your filter. By simply adding one or two tablets to a container of water to be treated, you can rest assured that any viruses and bacteria that may have inhabited your drinking water are now deader than disco. Depending on if you pick the liquid or the tablet form, you can expect to pay at or around $15 for these backup pills
Google Shopping Link
. Here's a few examples of the various MicroPur systems in Zombie Squad kits: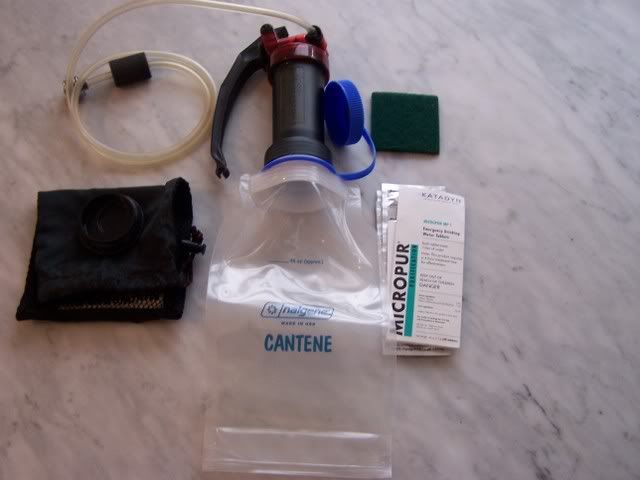 WoodsWalker's BOB featuring MicroPur tablet (his bob's so good, I had to post it twice)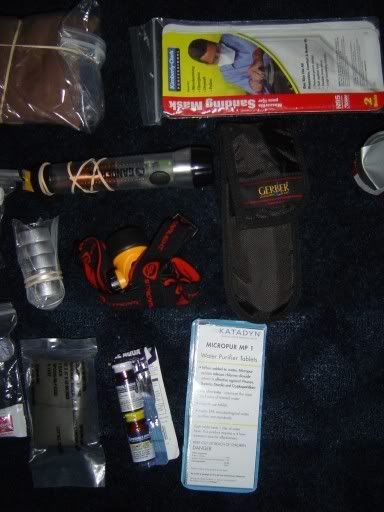 Murph's BOB
WHERE TO BUY
REI
CAMPSAVER
BASEGEAR
EBAY
GOOGLE PRODUCT SEARCH