Well I am back. It was a bit colder than I expected. Think the overnight low was about 17ish. Not so bad considering the degree of camp comforts one can afford with an 85 lb pack. That is until the shit hit the fan Sunday night. The pack load was not all that bad on my legs and back. Guessing the reduce distance of ten miles really helped. There was some ice on the trail. Nearly fell a few times so thinking maybe a lighter pack would have made me more stable. The hiking poles helped stabilize the load over the slippery terrain.
Found some guy camped out near a lean-to. Had a small tent and a iso/pro stove. Looked like a snow peak Giga power. Much like my pocket rocket but seemed even better. Still with a small backpacker tent and that little iso/pro stove it could not have been all that fun. It was dark and dank all day and according to this guy an ice storm was moving in for Sunday. His plain was to crawl into the lean-to rather than weather the storm in his tent. My plain was to avoid the whole f@cking mess. Nearly made it but hiked out during the next night. Cold evil rain mixed in with ice. Water soaked though the EMR. Never seen a pack that was truly water proof and I don't expect to anytime soon. Water resistant stuff sacks kept the gear dry.
Unfortunately I didn't bring the digital camera. Didn't think anyone would be interested in more photos for this thread. But took out the cell phone and snapped some shots. So be warned these photos will suck. Sorry. The cold and photos drained my cell phone battery. I used the Energizer cell phone recharger. Once again it worked great. A nice pack/BOB item.
Here is my camp. Weight being of ZERO concern I went overboard.
Once again sorry for the cell phone photos.
4-man tipi in a large open camping area on the AT. I was not in the mood to crawl into the hills.
River starting to freeze up some.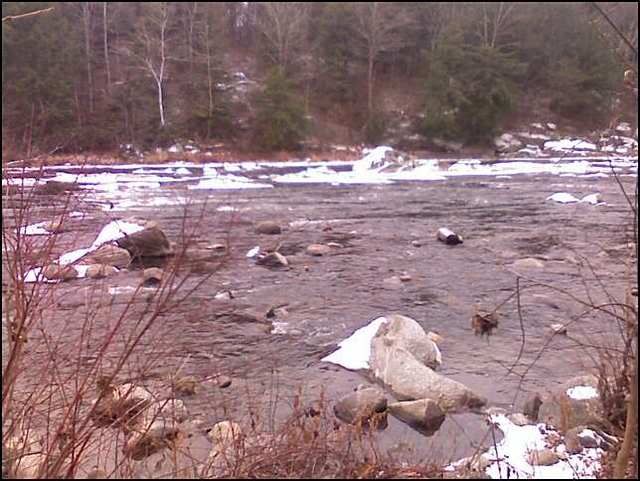 The sleep system was so overkill as to be nearly ridiculous. -15 down sleeping bag and downmat 9DLX. I can't even begin to describe the level of comfort when there is 3 inches of uncompressed down under me and over 4 inches on top. Tossed in a bag liner too.
SilentVectorX.
Clothing system:
1. ECWS paints.
2. An old torn up and partially melted (wood stove accidents) XXL USGI jacket liner.
3. A Carhart jacket.
4. Synthetic base layer.
5. Polypro face mask/hat.
6. Large synthetic scarf.
7. Golite Poncho.
8. Lava wool socks
9. USGI wool gloves
10. Kamik insulated water proof boots.
11. Synthetic shirt.
12. Sucky cotton old navy cargo paints.
The temperature didn't call for extreme cold weather clothing. But the freezing rain for the last two miles was killer. The 85 lbs on my back made me a bit off balanced on the ice. The dark didn't help matters. I should have taken off Sunday morning but drag assed around.
Going to look for a lower target weight on my INCH bag. Maybe 65 lbs. The near falls during the ice storm spooked me.
_________________
"There's no such thing as bad weather, just inappropriate clothing"
"Do not mess with the forces of Nature, for thou art small and biodegradable!"
Best of Woods Walker's posts.