I've been a big proponent of the USMC ILBE pack. whatever the gripes real grunts have with it (not working well with body armor, losing stuff at the bottom ect.) don't really apply to me. getting a civilian style pack at surplus prices is a great deal for me. I've bought 3 in fact.
but I will be the first to admit that ILBEs are HEAVY. like kifaru heavy, but without the durability or awesome features that make the weight worth it. also they went a little overboard on the straps, four compression straps per side? I guess I've never packed mortars around so I don't get to criticize.
Awhile ago I embarked on a mission to lighten the ILBE. I had one sitting around I only paid $30 some odd dollars so I wasn't afraid to cut it up a little. here is a pic of the stock ilbe for reference:
I circled some of the bits that are easy to overlook, buckles for attaching the assault pack (I never got around to buying one and sure wouldn't want to mount it that far from my back), side grab handles, and the diaper-flap/ beaver tail thingy rolled up under the upper molle panel. also if you've never checked out an ILBE in person you might not know that all the zipper pulls have chunks of hose around them to make them easy to grab with gloves or mitts. not a bad feature, but heavy.
ok, lets start at the bottom:
most people are afraid to permanently attack their gear, but if you want to drop weight you have to be decisive. I cut off all the molle on the bottom panel and took out the tri-glides holding the buckles on (the stock pic I showed you is a newer one without these) and sewed a loop. I also chopped off the beaver tail flap, I used it occasionally but I decided it could be replaced with a little shock-cord on the upper molle panel. you can also see on the right side were I chopped off the assault pack mounting points.
moving up I removed the top lid straps and the snap to hold the beaver tail. I also removed all the buckles and straps that the beaver tail mounted too (3 total). removing the top lid is one of the oldest tricks in the book for shedding weight, especially true when you have a lid as heavy as the ILBE!
the sides are were most of the magic happened. you can see I removed the dumb little half-compression strap off the bottom. I was tempted to delete the middle one too, but some things I mount on the side don't quite reach the top strap. I also replaced the top ladder-lock with a quick-release for convenience.
all that molle you see on the side of the stock ILBE is actually on a separate panel that makes a kind of slot-channel that I never used at all as it was narrow and robbed interior volume if you used it. I also never mounted pouches on the side because it interfered with lashing things on the side.
you probably can't see it but I also removed the tubing from the zipper pulls.
you might also notice those coyote panels on the stock ILBE, those are rugged hypalon/rubberized-nylon reinforcements. look cool and make you feel like your pack is tougher but I decided 1000d cordura is plenty tough for anything I dish out.
hard to see but the only mods I did to the back panel was to delete the top lid mounting buckles and the side grab handles. I experimented with removing the frame sheet but the lumbar pad and straps don't mount well without it. I'd like to experiment with a lighter hip belt as I don't find the ILBE belt very comfortable anyway (I'm too bony).
Inside: take out any radio pouches, dividers, buckles and straps. once you have a slick tube all the way down you will thank me. do any organizing with light weight stuff sacks or dry bags.
you might have wondered why I left the top molle, but I have actually used it. it is the right size for a sustainment pouch which is one of the only molle pouches I think has enough volume to warrant the weight. these are a handy size for raingear, tarps or a cook kit.
I'm debating cutting out all but the outermost channel though, we'll just wait and see.
you can also see were I cut out the top assault pack buckles.
so what is the final result?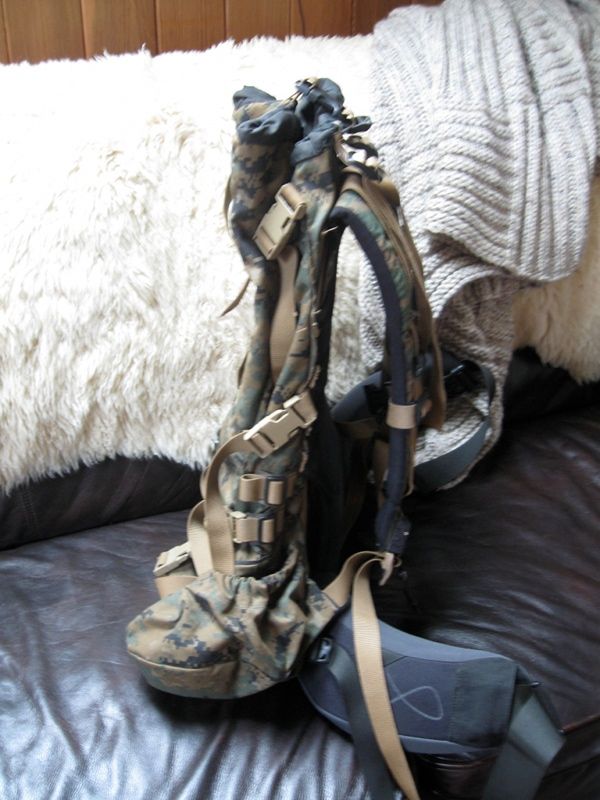 at the end of the day you still have a 1000d sack, so it's not gonna compete with true lightweight packs but it's a step in the right direction.
even without the weight savings I think the pack is much more usable and less awkward without all the extra strap and buckles. If it wasn't so much work I'd consider sewing the zipper cover down and cutting out both zippers. they are quite heavy and I never use them anyway.
next I might cut out the storm collar and replace it with a lighter sil-nylon.
I don't have a good enough scale to get a solid number on weight savings but I'm pretty sure it can be measured in pounds and not ounces. I'll try to get at least a close estimation by the end of the week. sorry for all the build-up with no data...
*UPDATE* crappy spring-scale is in the mail. should have numbers soon.
so anyway, fear not, all of this was done with scissors, a seam ripper and repair buckles, anyone can do this at home. well worth it. don't be afraid to make your gear your own.
_________________
share your tobacco and your kindling, but never your sauna or your woman.
AK, Glock, Pie.