Years ago thieves broke into my truck steeling my BOB. I rebuilt the BOB however realized I couldn't have my full BOB within reach 24/7. This however was a problem. After all we don't know when and where a zombie outbreak or next natural disaster is going to strike. If so we wouldn't need to prep as much. We could simply be someplace else.
I do have smaller PSKs and Get Me Home bags but they lack all the smaller essentials of a full BOB. I created the GBOS aka Green Bag Of Survival with the intent of field expediting a full BOB using whatever was within reach. Combine the GBOS with my jacket, EDC items, cans or whatever is around to field expedite a BOB. I have the GBOS along with a UL fabric pack (without frame) behind the seat of my truck plus a few other things which are cheap and harmless should I suffer another break in.
The GBOS also does double duty as a larger wilderness PSK which gets tossed into a pack ensuring all the essentials are there for longer range/duration outings. I already pack a canteen and metal cup etc etc but with the GBOS need not fear any of the little items of survival are MIA.
Some action shots from over the years. The contents have changed a bit but never the green bag. Little kits can become monsters unless a constraint is placed on them. In the field!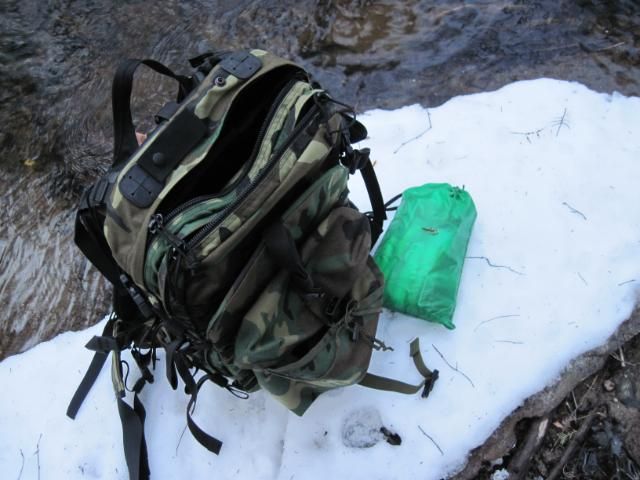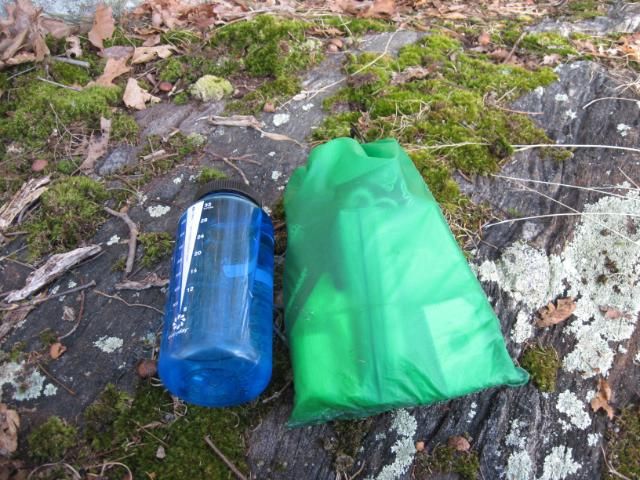 Moving along to the latest rendition or rather slow evolution.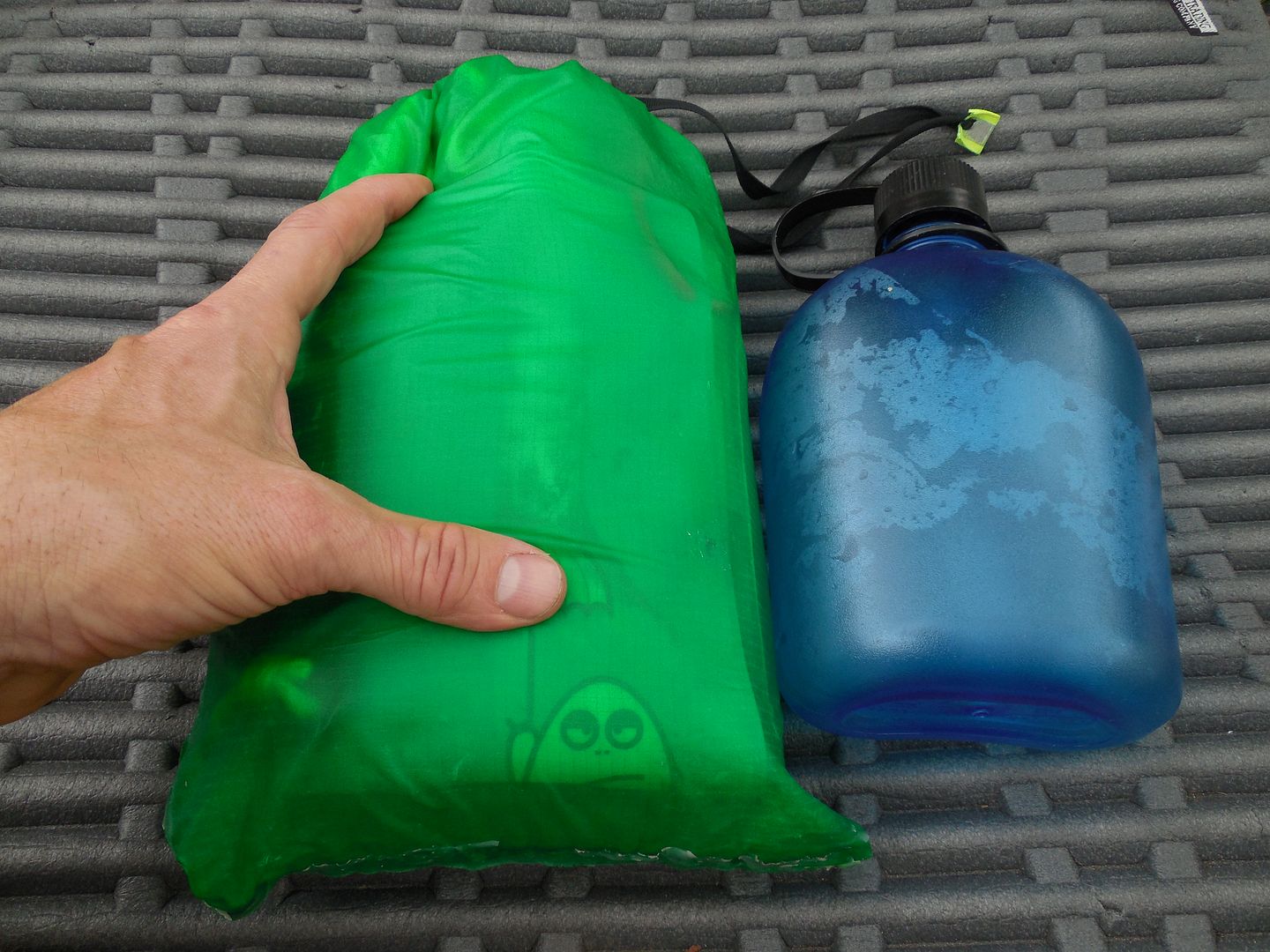 List of contents.
1. Gossman O1 PSK with DIY Kydex and extra long paracord lanyards and wrap.
2. Six 34 oz water tabs.
3. Multiple Ziploc bags.
4. Solar keychain type LED light and USB charger with cables.
5. Fenix E01 with lithium primary AAA.
6. 34 oz Platy bag.
7. Vapur Quencher .4L with extra long paracord lanyard.
8. Mini red Bic.
9. LMF red Scout ferro rod and striker whistle.
10. SOL double heetsheets.
11. Thin clear plastic poncho.
12. DIY clip on firestarter: extra high visibility duct tape, S biner and tinder combo.
13. Extra lithium primary AAA.
14. Duct tape wrapped on a card.
15. Sewing kit with buttons.
16. Stainless wire.
18. Small FAK. It has all the little first aid stuff and bug towelettes. Only one bug towelette left!
19. Wetfire tinder. Only one as used one up.
20. Cool fishing drop line with a bunch of line.
21. A bunch of nylon cordage.
22. Little fishing kit with split shots, #12 hooks and fly. Green woolly bugger.
23. Star signal mirror.
24. Red bandanna. Larger sized.
25. Frontier filter straw.
26. Big contractor sized trash bag. Not the little ones.
27. The seam sealed green silnylon bag itself.
28. Paper towels.
29. Fresnel lens.
30. Compass with paracord loop. Not the little button one either!
31. Paper and plastic flat sunglasses.
32. SAK Camper.
33. Aluminum foil.
Ok lets take a closer look at some of this stuff with explanation.
The Gossman PSK.
The PSK which started it all IMHO. The DIY Kydex sheath has the option to lock in the blade from slipping out though retention is good without it. That said if forced to field expedite a BOB using the GBOS don't want to risk the loss of my knife. Better safe than sorry. Lots of paracord with the package.
Sadly being within the GBOS means this knife doesn't used enough however that doesn't mean not at all. Trust me. The Gossman PSK is good.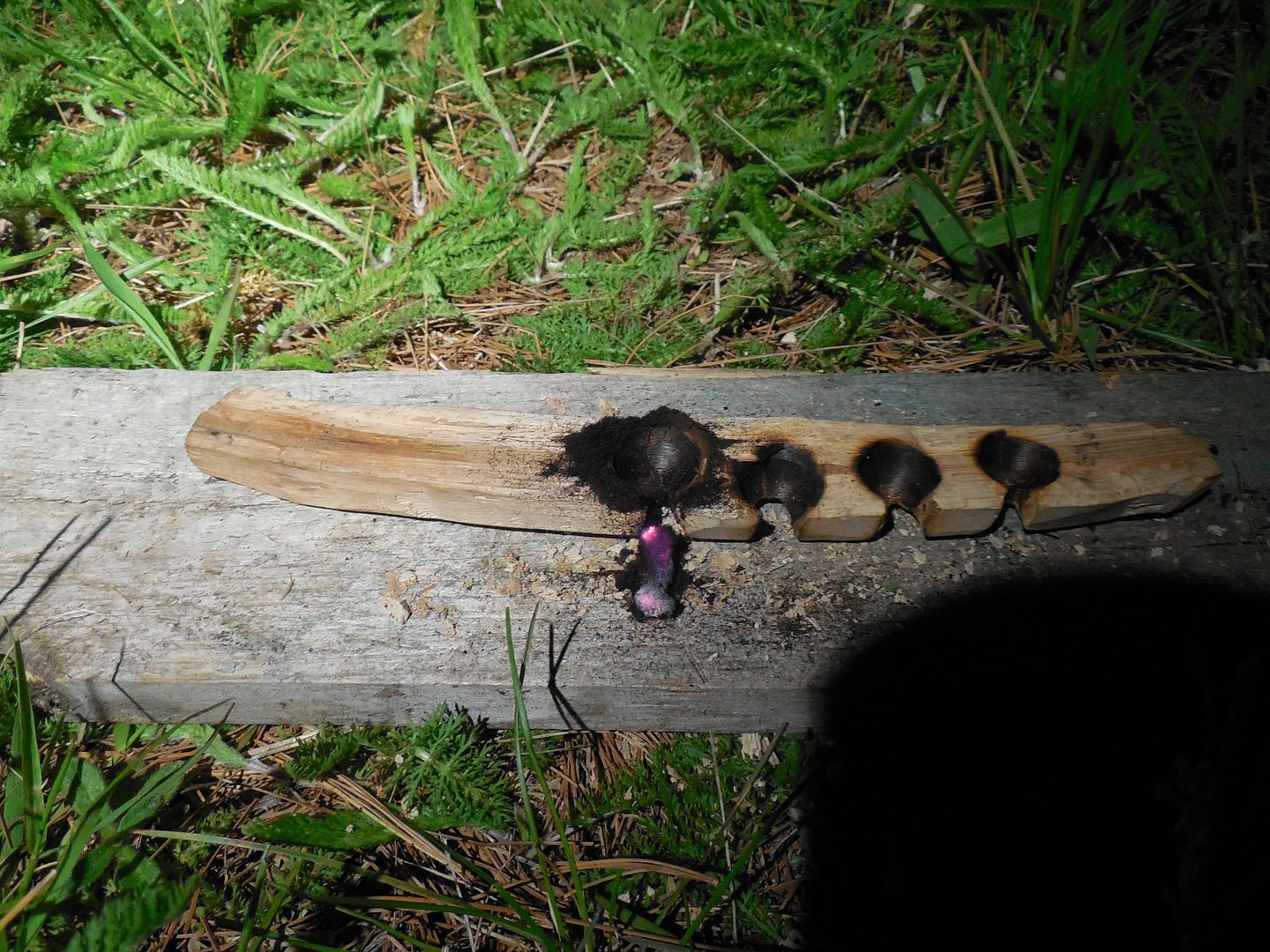 With two knives a PSK and SAK camper decided that a sharpener was needed. The SAK field sharpener offers a flat area and V. I prefer the flat as it allows for hand sharpening any grind, convex included to shaving sharp. The V gets a good field sharpness but my free hand is better.
Key chain solar light and USB charger.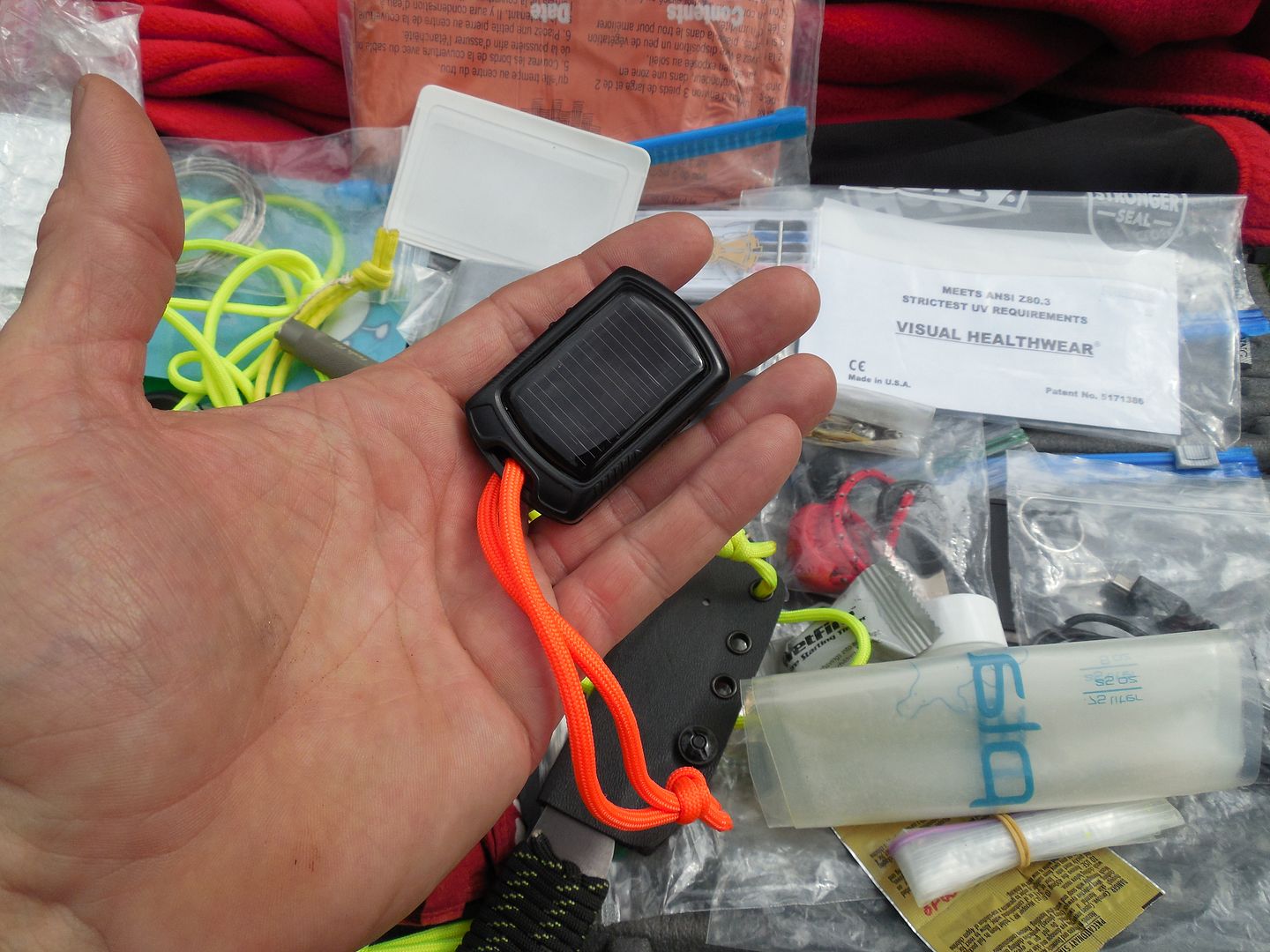 It's not a bad light. Two is one, one is none. As the GBOS is meant to help create a BOB on the fly I don't want to be without a flashlight or knife.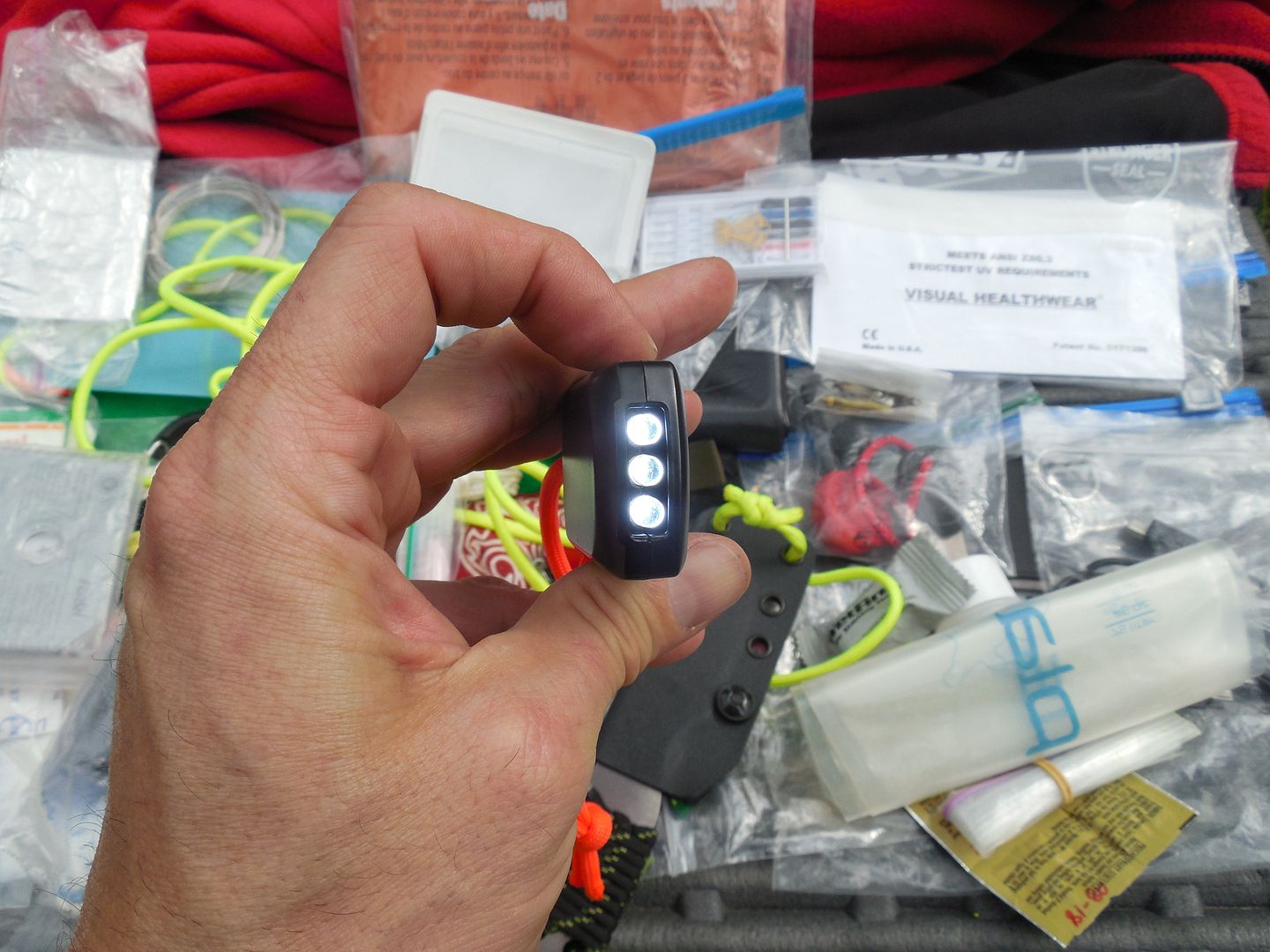 But how does it work as a charger? I started at 53% at the beginning of the video.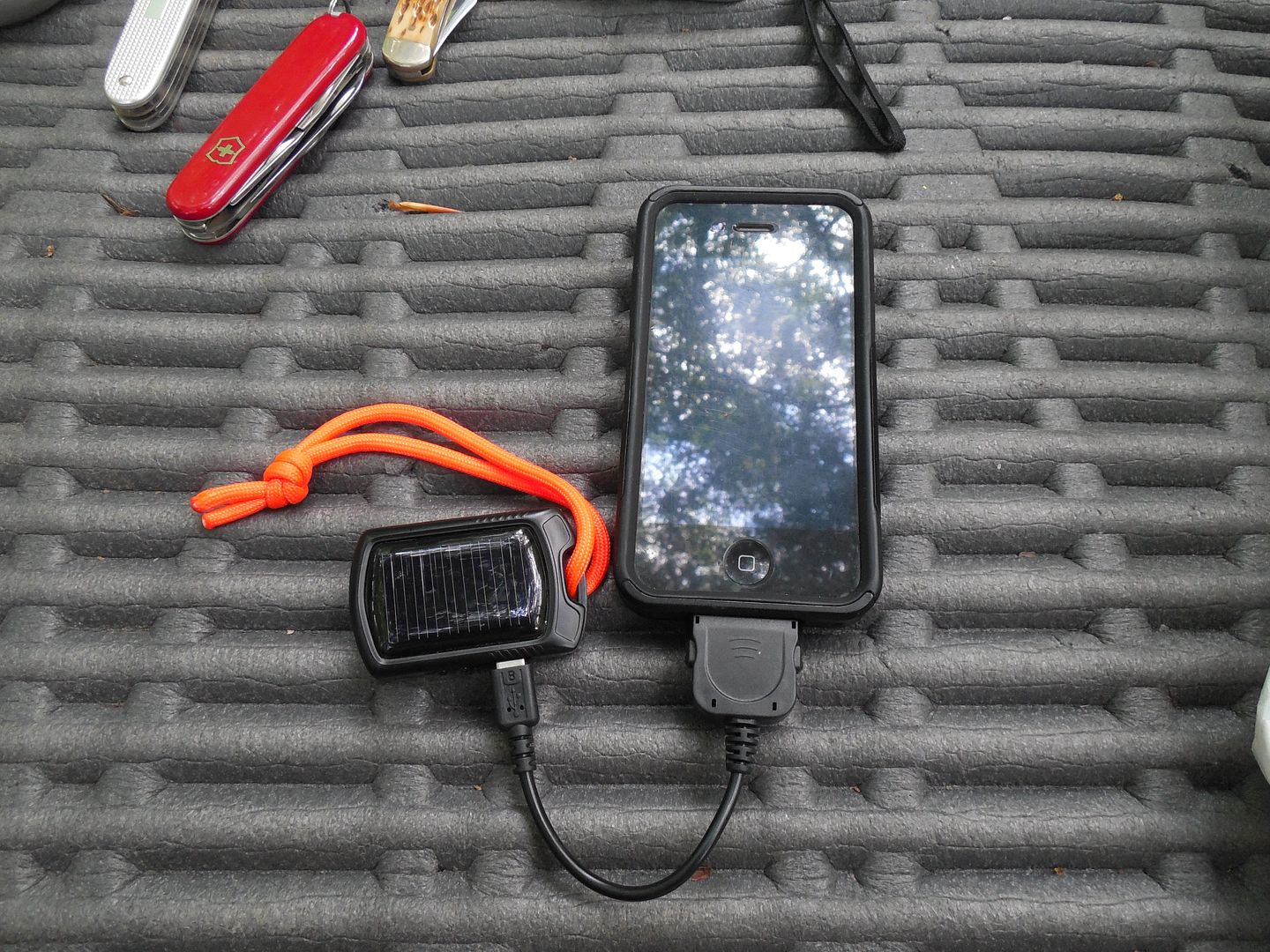 Ended at 68% sometime during the filming so it seemed to charge fast. Ok 15% isn't much and the little solar panel takes forever to charge but it's something. Plus the LED light seems to last a long time!
The Fenix E01 is the crown prince of all little AAA PSK lights IMHO. Potted electronics, long run times, waterproof etc etc etc. I have a few of them for a reason. Around 10-14 dollars.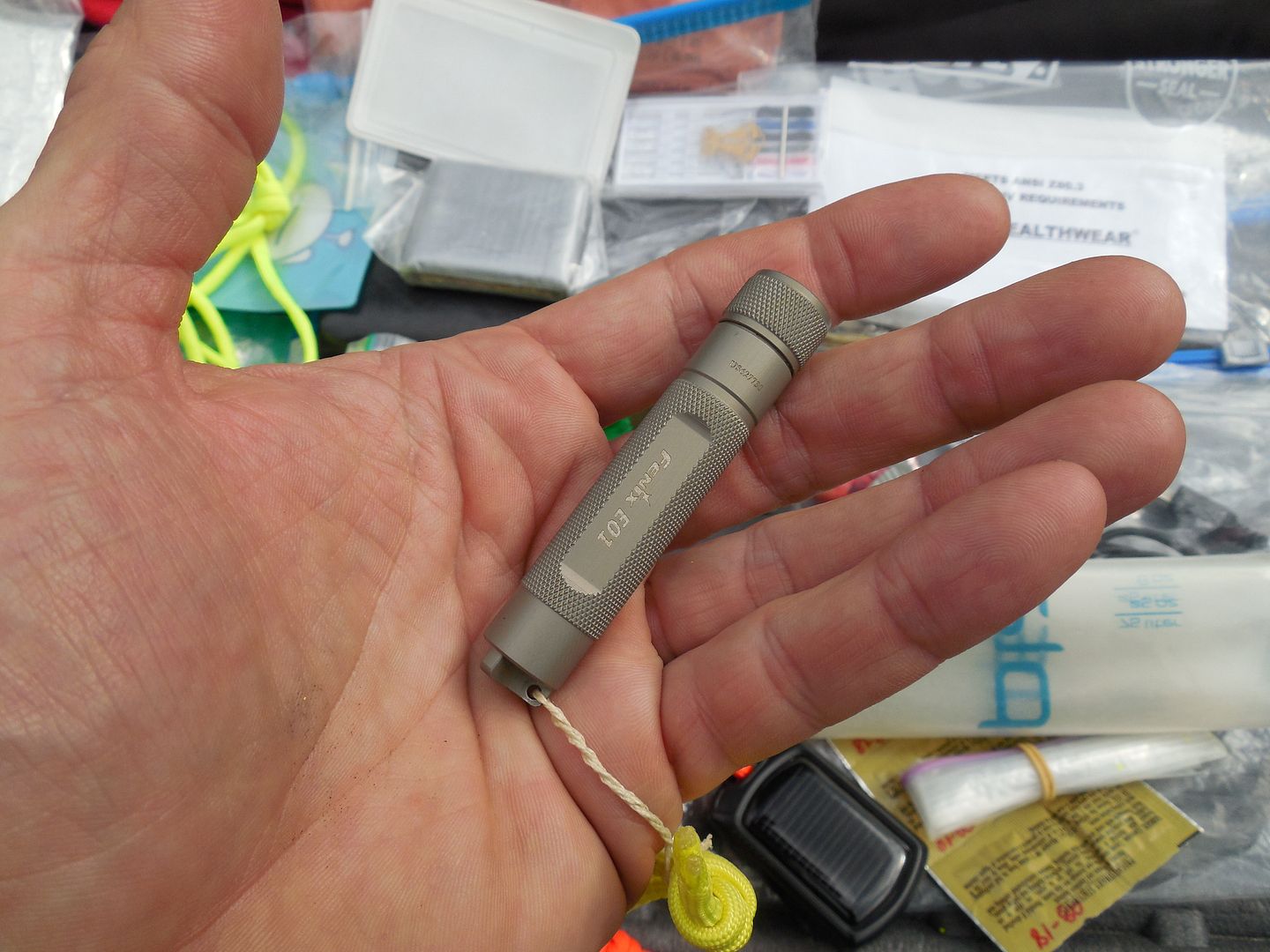 LMF is my preferred fire steel plus it has a whistle. Two PSK/BOB needs covered with one gear item. That's a win.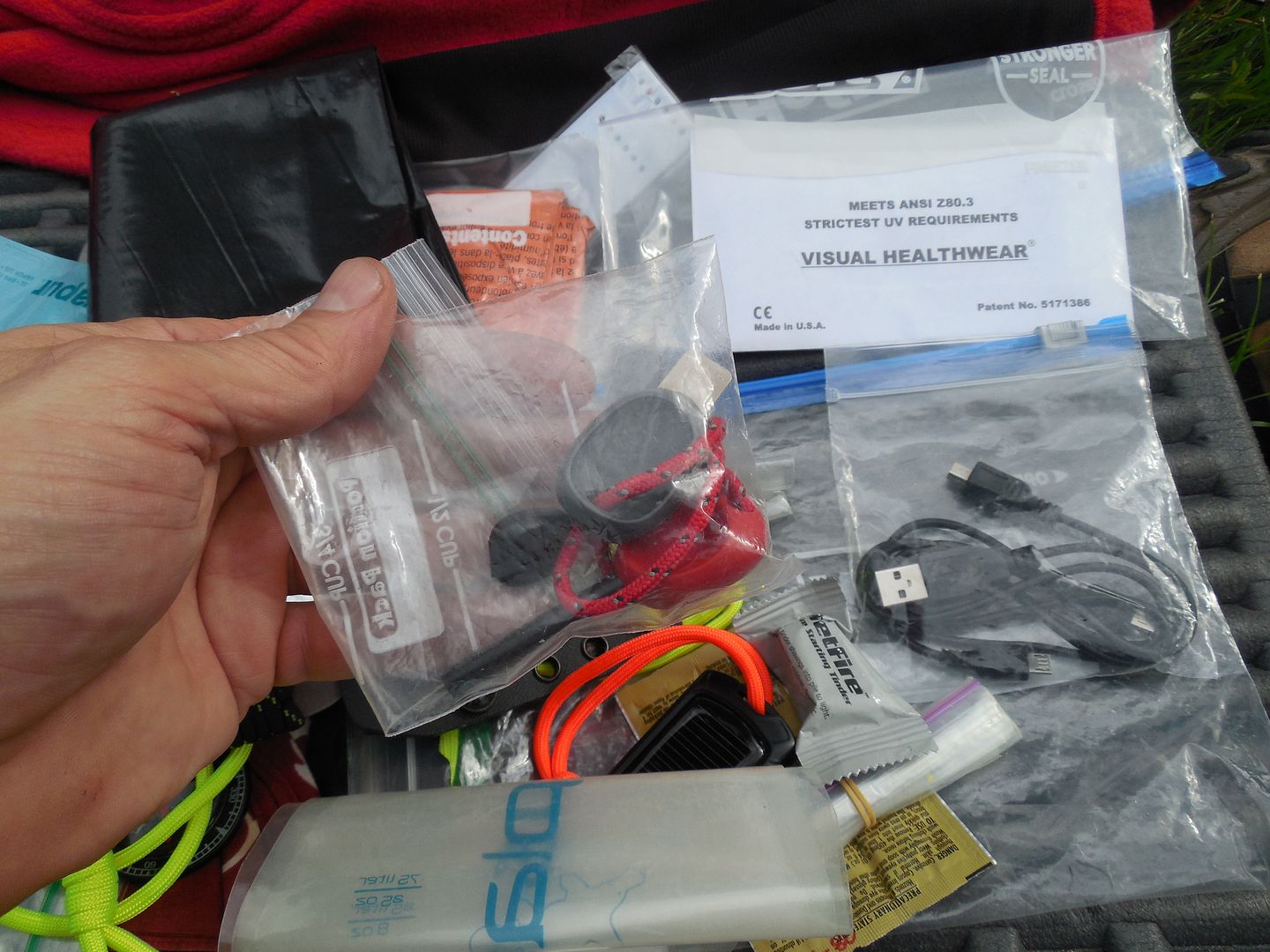 Have you ever tried to hike during summer with only one canteen? This ties someone close to a water source and is a risk. You're only as good as your last hydration event. Maybe you will have an empty soda bottle when making a BOB on the fly or maybe no other water container than what's in the GBOS. You can go a long time without food however water isn't negotiable. Plus it doesn't compress or freeze dry well.
The hole allows me to hang this bottle for easier carrying.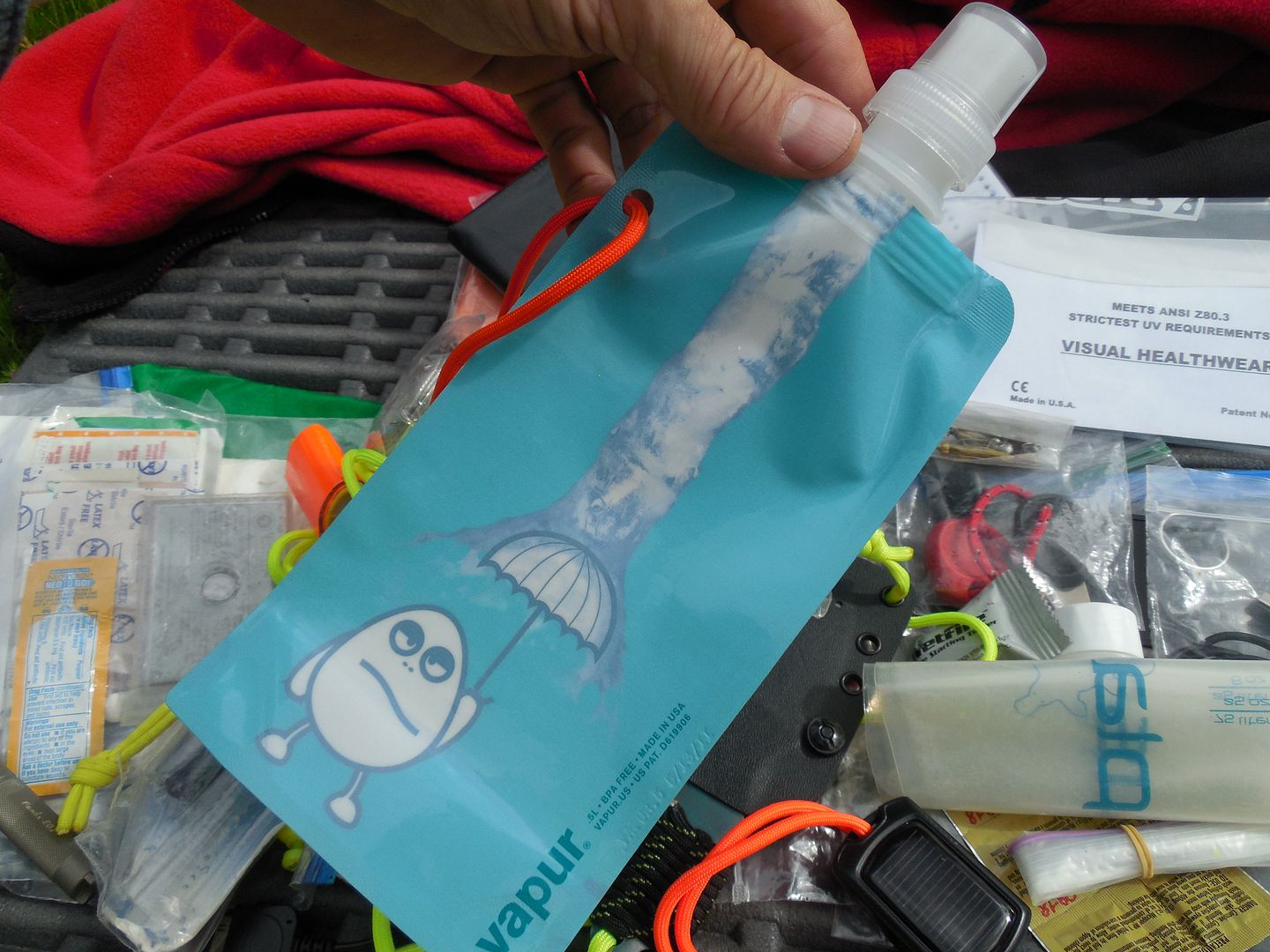 and Platy for the win.
In addition to the tabs I have a Frontier filter straw. Water is everything.
DIY Clip-on Waterproof fire starter. It offers extra duct tape and a way to field separate fire starting methodologies. Don't want all my eggs in one basket or green bag. I know what you're thinking. Didn't he just show a friction fire coal? Yup and depending on that would be a mistake. Attach the compass and we have a little clip-on mini kit!
How do I know it works? Field tested!
Look! A little drop line shaped like a fish with a bunch of line!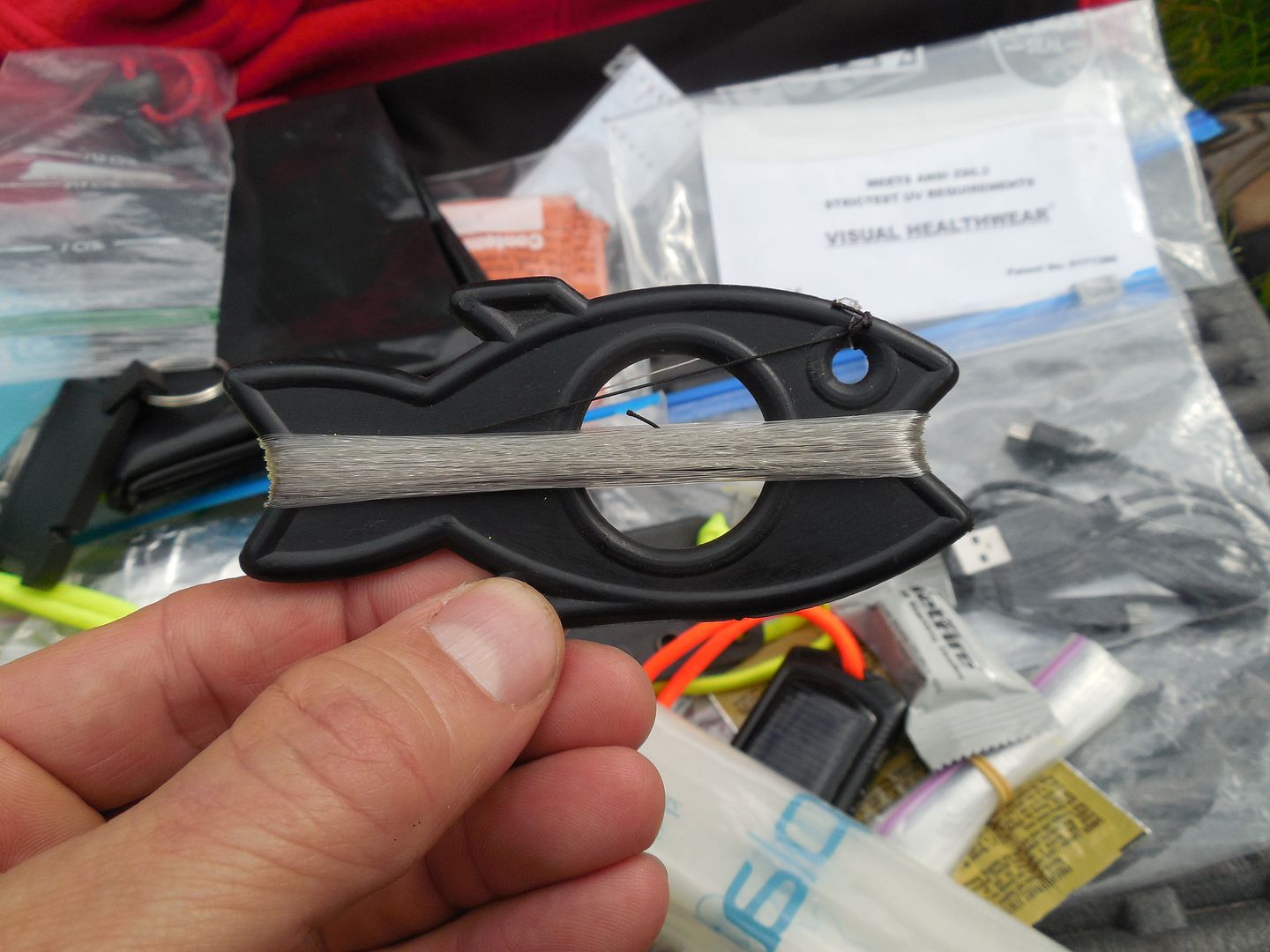 SOL double HEETSHEETS. So many uses! Get the bigger one!
Same applies to trash bags. If you got the room go big and thick. Contractor grade for the win. Rain gear, big bag, water trap/container, tarp, ground cloth, insulated ground pad etc etc etc.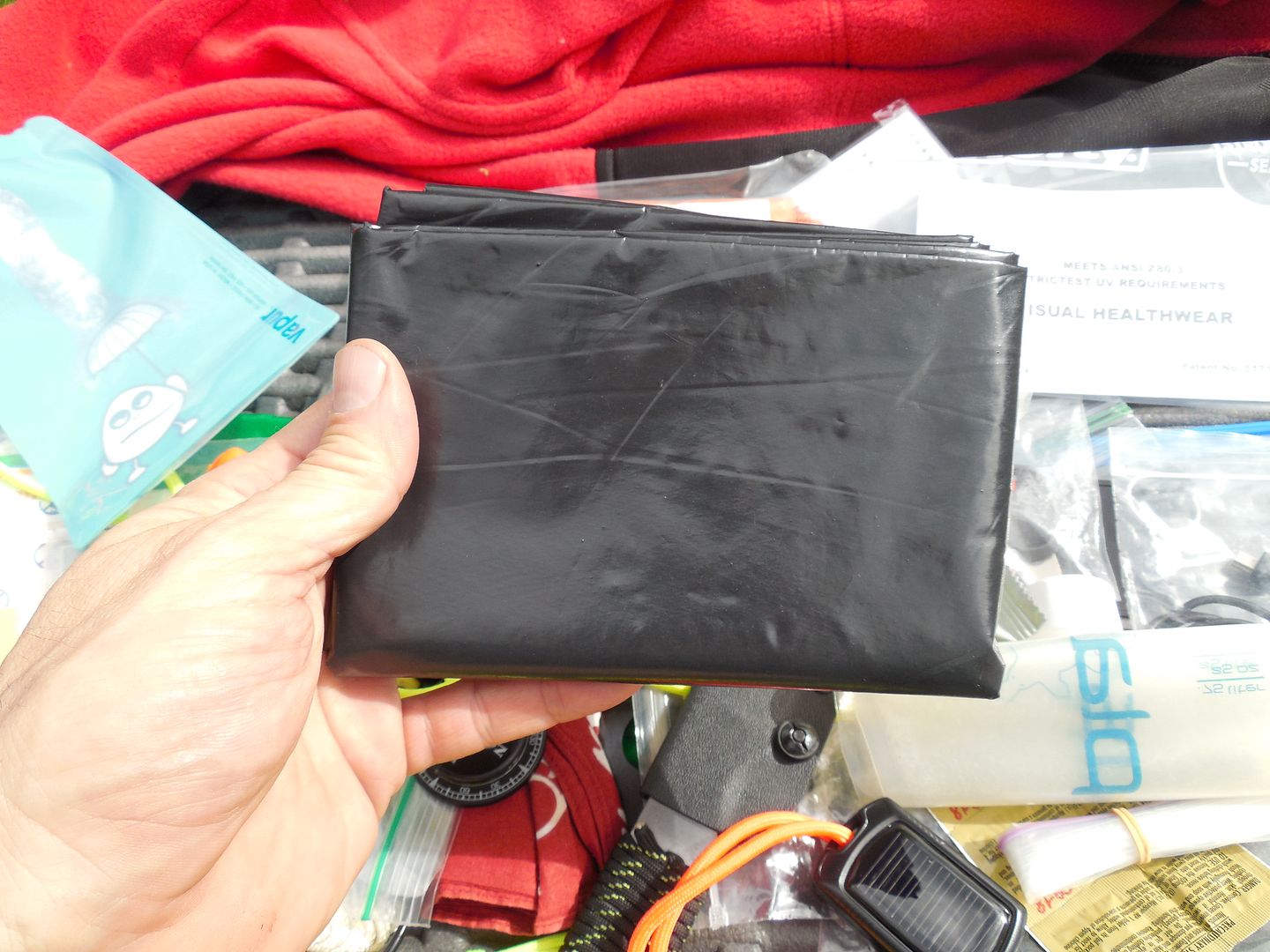 Plus everything else listed and maybe more as done that from memory. Here is a video.
Thanks for looking!