Fenix CL20 field test review.
I spend a a good amount of time with a light strapped to my head. It gets old fast when in camp so am always on the lookout for lantern options. Also lanterns have some pros to headlamps and flashlights within a group setting be it during blackout conditions or around the campfire. Head lamp courtesy is a term for when people blind each other with their headlamps. As technology increase the output of headlamps and flashlight so does the level of aggravation in some settings. One solution is a lantern. Here are the features of the CL20 as listed by the manufacture.
Features:

Utilizes nine neutral whte LEDs and two red LEDs with an even and smooth beam
White light with four output options
Turbo: 165 Lumens (2 hours and 23 min using AA Ni-MH; 3 hours and 10 min using AA Alkaline; 2 hours using CR123A
High: 100 Lumens (5 hours and 15 min using AA Ni-MH; 4 hours and 9 min using AA Alkaline; 3 hours and 31 min using CR123A
Mid: 50 Lumens (11 hours and 28 min using AA Ni-MH; 9 hours and 8 min using AA Alkaline; 7 hours and 32 min using CR123A
Low: 8 Lumens (71 hours and 40 min using AA Ni-MH; 56 hours and 40 min using AA Alkaline; 46 hours and 50 min using CR123A
Red light with two output options
Regular: 1.5 Lumens (27 hours and 10 min using AA Ni-MH; 24 hours and 15 min using AA Alkaline; 20 hours using CR123A
SOS: 1.5 Lumens
Powered by one CR123A Lithium battery or two AA (Ni-MH, Alkaline) batteries
Built-in magnet for easy attachment
Digitally regulated output - maintains constant brightness
One-button switch for easy and fast operation
Reverse polarity protection guards against improper battery installation
Made of quality plastic and high-transparency material
Waterproof to IPX-6 Standards: Protection from heavy splash and rain
So lets take a look.
It easily fits in my hand.
The UI operates from a single button which is placed in an ideal position for access when hanging.
Can hang from the same loop which turns to open the battery compartment. There are two reasonable strong magnets on both sides. The proper turning diction is shown for access to the batteries.
Magnets don't seem to have any difficulty supporting the lantern.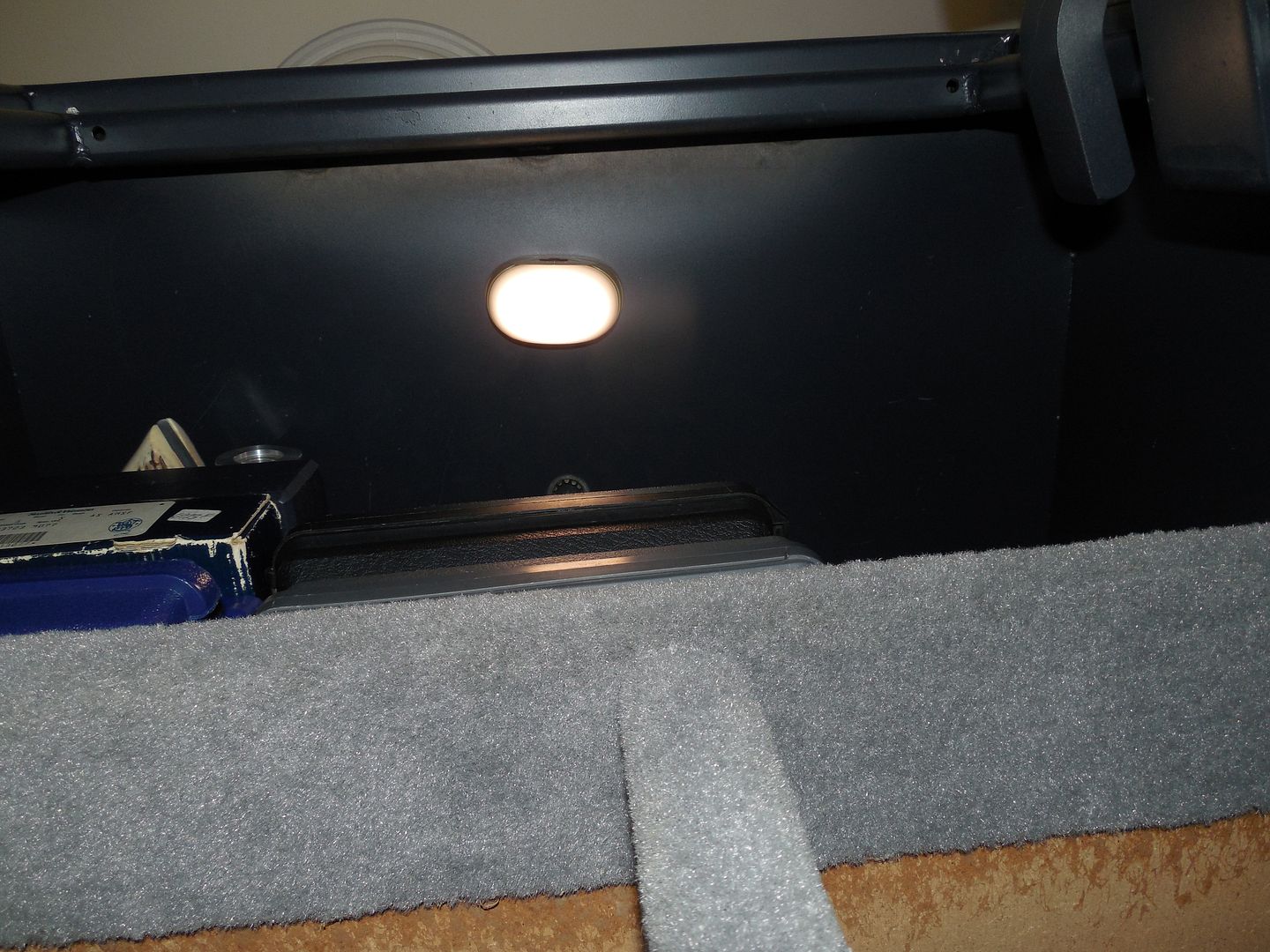 Open. On a side note I am not recommending Goal zero batteries rather that's what was charged and available at the time. The top or bottom depending on perspective is held in place by a simple lever.
Duel fuel capable however I tend to use this lantern when running 2XAA. Everyone in my bag is on the same diet be it GPS, camera, headlamp or flashlight.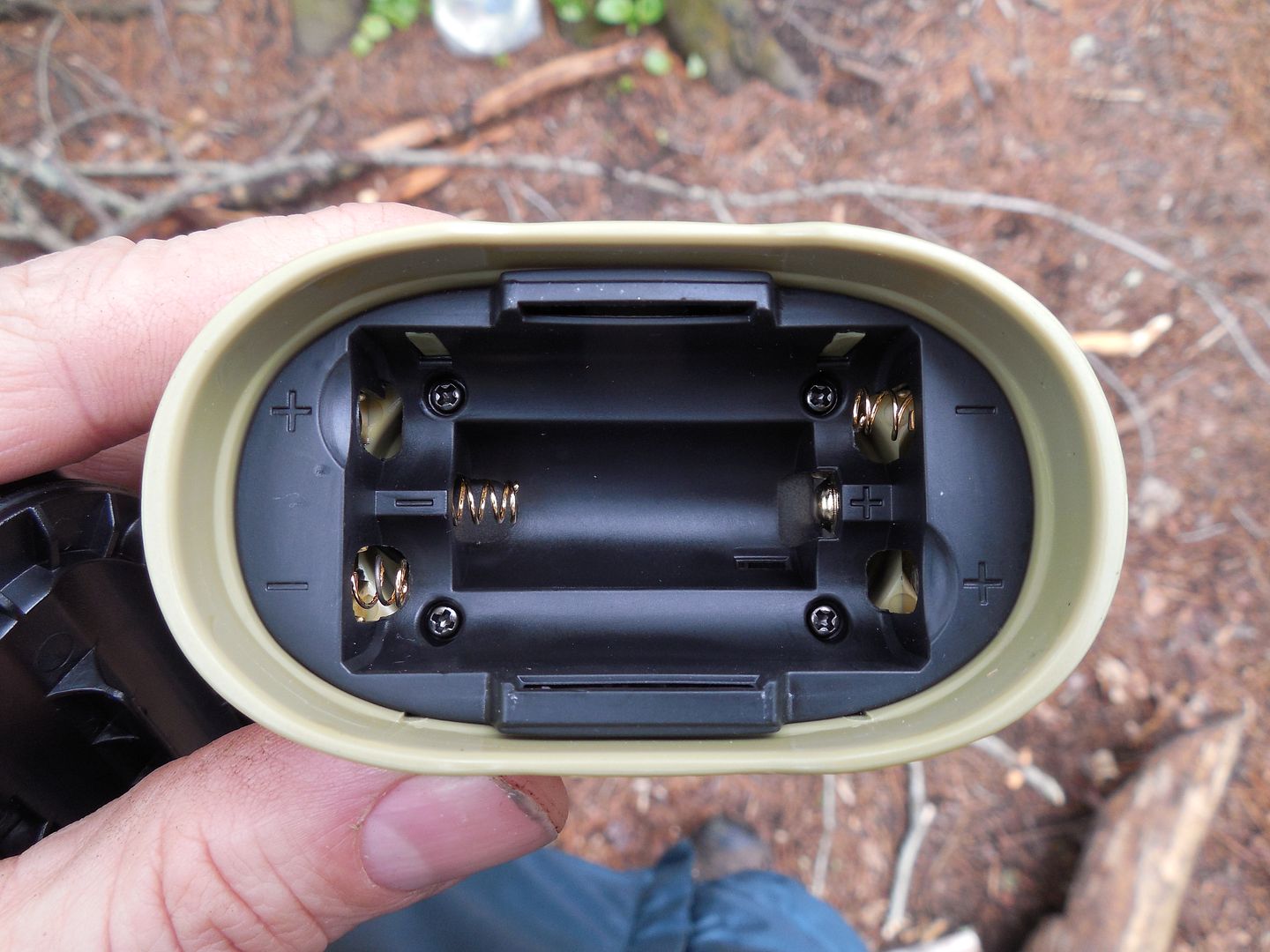 It does feel noticeably lighter with 1XCR123 rather than 2XAA NiMH.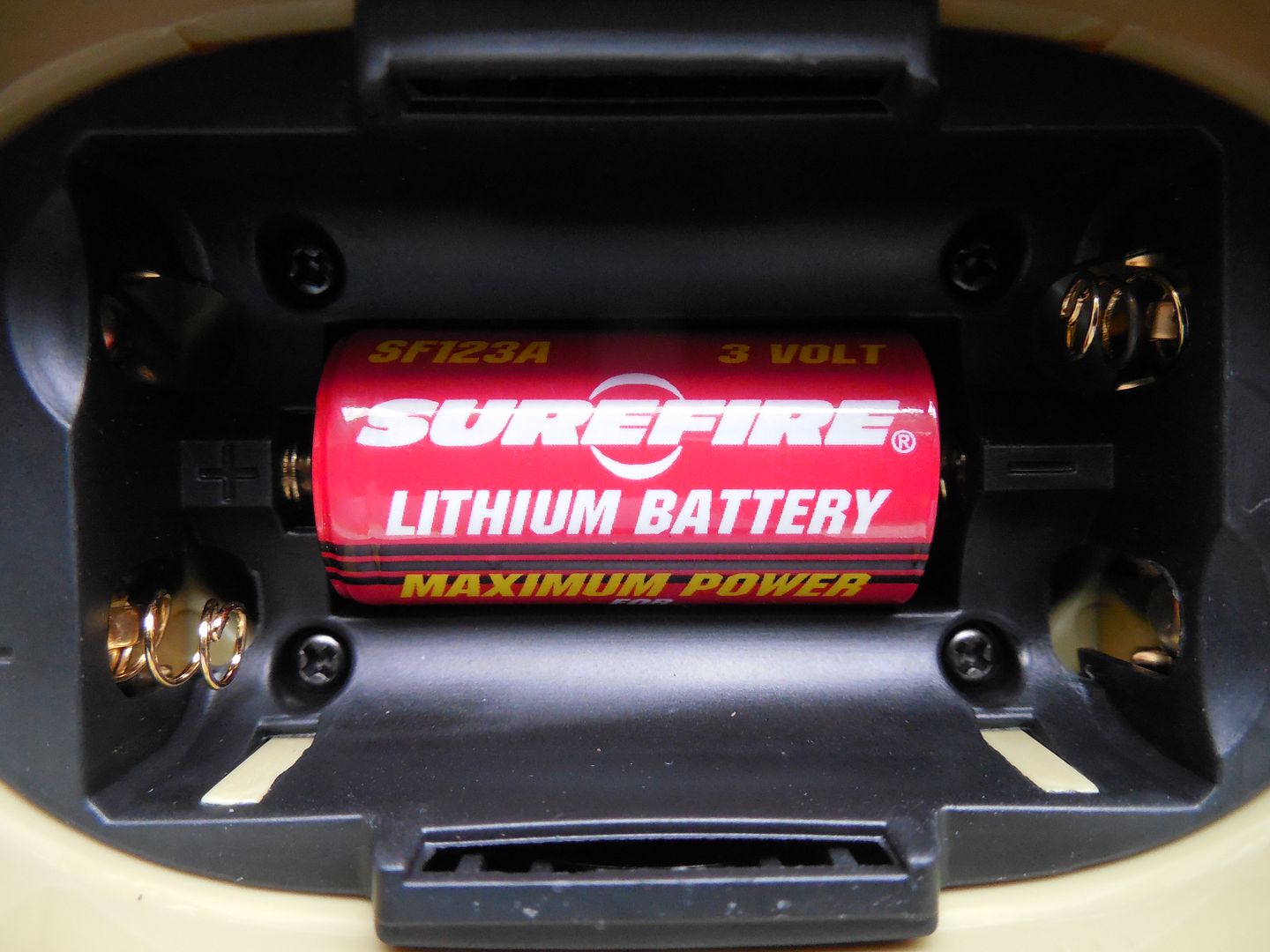 So how does it look compared to another Fenix lantern the CL25R in actual use? Not bad! The CL25R runs 1X18650 or 2XCR123 and is brighter but IMO the CL20 preforms better when hung and the 9 lumen mode is really nice. Both are winners each with their own pros and cons. I normally only pack one depending on the prevailing battery type of everything else. If running a Surefire/Malkoff and Fenix HP12 or Nitecore HC30 then the CL25R gets taken. If I am running the Fenix HL30 and 4/7 mini 2XAA then the CL20 goes.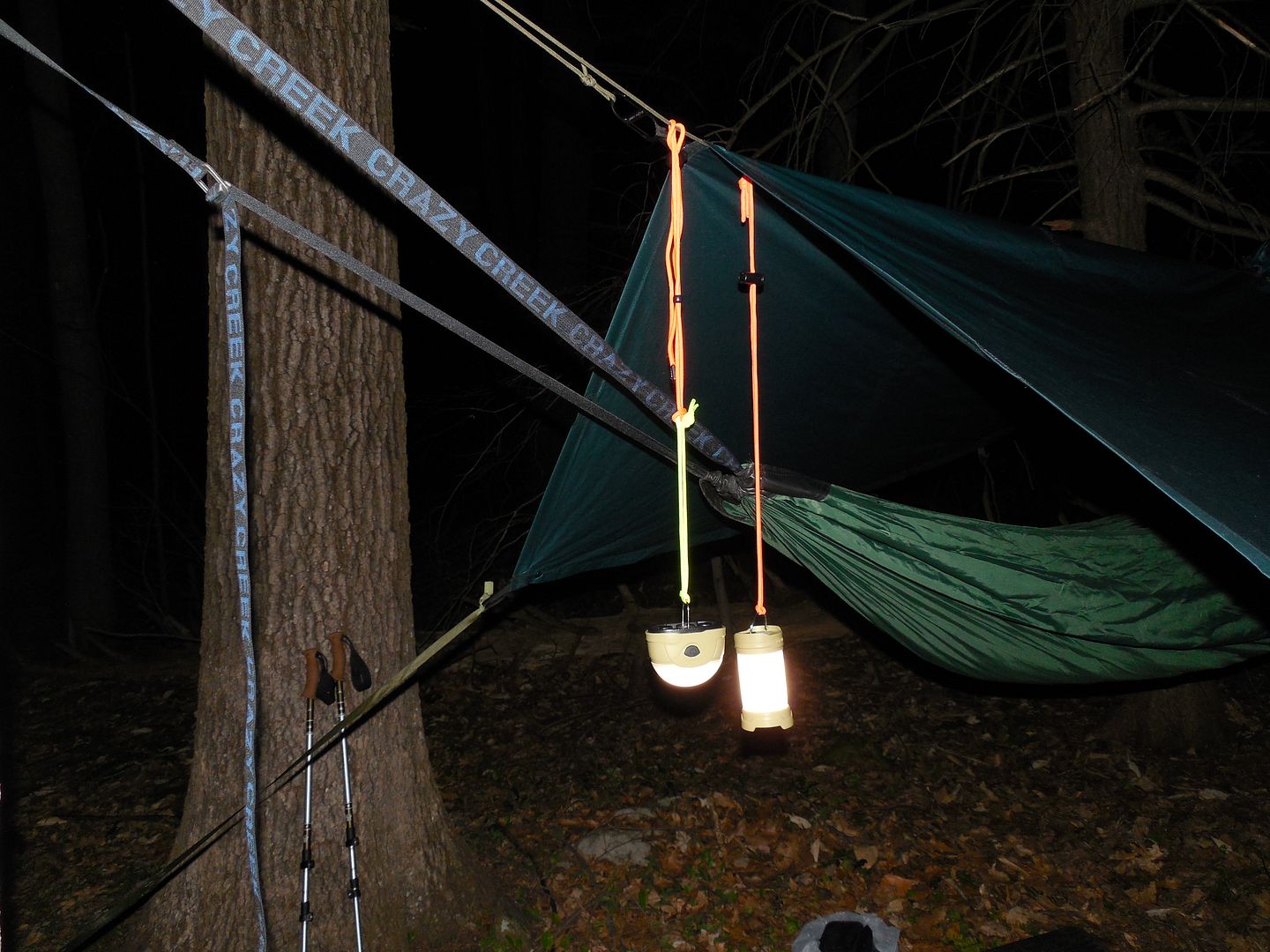 But then again why pack a lantern at all if solo? On a recent outing I had the following electronics.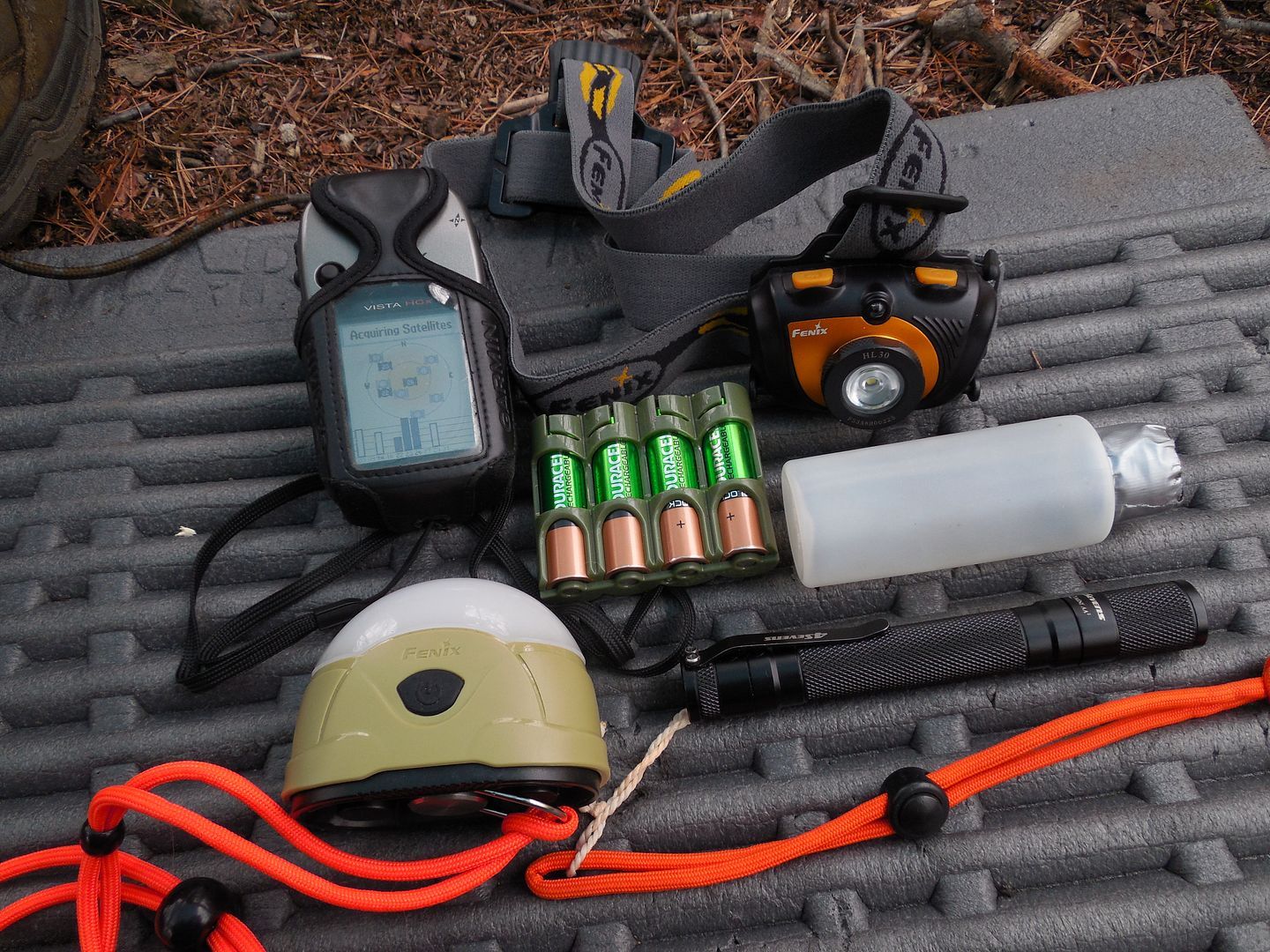 Notice the DIY lantern/diffuser which fits on the 2XAA 4/7 mini. I normally try to reduce pack weight whenever possible. I don't always pack a dedicated lantern when solo though do if within a group. However excess gear within my pack must be multi purpose or it doesn't go. This applies to both camping and preparedness aka BOBs etc. Granted a water filter need only be a water filter etc etc etc. That said something like a lantern had better do more than just sit on a log. So what else does this do?
1. Extra battery carrier. Two extra batteries can be robbed to power the GPS or anything else which might be more critical at any given moment. The ability to use CR123 only increases this versatility.
2. Backup flashlight. If only packing the headlamp this roll is important. Here is one area which the CL25R struggles (however it wasn't designed for it) but the CL20 does ok. The CL25R produces too much glare unless a glare shield is field expedited for extended use as a flashlight. The CL20 emits light from a top dome much like a flashlight throws from it's bezel window. Granted it's a pure flood light but actually works just fine as a backup flashlight. Heck even the switch is in a good position for easy access. The hanging loop makes for a nice finger loop.
3. Camp marker. Sometimes it's necessary to forage water and wood at night. A lantern makes for an deal camp marker as the floody glow can be seen far off from any angel though a tree can temporarily block line of sight however unlike a reflector it's not dependent on an external light. Useful for fast camp finds if the headlamp/flashlight should fail or outside their range. Believe it or not people have been turned around from their camp even from a short distance at night if conditions and situations conspire. 4. Goes without saying the CL20 makes for a great lantern. The mode spacing and neutral white tint are very good for my needs. Often most of my headlamp use is within camp. The position of the dome and 9 lumen low output is really about perfect for most camp work. This saves my headlamp from use.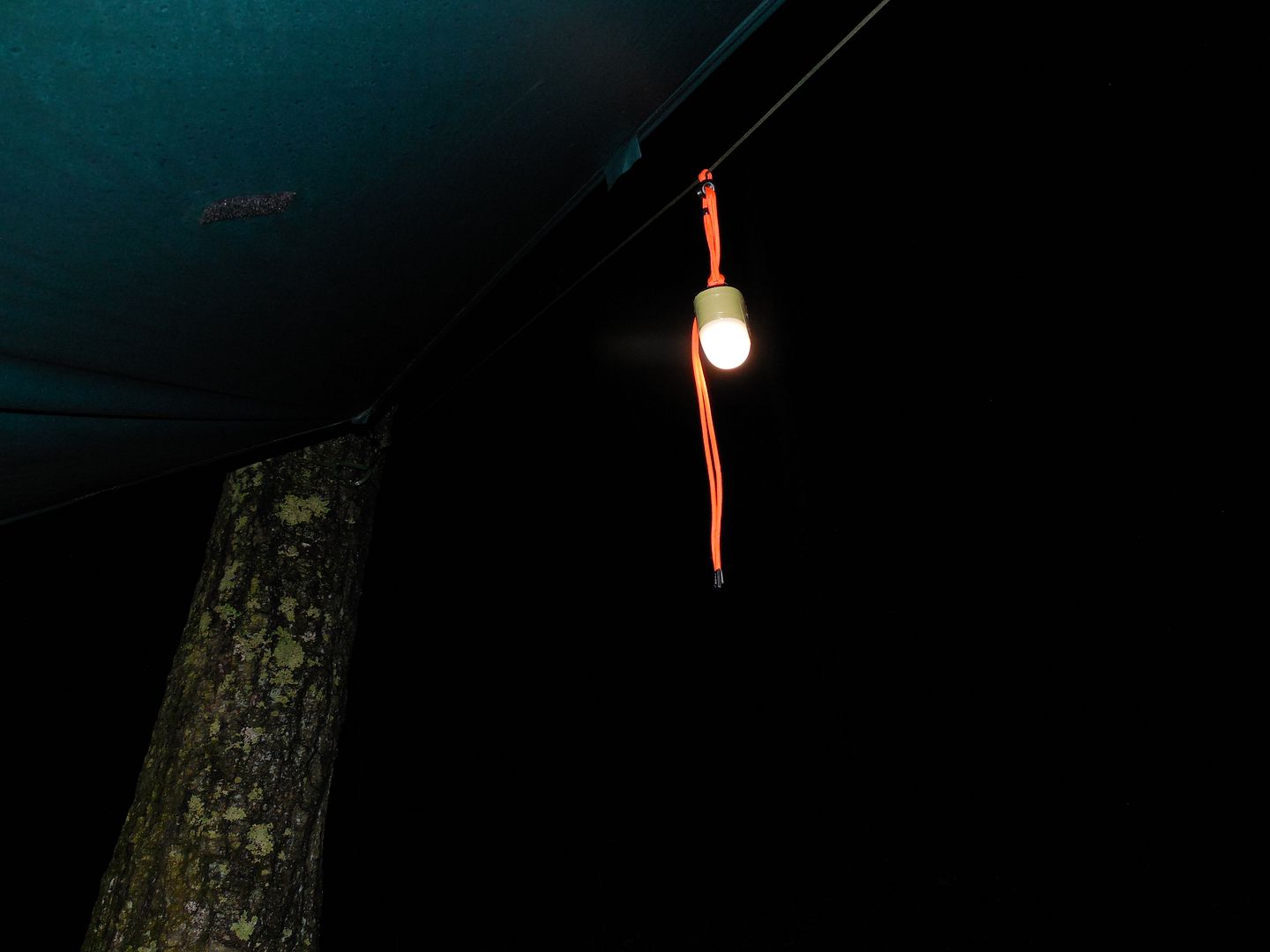 Other features tested:
1. Drop test. I never really need to do an intentional drop test as always drop stuff. This time I forgot to lock the top in place with the lever so the bottom fell. It struck the ground tossing the batteries. No problems!
2. Water test. It's rated for heavy splash/rain. There is an o-ring on the tight fitting lid which worked just fine through multiple storms. No dunk test was done as it's not rated for that but there would be no problem in heavy rain based on my use.
Pros and Cons:
Pros.
1. An fantastic lantern. Everything about it works great in this role.
2. Multi fuel.
3. Makes for an ok backup pure flood flashlight.
4. Not all that heavy at 3.6 oz empty.
5. Nice mode spacing and tint.
6. Red light modes though I don't use them.
7. The magnets are strong. I don't use them in the woods but rather nice around the house.
Cons.
1. A bit expensive. Priced from 30-40 dollars.
2. The low mode might be too high for some people. The CL25R has a 1 lumen low mode which could be preferable in some situations.
3. I worry about the thin plastic the metal lever slides into holding the two parts together. So far it held up but seems like a potential failure point. That said the bottom of the light runs interdependently from the top.
4. A lantern in a solo setting is a luxury item IMHO. When doing a gear shake down to drop weight even with the multi use applications it would be high on my removal list.
Here is a video review of the CL20.
For those who haven't seen my video review of the CL25R as talked a bit about it within this review.
Thanks for looking!