If the pulk and hot tent combination is starting to sound like a trend, it is because it works.
The pulk not only allows a high degree of comfort and efficiency, but also lets you really get lazy on trip planning, I got a heads up about this trip less then a week in advance; I was only mildly familiar with the area but really detailed research seemed moot when I could just throw a bunch of "what if" crap in the pulk and have such a huge margin of error that it didn't seem to matter. Forecast was relatively mild, highs in the low 50s, lows in the low 30s, slight chance of nastier weather later in the weekend. Got picked up from work with my gear and our two-man team drove the 1.5 hours to the trail head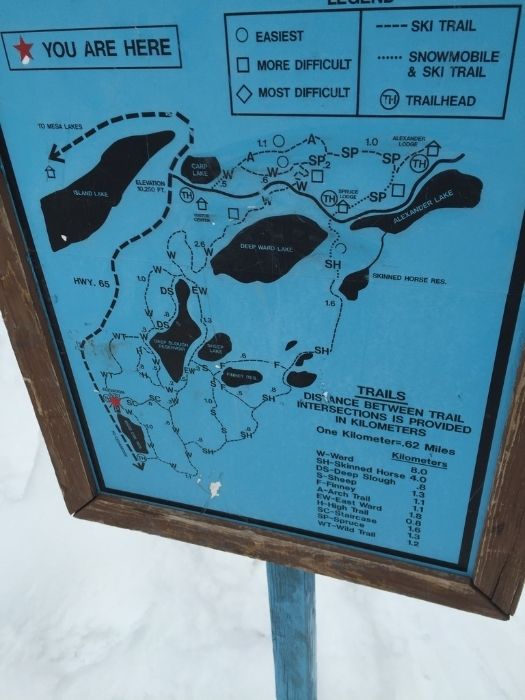 We were exploring the Ward Lake area on the Grand Mesa, mostly as a shakedown for our new pulk setups. I had the same Jet Sled Jr. from last years MBO
viewtopic.php?f=14&t=115655
but upgraded with a trace setup from Skipulk.com:
http://skipulk.com/index.php/products-a ... ccessories
.
I also added some p-cord perimeter lacing for securing cargo, I ran webbing from the lacing to a compression panel that did a much better job the last years bungie cords. Most of the pulk ideas come from guys on the HPG forums, and attendees at last years Rondy.
I did weigh my pack at the trail head, about 25lbs all up with 2+ liters of water, and I estimate the pulk weighed no more then 40lbs. I was fairly surprised by how light it ended up given the carelessness and luxury with which I packed (redundant shovels and sleeping pads, twice as much food as I needed and a 6-pack of beer).
My Team mate had a full pulk set-up from ski pulk, the Snowclipper I believe:
I was pretty impressed with the setup, the integrated cargo cover was very well designed, with a single #10 zipper covered by a pretty good compression panel.
Transportation for the trip was Altai Skis, I borrowed a pair of Hoks while my partner was on Koms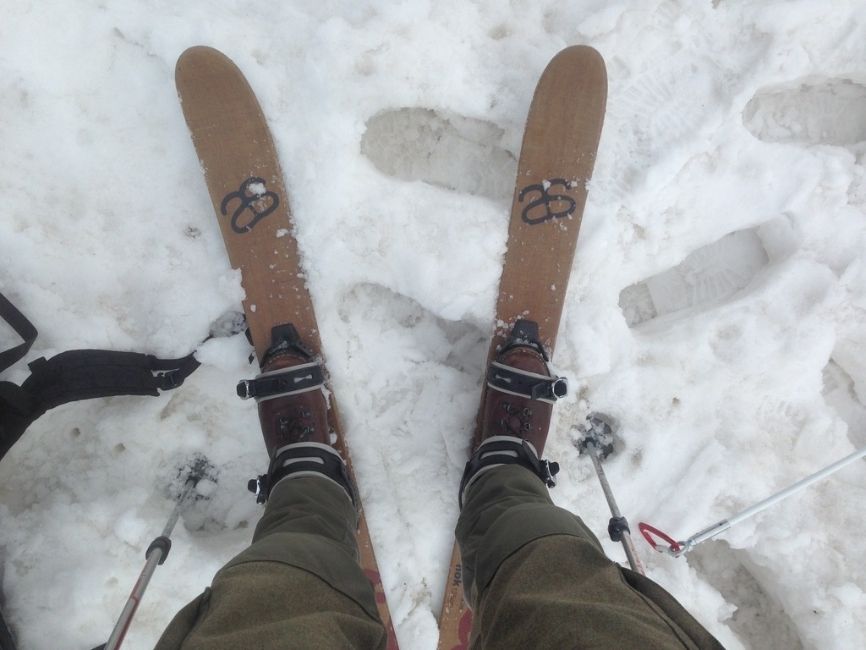 This was my first time on Cross/backcountry skis for any length of time, and the Hoks where a fantastic ski to learn on. I didn't care for the bindings but they did let me use normal boots, and the short length (125CM) made up for the pack and pulk in the learning curve. They where short enough I ended up using them for some camp chores I would normally rely on snowshoes for. The short length made changing directions a cinch and allowed me to save myself from several near face-plants that certainly would have occurred with skis only 4-6" longer. The bindings, despite their shortcomings were very intuitive. The Hoks have a built in partial skin in the middle of the ski which allowed me to climb most anything I wanted to, without the side stepping nonsense I always saw my dad doing which kept me in snowshoes all these years. Even carrying a pack and towing a pulk there was only one hill I think I could have gotten up with my snowshoes that I couldn't march straight up with the hoks.
In the last two pics you can also catch glimpses of my newer hybrid wool pants I build from some cold-war era german knickerbockers and some 500d cordura.
Since we where starting after work on a friday we got a pretty late start, but still found a camp site before the light failed, obligatory pulk selfie:
on the trip in I am using my trusty Pendleton shirt and a PCU Level 4 epic wind shirt. You can see on the top of my pack I have a brimmed wool hat, I keep giving this a try and it has its merits but I am finding I rely too much on hoods to really use a brimmed hat well. My partner ended up living in his pendleton for most of the weekend:
We got the tent set up and only had to switch to head lamps to dig out the tent. Set up time was about an hour for tent, stove, digging foot wells and setting up our beds, for mostly doing it in the dark I was pretty happy with this.
Most of the cooking was done on the wood stove, the first night it was instant potatoes, elk sausage and bacon bits.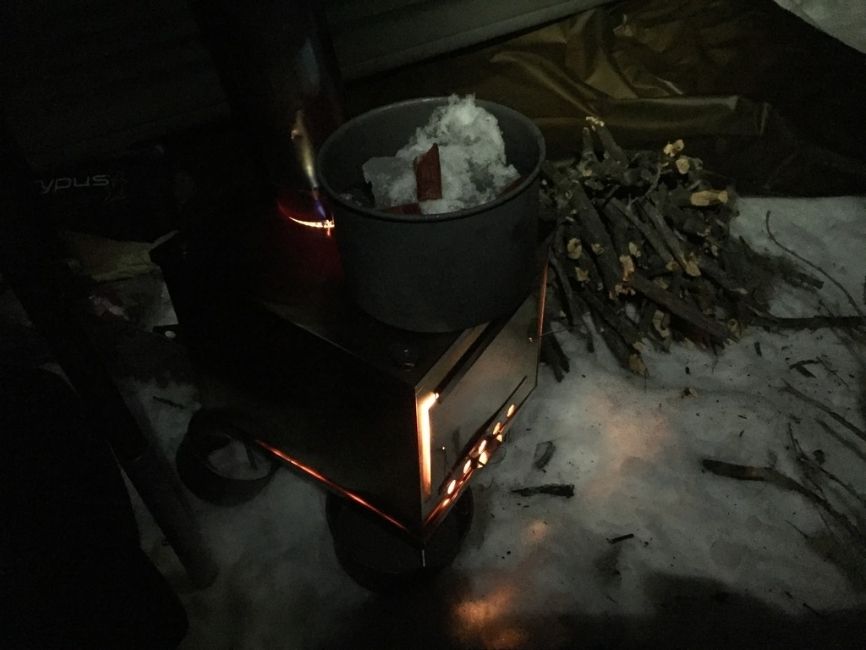 Sleep system was a Kelty magma, older Exped Synmat, z-rest and my clothing. First night was fairly mild, with only small floaties of ice in my uninsulated water bottle. I slept fairly poorly but not from cold or discomfort, haven't pin pointed the problem.
We spruced up the tent a little in the morning, pulling on guy-lines and doing a little more excavation but we had done a surprisingly good job in the dark.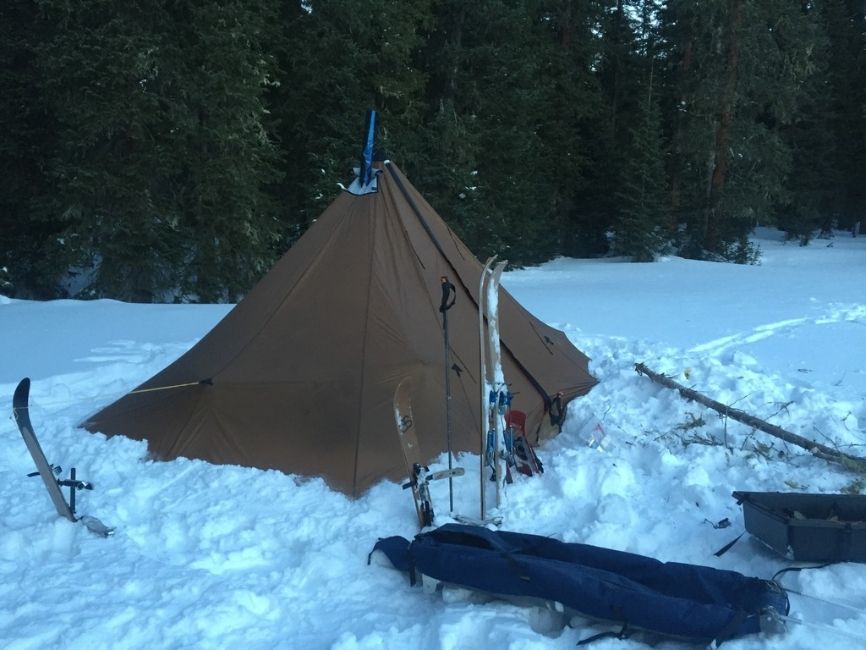 You can see the ski used for guyouts, and if you look closely you can see a disassembled ski pole for a stake-out or two. We used a pretty wide array of stakes, from an ice axe to REI snow stakes to mil-surplus aluminum monsters to tough stakes. All performed fairly well and set on the first try. All things being equal I think the REIs will be my go-toos.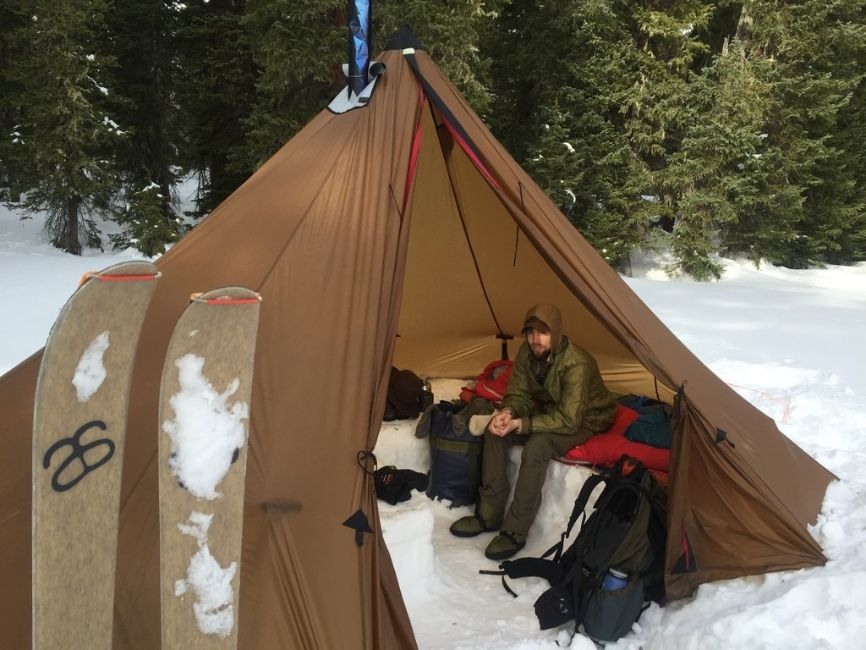 I slept in pretty late and it was warm enough we didn't bother to fire up the stove, you can the excavations and my modified Wiggy's camp booties which have been quite good to me. With the addition of felt insoles and some retention straps they work quite well as long as the snow is firm. Also notice the shovel placed right above the head of my sleeping bag to keep the tent out of my face.
My puffy suit on the trip was a modified USGI liner set, I added button closures and a collar to the jacket and a better closure to the pants. Delicate to be sure but lighter and cheaper then my patagoina micro-puff set and layers more easily: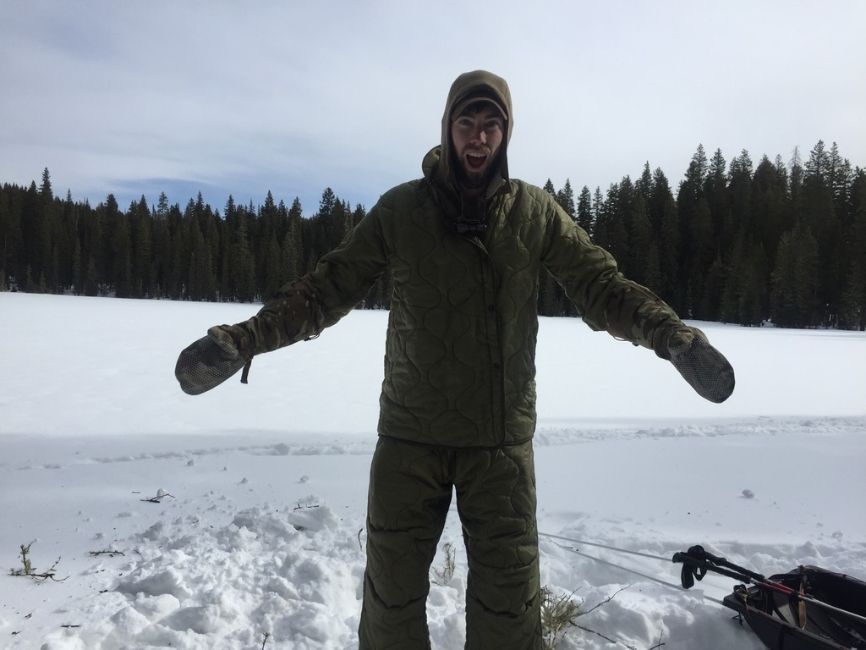 Late morning we headed off for a ski-tour of the trail system. we made no real attempt to hide our camp but it was far enough off the trail it really wasn't all that noticeable:
One of the big advantages of the short skis was how easily they stowed when we had to walk: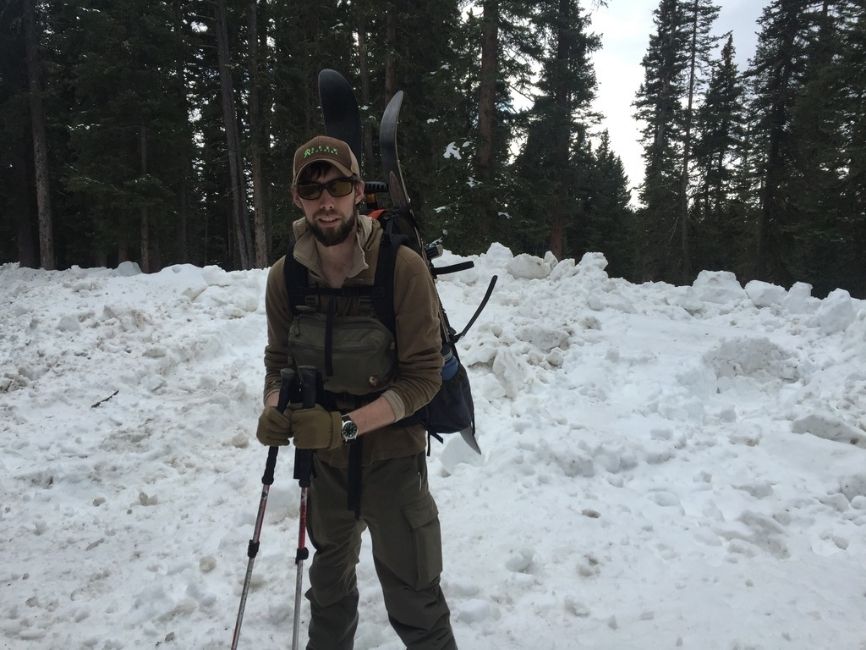 You can see most of my gear stand-bys here, I've been wearing a PCU level 2 grid fleece hoodie next to skin and a First lite Chama merino hoody over that for most winter activities, moves moisture well and keeps just enough wind off. I've found that while moving I can use this combo down into the 20s with a stiff wind, the dual hoods, chest zips and sleeves that can be pushed up offer a huge range of temperature adjustment. Trusty HPG kit bag as always, and cordura fronted wool pants, enough snow protection to not need a shell or gaiters and warm enough to not need base layer pants. Nomex gloves aren't awesome when it gets wet, but in dry cold they offer just the right amount of warmth and wind protection to be great during movement.
A better view of the skis and my pack, its actually a 100+ liter pack I built the weekend before, but it spent most of the weekend compressed for day pack use. the extra capacity makes a great catch-all in the tent to keep organized: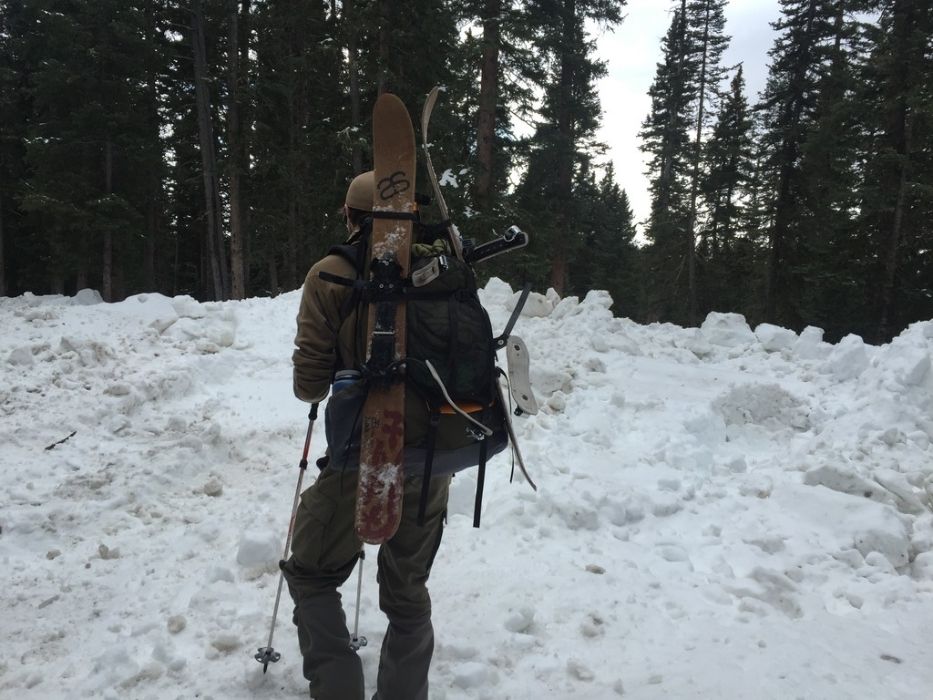 The trail system was suspiciously empty for a weekend, we commonly heard snowmobiles in the distance but never actually saw another person on the trail. quick standing lunch brake of sausage cheese and crackers, much harder when you are too lazy to take your skis off and find a place to sit:
One of my main take aways from the trip is DUMMY CORD ALL THE THINGS. From the first few times I pulled my compass out of my kit bag I started getting paranoid about dropping it and busted out the glow-cord. For winter use I can really see the merit of tying a pice of reflective something to anything that could possibly get dropped or left behind, combined with a headlamp it can make finding things in your pack or the snow much faster.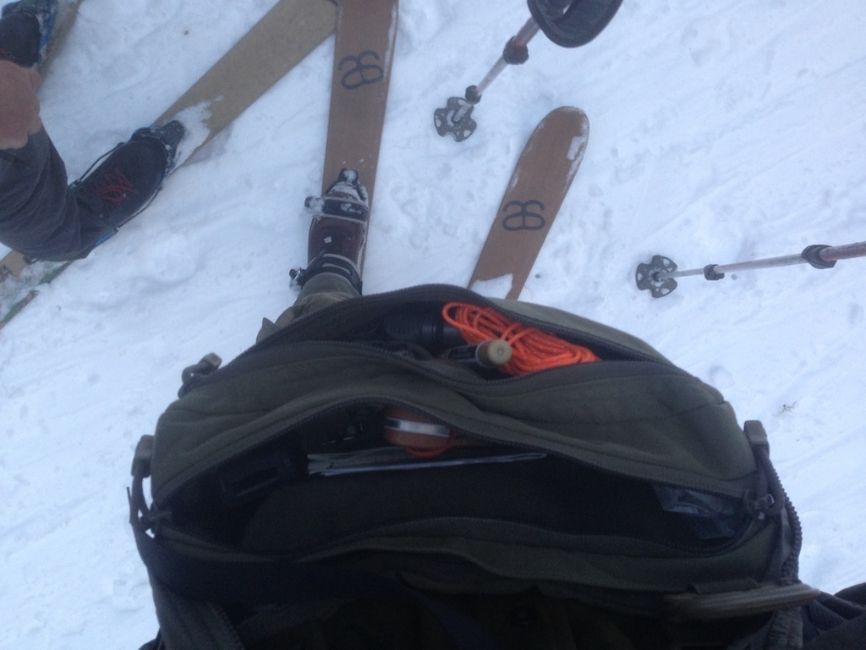 Something I took out for the first time was my experimental overwhites. 3XL tyvek bunny suit chopped off at crotch level. Heavy mods to the hood with liberal use of one of the legs and tyvek tape, loose enough to fit over static layers and at $8 a new set every season would still be pretty economical:
combined with some chaps I think this has some real merit, makes a good wind shell and was surprisingly cool in the direct sun despite the warmer temps, I'd like to devote a whole thread to this project.
after covering quite a bit of ground we got back to camp in the late afternoon. I ate the last of my sausage and cheese, which is a heck of a lot easier sitting down with a cutting board. This folding bowl is one of my all-time favorite pieces of gear, and I was super bummed to find out the company disappeared:
The opinel is being demoed as a potential food-knife and did pretty well. Being able to cut easily though a cold brick of cheese is my one fairly specific requirements, and the thin blade met this.
Our camp with pulks leaned up while we scrounge for wood: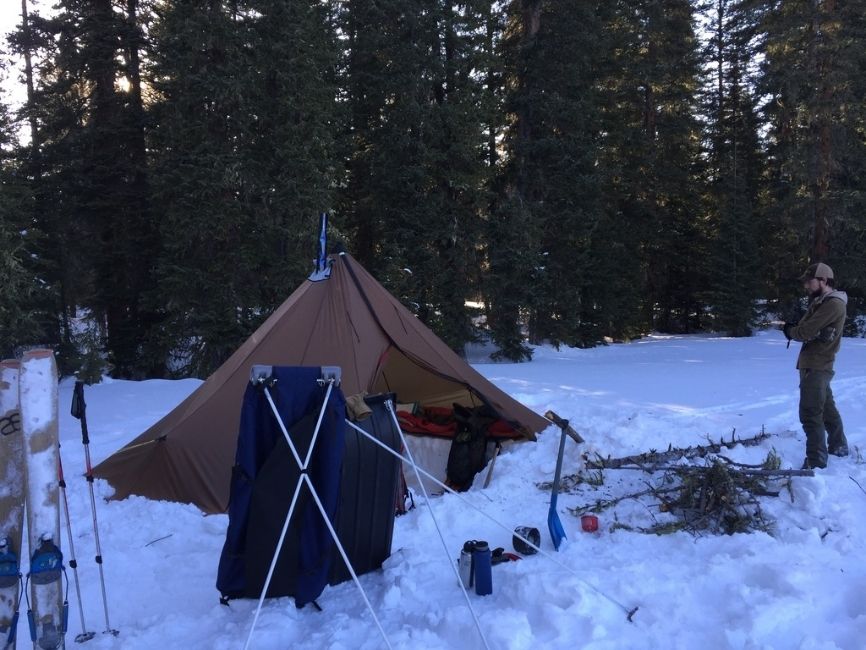 The cordura knees of my pants proved invaluable for breaking smaller branches, not having a good platform to use an axe proved a nuisance but a minor one, since I couldn't find my 25" bow saw we where a little undergunned.
more to follow....