For years I have been using Kathoola microspike for winter hikes, runs and even my ER preps. Here is an earlier review of the older version I posted online 7 years ago.
From January 2009
Kahtoola micro spike review.
http://www.kahtoola.com
Information from their web site.
This grippy, durable, slip-on traction system features strategically placed stainless steel spikes connected to a dynamic flex-chain with a tough elastomer shoe harness. The unique "microspike" chain adjusts itself to grip nearly any surface — from ice and packed snow to wet rocks, concrete, and scree. Extremely durable, MICROspikes require no special buckles or straps. This pocket-sized traction device is the answer for people of all ages who want to stay active in the winter with convenient, effective foot traction.
MICROspikes are ideal for walking, hiking and running on snow-packed trails.
• 3/8-inch-long spikes
• Dynamic stainless steel flex-chain with a tough elastomer shoe harness
• Only 9.8–14.4 oz (280–411 g) each, depending on size!
• Securely attaches to running shoes, lightweight hikers, everyday shoes, and snow boots
• Available in four sizes from extra small to large that fit a range of unisex sizes from youth 1 to adult 14
I got these a few weeks ago and this weekend was prefect for some winter hiking. When I first got them almost laughed. Just look at these things.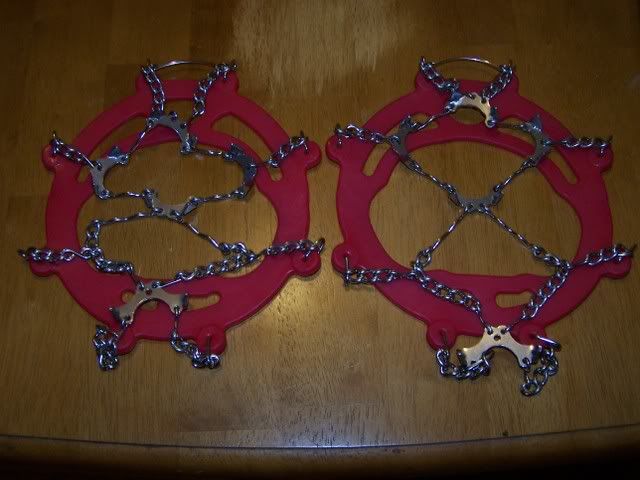 I was thinking there is no way these things are going to fit my big size 12 feet and even if they somehow got over my insulated winter boots they would surely break off in seconds. However they are very packable and only 14 oz for the pair. Took them out to a nice frozen area full of hills, rocks and steams. Guessing if these were going to fall apart this was the place to do it.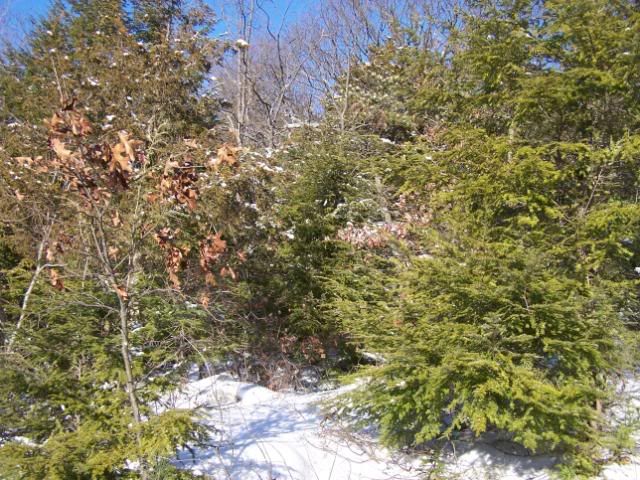 Snow and sleet on Saturday with sun and cold on Sunday. My kinda weekend. At first I couldn't get them on however after about a 10 minutes learning curve I could take them on and off on the fly with the help of a hiking pole or tree to steady myself. Tried them on some hiking shoes and big insulated boots. Fit both nearly as easy. However these come in a few sizes so be certain to get the right ones.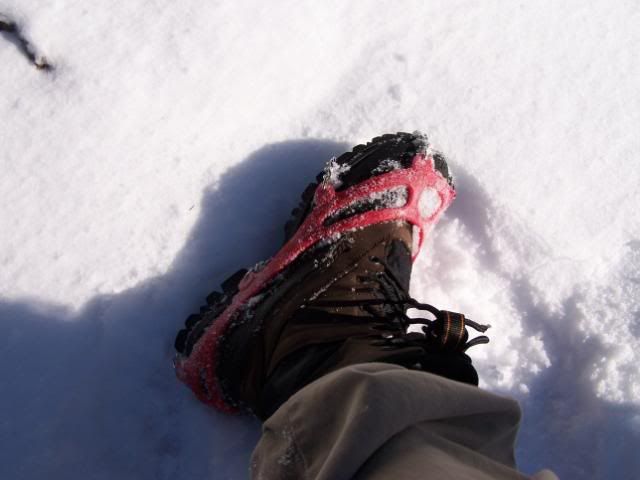 The traction could be described as spooky but a good kinda spooky. Walked over snow covered ice and glazed rocks with ease. I never slipped once despite doing all kinds of silly stuff. Was a bit like having super powers. The great traction comes from the heavy stainless chains and spikes.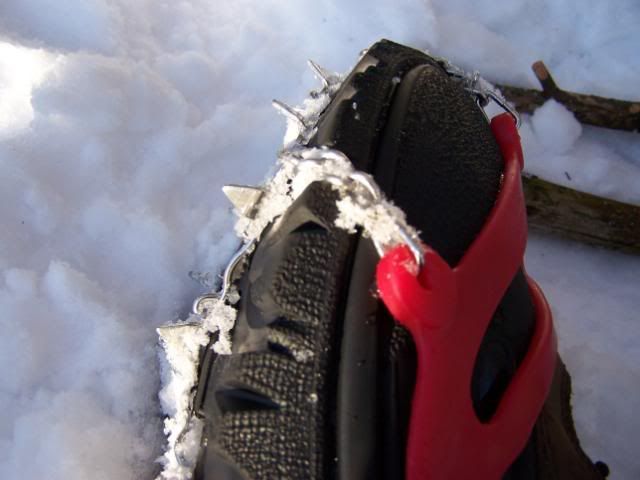 I used them to blow out the snow off the ice covered driveway too. Despite walking over some hard terrain I couldn't see any sign of wear. They stayed put like a part of the boot. Takes maybe 20 seconds to put on and all of 5 to remove. I like them!
Pros:
1. Packable.
2. Easy to take on and off on the fly.
3. Well made.
4. Super traction over ice and snow.
Cons:
1. Not the cheapest traction system.
2. Learning curve for proper adjustments and fit.
3. Easy to forget they are on. Sounds like a pro however could mess anything stepped on like tent being setup
4. Feels funny when walking on non covered rocks or blacktop.
So lets have a major update! I have have been using this gear item hard over the years but then during my last overnight outing this happened.
One of the loops pulled away from the harness. That was a field expedient repair which functioned just fine for the remainder of the outing. Upon closer inspection the exact same loop on the opposite foot was hanging by thread as well so I pulled it and did another paracord repair. A note, with the exception of the damaged loop on each foot the set is nearly flawless after years of hard use.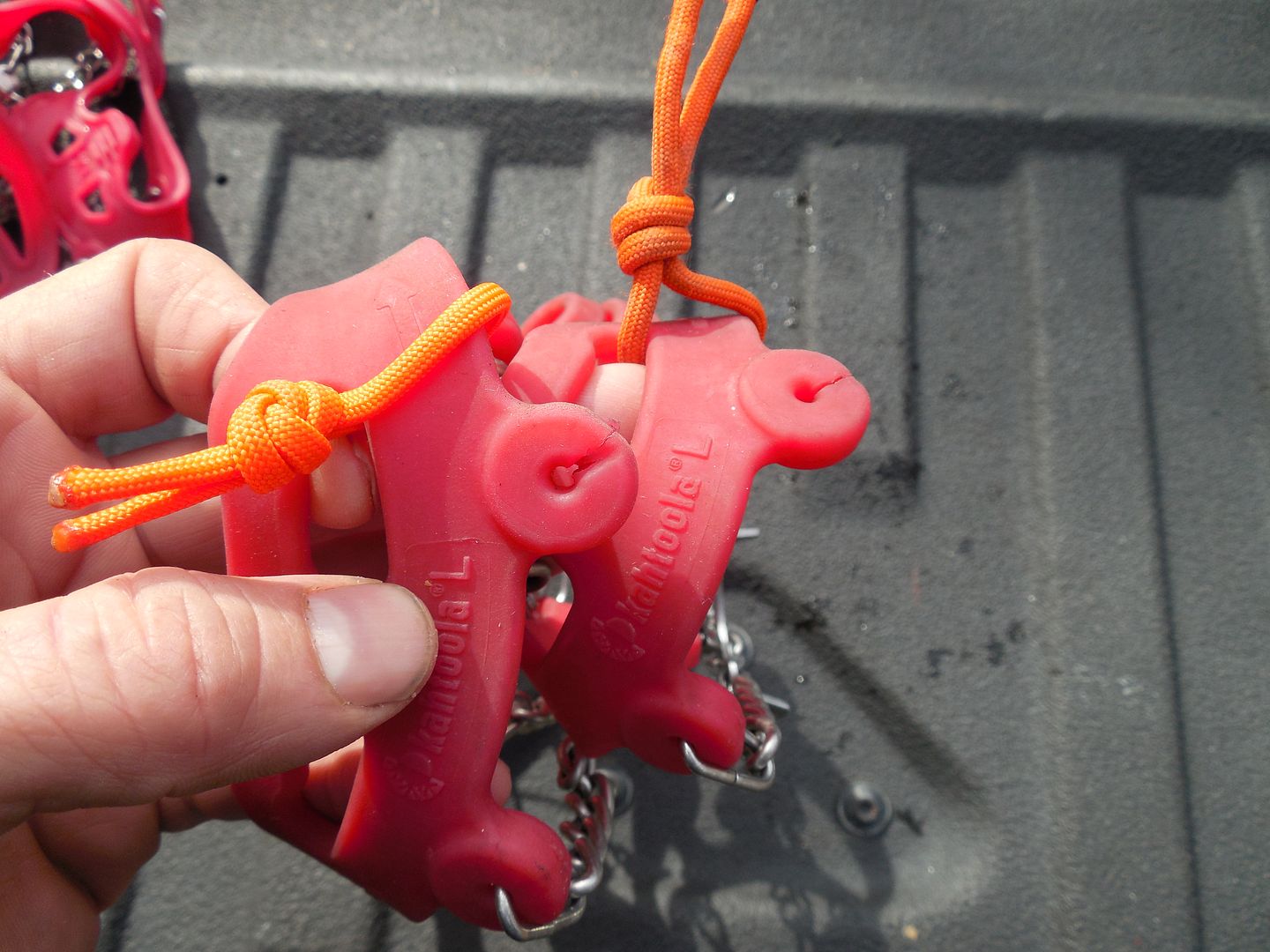 So what happened and why the same spot on both microspikes after all these years?
Upon removing them from my foot I realized what the issue could be. I was pulling on the same section of chain to remove the spikes from both feet. After years of doing this that same loop slowly pulled away until it was done. Well played entropy...well played. However as the gear item lasted so long it was time to get a new set. I also wanted to test out the repair some more to see if the old set could be tossed in the back of my truck seat during winter for times when the ultimate traction is needed but not readily available. Two is one and one is none as was the case a few times over the years when I could have used them but they were at the house.
I did a 5.2 mile hike to test the field repaired set of Microspike. It was relatively short however the terrain was intentionally horrible, infact some was more climbing than hiking. Even got boxed in a gully at one point. The repair on both feet functioned flawlessly, I couldn't tell the difference in performance. The paracord repaired set will go into my truck during winter. Odds are they will last another 7 or more years. Maybe longer as will no longer just tug on the chain to remove them. The remaining were 1 short walk and 3 trail runs the longest being 13 nasty miles running.
Clearly if I am willing to buy another set of something which in the end still broke means I really like this gear item. We tend to focus on shelters, knives, flashlights, firesteels, sleeping bags etc etc within our kit but what is really going to put the hurt on? Odds are it will be a mechanical injury such as a fall. Also it's nice to have the ability to move so much faster on foot over extremely slick ground. There is really no comparison. So let's take a look at the new improved harness Kahtoola MICROspikes
On the surface they look about the same.
The old ones have a SS band that connects the chain in the front, the new a stiffer material in the front band.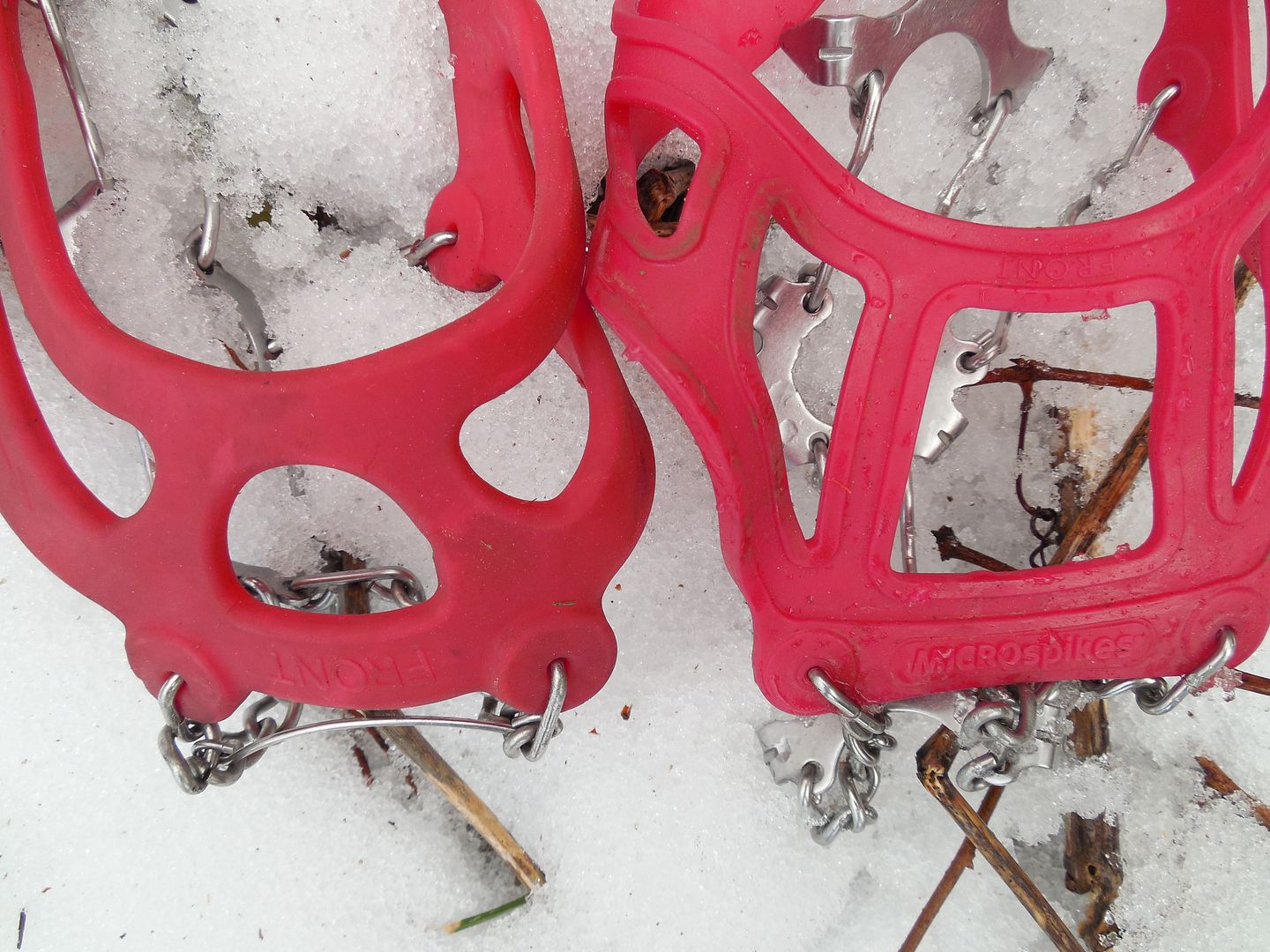 There is an extra pair of SS spikes (two spikes per assembly) on the new ones. Old 6 pairs new 7 pairs. More is better I guess thought the chains also have some nice grip as well.
There is also some grippy lips of material on the heel of the new Microspikes which can be seen in the photo of the new set shown on my truck bed. I did notice the harness material of the new Microspikes seems thinner however weight for the old was 14.7 oz and 13.5 oz for the new per my digital scale. Not all that different in terms of total weight. Which brings up another fact. This isn't a UL gear item and in this case that's a good thing.
In 7 years of using Kahtoola Microspikes I only fell once and that was during my last outing when trying to lift a fully loaded sped into a friend's SUV. I was standing on ice and the weight of the sled pushed the spikes along the surface. They dug in deep but there was just too much force. So one fall for what is surely 1000s of miles isn't bad. I does take a bit of getting used to. I mean the idea that you're not going to fall on some amazingly slick surfaces. I have run full speed over ice and nothing happened. The only source of PITA is sometimes wet snow will cling to the chains in certain conditions. Not the end of the world but something I did notice over the years.
So how do the new ones perform? I took them on 3 runs and 1 hike in 4 days. Here is a video of a 13 mile dirt road/trail/bushwhacking run over some nasty slippery ice, snow and mud.
Kahtoola MICROspikes review. New model improved harness.
I didn't fall and they look just fine so thumbs up! From now on I will grasp the harness when removing them not a single chain. Oh well. Thanks for looking.