I know it's past the deadline, but I only traveled 40 minutes or so by foot so it wouldn't have been in the running anyway. As a photo credit note, most of these are mine but a few are stolen off Facebook.
Last year I made the drive from OR to CO for the Hill People Gear winter rondy but because I have since moved to Grand Junction the commute was about 23X shorter this year.
Last year Evan Hill loaned me a kiddie sled pulk and go me hooked on cargo sleds, the pulk instructions on the HPG site are simple and effective (
http://hillpeoplegear.com/FreeResources ... fault.aspx
). Unfortunately ACE has since run out of pelicans so I instead bought the very affordable Jet Sled Jr. which is smaller and lighter then the pelican and more then enough for one person.
My pulk loaded up at home:
I used some roll top tote bags and a duffle I had made from truck tarp vinyl to keep my stuff dry, I will have to make some new ones that are sized better for the sled in the future.
Evan was nice enough to pick me up on his way so I got to walk in with him (and get a good look at the new First Spear Wind Cheater and HPGs new Aston House pack):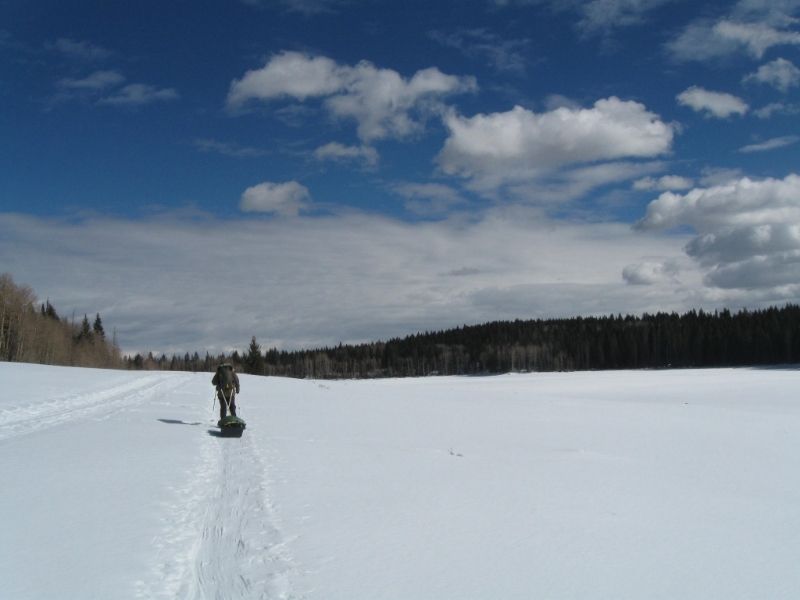 Camp went up fairly quickly; Seek Outside 6 mans seemed to be the shelter of the day, being 3 out of 4 tents present.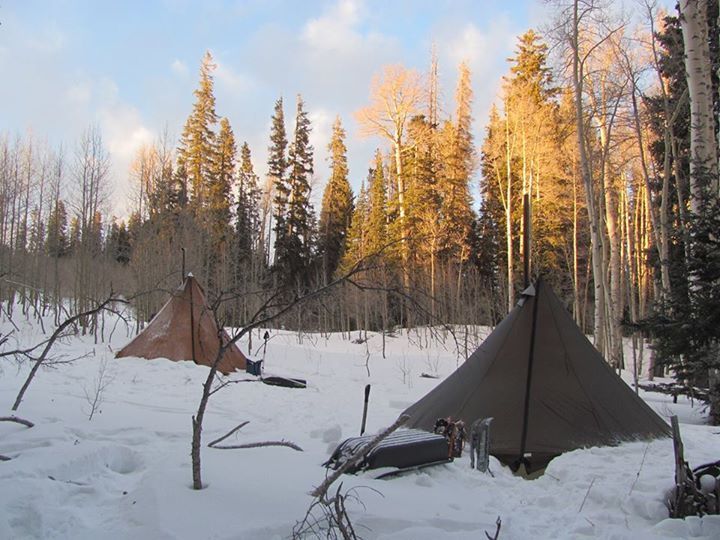 Most of us dug out foot wells in our tents, being my first rodeo I made may sleeping shelf a little narrow though. You can see the SO medium stove I had in my tent, simply not enough stove for the conditions. Also since it was shallower then the other stoves on the trip (2 HPG shepherd stoves) I had to re-buck all the wood. Any calories saved in weight were more then expended in extra wood prep. Still WAY better then nothing, it warmed up some boots, thawed and cooked food and took the chill off in the morning.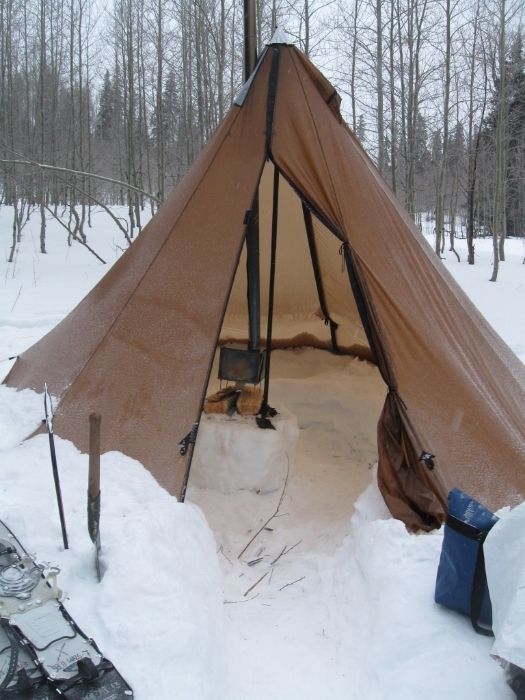 Having a pulk around camp makes lots of things much easier. Also as a side note, I brought a GB small forest axe and my tent mate brought a GB hunters axe, if you are on the fence between the two just flip a coin, I couldn't tell much difference at all.
The Shepherd stove going in the meetin' tent. apparently they got the inside temp up in the 80's at one point, I don't think it got much above freezing outside all weekend.
We had lectures on firecraft, avalanche awareness and backcountry snow mobility.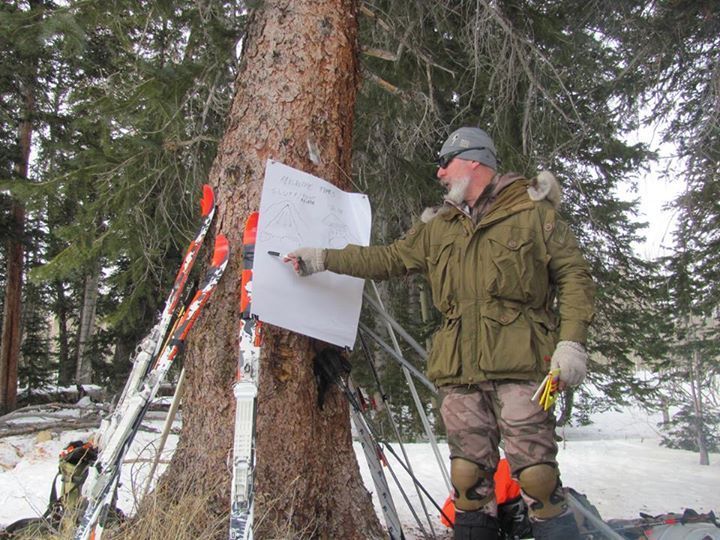 We also went on a lovely ski tour of the Mesa Lakes area, and as the only one on snowshoes I got to play the role of the Struggle Caboose.
Coyote ruffs abounded, I'm currently debating if one of my shells needs one now. I get a weird headache if my forehead gets cold, apparently the ruff would help.

I rocked some home made mukluks for a good portion of the weekend, felt boot liners on felt insoles wrapped in hypalon and uncoated 420D ranger green packcloth with paracord laces. I was pretty happy with them but my vibram soles didn't arrive in the mail in time so they were pretty darn slippery. Also it wasn't quite cold enough for these, as snow that got trapped in the folds melted and came through. fortunately felt doesn't mind the wet too much and pack cloth dries quickly. Gen II will have shock cord around the top to keep more snow out, and maybe be a waterproof breathable.
I slept in the felt liners which was quite delightful.
Some of the tools that came in handy; cheap bow saw, old surplus shovel (cool aluminum snow shovels sure work better though), surplus stakes, fluorescent guy lines, and MSR snow shoes.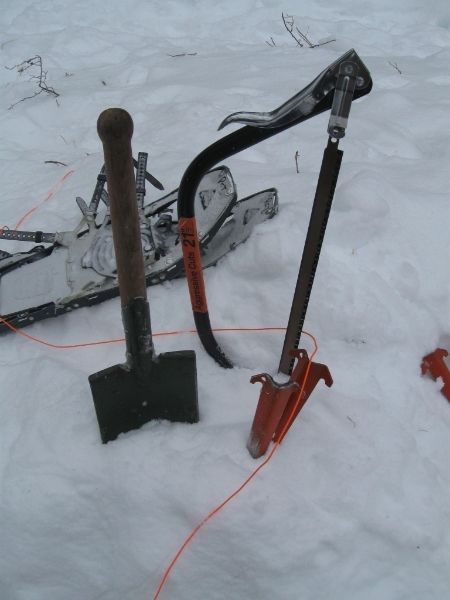 I don't know much about these little snow anchors but they were the shiz.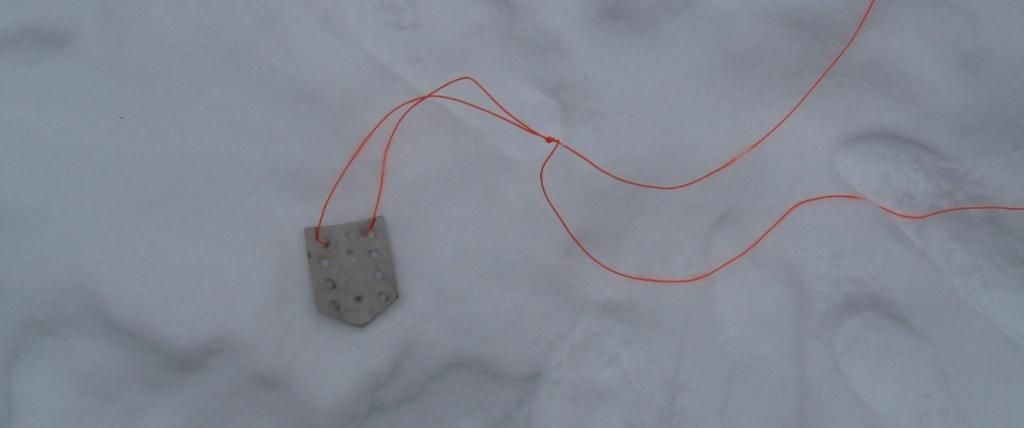 Obligatory pulk selfy on the way out:
Some of the others on the way out: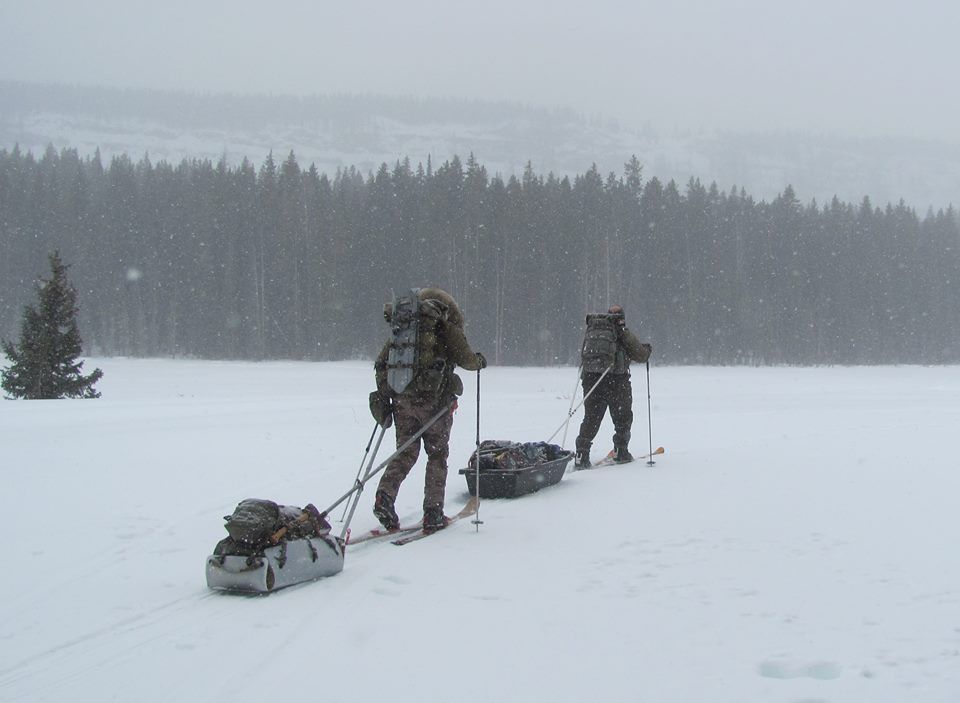 my tow rig: a HPG terahumara set up as a lumbar pack with their prairie belt. the nice thing about a pulk is you don't have to carry much on your back.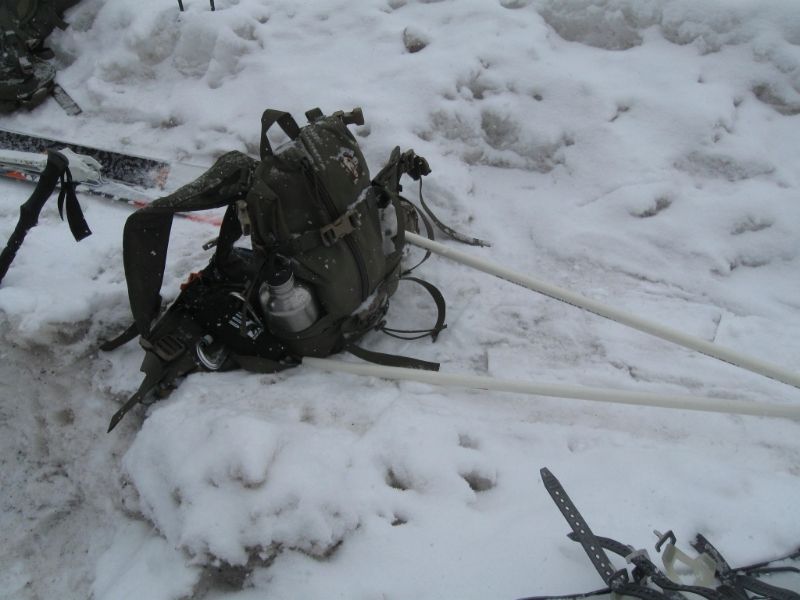 More to follow.