Alright, this is my dedicated BOB thread as it is right this very moment. This will also be used for most of my other gear as well that I use in conjunction with it or other similar purposes.
My current goals with this kit are as follows: Somewhat lightweight, durable kit to use in 3-4 seasons of Indiana or surrounding area's weather. This isn't meant as an INCH bag as I use it when I backpack and even train with on hikes. I want to have the main three along with some comforts and other force multipliers. All of my EDC isn't pictured here, nor the bang sticks that would actually come in a bugout but those will come later. My area is urban, surrounded by cornfields and wooded areas, so concealment is always a concern. If I have to use this kit to bugout, it will be with as little urban exposure as possible.
In its current form, there is very little food, so that can be added when the pack is just sitting at home as a BOB. Right now the configuration is for an overnight/two day hike.
BOB - Kifaru Timberline 2 5,200 cu.in.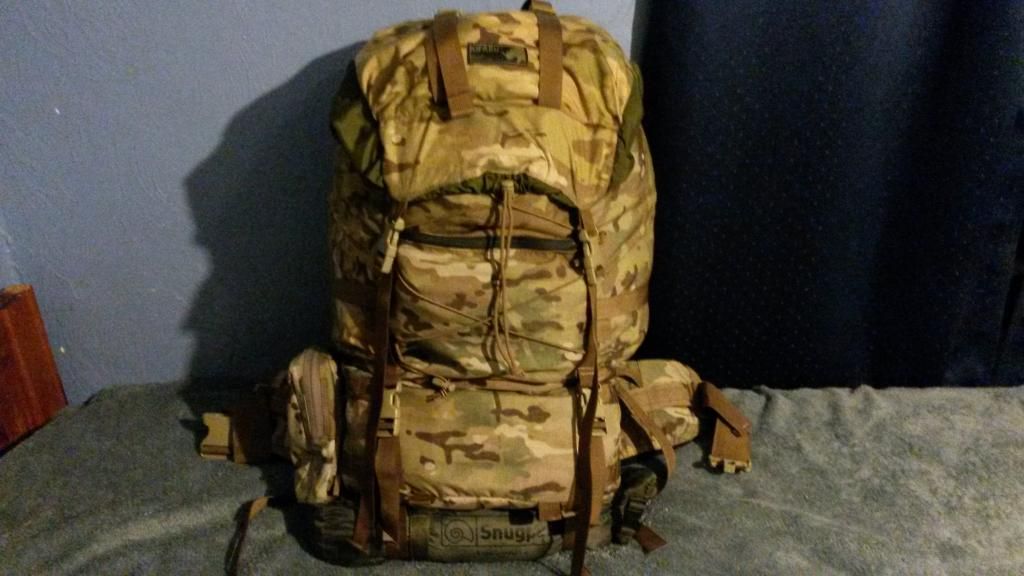 Main contents from top left to bottom right.
Top Row:
Snugpak Ionosphere 1 man tent
Sierra Designs Mobile Mummy 3 season Long 800 Fill in OR compression sack
Exped Downmat UL 7 LW with Shnozzle
Lake and Trail Camp Pillow - self-inflating, cost $10 and works great!
SOL Escape Bivvy - In case I need quick warmth, or I need to get below 20 degrees F.
Merino Base Layer, Poly Mid Layer, and 2 pair Merino Socks
Princeton Tec Fred Headlamp
Silva Polaris Compass (Maps not shown)
Two additional pair of thicker Merino Socks
Bottom Row:
Survival Solutions OPSEC Poncho in GGG pouch.
Water Filtration/Hydration Kit
Hand Warmers
Fire Kit
Carmex
Ear Plugs
2 x 25ft hanks of paracord
Med Kit/IFAK
Antibacterial Wipes
Dental Hygiene Kit
Chemlight
Matches
Gorilla Tape 1" x 25yds I think
Misc. Kit - Tweezers, nail clippers, Emergen-C, Chai and Green Tea
Snacks - Payday, granola bars, etc,.
Tera Cookset with Optimus Crux Stove
Pistol Cleaning Kit
3 x Mountain House
8oz Beef Jerky
Alpen BAK4 Monocular
Morakniv
Gerber Diesel Multi-tool to be replaced SOON!
Top Row:
Instapark Mercury 10 and external battery
Level 6 goretex top and bottom
4 x CR123
4 x AA
Surefire M1
PVS-14
Skullcrusher - also to be replaced with better option
Baofeng UV-5R
Expanded kit view:
2 x 1L Platypus - compatible with Sawyer
1 x 1L Sawyer soft bottle
Platypus hydration tube
Cutoff water bottle for scooping water
Sawyer Squeeze (Might replace with a Mini)
4L Platypus Dirty Bladder
3L Platypus Clean
Misc. dirty and clean hoses
Instapark Mercury 10 Solar Panel + 4 cleaning wipes
Homemade Mountain House Warmer/padded case for PVS-14
PVS-14 + J-Arm
Surefire M1
Tenergy 8000mah battery + cable
Tera Solo Cook Set
Primus 250g fuel
Optimus Crux Lite Stove
Mini Bic
Fire Kit Contents: Waterproof matches + striking pad, 3 x Wetfire, Ferro Rod, and petroleum jelly impregnated cotton balls in contact lens case.
Med Kit/IFAK:
4" IBD
Quikclot Combat Gauze
Misc./Boo boo kit
SAM Splint
Mini Shears
Boo boo kit includes everything from mole skin to antidiarrheal, ibuprofen, tape, gauze, pads, wipes, etc,.
I have plenty of room left internally and my weight is almost exactly 40lbs so I'm under 25% of my overall bodyweight. For the more extreme temperatures we get here, I will only add an outer glove layer and the things I would normally have every day for weather appropriate clothing.
Oh and I am a cold sleeper and have difficulty sleeping on hard surfaces, so the extra bit of comfort I do carry, is about the only way I get sleep. I've so far only used the Exped/Mobile Mummy combo down to 23 degrees F in my Snugpak with sustained winds in the 30-40mph range and it's the warmest I've ever slept under 40 degrees. I was so comfortable I spent the latter 3/4 of the night in only my skivvies since I had gotten so warm.
The only items I'm missing are a good spoon/fork, a saw, insulated boots for Winter, the USB charger for the Baofeng, Eneloop USB Charger and batteries, and some hiking/trekking poles. Suggestions/feedback of course welcome. Most of these items have been choice by evolution and I've gone through several versions of each to get where I'm at. Weight wise, I'm spot on with my goals and I recently cut off about 10lbs by switching to this pack, sleeping bag, and pad from a Karrimor Sabre 60-100, Kelty Cosmic 0 synthetic, and a Thermarest Prolite Plus pad.