Greetings. I've been testing a kerosene stove recently. It was manufactured in Mumbai, India by a company known as Palam Stove Industries.
With the unfortunate closure of St. Paul Mercentile, which was an importer of the butterfly range of kerosene pressure stoves there has been a vacuum in the area of affordable kerosene pressure stoves for preps.
The Liberty 'Rocket' brand stoves are being imported by A&H Enterprises. A&H is a long time sales and service supplier for pack able and marine stoves. When I learned that it was the A&H eBay store I was dealing with I was immediately more confident. I have been dealing with A&H on and off since the mid 90's and I have always been pleased with the service I've received.
The rocket #0 is patterned after the optimus 00 stove. It is a mid sized pack able stove with a fuel capacity of 1/2 liter of kerosene. While I don't have an exact btu rating on the burner, it has a very practical heat output. It is also very adjustable via the air bleed screw to allow fine simmering.
I have taken the stove out on two occasions. Once in early June on a car camping trim and most recently last night to a birthday party overnight where it was put through much use brewing coffee and boiling cocoa and tea water. The stove functioned flawlessly, and performed equally well to name brand stoves that cost two to three times as much.
I recommend this stove because of its simplicity and value. The stove is currently for sale on eBay for $75 including shipping.
While I am not explicitly recommending using this stove indoors, I will point out that stoves of this design were routinely used indoors safely for years. As always, be sure you use common sense whenever using a combustion device indoors. Make sure you have adequate ventilation, be sure the appliance is operating properly, and be sure to have at least one, but preferably several battery operated CO detectors nearby.
After operating this particular unit several times in the field as well as on test runs, I would feel comfortable operating this stove in my home. Ymmv.
I did a YouTube review and follow up on the stove. Note that the price has fluctuated. Originally it was $65 without a case, then $80 with a case and now $75 with a case. (INCLUDING SHIPPING)
http://youtu.be/pBNZi6Ogk80
http://youtu.be/-YWNuUEy_ME
The current buy it now link is here:
http://www.ebay.com/itm/271536100100
This of course will expire, but if you click 'view re listed item' you'll get pointed the right way.
Here are some pics: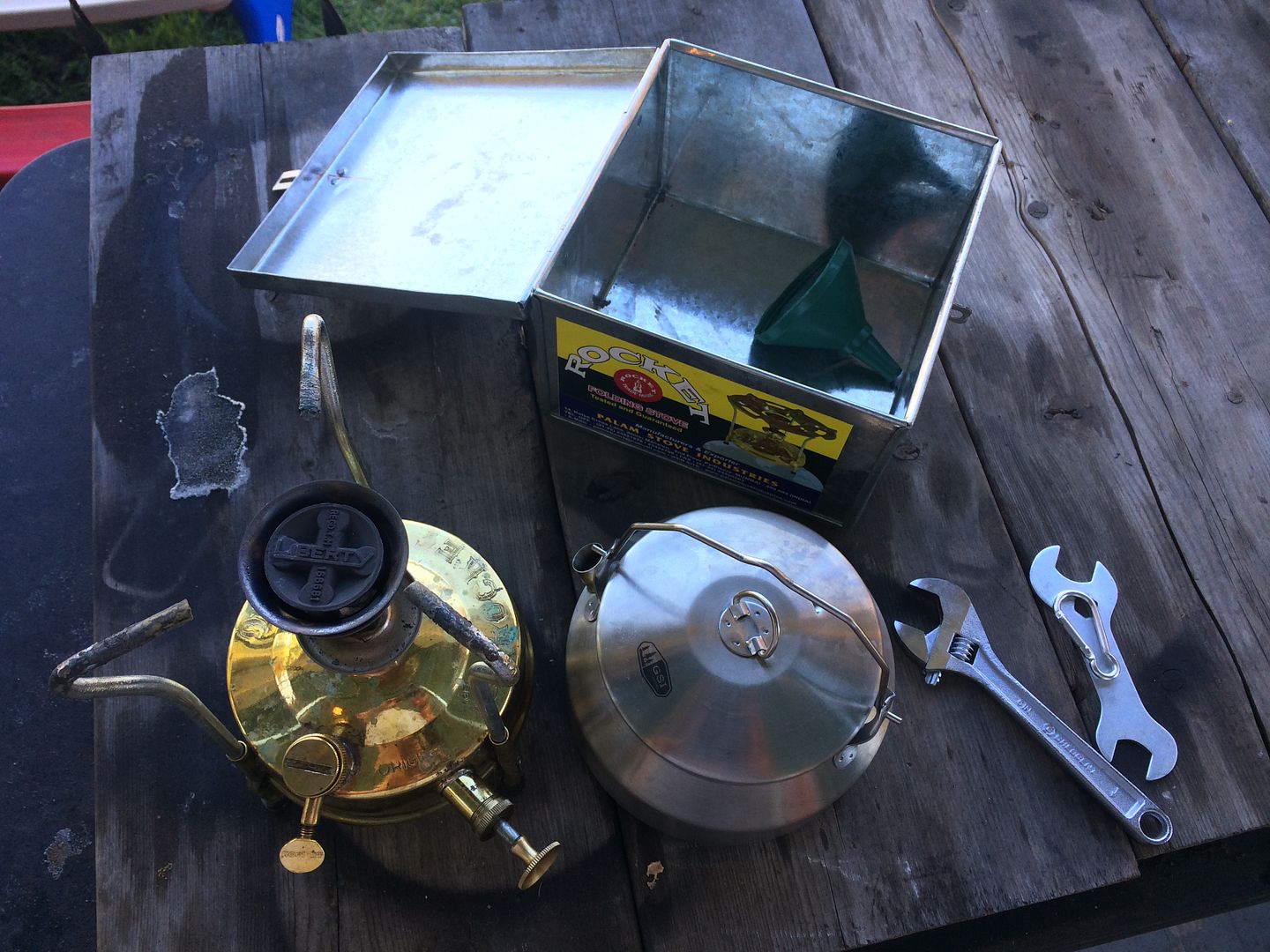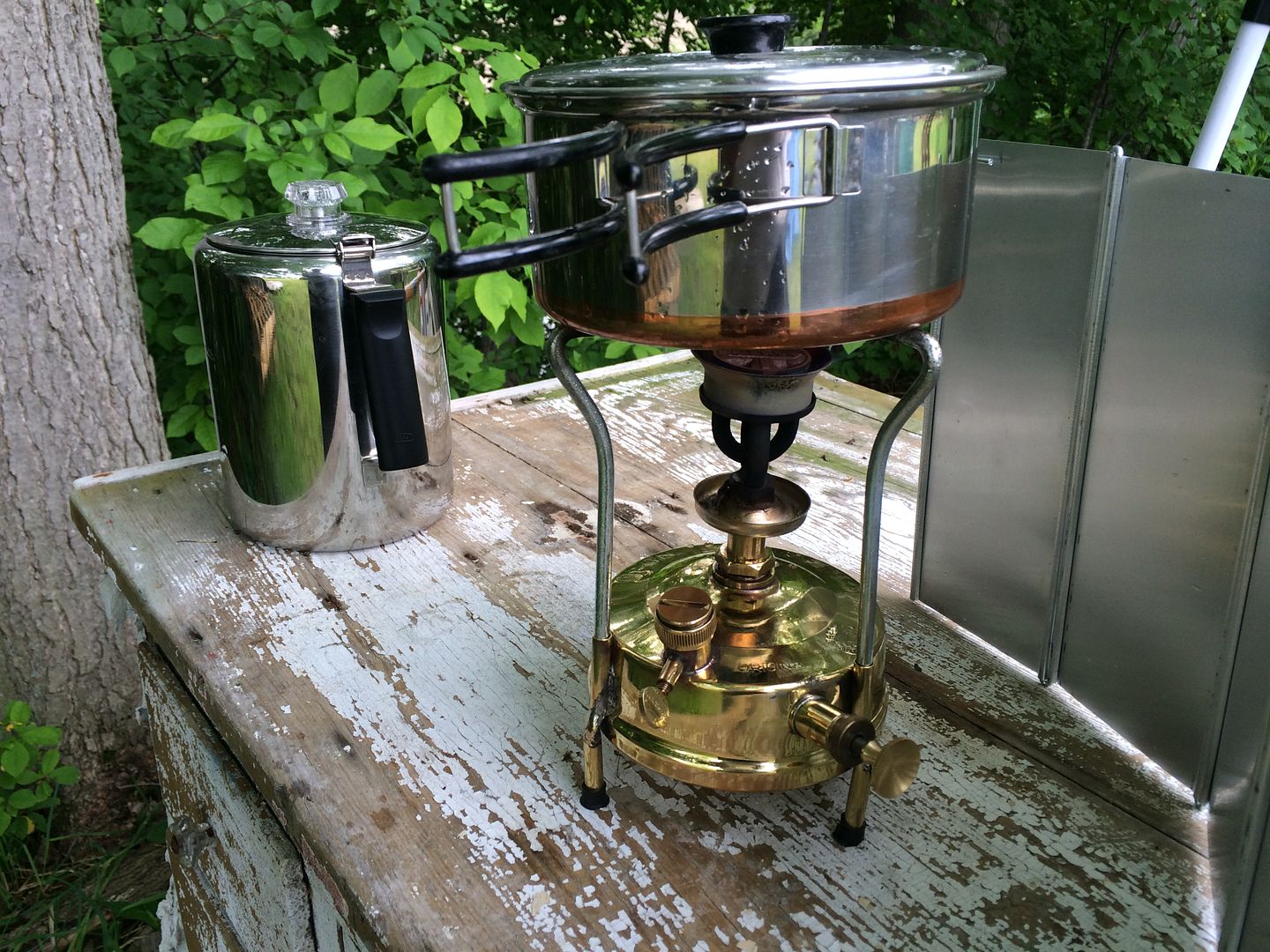 If you decide to get one of these I highly recommend getting aquatinted with how it works before storing it away. Be sure to do this outdoors. If any problems arise due to manufacture etc... Contact A&H. They will take care of you. The quality of my copy is excellent, but this item is manufactured largely by hand by skilled workers. There is always the possibility that human error will occur.
A&h is selling several other model stoves by the same manufacturer. Of particular interest is the rocket model 100 which is similar to the optimus 45. It uses the same burner as the model 0, but with 1 liter size fuel font. I have not tested one of these yet, but I plan to do so in the near future. At $60 without a case the model 100 may be even more ideal for caches and bug out locations. Keep an eye out for a review. There is also the possibility that A&H will begin selling kerosene pressure lanterns from this maker. Again, if I get a chance to do a review I will.
I do not work for A&H and I bought this item myself.