It is the time of year I switch around my GHB in my vehicle from a winter set-up to a 3 season (spring, summer, fall) set-up and I decided to go with a travel light and fast approach this time. I had been using a British Bergen rucksack even with my 3 season set-up and had kit in that would enable me to easily manage 3 days or more in an austere wilderness environment, it also weighed a lot! See that review here:
viewtopic.php?f=14&t=65301
The goal of a GHB is obviously to get from point A to point B (home) in the event of some type of emergency or at least an inability to use the usual means of getting home on time (e.g.-vehicle). Other then home most of my time is spent at my place of employment which is 20 Km (12 miles) away, I may find myself in other places at greater distances on occasion. At a 4 Km an hour pace I could be home from work in 5 hours which is not a very difficult hike for me. Having water, something to snack on and clothing for the weather is all really that is needed. Anyplace further away of course is a different story. The route home from work I would take would be down back country roads and through a local Provincial Park so I would not be encountering many people at all. Water resupply is not a problem as I would be passing many streams and ponds enroute, any other place in Ontario I may find myself trying to get home from is also no problem for water resupply (Ontario contains 1/3 of the worlds fresh water in its lakes, rivers and waterways). Climate is an issue up here and that's why I have a winter specific GHB.
My GHB kit:
I recently purchased a Mountain Warehouse "Ventura" 40L backpack as it was on sale for a great price, appeared fairly well made and was in the 40 to 50 L pack size I was looking for:
http://www.mountainwarehouse.com/travel ... px?cl=LIME
The pack loaded weighs 25 lbs with no water: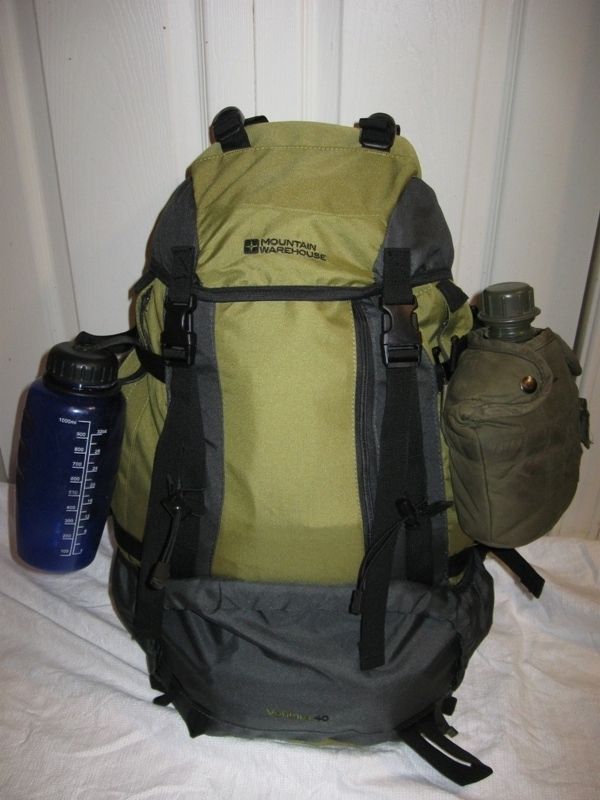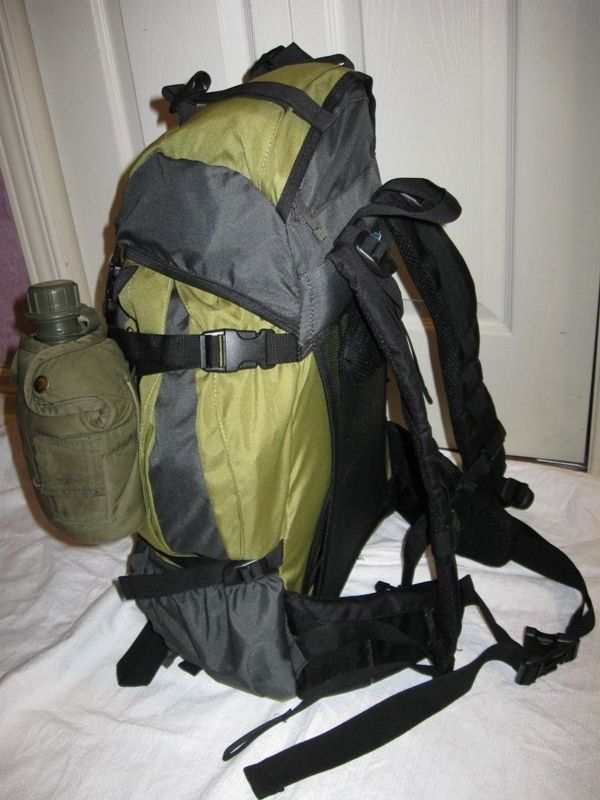 The gear inside laid out: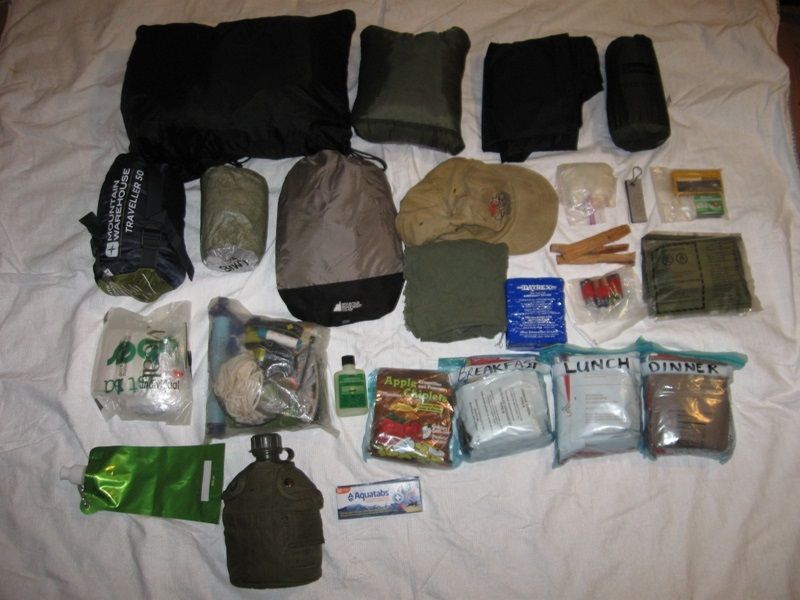 Clothing; most likely I would wear what is in the pack if I had to hike home unless I was wearing something suitable already.
Clothing from top left to right:
>Toque,
>Light weight pants with zip off legs,
>Columbia Omni-tech rain pants (black),
>Snugpak poncho (OD),
>Baseball cap,
>Lightweight shirt with zip off arms,
>Lightweight polypro long sleeve baselayer,
>Puffy jacket (OD) folded up in its stuff sack,
>OD triangular bandage/scarf (under hat in pic),
>Lightweight polypro short sleeve shirt (under collared shirt),
>Gloves black leather and black lightweight fleece liner gloves,
>Socks x 2 pair lightweight,
>Socks x 2 pair medium weight,
>Underwear x 2 pair (OD).
Sleeping and shelter kit. Although I doubt I may need it I have it just in case:
L to R:
> Mountain Warehouse Traveller 50 2 season sleeping bag (it was on sale as well): 0.65kg and rated for between 11C and 14C, extreme of 0C (I think these are all rather optimistic ratings!),
>SOL Escape Emergency Bivvy, I think with the sleeping bag in this I could be comfortable at 0 degrees Celcius (32F),
>MEC Scout tarp, 692g, 2.9 x 2.1m. I have cordage inside the stuff sack all set to pitch the tarp,
Notice no ground sheet or sleeping pad as I would want to travel light. In the event of actually having to sleep outside I would improvise (e.g.-pine boughs) or go without which I have done many times and it isn't very comfortable
Food, more food then I need if I am only walking 5 hours: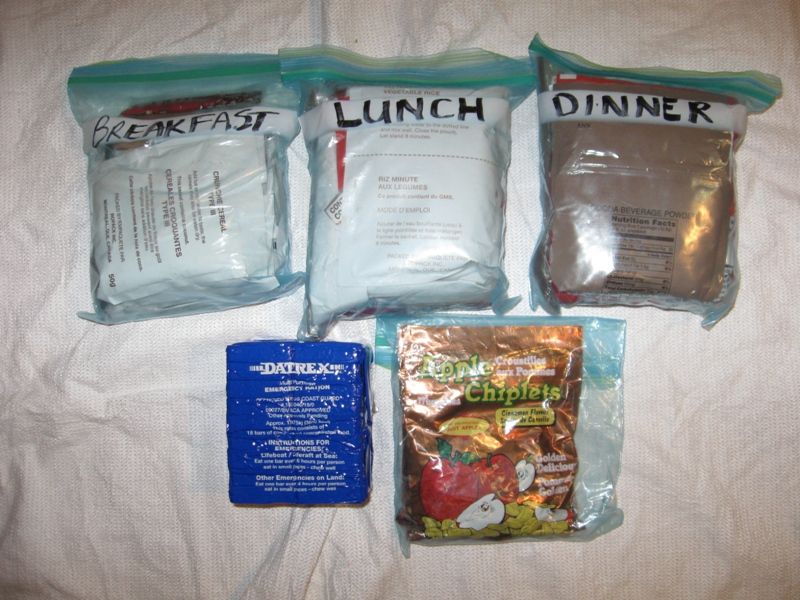 L to R from top:
>3 x meal bags with dried food like instant rice, noodle packs, soup and drink mixes mostly taken from IMP rations. Spoon in each
bag. I wanted lightweight food that won't go bad sitting in my vehicle. Don't know how many calories but I guesstimate it would be
adequate.
>Datrex 3600 Cal pack, lots of calories here!
> Bag of dried apples to snack on.
Hydration kit:
L to R from top:
>Old USGI canteen carrier and USGI canteen with canteen cup and heater tab assembly,
>3 X packs of fuel tabs=18 fuel tabs,
>500 mL collapsible water bottle,
>50 x Aquatabs,
>LifeStraw,
>I can also use my triangular bandage to pre-filter water.
>Missing from this photo but attached to my pack is a 1 Liter water bottle,
My total water carrying capacity is 2.5 litres which is quite sufficient.
The heater tab cooker that fits onto the canteen cup and when turned upside down fits onto it for stowing away in canteen pouch: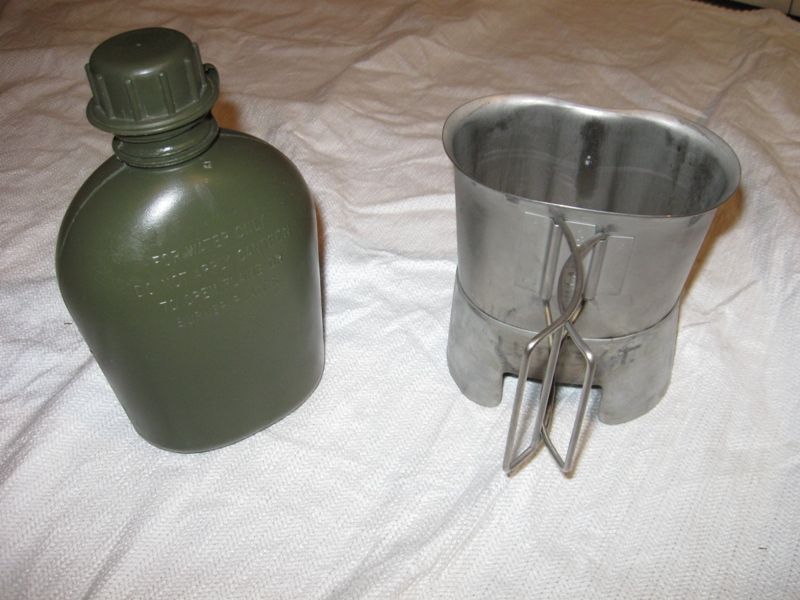 Fire kit if needed: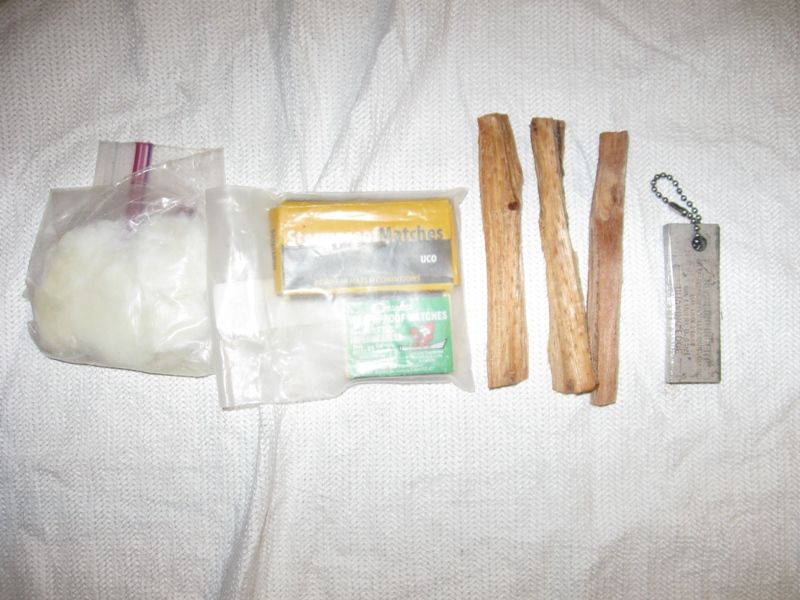 L to R:
>Bag of vaseline soaked cotton balls,
>2 packs water/wind proof matches,
>3 x wood for dry kindling,
>Magnesium fire starter.
Small items which are all in a plastic bag in pack:
L to R from top:
>1 x roll toilet paper and small bottle hand sanitizer in plastic bag,
>Mosquito repellent,
>Batteries: 6 x AAA, 3 x AA,
>Toothbrush, toothpaste and dental floss,
>Cord x 25M,
>Tube of sunscreen,
>Footpowder,
>Tape,
>Lip balm,
>Emergency blanket,
>Gerber Paraframe folding knife,
>Stanley multi-tool,
>1 X zap-strap,
>Tin box with the following items in it: P-38 can opener, Silva compass, safety pins, Single AA LED flashlight,
>LED headlamp.
And lastly what I believe is one of the most important and underrated GHB/BOB items is footwear. Without good footwear you will suffer over long distances or may not be able to even get to where you want to go. Below are spam ACG All-Trac Trail Goretex boots, I have used these in a 25 Km MBO and my feet were fine in them so I trust these boots for long distances.
I also have a well stocked first aid kit in my vehicle that I would carry in its bag or stuff into my backpack especially if I take out the clothes in it to wear. My GHB continues to evolve and this is the latest incarnation, again it is the travel light and fast philosophy but with some capability to do longer trips if necessary.