UPDATE!!! 4/18/15 Totally new approach here for this bag, as it's no longer a BOB and fully dedicated to GHB.
Goals: To get home from the regular places that I go on a daily basis, and have no items that would need to be robbed for other kits or other projects. My normal travel is no more than 50 miles from home and my work commute is about 26 miles each way. This pack setup is designed to get my home from that in a pretty shitty situation. This isn't built to be rescued, get anyone's attention, or any other purpose other than getting me home! I work third shift and long hours, so ideally my travel would be at night or as quickly as possible.
I thought I would include that I'm not really a follower of the "Grey Man" approach in my gear choices or mindset. I am of the belief that if I am using this bag, things will soon be bad enough that it doesn't matter what you're carrying, wearing, or who you are, that you're on someone's radar if you're seen. So as I said, I'm going to be moving when and where no one else will probably want to. Interestingly enough, my planned routes home are far easier to walk than the most direct route (highway) and will see far less people with no major cities and only two small towns in between. Now on to the gear!!!
Pack:
Kifaru X-Ray with 2 Kifaru 500d Light Long Pockets
Pockets are empty, would be used for other items I may have in the car or from my work lunch.
Top Pocket:
Fire Kit
PSK detailed in next pics.
Princeton Tec Fred headlamp (Best cover headlamp on the market for the price IMO, look it up.)
Carmex - I use it a lot, plus fire starter.
2 x 20ft paracord hanks
Personal Survival Kit (Still in the works, I don't like it as it sits.)
PSK Detailed:
Compass
Chemlight
10ft paracord hank
Sharpie
20ft x 1in. Gorilla Tape
Schrade folder (Might be replacing with CRKT Mini My Tighe)
Fenix PD20 + 2 spare batteries (Batteries missing.........)
Sawyer Mini + Straw
Light My Fire
15rds FMJ of some sort (Needs replaced with defensive loads)
Smalls kit - single razor blade, P38, tweezers, a few other items.
Pouch - 20DollarBandit MiniKit MK-7
Batteries/Power: Some of this may be ditched in particular circumstances.
Eneloop Batteries 6 x AAA, 8 x AA
Poweradd Apollo 2 10,000mah + Solar power
Goal Zero Guide 10 Plus and AAA adapter
Charging cables
Goal Zero Luna Stick Light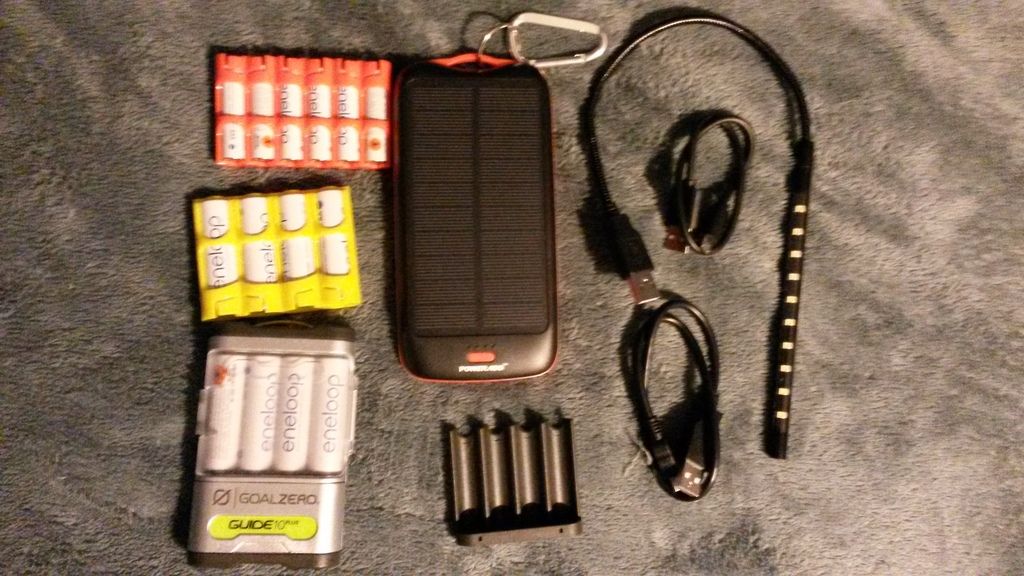 Food/Water/Tools/IFAK:
2 x 1 liter Smart Water
Morakniv w/Light My Fire
Skittles Sour (Best kind) Some prefer sweets, I prefer sour unless it's donuts.
IFAK in Maxpedition pouch of some sort. Internals are pretty custom, I can break this kit down at a later time.
Food - Field stripped MRE's, close to 3, with some extras included.
Other Smalls:
Pistol Cleaning kit
Spoon/Knife/Spatula thing.
Ignore the chemlight, I ditched it.
Toiletries
Baby Wipes (Need more)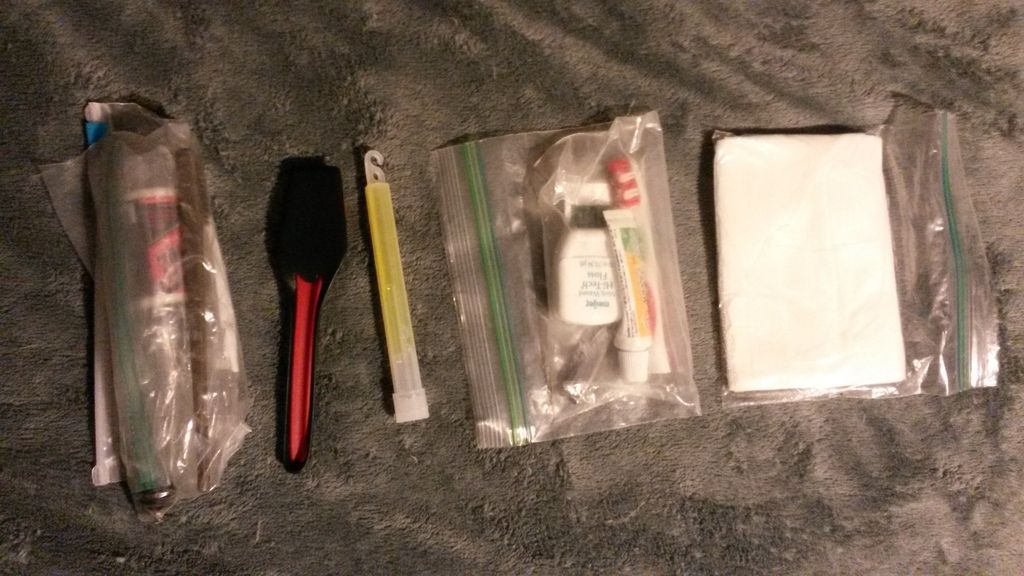 Shelter/Clothing:
Kifaru Woobie Highlander color
SOL Escape Bivy (Needs replaced with OD, this is one item I still rob for camping trips in colder weather.)
Outdoor Products (Walmart) 5'x7' silny type tarp used for ground cloth
2 x socks. 1 merino, 1 poly, both long in length reaching almost to my knee.
Agis Hoplite rainfly, stolen because I like it quite a bit and it's super lightweight.
OPSEC Poncho
Smartwool Beanie
Columbia Neck Gaiter. Purposefully got the women's version because the men's was WAY too big, probably double the material volume.
Total Weight including heavy ass MRE's and 2 liters of water:
28 pounds!!! My goal was 25, but three pounds really isn't much considering my usual distance required (26 miles).
And that's it. The two long pockets are for possibles. I always wear weather appropriate clothing, but on the days I don't I keep extra in my car including my Salomon Comet 3d GTX boots and two more pairs of socks. I keep a Columbia rain jacket, a fleece long sleeve shirt, and a spare pair of pants in my trunk. I take my lunch to work everyday which always includes a 32oz nalgene and I almost always take extra food I could carry like bags of nuts or bagels. I would rather have a small pack if I need to move fast, I could just ditch the long pockets as they would always be spare items from the car.
Also not pictured is my HPG Snubby Kit Bag, 2 x 17rd glock mags, multitool, and EDC (Glock 19, spare mag, Nitecore SRT3, pocket knife, watch, and cell phone). I don't include this weight as it is basically a part of my body mass so many hours a day, it's not even felt.
Final thoughts. The weight of my packs normally isn't something I stress too much about because I don't really have any other areas I can shed weight. I walk between 10-25 miles per night at work, hike weekly (Normally with a training weight of 35lbs which tapers up before winter), bike during the summer, lift heavy weights (Heavy to me!), and am in generally good health. I'm always below 10% bodyfat so I don't have much I can lose on my body which makes food a fairly important thing in my packs. IMO, this pack doesn't have enough food, but my ideal trip is less than 24 hours, so 3 days worth will suffice.
So that's it, the newest version of the GHB. Questions, comments, or concerns? I do have some redundant items, but I've done that on purpose with the PSK as it's made to pull out and pocket to have on my person at all times in case I'm separated from the pack permanently.