My name is Patrick and I'm a Pack-aholic! I blame ZS though. So I must be incurable.
It seems like I've been posting packs about once every other day here lately. And here is my latest entry. I stumbled upon this while looking at multicam stuff in Google Images.
It's the Arc'teryx Khyber 80 Multicam. I love this pack because it comes in multicam, is large (80L), BUT is very lightweight. 4.87lbs to be exact. That's right down there with other commercial packs even smaller in size.
But, amazingly, it comes in multicam. Not the typical heavy cordura multicam (That ends you up with a pack weighing 10lbs or more.) but in a lighter weight nylon type fabric. I can't find the actual name of the material but it has to be light weight to bring this pack in at such a low weight level. I only wish they would start making clothing out of this stuff. Like light weight hiking pants in multicam. Currently you can only find Crye's 65/35 polycotton. Which are cotton number one. And are bulky and heavy number two. But I digress...
I really like how everything on the pack - from buckles, to straps, to cables - are small and lightweight. But not to small. And very rugged looking. It really looks like they tried to build a large rucksack for special forces with ounces in mind. (Which is probably what they did.) The shoulder straps and waistbelt look just as rugged as any you'd find on a typical commercial rucksack. But you can tell even from the pics that the strapping material is straight up tough. Without it being heavy weight nylon webbing type. It almost looks like cut strips of tarp material. But in multicam. And that's the big deal with this pack. It's a really lightweight hiking pack - but in multicam. Thus far I have not seen that combination in today's backpack market.
But at $730 it's priced out of my market. Maybe one day we'll see this fabric used elsewhere and the price will come down.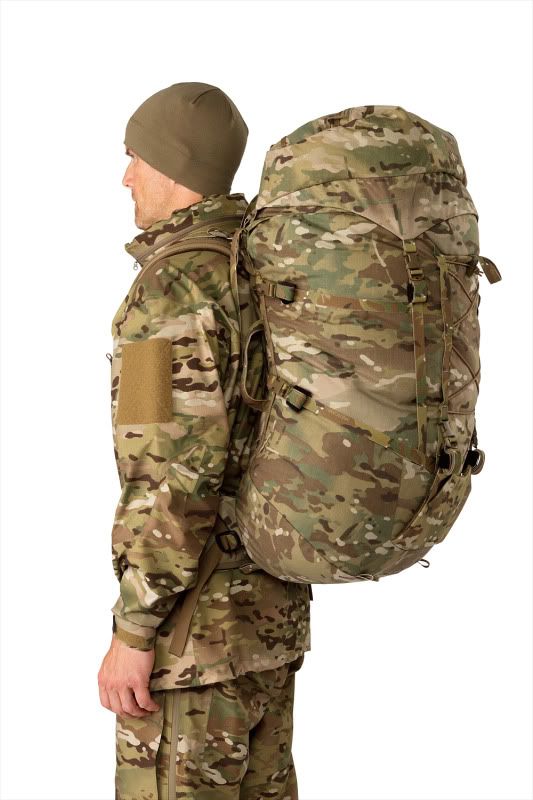 Arc'teryx Khyber 80 Multicam
Large, lightweight 80 litre expedition pack built with the new C2 composite construction suspension system.
Clean design, significant features. Fast and light top loading patrol pack has streamlined cable and hose management and hydration ports to remain neat and compact. The C2 composite construction suspension system drastically reduces weight to optimize weight-to- carry ratio and bears load close to the body, conserving energy. Dual density shoulder straps distribute weight over a broad, rigid surface for increased comfort. Removable aluminum stays can be custom shaped. Essential features include removable top lid with hydration ports, external compression shelf and multiple internal and external lash tabs and daisy chains for versatile compartmentalization options. Wide shape minimizes silhouette, adds mobility while on patrol.
Technical Features
Durable
Supportive construction
Construction
Twin removable aluminum stays for durable support
Top and side grab handles
Pack Pocket Configuration
Large volume top pocket with key clip
Main compartment pocket
Pack Hydration
Hydration bladder clip
HydroPort™ openings on top of shoulders and on side pockets
Micro-webbing hydration hose loops
Pack Suspension Configuration
Anatomically shaped shoulder straps and hipbelt
Adjustable, removable sternum strap
Removable thermoformed hipbelt can be turned and clipped around main compartment for less bulk during transportation
Quick-release shoulder strap buckles
Padded, contoured shoulder straps
Rigid composite backpanel
Two removable aluminum stays can be custom shaped
Arc'teryx C² (Composite Construction) suspension system
Load level adjusters
Pack Loading & Closure Configuration
Extendable collar with drawcord for additional capacity
Top loading lid closure with two buckles to secure pack contents
Large, webbing pull-tabs for quick and easy, glove-friendly access
Corded zipper pull tabs
Pack Lid Configuration
Removable, quick-release top lid
HydroPort™ opening in lid
Pack Compression Strap Configuration
Four compression straps - two on each side
Modular, stowable bungee compression system
External compression shelf
Pack Attachment Configuration
Tabs for adding shock/ static compression cord
Micro daisy chains
Front attachment loops
Internal daisy chains
LEAF Features
Hydration and Comm ports allowing hydro tube, mikes and cords to be routed to either shoulder strap