The PITA of going from the kifaru belt to the HPG belt is that they are enough different that you really have to re-bend the stays to get maximum potential out of each.
just weighed my ILBE again, down to 5lbs 10oz with HPG harness and belt.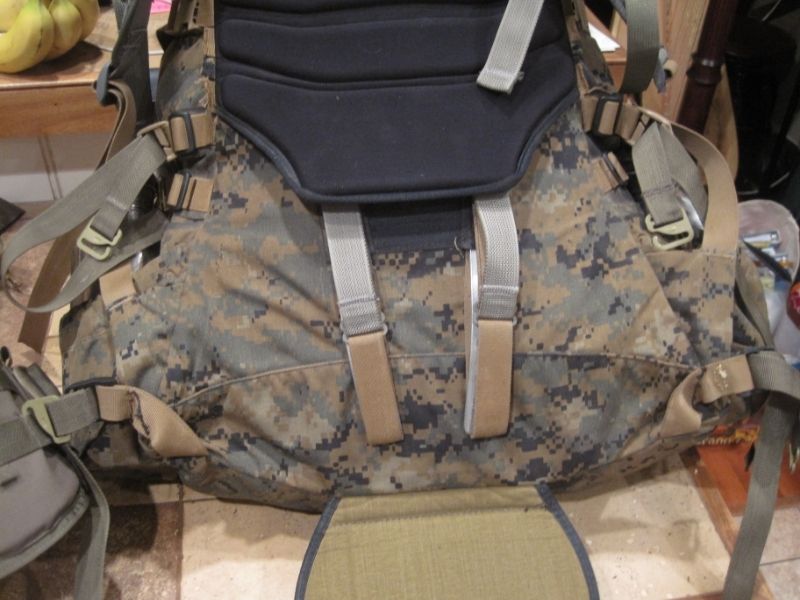 I removed the frame sheet and cut off those fiberglass rods that go from the frame stays to the bottom corners of the bag. I had to relocate the ladderlocks that cinch in the waistbelt to get a more appropriate angle for the kifaru/hpg belts. This set up uses the corners of the bag to wrap around the belt and transfer weight just with tension and proper loading of the pack. It's a little more finicky but I think the end result is more comfortable.
I mounted upper and lower belt tensioners using repair ladderlocks and HPG g-hook straps, I mounted the HPG harness by running straps up from the velcro belt retention straps.
I am
THIS
close to chopping off the backpanel foam all together, my back doesn't really make much contact with it anyway. I have also decided that the lumbar pad is way too thick for me but I hesitate to hack it off just yet. If I do I'll just add a thin flap with a single piece of camp mat.