No Man's Land - Part 3 Arrest and Redemption
***** Sorry for the delay Gents. I'll post Part 4 a year from now!
I recently sold my business and I am going to have a few months off before I start my next venture, so I am hoping to update this on a slightly more regular basis. I think it is a fun premise and welcome any feedback.*****
The thirteen survivors of the blood soaked carnage staggered out of the train station. Crawford led the group to a nearby tree and had a corporal get a roster of everyone that was left and their originating unit.
Crawford walked back to the station, knowing that he needed to check on the status of the radio room. When he arrived he wished he hadn't. The sights in the small room and the smell of death penetrated his soul. He the urge to vomit overcame him and he held one hand on the door frame as he retched next to the wall.
After composing himself he walked over to his work space and picked up his backpack and loaded it with his belongings before gingerly making his way back to the door.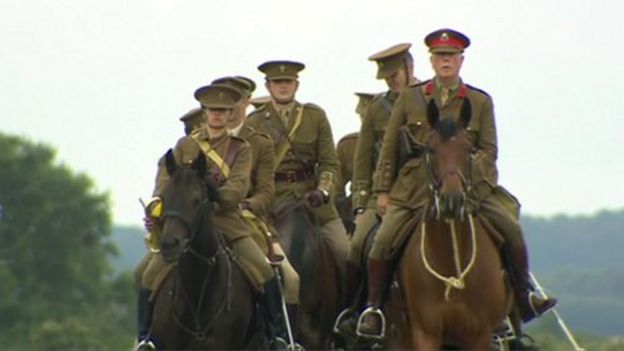 As he walked out of the building he watched as thirty or forty cavalrymen arrived at the station. They quickly dismounted near "his" troops who quickly snapped to attention. He saw one of the soldiers pointing in his direction. The group of cavalrymen made their way over to Crawford.
When the group made its way over to him he stopped, stood at attention and saluted.
The Major looked over his soiled American uniform and gave a him a disdainful look.
"Who are you?" He asked.
"Warrant Officer Roy Crawford, Sir. Attached to the …"
"I didn't ask what unit you were attached to Conductor!" He snapped back.
"What happened here?"
Roy relayed the story regarding the events that happened earlier in the morning.
"So, you are saying that you and these men killed all of these soldiers?" His face a mask of terror.
"Sir, as I said, we re-killed them after the German gas turned them into … um … demons."
"Sergeant, immediately arrest these men for treason. Take them to our field headquarters and hold them until further notice."
Crawford quickly stepped forward and was caught on the side of the head with the Sergeant's rifle butt, he collapsed to the dirty snow.
"Sir, the men were following my direct orders."
"Orders that they knew were illegal. You and your men are sentenced to be killed tomorrow morning at first light by firing squad."
The rifle butt came down again.
The cavalrymen quickly round up the surprised troops and put them into two horse-drawn wagons, unceremoniously throwing Crawford onto the floor of the wagon.
_____
Crawford was able to open his right eye, but couldn't focus on anything. He raised his head up slightly.
"Oh boys, he's up." A voice that sounded like it was in a tin can broadcast to the rest of the room. "Let the guard know."
A number of hands helped him into a sitting position.
The group of thirteen faces slowly came into focus. Someone handed him a small metal tin of water which he gladly took.
"Where are we and what happened?"
A cacophony of voices answered.
"That cocksucker Major Magee threw the all of us in the brig!"
"Right and says we're ta be shot in tha morn'."
"General Butler stops by and says the guards are to fetch 'im once you're back wit us."
"Well, maybe he can clear this up for us." Roy croaked as he held his head in his hands.
_____
The general stopped by the brig a few hours later. "Conductor are you wanting me to believe that you and these thirteen men killed 255 armed men by yourselves? I think your story doesn't add up."
"Sir, they were unarmed."
General Bulter began to open his mouth before he was caught by Crawford.
"That's not what I mean sir, this German gas turns them into some sort of bloodthirsty demon. They could care less about a gun sir they just want to rip you limb from limb and eat your brain!"
"Rubbish!"
"Sir did you say that there were only 255 casualties? There should have been … 300 plus the telegraph station makes 310. 310 minutes thirteen, fourteen. Sir there should have been about 295 dead."
"This is serious business Crawford, the whole lot of you are going to be shot by firing squad tomorrow morning and this is your defense?"
"Sir, if those things are out there, more men and even civilians could be at risk!"
"You're barmy!" Butler said as he walked away.
"We could find them for you sir!"
The door to their cell slammed shut.
______
Sometime in the middle of the night, the door to the jail burst open. The general and Major Magee burst into the room.
"Crawford! You were right! Get your men." The general yelled.
Crawford and the men wearily stood.
"Get the bloody cell door open!" The general screeched at one of the guards who was fumbling with his keys.
"Looks liked you cocked it up General." Came a voice from the darkness.
"You beligerent son of a . . . "
"Now now Major," the general said, placing his arm across the Major's chest. "I apologize boys, Chinese whispers and all, I should have put more though into this. Turns out there are reports all up and down the lines of demon like men getting possessed after they're bitten and they refuse to die. Major Magee will accompany you and your men to find them and kill them."
"Yessir, we'll get cracking. We need our guns, coats and supplies sir!"