Ladies and Gentlemen, Scholars and Scoundrels, I present to you -
The
Simply Rugged Cuda Holster
!
This is what I carry my 1911 in every day. I purchased it, IWB conversion straps, a belt, and two magazine pouches on October 18th and the package was shipped on Nov 22.
APPEARANCE
This is the "Oxblood" color, and it's very pretty (and matches my Red Wing boots, too!). The floral embossing is exquisite. I cannot find fault with the workmanship on this piece. Everyone at the gun shop ooh-ed and ah-ed. The holes in the corner are where the IWB straps get bolted on - these allow you to stuff the holster down your pants and still loop around the belt. They work well, but I've pretty much gone OWB only with this piece once I discovered I could get away with it - I don't want to damage the embossing.
Of course, if you're going for incognito looks are not as important as
CONCEALABILITY
I wear this with nothing but a sweatshirt over it and noone is any the wiser. There are three slots to thread the belt through, so you can orient the gun upright or slightly canted. I've found the cant eliminates printing almost entirely. If you put this IWB, you could get away with almost anything looser than a muscle shirt.
COMFORT
I can wear this all day every day at the 4 O'Clock position. Sitting, standing, driving, jogging, the holster fits perfectly. You can definitely tell that it's there, but it's never painful, and the only discomfort comes after many hours of wear when you start to get tired of having weight on your hip. The flap of leather prevents the gun from digging into your skin, but an undershirt is still recommended- the steel of the grip extending beyond it gets pretty cold on bare skin!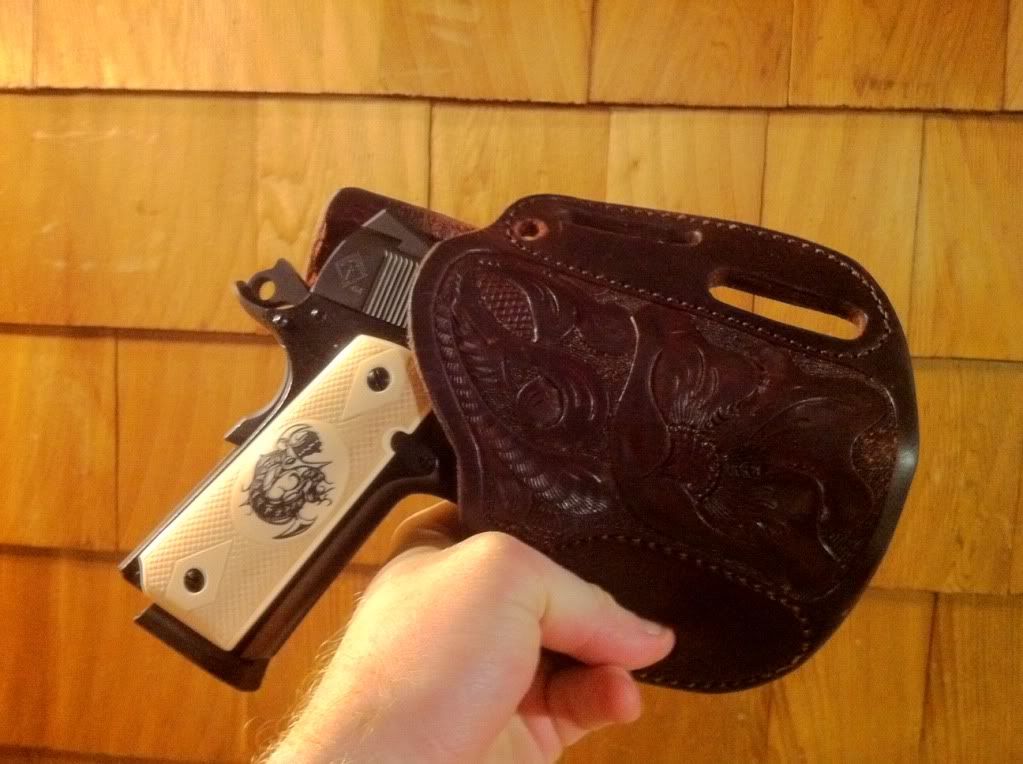 The belt is thick and wide. I ordered the widest length available, and when first picking it up I thought "DAMN. This is an unreasonably thick and wide belt." Once you're wearing it, though, it looks just like a normal belt, apart from a larger than usual buckle. The belt does an excellent job of bearing the gun's weight without any sagging.
RETENTION
That's all well and good, but how well does the holster actually, you know, hold things? Take a look:
Note that this image is blurry because I am gently shaking the holster.
Yup, it holds. It holds even better when it's on the belt - this is a pancake style holster that relies on pressure and friction, so no thumb break. When it's on your belt, the pressure created from cinching the belt keeps it in place amazingly well. I've jogged, sprinted, and even done a cartwheel with this on and my gun didn't so much as slip. I've noticed a definite break-in - for example, when I first got it I couldn't shake the gun out one-handed, now I can. This break in hasn't affected retention when the holster is properly belted on.
DRAWING
Despite this retention, the gun draws easily from almost any position. I've done drills standing, sitting, laying down, sitting in the car, and kneeling.The only issues I've had from drawing have been from clothing getting in the way. The gun leaps into hand perfectly positioned every time. The breakin has only made this easier. Holstering is also easier - you do have to get the angle right for a silky-smooth experience, but with a little practice this becomes second nature.
DURABILITY
This is thick, heavy leather. It will scratch, as evidenced by the inside (where the slide scrapes if I don't get the insertion angle right), and you shouldn't get it wet. I am concerned about the effect of prolonged IWB carry on the artwork, so I've decided to carry this OWB only. It should also be noted that since this is dyed leather, it WILL rub some color off onto your pants and shirt. I've noticed this decrease significantly over the past month, but I would still recommend you wait a few months of heavy use to wear this with your bespoke suit and hand-crafted dress shirts made from the soft tears of innocent children.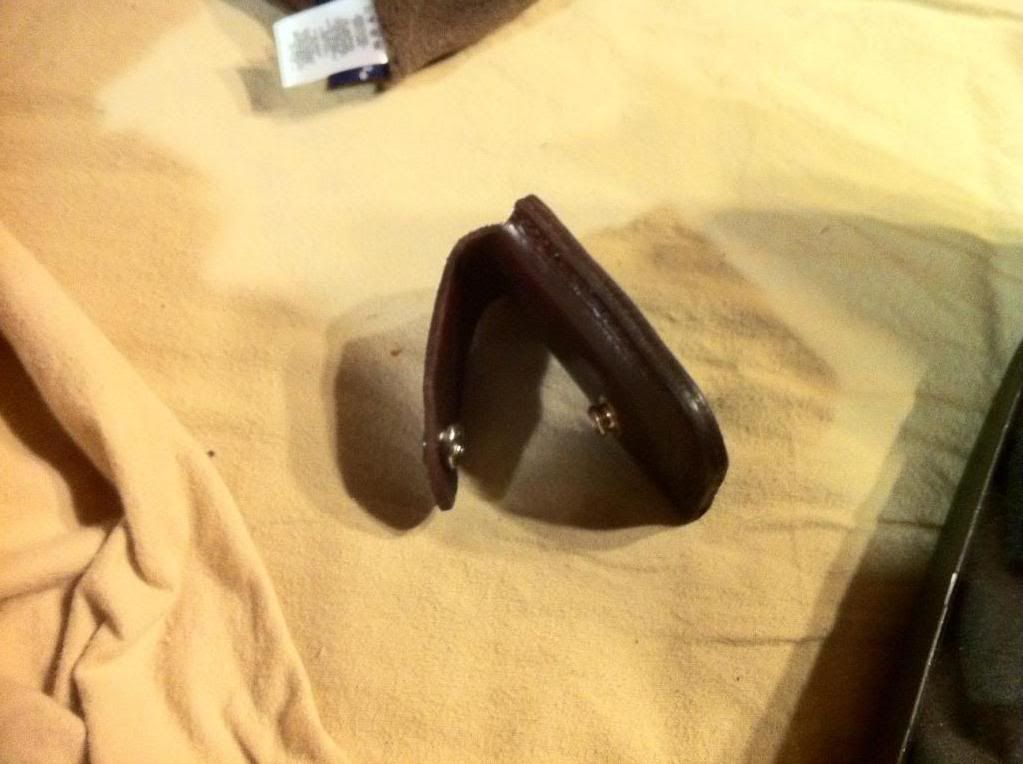 The mag pouches are pretty standard, clip on affairs. One of them was a little too tight to effectively pull the mag from, but after a little break in period it's just fine. I've actually pressed on into duty as a multi-tool holder when it's not carrying out its intended job. The mag pouches work well.
The belt is also excellent, and very reasonably priced.
Overall, a fabulous holster. It's pricey at $60 ($120 with embossing), but for a handmade holster made of quality materials made in the USA that's not bad. It certainly has a lot more character than your standard Kydex piece.