The Reapers are the Angels
came highly recommended by Google. Blog reviews all seemed to say how surprisingly smart, and literary it was especially for the z-genre. It also won some kind of national library award, had a 4 and a half out of 5 star rating on Amazon, and is getting it's own film.
Here's Amazon's synopsis:
"Zombies have infested a fallen America. A young girl named Temple is on the run. Haunted by her past and pursued by a killer, Temple is surrounded by death and danger, hoping to be set free... Moving back and forth between the insulated remnants of society and the brutal frontier beyond, Temple must decide where ultimately to make a home and find the salvation she seeks."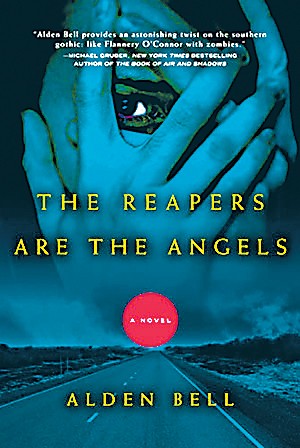 So, I was sold. Here's what I thought:
Alden Bell doesn't seek to revision the zombie-apocalypse formula in
The Reapers are the Angels
. Far from it:
A) The undead are "slow-mo" George A Romero kind.
B)It demonstrates by the end that humans were the real danger all along -- another Romero iteration that has become cliche.
C)There's gun-toting good ole' boys from the Deep South, most of which adapt to the post-apocalypse with incredible resiliency.
Yet the cliches are totally forgivable for the simple fact that Alden Bell is a great writer. Hell, he should be, given he's a college professor who earned a doctrine in English. His minimalist, no-filler style keeps the plot moving. His descriptions of nature and the crumbling world are beautiful and surprising. Temple's tough, non-nonsense approach to other people is unique and endearing. It's less about blasting hordes of undead (although that happens!) than an exploration of a lawless, post-apocalyptic society, which gives it a Wild West feel.
If you're looking for something smart and unique yet familiar, I'd recommend
The Reapers
to readers of any genre. If you're into zombie literature, this book is a must. Four out five stars.