I have been trying to clean up the workshop full of half-finished projects and random parts. Below is one of the weapons to come out of this effort.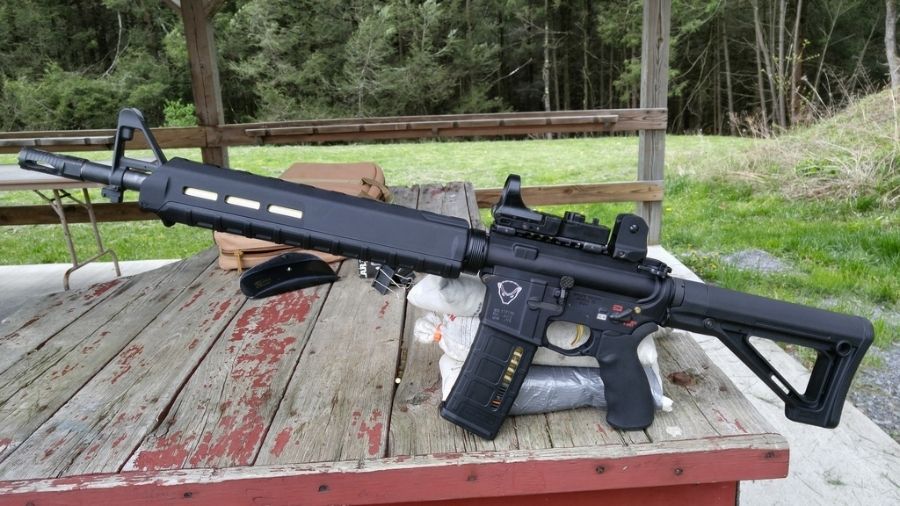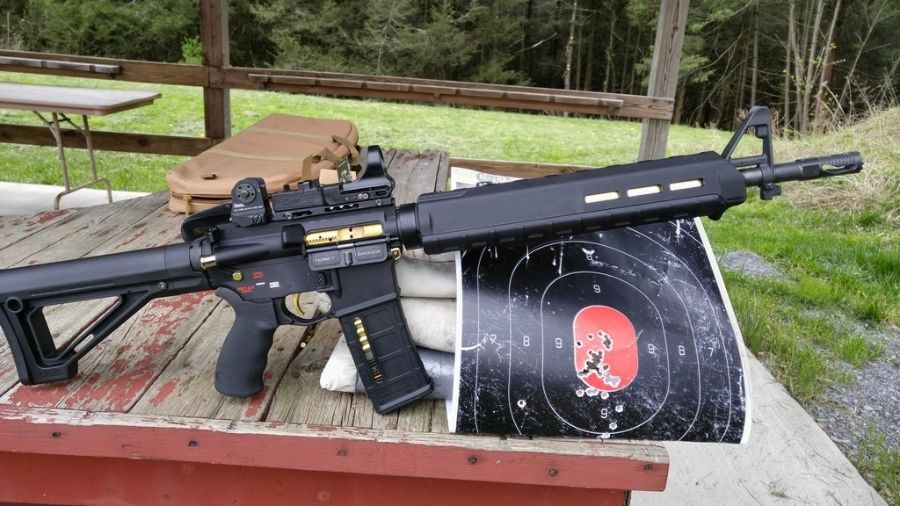 It's a True Dissipator(16 inch barrel with rifle gas system) with honey badger lower and JP enterprises parts.
The parts I started with are the following.
Mostly blemished and damaged parts I picked up cheap or free over the last year
16 inch light contour true dissy barrel (drilled Divots at the gas block area- unseen with gas block in place)
Spike's stripped upper (Factory Blemished finish)
Magpul fixed carbine stock (Damage to the mounting fixture- unseen)
Carbine buffer tube refinished in gray (unused from my lightweight project)
Ergo rubber grip (Came free in a parts kit)
Troy muzzle brake (Used from Ebay for under 20 bucks)
Light weight buffer and spring (Christmas present from the misses)
Black rifle length gas tube
Daniel Defense A1 Rear Sight
Blackhawk 45 degree safety
Seekins bolt release
Misc. lower parts (Springs, pins, take down pins, Mil spec barrel nut, weld spring, ect)
This was the starting point.
I had the beginning of a Franken gun project.
That's not what I wanted the finished project to be.
I wanted to try and salvage it as best as possible.
I started with the lower.
The upper I had was a spike's flat matte black (Blemished).
Nothing the local gun shop had match this finish so I settled on a Spike's honey badger lower
To save money I decided to go with a drop in hand guard rather than a rail.
Options for an aftermarket drop in for a rifle length gas system is limit to magpul or…Magpul.
It worked since the stock I planned to use was a magpul.
Next was the barrel.
Since I was going with a tradition hand guard, I decided to go with an A2 Front sight.
I spent about 100 bucks (40 on parts and 60 on labor) to have an A2 front sight post attached.
It does a nice job to cover up the divots in the gas block area.
The Troy Muzzle brake was more a functional decision.
Dissy are famous for being under gassed due to lack of dwell time.
I choose the brake over a flash hider in the hope it would create enough back pressure to aid in cycling the bolt.
Lightweight Spring and buffer again was a functional choice to help with cycling the bolt in an under gases system.
Cosmetic improvements were a must for this weapon to try and take away from the Franken gun look.
I found a Honey badger ejection port cover at tactical galaxy for about 20 bucks.
Next I did something I don't normally do. I added some extra "bling"
I normally loath the "Bling" (Shinny parts, graphic wraps, skull paint jobs)
I feel excessive bling takes some of the practicality away from the weapon.
But, I decided to be a hypocrite and move towards the "Bling" just a little bit.
It started when I was searching for a BCG. I found a DPMS Titanium Nitride BCG for about 145 bucks on Gunbroker . Being Gold (Bling) in color I normally shy away from TiN parts…But I got to thinking this is a Honey badger Lower. Gold is the color of honey and badgers love honey.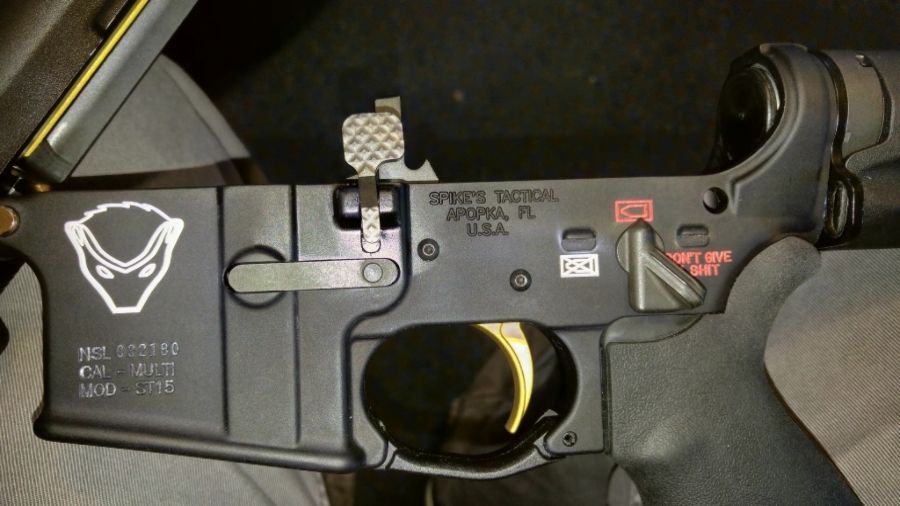 Fire Control Group. I like it when the trigger matches the bolt for visual reasons. I found a TiN fire control group at KE Arms for under 50 bucks.
I DO NOT recommend the KE Arms TiN Fire Control group.
The TiN Coating added enough thickness to the Hammer to cause the trigger not to reset after cycling. The hammer would snag on the disconnect and hang up on cycling. You had to push the trigger forward to reset the fire control.
I tried to file some of the coating off the hammer hook that interfaces with the disconnect to correct this. I filed too much and I ended up with a weapon that double fired. I had to toss out the TiN hammer and look for a new hammer.
I found some deals on JP enterprises parts at JSE surplus.
I installed a JP lightweight hammer, Improved Trigger/ hammer springs and no walk pins.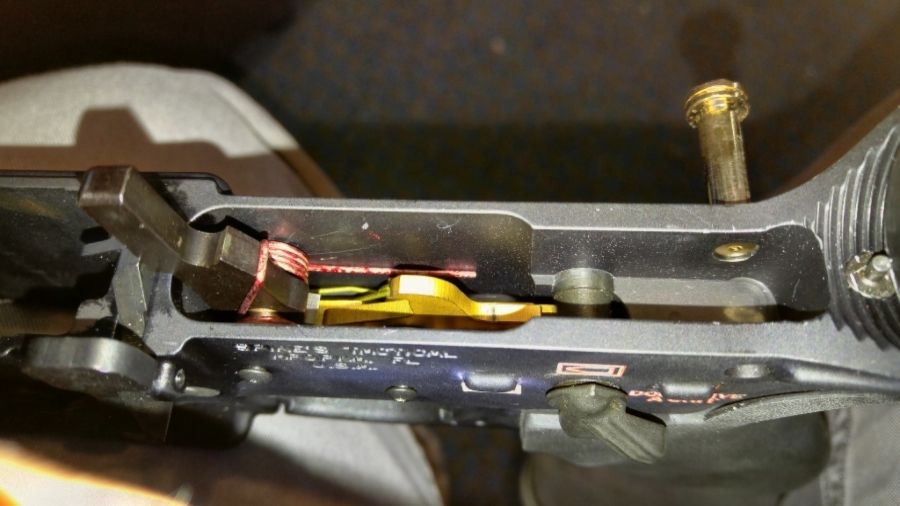 Also, I installed a Blackhawk 45 degree safety I had on hand. I normally don't like Blackhawk since they sold out to Walmart, but I like the design and function of the safety. Also, the color filled grove on the right hand side is a good indicator if the weapon is on safe.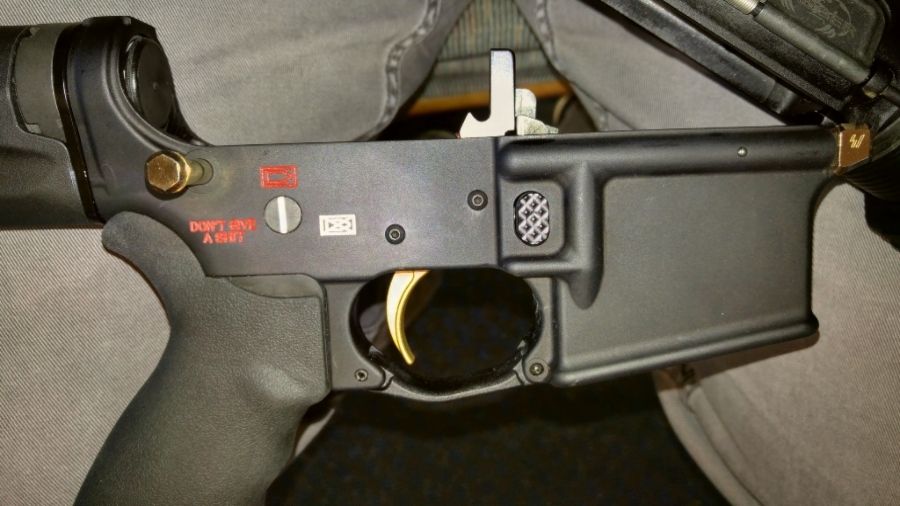 Lately I have been using Strike Industries charging handles. They are about the same price point as a Mil Spec, but are milled out a little to save weight.
While looking at Strike Industries Parts I came across a Gold Forward assist and take down pins. Total for the two parts was about 40 bucks so I decided….yeah go for it, More Bling.
I don't half ass anything and that includes being a hypocrite.
I finished the build up with some color filling to the lower and safety.
The rifle came together nicely.
It cycled perfectly for 40 rounds (After the hammer was replaced)
I topped it off with the Daniel defense rear sight and C More optic.
Over all I'm happy with the spare parts gun.