Hello, I'm new to ZS and thought I'd share my latest purchase. I'll be sure to introduce myself next in a thread, but for now here's a HNGD thread! (happy new gun day)
Hatsan Escort MP.
For those unaware, its a Turkish made tactical shotgun equipped with an adjustable fiber optic front sight and rear ghost sight mounted on a picatinny rail fixed to the top of the receiver and it has a 7-1 shot capacity.
I chose this model in OD green as I found it to be more appealing visually than the run of the mill all black tactical look. (Saving that for my future Magpul 870 or 590)
Its rather light, but I sort of expected that since it has an aluminum receiver and plastic furniture. My other Hatasn is similar in weight so again, no surprise.
The matte black finish is nicely done, and I was glad to see the blacked out Escort name on the receiver's sides as opposed to some that I've seen with silver writing from years prior. This gun is the lastest incarnation of the Escort line and is dated as imported in 2013 by Bell Lifestyle.
Take down is easy, and inspection of the build quality and fit and finish was done first thing. No issues found, everything looks well made. Again, no surprise based on my Optima.
The stock is, OK I guess. I'll have to fire it. I know it will kick hard because my other one did too before upgrading to an ATI. The mag tube is one piece as well, no extension.
It also has a heatsheild over the barrel and comes with a large flash hider attached. An aggressive toothed door breacher is also avail. if so inclined. The hider can be removed and you can then attach the supplied thread protector.
It has the two emergency shell holder built in the right side of the stock as well. I'll likely just put a couple of slugs in there and leave them be and keep them for "insurance" lol.
The pistol grip is rubberized, but not really squishy. Comfortable, but also quite large. My hands are average sized, but if you got big mitts, you won't have any issues here.
There is also an integrated picatinny rail under the the forend for gadgets. Not sure it will see much use honestly, as this will be just a fun slug and target gun. It will be a blast to shoot my gong with.
OK, pics....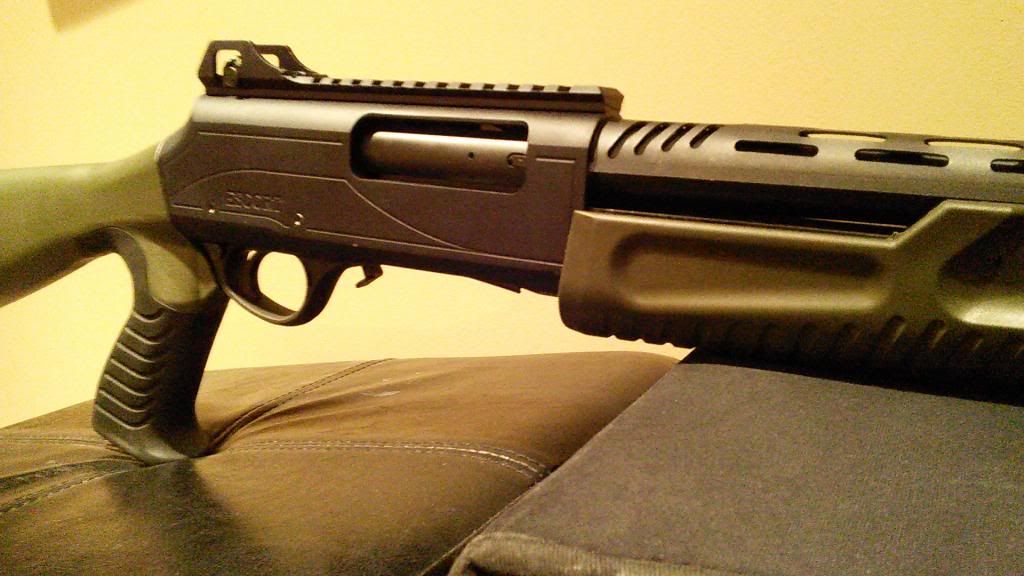 Along side my other Hatsan, a 20' Optima Marineguard fitted with an ATI Talon telescopic stock.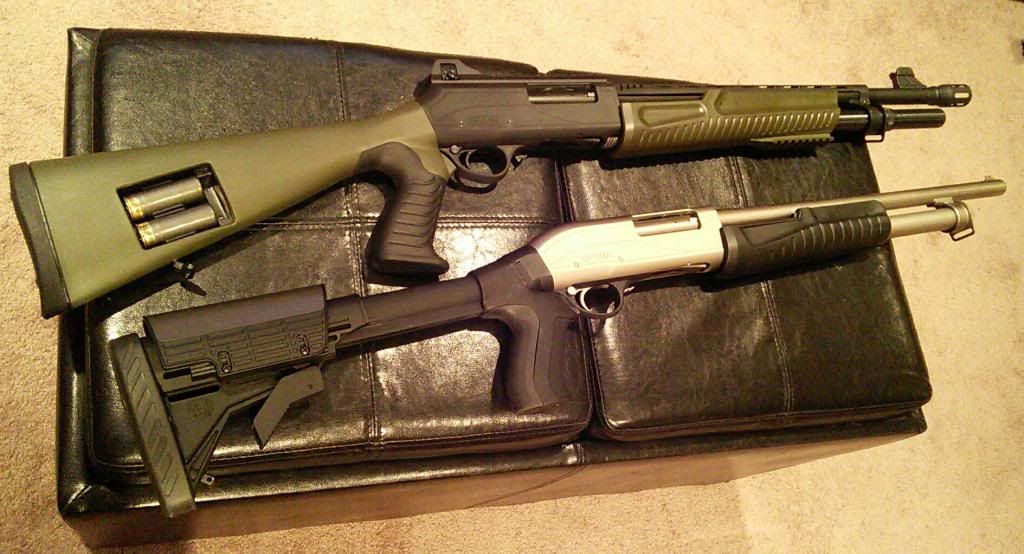 I've since added an additional "dreaded" slip on recoil pad because I know how these particularly lightweight Hatsans can make your shoulder feel after 25+ shells in a short time lol.
I actually don't mind how it looks! It matches the other black parts, fits perfectly, and leaves access to both the sling attachment and shell holder. Plus its now equipped with two recoil pads stacked together. Added an extra inch of LOP too. Not too shabby.
Function over form, as they say!