Turtlewolf wrote:
Dave_M wrote:
Turtlewolf wrote:
Other than your usual pointless sarcasm, do you please have links and or proof of issues so we may all learn?
Google MPA. Have a gander at their current projects. Talk to someone who has actually handled and fired their products. There are several on this board.
Alrighty, I was hoping you'ld have a specific link-I did ask with an open mind as I think we don't ever stop learning-I googled earlier and found some pretty decent reports on thier MAC clones but nothing glaringly negative yet.
Not working this afternoon so I'll look harder, thankyou for the reply Dave!
Okay, allow me to fully explain: First and foremost, understand that for fighting guns, I only go with known quantities. I do not like being the test subject when it comes down to something that I may have to defend my life with. Yes, I have and will continue to do testing and evaluation of new pieces of equipment but until it is fully vetted it doesn't make it's way onto a fighting/work gun.
Master Piece Arms ('MPA' for the rest of this post) is not known for either high quality nor high quality control on
anything
that they make. The vast majority of their OEM products are cheap (notice that I did not say, 'inexpensive') closed-bolt, semi-auto MAC clones (not that the MAC/M series was ever all that high class to begin with). They have terrible triggers (to be fair, so did the original select-fire MAC's) which require rubber bumpers as to not rattle a flange apart, are incredibly fickle and finicky about the type of ammunition utilized, and the magazines are hit and miss.
MPA makes mall-ninja shit that only mall ninjas buy.
The non-OEM accessories they carry include very high quality gems such as NC Star lights and lasers--well, if MPA knows anything, it's their customer base.
When something is both cheap and, 'looks badass' it's going to attract a certain type of customer. That customer is going to buy something solely based on two factors: Price and aesthetics (people who buy Hibben and Bud-K knives come immediately to mind). Reliability never comes into play. Never. This is the type of buyer who puts a magazine through something and says, 'I've fired a couple hundred rounds through it and
it works for me
'. Just look at the airsoft-knockoff crowd or the Hi-Point owners and you might get the picture.
Why should I expect MPA to make a high quality, reliable, and durable 5.56 rifle when they can't even make a shit-box semi-auto clone of a MAC run reliably? Let me add even more perspective: Bushmaster, a very large manufacturer when compared to MPA, who
already manufactures middle-of-the-road 5.56 guns
, couldn't get a newly designed 5.56 gun (the ACR in this case) to work across the board. Remember, this is a company which
already
manufactures rifles on a scale hundreds of times larger than MPA. Smaller companies don't do much better (Robarms anyone?).
Imagine why I'm skeptical? Take NC Star. Pretty much everything they make is shit, dick, and ass. Should I consider buying a new NC Star scope just because it's new? I mean, the guys who base everything on price will huff and puff and call me a, 'elitist' or a, 'snob' for not considering the new NC Star 2-18x Chinese shit-tube they just produced. What's one of the definitions of insanity again?, trying to do the same thing over and over again but expecting a different result?
So no, I'm not exactly jumping on board this MPA 5.56 carbine freight train. Why? In short: The current stuff they make doesn't exactly inspire confidence nor admiration and there is no merit or reason as to why their current offering should be anything other than the same shit they've been making for years now.
I hope it all goes well. I hope it's 100% effective and I'm proven wrong. However, you can be the unpaid T&E on this one and not me. I've been burned too many times on too many whizz-bang gee-whiz products to be the test monkey. It's like Hesse claiming they invented something new. Not. Buying. It.
Now go and do whatever else does: Call me a snob and a suppressor of innovation for using known-quantity products and being skeptical of companies with known issues.
_________________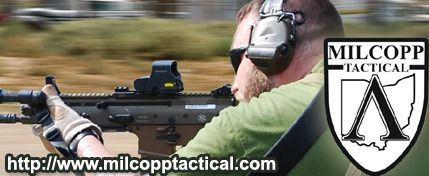 Dave Merrill
Instructor for MilCopp Tactical LLC.
Rifle first. Rifle last. Rifle always.
Civilian Scout wrote:
No one buys a Taurus because it's the best option available.