so right now I have a boring ol' Ruger 10/22: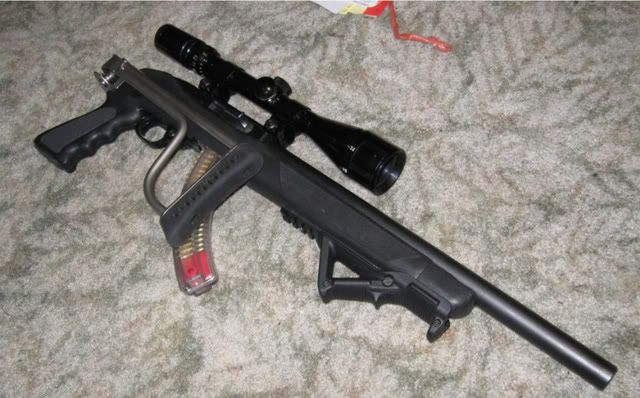 I put a cheap Clarks bull barrel in it and carved out a butler creek stock to fit it. Because I was too cheap to buy a nice trigger it isn't exactly a tack driver (my brother's is significantly better with same barrel and a light trigger).
SOOO.....I don't really target shoot much and when I'm hunting non-game animals I usually grab my WASR so this guy has been sitting unused for some time. I am trying to be less sentimental about my guns and only keep ones that I use or intend to hand down to kiddies. I am looking into building more of a lightweight survival rifle that actually stands a chance of getting grabbed in an emergency, as this rifle is 6.5 lbs empty. Focus is on survival hunting in either a vehicle bug out or on foot. So here is what I am considering:
Easiest/most direct:
http://www.agparms.com/agp-arms-10-22-t ... y-options/
for $260 I can make my ruger into basically a tactical marlin papoose. 3.5 lbs before optics, and as compact as you can make a 16." If I built this it might be the wife's bug out gun as she only has a full-sized AR that would get left behind.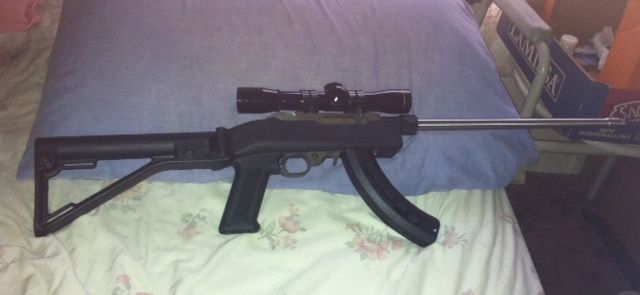 Lightest weight:
Sell the 10/22 and buy a browning buckmark. the lightweight frame with 5.5" barrel weighs 28oz (or 5oz more then my 10/22 receiver by itself). with the barrel options out there I could buy a 10" barrel for extra zing or possibly even find a 16" and have pistol/rifle flexibility. Red dot would be added as I suck with handguns, this could be carried anywhere and would offer the best opportunity hunting potential.
least redundant:
sell the 10/22 and buy a Glock conversion kit:
http://www.advantagearms.com/mm5/mercha ... y_Code=GLK
I carry a glock every day so having a conversion to practice with and expand its potential makes sense, but this would actually cost more then the previous two options and I wouldn't have a separate weapon (meaning I would have to give up my defensive weapon in order to go hunting). I am guessing this would be the least accurate option, no optic would put me at a disadvantage.
similar option:
Sell 10/22 and buy an AR conversion kit:
http://www.brownells.com/rifle-parts/bo ... 40151.aspx
My future BO gun I am building will be an 11.5 AR pistol, so similar to the Glock I would have to convert the gun when i wanted to hunt, meaning opportunity hunting would be difficult. Also guessing accuarcy is suspect, but I would have a higher quality optic on the AR then any of the other options (aimpoint or ACOG), would be sighted in for 5.56 though.
So specifically has anyone had experience with the last two options? Are they a training only kind of thing or would you be comfortable hunting with them? Anyone heard about accuracy of the AGP lightweight barrel?
I am currently leaning toward the first option since it would require the least amount of work and I already have the gun and mags but I am trying to pick the most practical solution.