Ive been lurking and looking at various threads and had a realization that my 3 "go-to" guns are horribly mis-matched!
I figured Id see if anyone else has had the same experience, aswell as post a picture for fun, as hell, guns are fun to look at!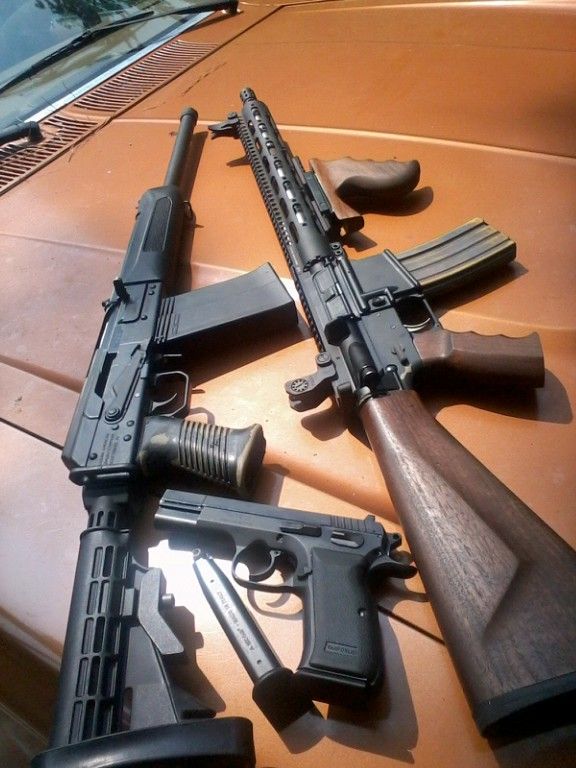 My well worn and hideous Saiga 12, with its horrible Tapco T-6 stock set that ended up on it because i couldnt find anything else local when I converted it, and somehow have some how grown to like
Im thinking of one day nabbing a Vltor stock tube and fitting a mercury recoil reducer into it...
My Tanfoglio Witness in .45ACP, which for some freakish reason seems to be just about the best fitting pistol for myself Ive ever handled... even prefering it over any 1911 Ive ever held...
And My Mutt-tastic mutant AR-15 that I never intended to build, that ended up with wooden furniture because I simply prefer wooden furniture...and a wooden foregrip made from a Thompson foregrip and a rail mount because I liked the idea of a foregrip but didnt want a synth one on it. Then spent 2 weeks trying to match the oiled finish on the stock to the foregrip....
Even though I should have a wood set on my Saiga because its a freaking AK
So, anyone else have any horribly mismatched sets?