In this thread, many of the general-use and general-knowledge threads about firearms are enclosed. Have a question? It's helpful if one performs a quick search before asking because many have been answered before.
Firearms Safety
First, last, and always. Read it.
Firearm Storage Recommendations
This a very good primer about where your firearm (be it a handgun or long gun) will be 99% of the time.
All about Gun Safes.
A great write up about safes and security cabinets.
Cleaning and Maintenance of your Firearms
Talk about well, duhh, cleaning and maintenance.
New Ammo Price Watch
Self-explanatory and regularly updated
All Purpose "Help me pick a gun for my budget" thread.
Hey, we all are pondering this age-old question. Let's stick it all in one thread
All purpose "Help me build my AR" thread.
Who
isn't
building an AR these days? Lots of questions answered above.
All purpose "X or Y" thread.
This thread is for the, "Should I buy a Ruger or a Smith" etc etc. All of the opinions thrown into one thread.
How to pick your first defensive handgun
Trebor's very well thought-out and experienced view about picking your first defensive handgun. A must read.
The Basics of the Fighting Carbine
Want a, "Fighting" gun? Above is a good primer for the broad strokes.
Basics of Setting up Fighting Gear
Broad strokes of rigs associated with fighting guns.
Be sure to check out Zombie Squad's
Hall of Fame
forum for more excellent and informed reads that cover many facets of preparedness.
_________________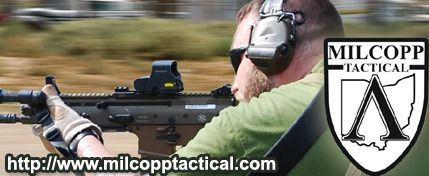 Dave Merrill
Instructor for MilCopp Tactical LLC.
Rifle first. Rifle last. Rifle always.
Civilian Scout wrote:
No one buys a Taurus because it's the best option available.