For a long time I have used Scepter military water containers. A couple of months back I was traversing an old wagon trail called the Mojave Road (info at bottom of this post). Some offroader lost a Reliance 7 Gallon Aquatainer which fell off the trail and rolled into the bushes. It was missing the cap which I picked up for $5 at Amazon
https://www.amazon.com/Reliance-Product ... RJQ8JAXNK9
New containers are $14.95
https://www.amazon.com/Reliance-Product ... op?ie=UTF8
I took the "lost" container home and cleaned it out. I found it to be scuffed but no leaks. I filled it with water and a good dose of chlorine and put on the new cap. Laying it on it's side it did not leak anywhere. I did see at Amazon one guy added an O-ring to the spigot stem
"I read the other reviews, everybody says the spigots leak. But so does every other water carrier spigot on the market that I've seen, so what then? I looked at the cap, there is a nice thick rubber gasket seal in there. Cool, so that won't leak. The spigot has a nice flange at the base of the threads, and the surfaces on the cap match up nicely. As if it was designed to have an o-ring there... Well, knowing that this would be a leak point, I went to the hardware store with it and matched one up. 7/8" ID, 1/8" thick was a perfect fit. I filled it up and placed it on it's side with the spigot pointing down, not a single drop in an hour. 47 cents was my cost, your local hardware store may be cheaper, a bulk order for someone mass producing water carriers would surely get them cheaper..."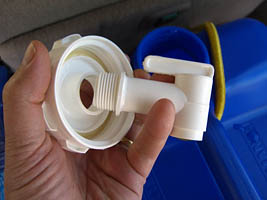 There are 693 reviews on Amazon and the bulk of them are good. Perusing the poor reviews it almost seems as if Reliance has spotty quality control.
To me the chief flaw is when the spigot is placed on the inside of the lid and in the water. That leaves the spigot opening exposed to dust and dirt. I'd put a small rubber plug/cork into the opening. I think leaving the spigot screwed onto the outside is inviting it to be broken off.
Mojave Road info
_______________________________________________________
Very nice maps:
http://www.davebarton.com/mojave
http://www.mojave-road.com/
Mojave Road Guide by Dennis Casebier (ISBN: 978-0914224372)
_________________
Most of my adventures are on my blog
http://suntothenorth.blogspot.com/
" onclick="window.open(this.href);return false;
My Introduction With Pictures:
http://zombiehunters.org/forum/viewtopi ... 10&t=79019
" onclick="window.open(this.href);return false;
Graduated with honors from kit porn university