Moderator: ZS Global Moderators
*
Posts: 47
Joined: Mon Jul 27, 2009 7:07 pm
Location: Mojave Desert,CA,USA
Hey guys,
I'd like to say hi from sunny (hot
) Mojave Desert,CA
Nobody respects the Badge, Everyone respects the gun.
Don't be nervous, don't be flustered, don't be scared—be prepared! —Tom Lehrer
Spam: for when you absolutely positively do NOT want to know what your eating.
S.P.A.M
Shit
Posing
As
Meat
---
* * * * *
Posts: 1597
Joined: Sat Jun 07, 2008 11:37 pm
Favorite Zombie Movies: Shaun of the Dead.
Location: California
Welcome from the not quite as central Nevada desert.
Evil unchecked grows, evil tolerated poisons the entire system.- Jawaharlal Nehru
---
* * * * *
Posts: 2365
Joined: Mon Oct 16, 2006 4:36 am
Favorite Zombie Movies: DOTD '78 and '04, 28 Days Later, Zombie Strippers
Location: Fresno, CA
Welcome from Fresno! Big things are on the horizon in California. Check out the meeting room for more details.
I survived Zombie Con 2009!
---
ZS Member

Posts: 2156
Joined: Wed Jun 27, 2007 12:28 am
Location: Riverside, Ca (951 Area Code)
Contact:
DESERTCON!
I don't believe in karma.
Karma is just justice without satisfaction,
And I don't believe in justice.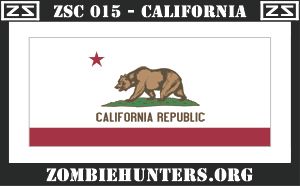 ---
---