So we on ZS are often leaning toward the skank side of being gear whores. We have our BOB with cool stuff that we will used if the worst comes to the worst and our in house preps of food, water + if lucky firearms and defensive measures and if smart and lucky a garden etc etc.
Now I think most people will agree knives are an incredibly important tool (perhaps the most important tool man ever created?). We have lots of different kinds of knives, kerambits to butter knives. What I was hoping this thread could be was
A) Some gear porn as we all like a bit of that!
B) A discussion on merits of knives for bushcraft/out door living. (Eg, scandi grind, thumb guard etc)
Obviously this will generate some debate I'm sure but sure we in this wonderful sub-forum can keep it civil.
My last comment in this post is: I've been debating a slightly larger knife, a chopper/bigger beast. What are peoples opinions on these? I'm talking RAT RC5 style. I personally used to be skeptical but got a chance to use one a few times and was drawn to them somehow. Been looking at Ranger's models, RAT (or is it ESEE now?!) and would love a Scrap Yard but they don't seem to be in stock...
Oh right my bushcraft knife: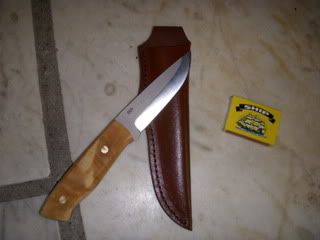 An Enzo Trapper, full tang, has served me well so far. Edge seems to hold well and has a nice weight to it.