After much waiting, advice collecting, supply gathering, trial and error (much more error than trial) the solar power system is up and running as of 1830 tonight. Big thanks to Trioxin and BenjamminR for keeping me from electrocuting myself and for all the guidance.
Before pic, equipment sitting around not hooked up to anything. On the left is the solar combiner box acting as the disconnect for my solar panels, in the middle/ left is a Xantrex C40 charge controller, next up is a Midnite Solar MiniDC DC breaker acting as my battery bank disconnect. Next is a Xantrex Prosine 1800w (pure sine wave) inverter I scored off of Ebay on the cheap (its refurbished). The batteries are MK/ DEKA AGM batteries w/ a 183 aHr @ 10 hr. capacity. The cable on the far left is a 2 conductor (#10 AWG) 25' output cable.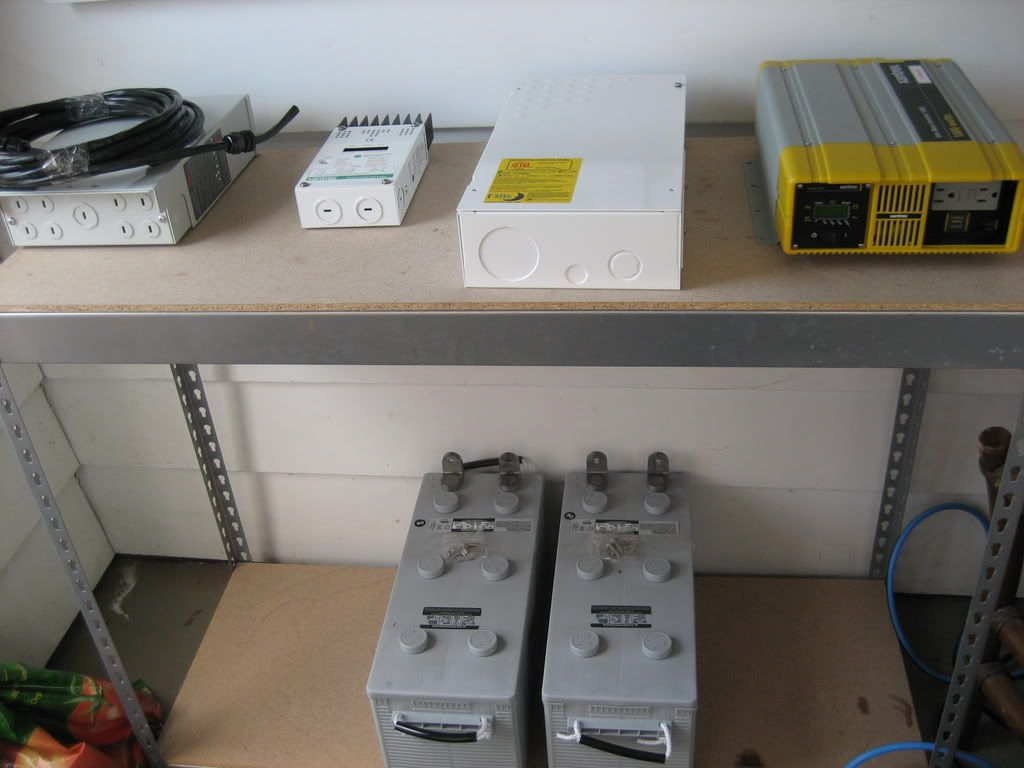 Box o' cables: intermodule cables (2 conductor #10 AWG) at 2.5', the short thick black ones in the bottom are 12" #2/0 AWG battery cables, and the thin fused cables are the inverter cables (#10 AWG).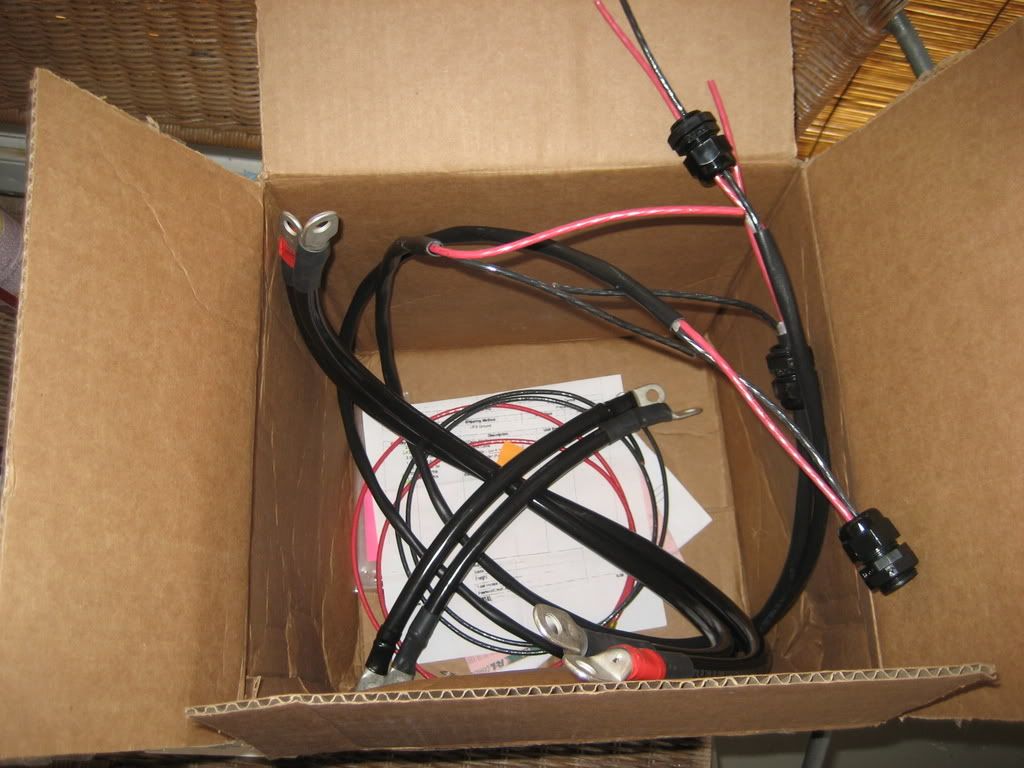 The first real work I did was to mount the DC breaker (battery disconnect) to a piece of 2x4 and bolt it to the frame of a modular workbench.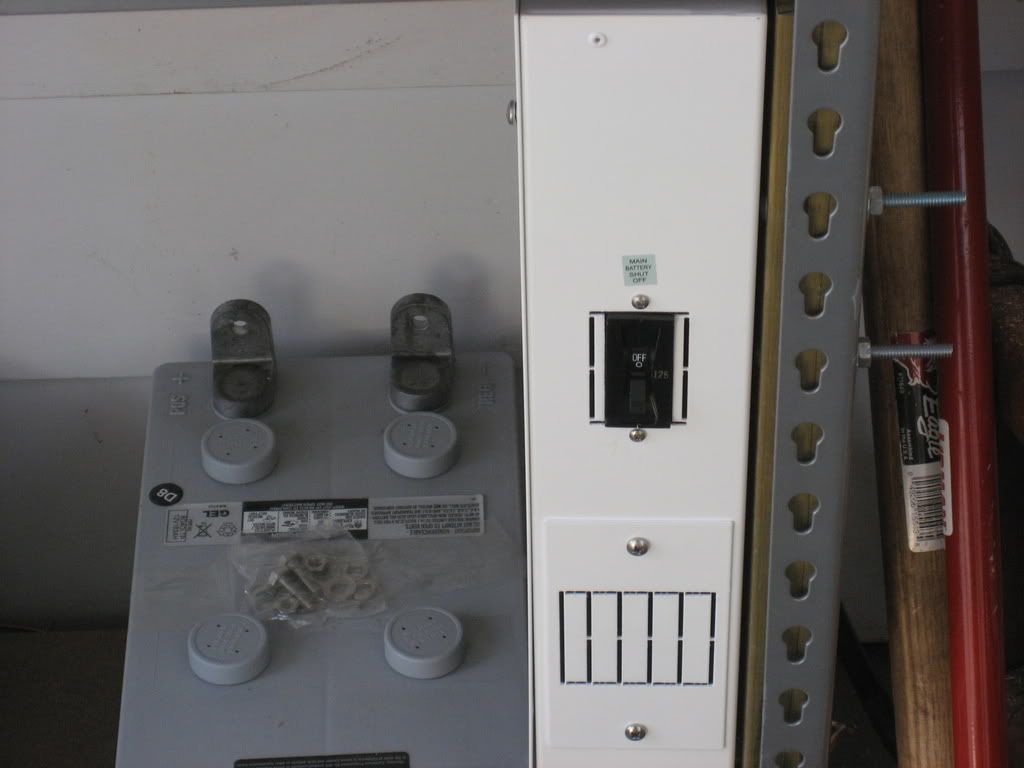 Next up was wiring the breaker to the batteries. Yes, I realize a socket is stuck on the negative grounding lug . . . laugh away.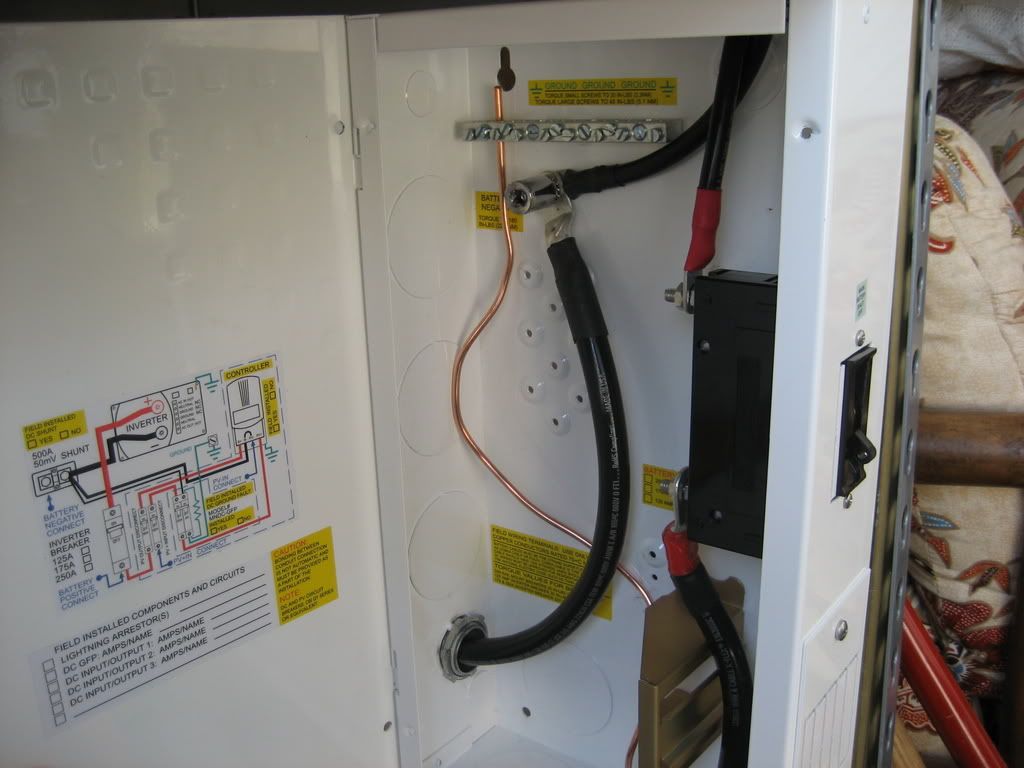 Next the wires from the breaker to the inverter on the desktop.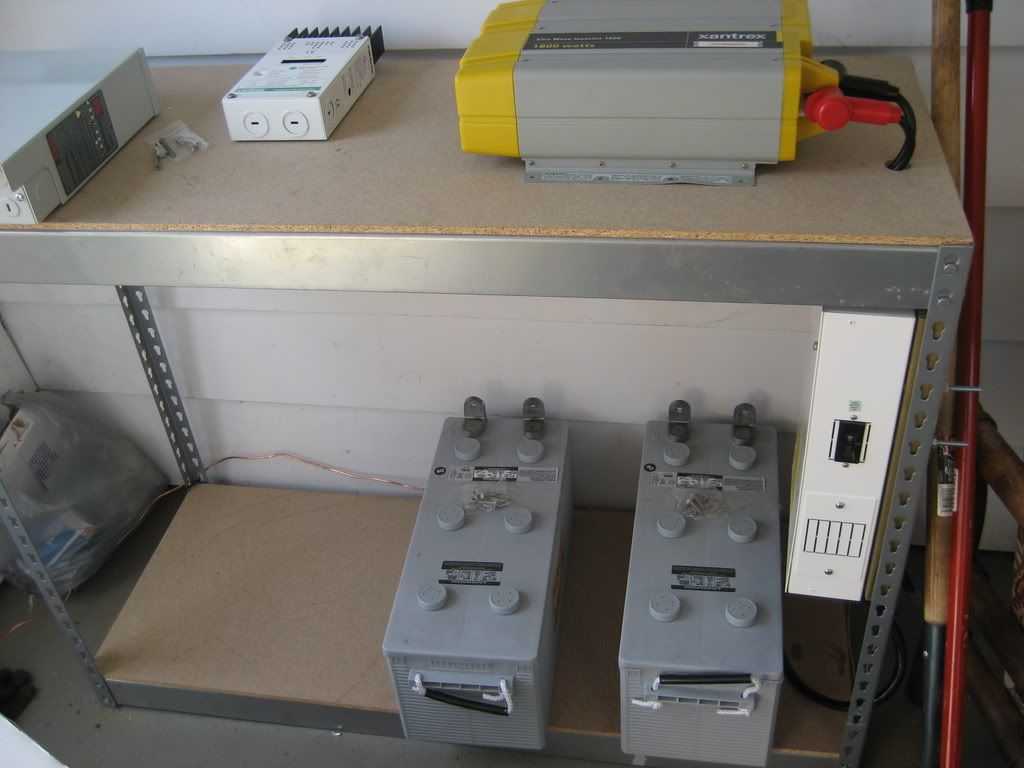 I drove this 3/4" solid copper grounding rod about two feet in the ground, then ran a #6 solid copper to the DC breaker to serve as the system ground.
Here are the panels installed. Three 110w Mitsubishi 12v panels wired in parallel, attached to the roof using a UniRac flush mount.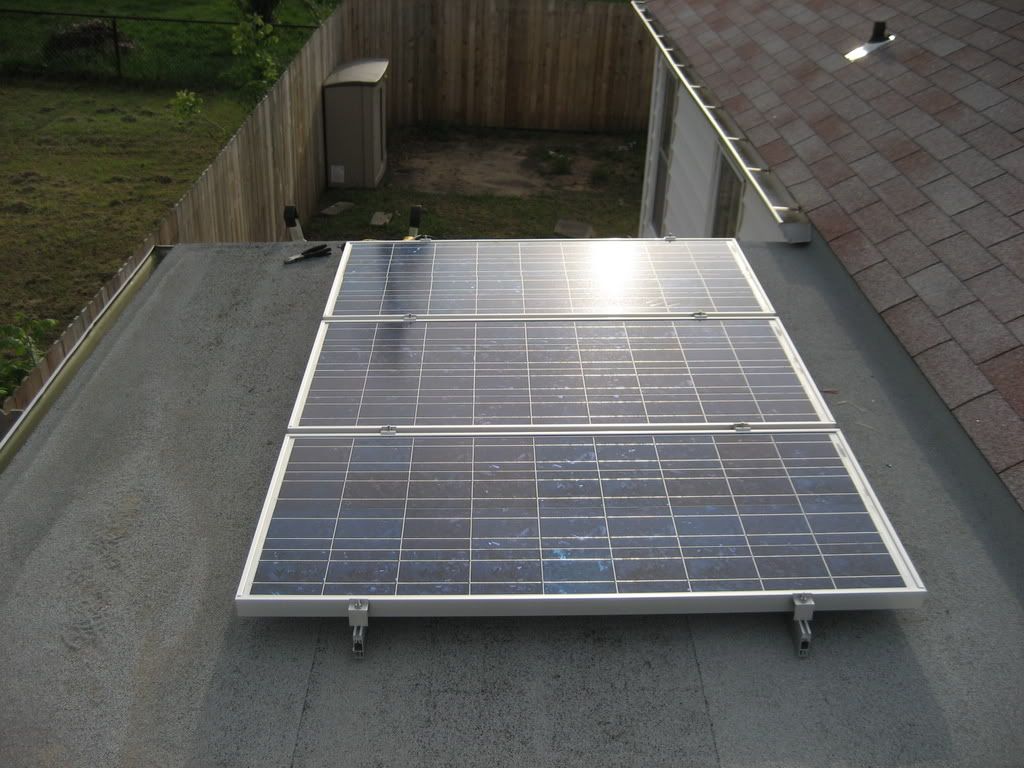 Here is the completely wired system.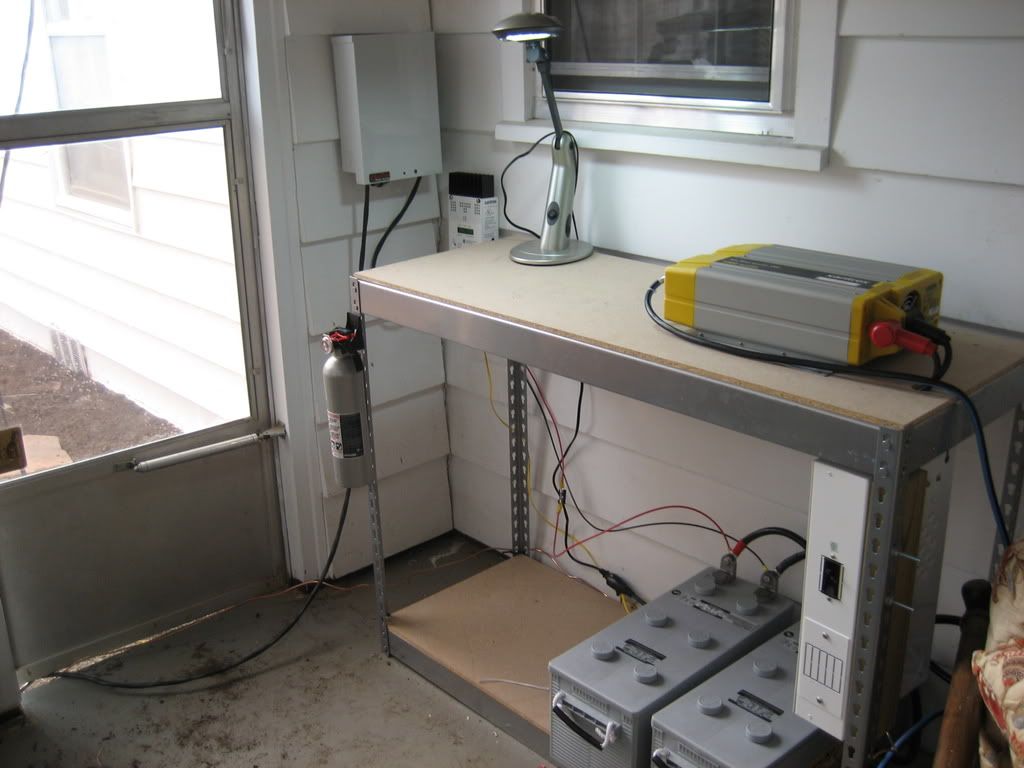 Here is a picture of the charge controller, the sun was going down and it was cloudy --- you can see the electrical output even under these circumstances.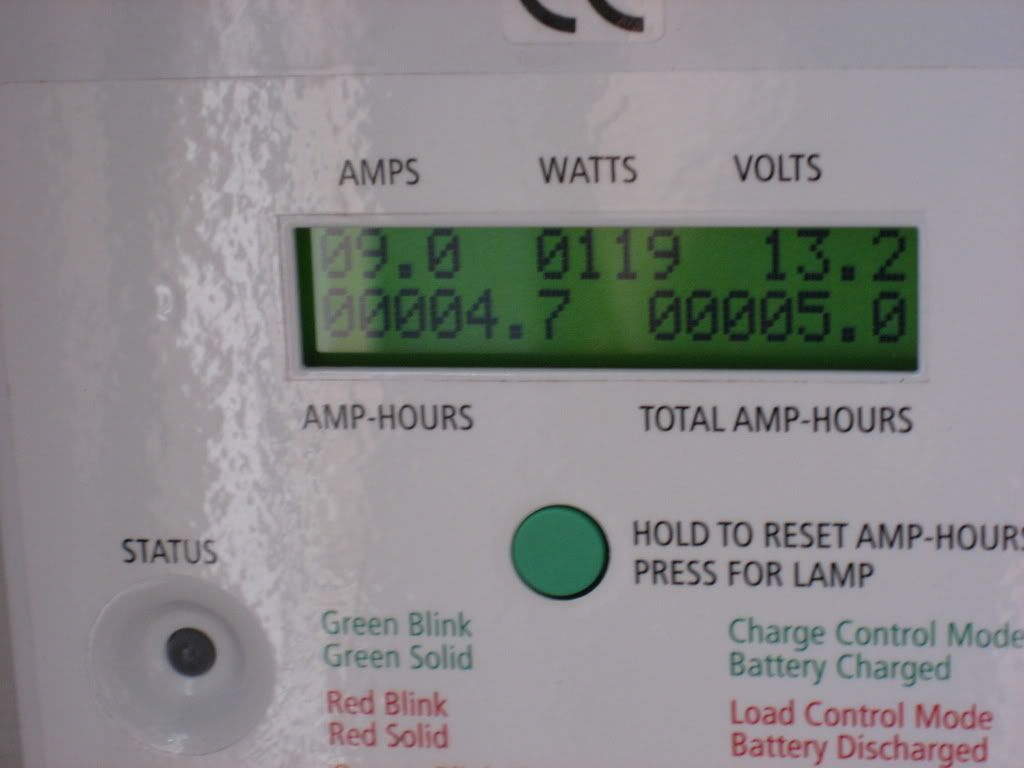 Please give your thoughts and comments on this setup.