Thought about putting on OT, but it was an experience...
A good friend recently lost her job with a "Major" airline and of course, lost her insurance. Thing is she needs meds to live. So we decided that she, My honey, and I would head down to TiJuana, BC Mexico and walk across the border. I do go to Mexico at least once a year, but always drive, so this was an experience I have not had in at least 10 years.
Drove to the border and parked and walked on in. There is a pretty massive construction project on the US side in San Ysidro to rebuild the secondary inspection area of what is one of the busiest border crossings in the world.
We braved the taxi stands at the entrance to Mexico, so thick you can't walk through, and walked across the Tijuana river, which had at least 30 people sitting in the bottom of this sewer waiting for dark to cross La Frontera. All along this route there were plenty of Mexican LEOs and I felt very safe. I was sad to see that fully 80% of the formerly busy tourist shops and food places were boarded up. Sad to see how bad the economy and drug war have damaged a formerly vibrant market.
Once we hit Revolution Ave. we headed to a recommended Pharmacy and Legs(Friend) got 6 Ventolin inhalers for $30.00, and 2 Advair for $70.00. I pay $25.00 for 1 Ventolin with Insurance. My girl got a tube of 2.5% hydro cortisone for $9.00. I thought I would do a little research and I priced Zpacs at $9.00, and 30 Cipro's at $22.00. They had anything you want, and all you have to do to legally bring it back to the US is go around the corner and pay $5.00 for a prescription.
We then made a beeline for the Famous and ancient Caesar's Hotel for a nice late lunch and an outstanding drink in the place where the Caesar salad was actually invented. Food was "Le Awesome"... I mean 4 star Michelin guide good, we were the only people in there not in dress clothes.
While there some people were talking and that's when we figured out they were having a big Presidential election Rally the next street over so after our repast, we walked on over to see if we could get a look at the first woman to ever run for President of Mexico, but no dice. It was a sea of people in matching clothing waving flags and banners and yelling and banging drums. A real PARTY!
After that we slowly drifted back to the border, buying a few trinkets for the kids and just meandering. Went back to the US side, crossed in less than 5 minutes. A truly pleasant experience! I'm going back to get some stuff for my med kit...
A Caesar salad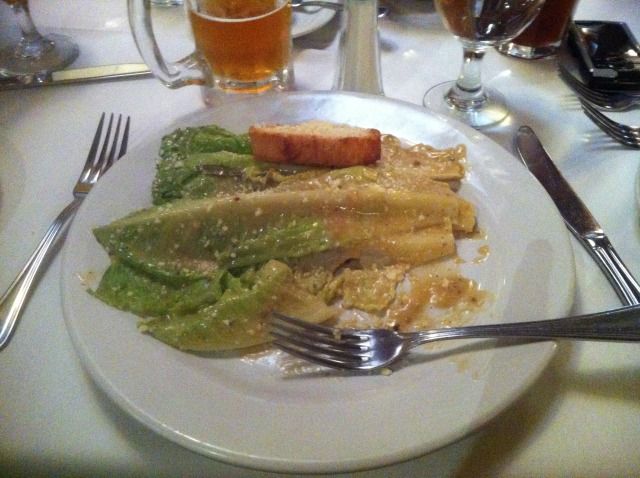 My Honey and her Salmon A Maneure (It's french)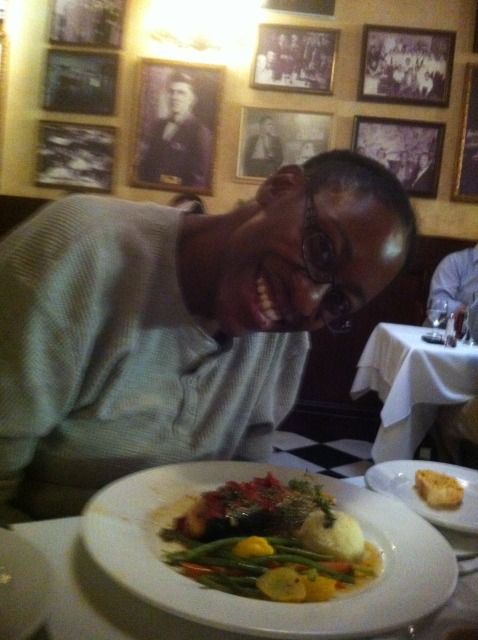 Hanging on the Main drag