My main Fak. It goes with me in my car, on scoutcamps, when camping and so on.
The bag: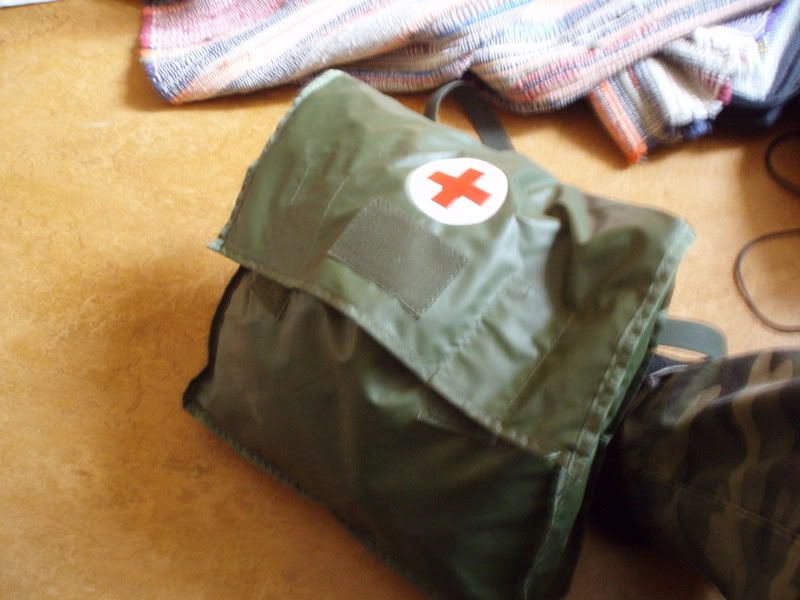 It's an ordinary army issue FAK bag, intended to be carried by the squad or platoon medic. It can be attched to a backpack, carried in a tactical vest or as shown here, in the included shoulder strap.
The bag is made from some kind of rubberized nylon and it's pretty much waterproof. The lid closes with velcro.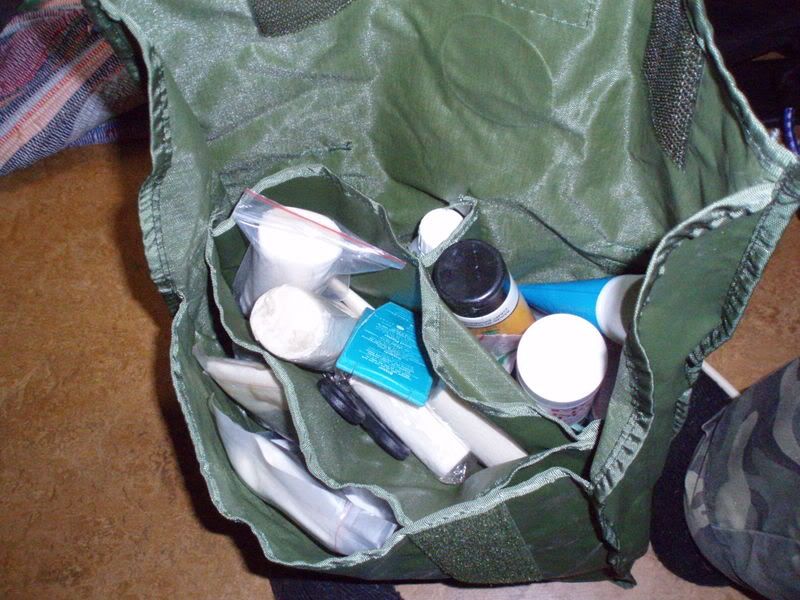 The bag opened.
Below: the contents.
Much of this was included in the bag when I got it, I added some things* though.
From top to bottom, left to right.
Small mirror.*
Roll of Bandaid.
Some tape. Usually there is some coach-tape there as well, but I used it up and will buy more soon.
Gauze pads. Two packs of five each.
Foam pad, used when treating blisters and sores on the feet.
Straps for attaching the bag to a backpack.
The box labeled 91 contains safety pins.
Second row.
Pecils and erasers.
Burn dressing.
Field dressings. Basically a gauze pad with a roll of gauze attached to it. Standard Swedish Army issue. There are ten of these in the bag. Normally, there are two or three but I added a couple.
Stainless MORA knife with a pair of tweezers jammed into the hilt.*
EMT shears.
Third row.
Four rolls of bandages.
Compeed blister Bandaids.*
Alcogel skin desinfectant.*
Helosan salve, for dry skin.*
Aloe Rub warming muscle salve.*
Talcum powder.*
Wound desinfectant.*
Not shown: A bunch of nitrile gloves.
Apart from this i carry a smaller FAK in my EDC/GHB bag, this will be added as soon as I have taken some pics of it.
Please, fire away.
<EDIT>
Here's the smaller bag from my EDC.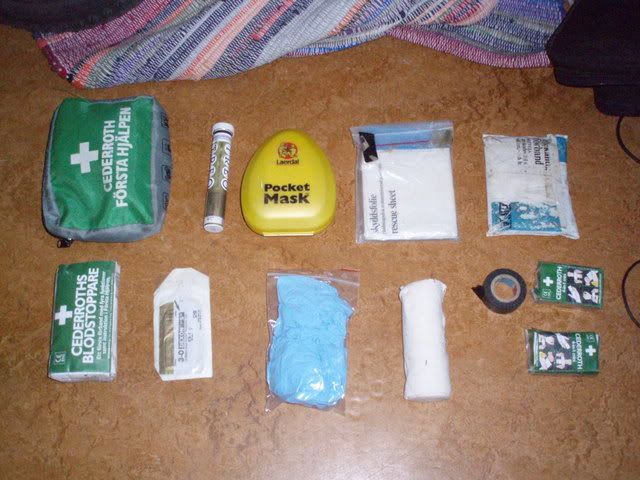 The bag.
Painkillers.
Pocket mask.
Rescue blanket.
"Mitella" triangular bandage.
Large wound dressing.
Sutures.
Nitrile gloves, 4 or 5 pairs.
Roll of bandage.
Tape.
Small wound dressings.
Not shown: Steristrip suture tape and EMT shears. I forgot them in my car.