Today i started on my diy well drilling project,and thought id snap a few pics and share how its done with my fellow zombie survivalists.This method uses Hydraulic water pressure from two garden hoses to move the earth away from the self made drill bit.All together this should cost about $75 including a $30 harbor freight manual cast iron pump.This type of well is drilled by hand and water pressure only,so no power is needed. The average well is 15-20 feet deep, but it realy depends on what part of the country your from.a quick search for 'water table depth' with your city in the search line should yield enought information to find out if this method will be possible in your area, but you should be able to make this work in 95% of america. This method of well drilling can be used for wells 30-40 foot deep,depending on what type of soil you have.Clays tend to be the hardest types of soil and this wont work at all in extreamly rocky terrain.
Step 1. making the cutting bit.
take a 2'' pvc coupler and draw this pattern on it with a sharpie,than cut it out with a hack saw to look like this: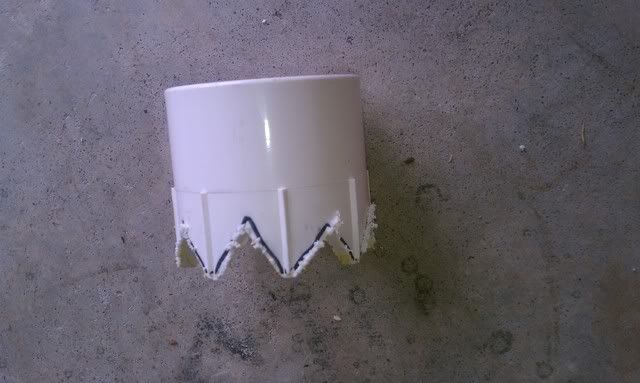 Step 2. the drill head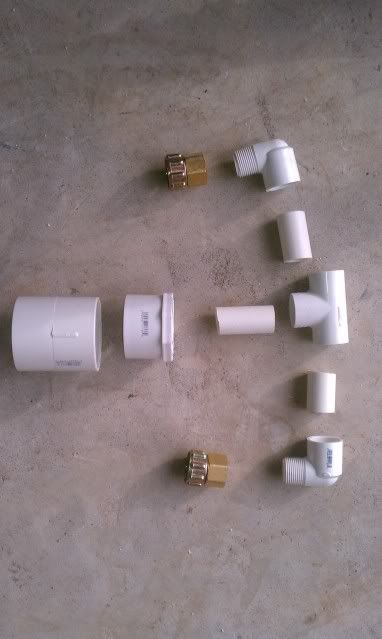 these fittings attach two garden hoses to a 2 inch pvc pipe.dont try and skimp this step, its is under a lot of pressure so use the right fittings and pvc solvent+ glue to glue it all together. also glue the drill bit to the end of a 10ft.x2inch pvc pipe.you should end up with somthing like this: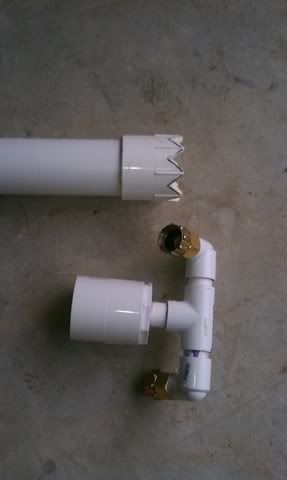 this picture doesnt show it but about a bunch of 1/8 holes need to be drilled allong the bottom 18 inches of the pipe,maybe 50- 100 tiny holes to alow water to flow into the pipe.
Step 3. the handle.
the handle is made with nothing more than a scap of wood with two holes drilled and 2 1/4 muffler clamp.a easy way to mark the holes to be drilled is to center the u bold on the piece of wood and strike it with a hammer,maring two spots in the wood exactly where the holes need to be. easier and faster than trying to trace or measure it out.its also a good idea to sand any rough edges down and make sure it wont give you any spinters, as youll be handling it quite a bit.
Step 4. put it all together.
the drill head should not be glued to top of the pipe,but 'dry fit' and put a screw in there to keep the pressure from popping the head off. its also a good idea to drill a 1/8 to 1/4 weep hole in the drill head to relieve excess pressure.i start with the handle about eye level,then turn on both hoses and pull down on the handle while twisting back and forth.The handle is then loosened and slid up the pipe as it is worked into the ground.The first 1-4 feet has a bunch of clay in it in my srea, and this is very slow going but be patient, it will start going quicker once you get into the sand. the pipe will need to be quickly lifted up a foot or two then slamed back doen to clear out the debris as you drill,but youll feel when this needs to be done as progress slows when the pipe clogs up.kinda hard to explain,but youll be able to feel it. just keep twisting and pushing down and the pipe will be pushed into the ground as the water washes the dirt away from the bit. the drill rate verys, but you should be able to get ten feet of pipe in the ground in a half hour to a hour on average,but dont start crying if you hit clay and it takes you hours,lol. just be patient,keep clearing the bit and it will get there. ill post some pics showing how to add another section of pipe after the first one is pushed all the way into the ground, but its basicaly just putting the drill head and handle to another section of pipe and gluing it to the first one with a coupler.
im sure this has lots of typos and sections that need attention and ill fix it tommorow,its late!! lol