The basics of setting up fighting gear
There are many many ways to setup your fighting rig. The first question you need to ask yourself is, "What kind of rig do I need?" For a working rig, the answer to this question usually falls into one of three categories:
-Overt Rig
-Low Profile
-Minimalist (Get Home Rig)
In this thread, we're going to focus on overt rigs.
These aren't necessarily hard rules but before you start making extreme changes, you have to have a good base first. If you have not tried any of the broad strokes listed in this thread, it would be prudent to give them a fair shake before you discount them because what you do, "feels better" or is, "more comfortable". When it comes down to it, shot clocks don't lie. Everything in here is based on ergonomics and speed. There is nothing ground breaking in this thread but there may be some things for you to think about.
Let's think about some basics. There are a few rules that need to be followed whenever possible:
-Strong hand is always on the rifle during manipulations (reloads, malfunction drills etc)
-Everything is placed for speeds sake. Comfort is secondary to time on target
-Everything is done the same way
Since your strong hand is always on the rifle, this means that your weak hand will be doing most of the manipulations, IE: Pulling the magazine out of its carrier, inserting into the magwell, hitting the bolt release etc
With this in mind let's look at our gear:
Vest/Chest rig
Assuming the weak hand is the left hand (reverse for lefty shooters) your rig can be broken up into two halves:
-Fighting gear (magazines!)
-Admin/med/reserve gear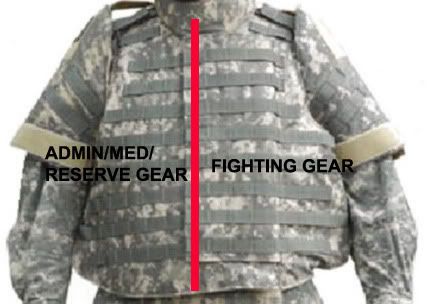 Regardless of your base (plate carrier, MOLLE platform etc), fighting gear should be on the left, admin gear on the right. Extreme left or right doe not make a difference IE: Directly at your 9 or 3). Like I said, if you are left handed and left-eye dominant, reverse this...
Having your rifle mag pouches centered is OK so long as you practice moving your magazines (when time allows) from the right-to-left, since you should be drawing magazines from left-to-right. Your next magazine draw should always be in the same place if at all possible. Also, whenever possible, avoid a cross-body (awkward and slow) pulling of magazines. As far as what kind of pouches to use, you have a wide variety available and that will be covered in a further thread.
For example: Although symmetry looks good to the eye, sticking a pistol pouch on either side of the rifle magazine pouches doesn't make much sense when it comes to gunfights--trying to cross your body with your weak hand for a reload is setting up for failure.
So what's the right side for? Reserve (magazines), admin (maps/GPS), and medical gear. With the exception of the magazines, the gear on your right side mostly involves gear that requires two hands to use. Due to this, smokes & frags also may hold a place on the right side if your mission requires it. When you use this gear, your rifle will be hanging in front of you or tucked behind on a sling.
Avoid putting any pouches above your rifle pouches if at all possible. It is common to see pistol mag pouches haphazardly placed about rifle pouches as just a, "place to go". You do not want to make drawing your rifle magazines any harder than it needs to be. Sure, you might be able to do it the comfort of your bedroom but under stress everything will take far longer. If you are going to have any pouches above others, it is better to do to the gear on the right (reserve) side of your rig. Just ensure not to impede a the buttstock as you bring it to bear onto your shoulder.
Pistol rigs
We are big proponents of carrying your pistol and other leg rigs (if that applies) on a belt separate from your vest. This is for a couple of reasons:
-If you have to take off your chest rig for whatever reason, you are still armed with your pistol
and
-If you have to take off your pistol (to use the bathroom for example), you can still have your armor on and have access to your rifle magazines.
Whenever possible, keep your pistol on your beltline. Sometimes, when your chest rig is too bulky, this is not always practical. This is why you see pictures of guys in the sandbox wearing drop-leg holsters. If you happen to use a drop-leg, you want the pistol to ride as high up as possible without impeding your other gear. Drop-legs worn too low will make it harder to run and enter and exit vehicles.
Consider drop-legs to be less of a, "thigh holster" and more of a, "low-hip holster". Some common drop-legs come with two leg straps. If you have the rig up as high as it would be in an ideal setup, unless you are very tall, the topmost strap will crush your testicles. A common solution is to take off the top strap completely.
In general, avoid cross-draw holsters because they take up much needed space better used for rifle magazines. There are some situations where a cross-draw is advantageous and almost all of them involve constantly driving a vehicle or riding a desk. Holsters mounted on the right side of chest rigs have also gained some popularity. The advantage of this setup is that your gear is all-in-one and ready to go in one piece. The disadvantage of this setup is that the pistol ends up taking vital real estate better served to hold med gear or reserve magazines.
You may find it more comfortable to carry your pistol on a patrol type belt that goes over the top of your regular belt. Even with heavy riggers belts, carrying your pistol or drop platform on it can cause the belt to sag. This problem can be avoided by using a thicker, more robust over-belt. Pretty much any, "tactical gear" company has these available.
Your pistol magazines should be on your beltline at the 9 o'clock position. The magazines should be held vertically, base plates up, rounds facing front. That way when you draw the magazine you will not have to adjust it until it is in your pistol's mag well. There is much more debate as far as rifle magazines as far as positioning them in holsters which will be covered in further threads.
The best way to test your gear is to run drills or even better, take a training course. Poorly placed gear becomes obvious very early on. Many of you have rigs not setup in the manner which I have described. That's okay. Like I said in the beginning of this thread: If you have not tried any of the broad strokes listed in this thread, it would be prudent to give them a fair shake before you discount them