marktaff wrote:Well, in Desert Storm, most soldiers armed with M-16A2s carried 6 30-round mags of 5.56, for 180 rounds, with *no* handgun. That is because most soldiers are support, not combat arms. They don't go looking for a fight, but will fight when forced to. When those support troops do get attacked, there will be ammo bearers distributing more ammo as needed.

The combat arms folks (esp. non mechanized units) would carry a shitload more ammo, often sacrificing food for more ammo. This is not only because they were actually out looking for a fight, but also because they operated a lot further from resupply points, and might have to wait for a chopper to bring in more ammo. Mech infantry would carry reasonable loads for dismounted operations, and plenty of resupply ammo in their IFVs.
Correct! Same was true for Army and Marines in Iraq too, at least when I was there.
Here's a cool insight into Vietnam era combat loads described below. It's from a link that TacAir posted on the ZS forum thread titled
They DO exist - Coleman Peak 1 frames mounting ALICE ruck
Here's the link again and some excerpts below with a photo
http://www.combatreform.org/rucksack.htm
"What do Soldiers in COMBAT carry in their rucksacks? Look at the picture below from Vietnam."
"AMMO. AMMO. And MORE AMMO!"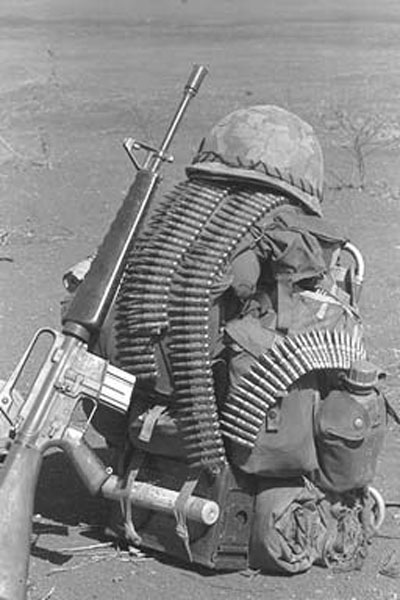 It looks like this Vietnam rifleman was carrying belts of ammo for his M-60 gunner in his squad.
10 years or so ago I read an article about some reasearch that the Prussian army did before WWI. The Prussians wanted to know how much weight a soldier could carry during a 25 mile forced march and still have the soldier be effective to fight immiediatley after the march ended. The Prussians found that the maximum weight that could be carried was 40 pounds. I could be remembering this article incorreclty, so if I'm getting this wrong please correct me. I don't have the article, so if anyone else has ever heard of this I'd love to read it again. The 40 pound force march weight limit seems to loosly coincide with the 1/3 body weight limit discussed on this thread. A 180 pound man should be able to carry 60 lbs according to the 1/3 weight rule.