I've been trying to radically lighten up my walkabout/Dayhike load. I've been looking at the fundamentals of what is needed to effect survival as opposed to simply a lightweight camping kit. I was looking at a 'haversack' type bag after watching several pathfinder school videos. I tried several eurosurplus bags before returning to the lc-2 butt pack with a canteen sling for over the shoulder carry.
The scope of this kit is for three season dayhiking. The gear looks new because it is. The kit is completely untried at this point. There are two items that i plan to add which i'll get to later.
Also please excuse the horrible auto white balance decisions my phone made.
All packed up: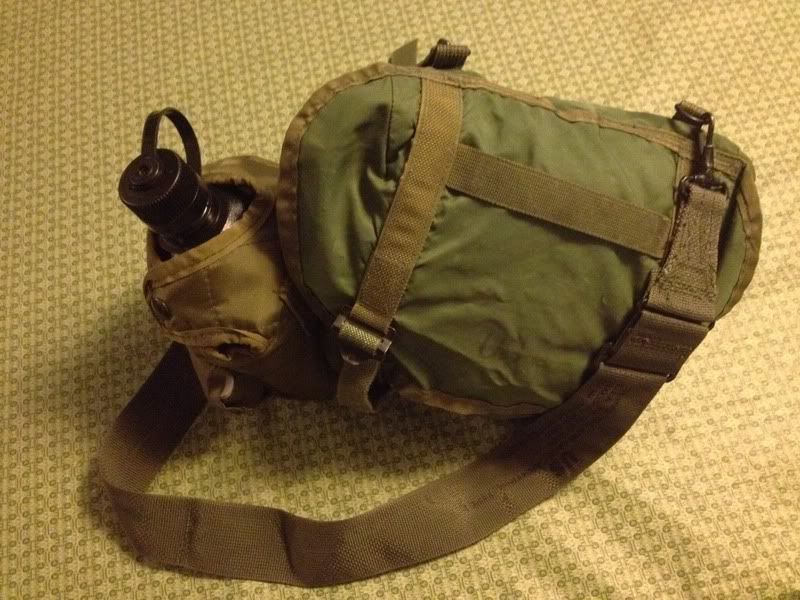 There are several things I like about this bag. It was cheap, in fact i got this one about 8 years ago on ebay with 7 others for $20 IIRC. The construction is rugged. there are adequate connection points for the canteen. (which was a problem with the euro surplus i looked at) It's almost as if the butt pack and usgi canteen pouch were made for each other.
Also, the capacity of the bag is just about perfect with the option to add items such as a map, a couple of cliff bars or a Peterson's manual or such if needed. The weather collar is huge allowing me to pick up and carry things i might find along the way. (tinder, wild edibles ...)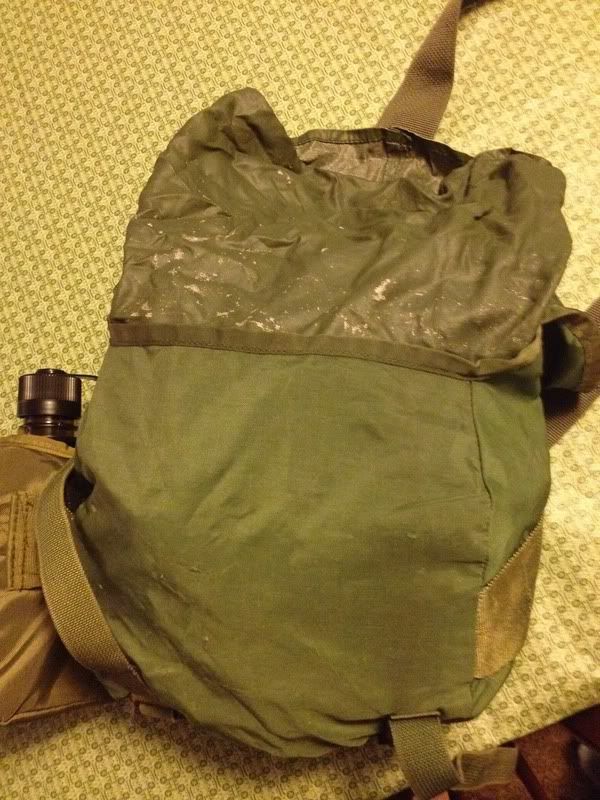 Here are the contents of the bag:
The mora knife actually would not be in the bag.
Some points of interest; The fire kits...The main one is 2 disposable lighters, a book of paper matches and 5 of the waxy balls. This is the kit i would use first under any circumstances. It is composed of cheap and effective materials. The lighters can be operated with one hand easily. The secondary match case contains strike anywhere matches and trick candles.
This is possibly a bit excessive, but not quite as easy to use as the lighters. It is able to be opened with one hand and strike anywhere matches are very easy to light. Yes, this is the $1 coleman match case they have at wal mart. I replace the plastic o-rings with nitrile ones right out of the package. Once that's done, the case is robustly waterproof. (it went through several wash cycles in my clothes washer which is a pretty good test in my opinion.) The tertiary fire kit is a PITA to use so it'll definitely be there for me when I need it. Definitely a two handed process which probably explains the new tinderquick type systems. My tertiary kit is a Doan bar and an additional ferro rod. I've used Doan bars before. I know how they work. (pretty neato the first few times, just a reminder to bring a lighter and waxy balls the subsequent times) If all of my other fire implements are used up this tertiary kit is much better than resorting to more primitive methods.
The wool blend tube scarf can be worn many different ways either like a scarf or as an open faced hood. The heavy cover lid is a fantastic open fire capable canteen cup lid. I highly recommend it.
One of the other euro bag options i looked at was the Swedish shoulder bag. I'm not quite sure what this was originally used for. Gas mask? In any event it was too small and constructed of a lighter weight canvas which made it unsuitable for the main bag, but it occurred to me it would be the perfect way to carry a platty bottle. The duo is very compact inside the kit. It allows me to double my water carry capacity.
The FAK is basic. A couple of band aids, butterfly closures as well as a few sterile pads and some medical tape and a flatpack duct tape. Also some pain killers and salt pills.
The whistle is a good lightweight signal device. My normal area of operation is eastern US woodland so this makes more sense than a signal mirror. (though there is a mirror on the compass and the heavy cover lid is polished on the bottom.
The canteen is a nalgene oasis with a shiny new USGI issue SS cup for water boiling.
There is also a probably outdated bottle of Potable aqua. I'll be replacing these with chlorine dioxide tablets.
Here is a shot of the EDC gear that I routinely carry on my person when I'm in the woods. The Zippo can be assumed to be full. Also, the Mora is the same one from the overall photo. My backup blades are the ones on the leatherman.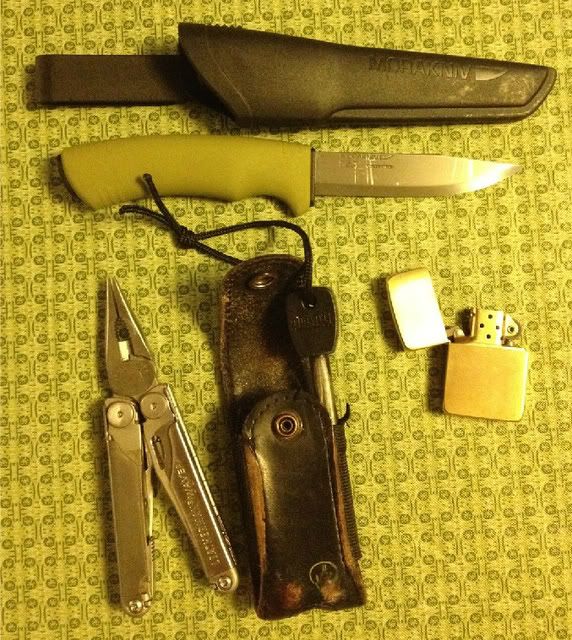 To this I plan to add a Heatsheets bivy and a pair of Smartwool socks. I've been wearing smartwools exclusively for the last year so its a fair bet that i'll already be wearing a pair if I ever have to use the kit overnight.
So there it is. As I said, I'll be carrying some snacks and location specific maps/guides in addition to the kit.
What is the consensus? Fluff or omissions?