not actually a chest rig, but not a bad option.
I don't know how many around here keep their ear to the gear industry, but I ran into this little guy the other day on a 10-hour internet gear-binge;
http://militarytimes.com/blogs/gearscou ... bandolier/
" onclick="window.open(this.href);return false;
well I liked the idea but I wasn't about to drop coin on something I hadn't tested (and I think enough of us got suckered into shitty 12-gauge bandoleers in out high-school days to know the shame that comes from crappy gear).
so what did I don instead? Damn straight I whipped up my own.
actually pretty comfy, fits the curve under the arm better then I thought, and the mags retain well and pull free with a good downward tug right into a solid beer can grip.
Also swings around behind out of the way for better concealment/comfort or to back up a chest rig.
but I couldn't stop there...I remembered seeing pictures of all the cool crap people had managed to stuff in those Blue-force-gear elastic chest rigs and wanted to see what applied here: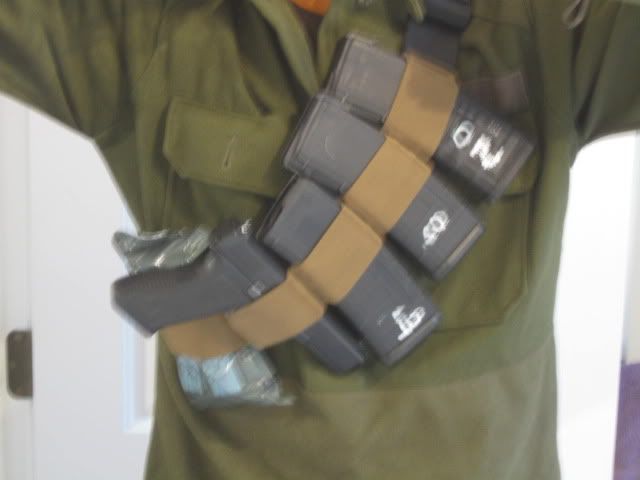 yes the draw is a little awkward, and re-holstering requires two hands, but the concept is sound. I think if you custom tailor it, you could mount a kydex insert in the slot and have a legitimate carry option.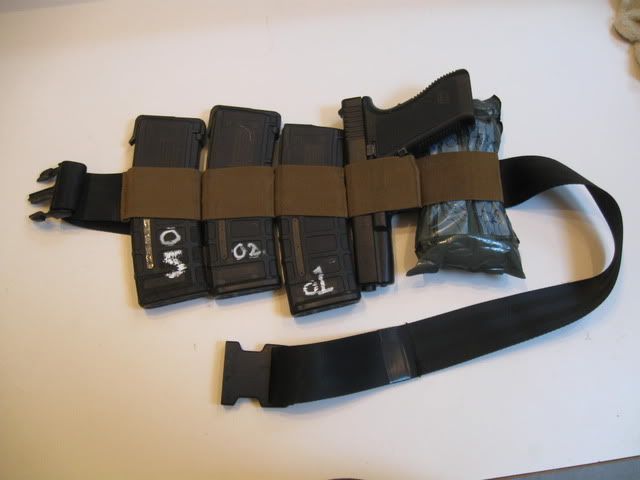 further tailoring could give you pistol mags as well, rounding out the usual second line gear (albeit at the bare minimum).
so what black magic did I use to make this? if you want to whip up your own I recommend Rockywoods.com, buy 2 yards of any 2" nylon webbing you like (I used seatbelt webbing from my local gear store) and 1.5 or 2" elastic (all the cool kids rock coyote brown). a 2" buckle rounds out the deal for quick ditching and donning.
the magic spacing is 3" more or less for P-mags (aluminum mags are too slick), and about 2" for pistol mags (don't actually know, thats a guess).
and for all you op-sec, face-and-blood-type blurring-outy folks, don't read my P-mag labels, they'll give away the location of my secret fortress.