Hey guys. Here for your enjoyment and criticism is my EDC kit and GHB. There are parts of my EDC that I've posted before and parts I haven't. In the interest of having a well rounded post I'm going to add everything. My EDC bag is mostly full of the crap I lug around for work. This includes cables, a laptop, cable testers, notebooks, and some other boring crap. While I carry this stuff everyday I don't really consider it my "EDC" kit.
Here are the bags. My EDC bag is an older North Face HOTSHOT. I love this bag. It is probably the best backpack I've ever owned. My GHB is a MOLLE assault pack with a MOLLE waist pack attacked to the bottom and 2 canteen pouches on either side.
EDC
One more shot of the bag with me EDC kit below it.
Overview:
ZS Nalgene
Maxped EDC organizer
Kifaru small padded pullout
Wool GI gloves
Shemagh
Write in the rain note bood
2 x MRE side dishes - Mexican Mac & Cheese and Corn Bread Stuffing
Pack of 4 AAA batteries
Roll of Tums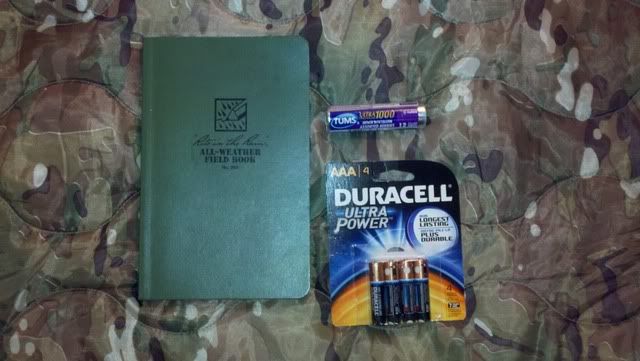 Maxped EDC Organizer:
Berts Bees
See to Summit Spork (decided to add after reading another thread)
Nail clipper
Small pry bar
Laser pointer
Pencil
Fine point Sharpie
S&W Kubaton pen
3ft USB cable (back slot pocket)
2 x pile capsuls - Zyrtec and Prilosec
Bic lighter
Streamlight Stylus Pro
Letherman Sidekick
Zipties
Tylenol extra strength packet
Wet towelette and accessory packet from an MRE
I could never understand why people carried spoons in there EDC kit until I put 2 MRE sides in my bag and then found myself wanting to eat them and not having a spoon. Some lessons you have to learn the hard way.
Kifaru Pull Out
Petzel head lamp
Solio Classic + charger cable, adapter cable, adapter tips, and adapter light
Motorola dual USB wall charger
I'm always moving around for work going to different locations to trouble shoot issues. This kit (other than the head light) is meant to keep both of my phones charged up and ready to go. I was working on a weekend over the summer when we had some really bad storms come through the area. I was in the basement of an unfamiliar building by myself when the power went out. I didn't have to call for help but I did have to put on my head lamp and find my way out of there. Both my work phone and my smart phone were dying so it was nice to know that even with the power out I could still use the Solio to charge my phone(s). Having a portable charger and a wall charger might be a bit over kill but peace of mind is a wonderful thing.
More to follow......