Disclaimer: This is in Canada, where gun law is a little different, and you can't just go do this in your backyard.
Gentlemen!
I've been shooting evil black rifles from the "bench only" local range for a couple years so it was about damn time to get out there and use one in motion. Finally signed myself up for a small local competition and pulled the trigger (sigh, pun intended, sorry).
Nothing like actual competition to test your gear and your skills, so here's what I learned, and how I'm going to improve on my fail.
The day started cool, up in the mountains. Light gloves in the morning are a good idea. I feel underdressed without any tactical gear. However, by noon it was smokin hot. Loaded plate carries don't look so good, as you can see rivers of sweat trickling out of the backs of the guys with them.
My setup: Tavor with Vortex 1-4x, sling, and a simple belt and dump pouch setup. Review on this as we go.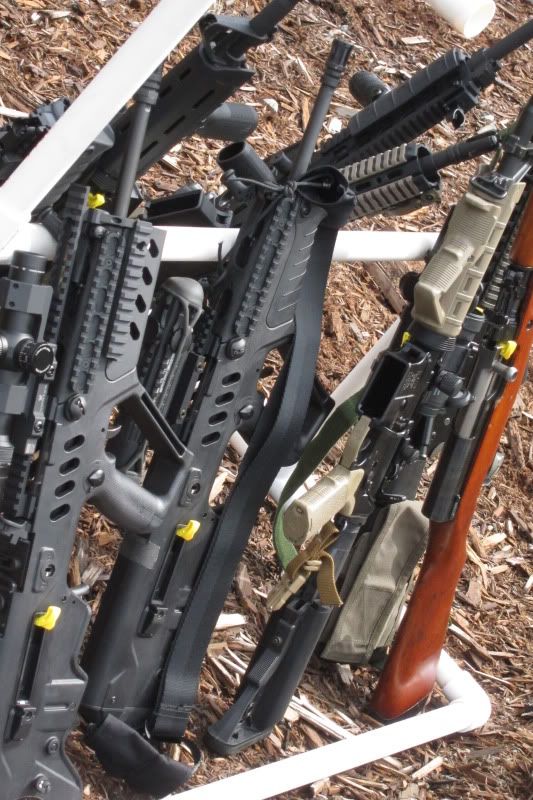 ALLLLLL kinds of guns to be found here! Yes that's an SKS.
Stage 1: shoot target at 50, 100 5x each then 6 plates spread throughout the range. This is a fairly simple stage for anyone who has shot from bench (except no bench to lean on - shot kneeling). Was going great until I until I load a mag softly and it doesn't feed, which I then turn into a nasty doublefeed. To quote VLee "I can't brain when the nervous!" Must remember to slap Tavor mags in harder, not as easy to do as with an AR. Lesson: Make mag put in good.
Next fail... when you need your rifle, you won't have time to zero it. No zeroing in on the day of competition (which I knew ahead of time). Must remember - when you're at the bench only range the previous time you are out shooting and your rifle is a little off zero, and you say "f**k it, I'll dial it in next time" and then forget... you'll pay for that. I remembered where I was off, roughly (a couple inches low). Not great shooting on my part, but I took all the plates down... eventually.
If SHTF, grab the gun that's actually zeroed.
Next lesson from stage 1... The top guys all ran 1-4x scopes. For shooting 6" plates at 100yds, I see why. I can't even see a f--king 6" plate at 100yds. Glad I had the 1-4x.
Stage 2 was a speed event, shooting 5 targets at close range, 2 shots per target, with one mag change.
This was super fun, as some of the targets were obscured and you had to move and shoot to get them all fast.
Lesson here - a 7 second time (NOT my time) with 13 penalty points doesn't beat a 12 second time with no penalty points. It will take me many more stages to learn the time vs penaly thing.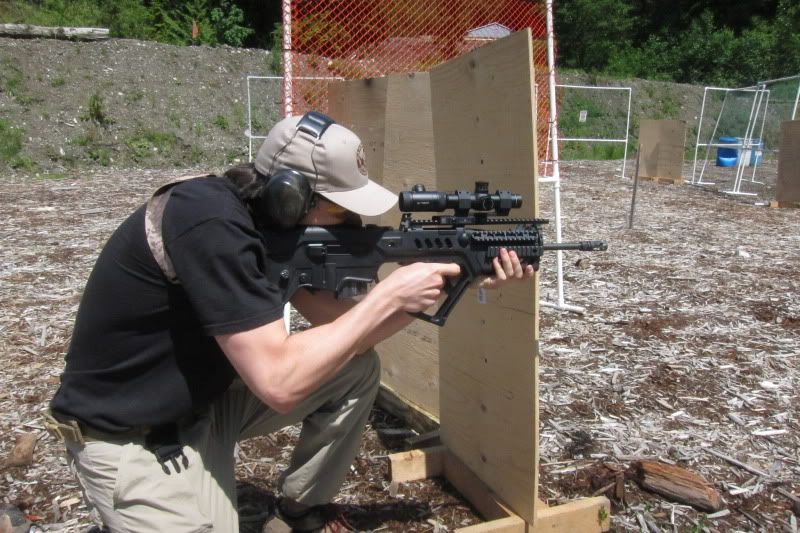 Kneeling = +5 on your "to hit" roll.
Stage 3 - a tight CQB type stage, lots of corridors, walls, etc... Hella-fun! Shoot, move, shoot, move, shoot. Practicing fast mag changes the night before paid off here, as did making sure they were properly aligned in my dump pouch.
BIG LESSON OF FAIL. The distance between the barrel of a Tavor and the Vortex scope on a mount is about 4". With my already badly low zero, 4" extra low on every target is the difference between 0 penalty points and 6 (3pts x 2 holes) on every target.... x10 targets = 60 penalty points. Burn.
At least I didn't shoot through the wood barricade like the guy before me did.
MINOR LESSON - I must get electronic hearing protection if I compete again. I had my normal Peltor 10's which are great overall at cutting ALL sound. Unfortunately, they kept me from hearing the RO behind me saying "YOU CAN'T SHOOT THAT TARGET FROM HERE, YOU HAVE TO GO BACK TO THE LAST STATION..." ....twice. Retreat time to previous station, shot target, cursed.
STAGE 4: Combination between some close quarters and 50yd range, multiple positions to shoot from. Fun stage, lots of things to make holes in. Choosing what to shoot and from where really came into play, as some shots were a lot easier to take from certain places. Unfortunately, my time was marred by ANOTHER soft mag load (def harder to slap the mag hard on a Tavor over an AR - must practice this if I'm sticking with the Tavor full time) and again forgetting that I was shooting 4-6" low, all the time. Massive penalties here. Fuuuuh....
Must... aim.... hiiiiiiiigher.
Final... amazing day, exactly what I got into shooting to do. Overall suggestions for people who want to get into it:
* All you need to do this is a dump pouch. Just make sure you put your mags in pointing the same way you want to take them out to load. Yes, there's a ton of tactical gear, plate carriers, rigs, etc that you can buy. Don't. Just get a $20 dump pouch and try it once. If you want to get tactical, rock it, but it's not needed at all to be competitive.
* If you're in Canada there's a huge advantage to running LAR mags
* Bring water and munchies and keep them handy. You'll be hungry/thirsty way before lunch.
* Bug repellant. Don't spray it in your mouth, it tastes bad.
* Boots or mud friendly hiking shoes with lots of traction? YES.
* Have a comfortable sling and know how to use it.
* Don't worry about score (that's what I'm telling myself anyway, I was 9th out of about 13 IIRC ) and just have fun. Make friends. Put beer in your cooler for after.
* Bring a camera. Get the RO to let your buddy take pictures of you in action.
Anyway, I'm hookered and going back next month for more.