Alright, I'm guessing this is the best place, if a mod feels this belongs in "Initial Firearms Prepping", so be it.
I've been saying for a few months now "I'm inheriting my dad's guns soon," and I'm sure everyone's as tired of reading it as I am of typing it. But today waiting in the mail for me, was the final piece of paperwork saying I could legally transport the collection to my apartment.
So here's the backstory;
My parents divorced earlier than I can remember. My dad didn't have much involvement in my life, occasional visitations that he often skipped, and more than once, years of my childhood passed between me hearing from, or seeing him. As a preteen though, my dad shared a hobby with me and my younger half-brother, firearms. We would get up early in the morning, and spend the whole day at the range, just us guys. I remember around age 10 sitting around on some couches at the range listening as the members debated capital punishment, I wish they'd had a no politics rule
. Spending father-son time at the range was great, but it didn't really make up for years of not seeing my dad.
By age 12, I'd written him off as a deadbeat. I was alright, after all, my mom remarried when I was 7, and my stepdad's been a great figure for me. I went through high school telling myself I would do everything I could not to turn out like him. I still wanted guns though, maybe I could just make it my thing, not let it be something he shared with me.
By May 2011, I hadn't seen my dad for over 8 years, and I never will again. His death was violent, and the details don't need to muck up this thread. When I found out he was dead, I wasn't sure what to think of it, and I probably still don't. At the funeral, details started to come out about what my dad had been up too over the past few years. Shortly after his second wife left him, he was charged with "improper storage of a firearm", the judge apparently went easy on him, and told him if he gave the guns away for a year (to a family member or friend), he wouldn't have to terminate his firearms license. My Uncle, was able to find a good home for them with a friend. A year later my dad had moved to Northern Ontario, and didn't have much to his name. I'm not sure if he had forgotten he had the guns, or didn't want to collect them because he was afraid he might sell them for something he needed, but they remained in storage. After his death, things were obviously tied up for a long time.
At this time I didn't even know my dad still owned any firearms. I had assumed he would have sold them to make ends meet a long time ago. I decided later, I would finally follow up with getting my firearms license, choose to remember my father for the good thing we shared, and not the years we didn't. I was in a tight spot for money, but I scrapped up enough cash over a few months to take the courses required. About a week before I got my license in the mail, my mom phoned me to ask if I had purchased any firearms yet, and then explained my uncle was looking for someone to take this collection. It's only taken half a year since that phone call(I'm guessing this is what happens when you deal with guys so close to retirement
), but by next weekend I can collect the lot.
Now here's where I need help, I need to negotiate how my brother and I will split the collection. With that said, there's a chance he will never get off his ass to get the licensing, and I'm not giving him any of them if it's not legal. What I want to do, is split them evenly based on $$$, if my brother needs financial assistance to get his licensing, I can sell ones off of his list for him, and give him the money so he can get a license and take the rest.
So those who wish to participate, please break the firearms into what you would consider two lists of equal value, and if you wouldn't mind, list the firearms in order of your preference 1 being:
I absolutely must have that one
and 20 being: Whatever.
The list:
Rifles and Shotguns
Cooey/60
Lee-Enfield/Sporter
Stevens/311A
Thompson Center/Scout Carbine
IGA/Side By Side
Remington/870 Wingmaster
Mossberg/42B
Cooey/82
Winchester/100
Winchester/1400 Ranger
Lakefield 64B
Handguns
Sauer/Western Six Shooter
Smith&Wesson/17
Smith&Wesson/686
Smith&Wesson/622
Ruger/Redhawk
Ruger/New Model Super Blackhawk
Colt/Government Mk IV series 80
Colt/Gold Cup National Match Mk IV Series 80
High Standard/Supermatic Citation 104
P.S. Things to account for:
I've wanted a 686 as long as I've been looking at handguns, that bitch is mine.
The Ruger Blackhawk may have belonged to my dad's second wife's family and thus, it defaults to my brother if this is the case.
P.P.S. 1000.
Picture Update!
Here's the good stuff. Picked them up last night, slowly sorting through and cleaning them. Some are in great condition, some are far from it. If anyone wants more pictures of a specific gun, just ask.
Long guns are pictured in order as listed above, left to right.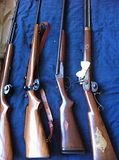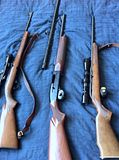 And the handguns are all here too.
Left Column: two Colts above two Rugers, and the Sig six shooter under that.
Right Column: S&W17, 686, high standard, S&W 622
So far I've played with them all a bit, the Enfield is a tank, the Mossberg is in the worst condition of the lot (to my limited experience), but it's still a very comfortable gun.
My brother doesn't want any sold, which means it might be a while before he is able to get his license and take some off my hands. My safe is over capacity by one, so I wrapped the mossberg in a towel and made it fit. I'll be happy when I'm able to unload a few of them to my brother.