Can't quite call it a mock bug out since we didn't camp out, stayed in the parents house but this is out BOL and unless their home were overtaken by zed's then we would stay there in a BO situation anyway.
The boy has been talking about BB guns since Christmas, other kids in his class must have gotten one so we told him since he's been doing good in school that if he kept doing good then we would get him one come spring break.
I decided that since its been so long since I'd done any shooting and him getting his first gun that I could make shooting the theme/goal of this BOL run. I've been going back and forth on an AR 7 ever since I first learned of them but the bad reviews always kept me from buying one. So last summer a new person joined our team at work and while talking guns I learned he had two and loved them so i decided I'd buy one. Well never got around to it, always something else so I decided this would be the perfect time. Drove down to the closest gun store (Vances) at lunch time and they were out of stock. Called two Gander Mountain and Dicks and they carried them but were out of stock, called Blackwing and they were out of stock. Annoyed I went back to work. So that night I was looking at Henry's web site and the dealer locator had a place in Westerville listed. I called them the next morning and they are only open from 2-8, I thought off hours but called back later at 2 and they had one so we drove over there and I paid $259 for one.
Wife had to work Sat so Sunday morning we left for the BOL and stopped at Cabellas and bought one of the $32 bb guns and went on. I sat up a simple bench to start with and gave the boy a quick lesson.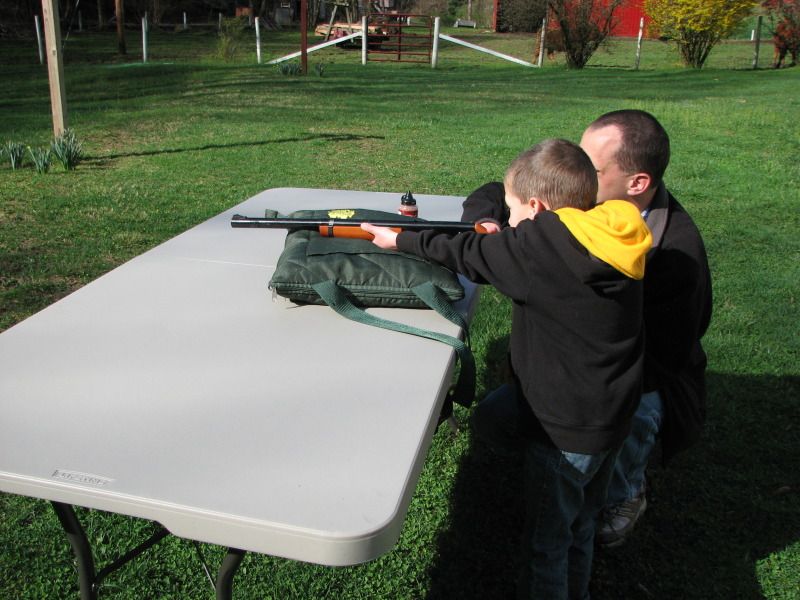 He shot a few then wanted to see me shoot my new gun so I pulled it out and started shooting.
Wife had shot a gun once or twice when she was a kid and shot mine once or twice before we had kids so she wanted to try too.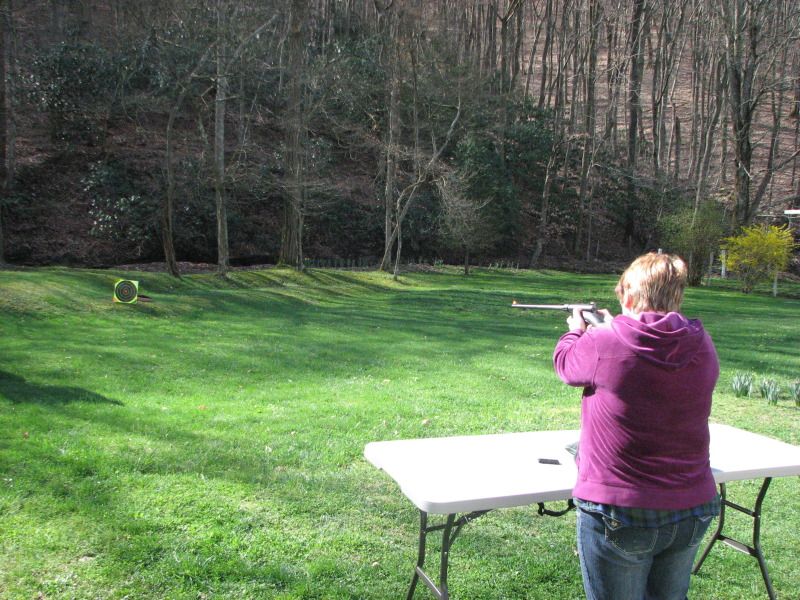 She hit the center the first try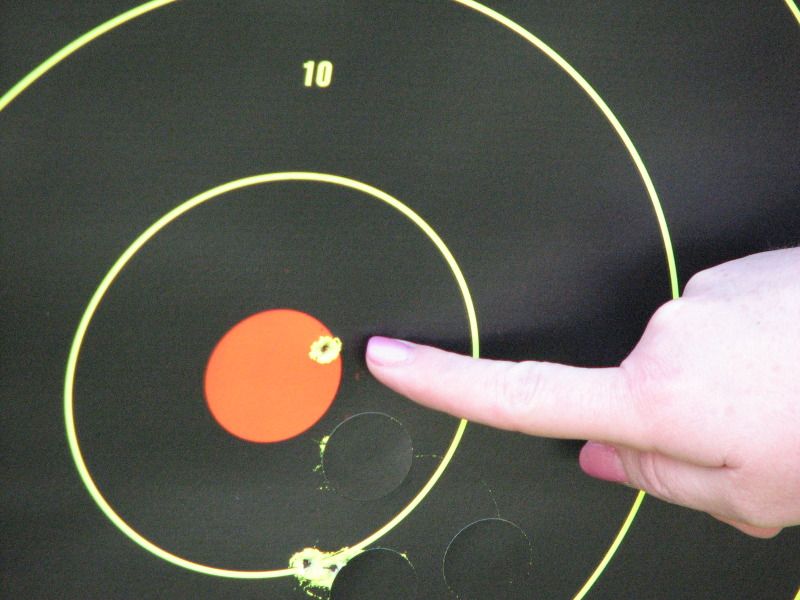 Eventually everyone got a turn, the kids were too small so they really just stood in front of me and held while I shot it.
While I let the boy shoot some cans with the bb gun my daughter did some tree climbing
Her sources in the fashion world tell her that those jeggings are the style now.
The creek was too fast to fish so she just pretended with a stick
She even took a turn with the bb gun
We went out around the farm some and took a few pictures
Daughter is already telling how she fell in a
river
after we took this picture
We later made a fire and I put my camp saw to the test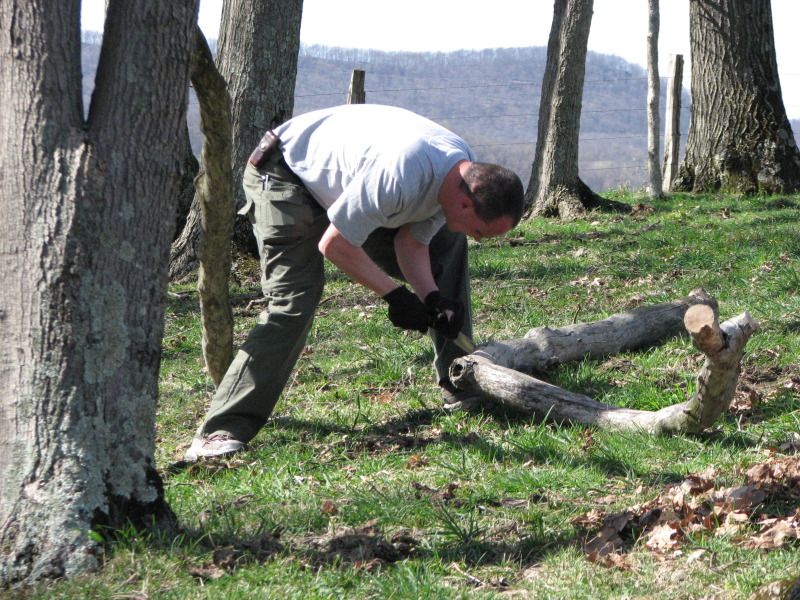 Roasted some hotdogs and I used my Buck Travelmate that I won on Facebook to use
Finished out the day with a little more shooting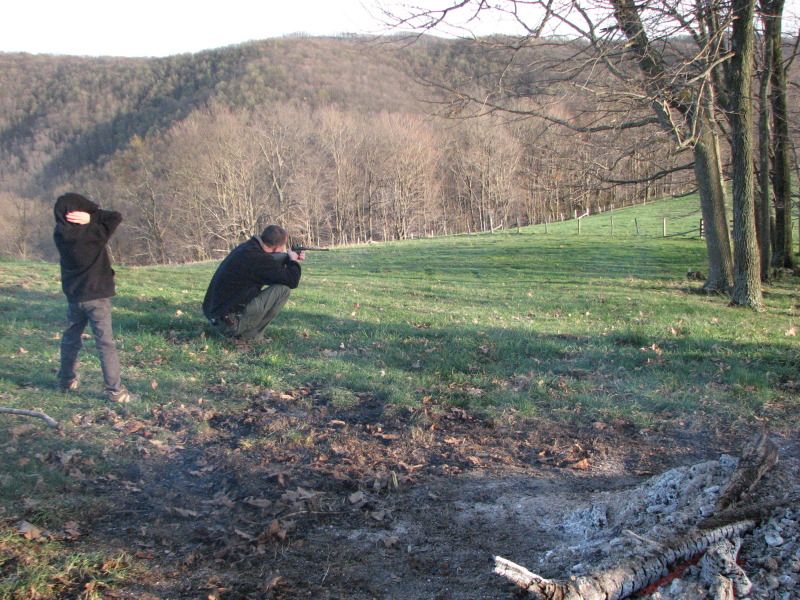 The AR7 (Henry Survival rifle actually) was brand new. I put in a little oil and started shooting and decided I would see how long it took to jam. First magazine one casing didn't eject fully but then I probably ran close to 200 shots after that before letting my wife try it and it then started jamming. I took off the barrel and cleaned it and the action out and oiled again and was able to start shooting without problems. I cleaned it twice more probably every ~100 rounds just to be safe and it worked fine. We probably ran 500 rounds through it in those two days.
My finger is sore from working the action that first round of each magazine, I'm thinking of taking a metal L bracket with a hole big enough to slip over the short handle they have so I could catch it and pull back the release.
I also need some way to lock the action open to clean it, I'm guessing I could just cut a piece of aluminum or something to stick in, I read somewhere about some ranges requiring red plastic things to be inserted as a safety, any idea where to get one of those?
It always seems to shoot low no matter which way I adjust the rear sight, I can't figure that one out.